Haptik Appoints Saumil Shah as Vice President of Engineering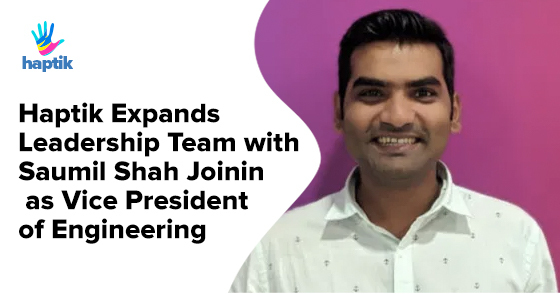 Mumbai, November 26, 2019: Haptik, a subsidiary of Reliance Industries and one of the world's largest conversational AI platforms, today announced that Saumil Shah has joined the company as the Vice President of Engineering. Shah, who was most recently at Box.com, will join the executive leadership team of Haptik to run end to end engineering and product delivery. He will report directly to Co-Founder & CTO Swapan Rajdev and be based in the company's headquarters in Mumbai.
With a Master's degree in Computer Science from the University of California, Shah has spent the last 10 years in Silicon Valley before moving to India to join Haptik. In his last role, he spent more than 6 years at Box.com, one of the world's leading cloud storage and management companies. Having initially joined as a Software Engineer, he rose through the ranks to eventually launch and manage a 50+ team responsible for building Box productivity tools and managing quality engineering. Prior to Box, Shah started his career at Zynga, one of the world's largest gaming companies at the time.
"Saumil's track record for developing innovative products at scale, seen in his extensive work at Box and Zynga, combined with his deep understanding of technology, makes him an excellent addition to our executive team," said Rajdev. "His enterprise software perspective will complement our AI product suite to ensure continued innovation and leadership."
"I have always been a big believer in the power of AI to upgrade customer experiences for brands globally," said Shah, who has also had short entrepreneurial stints, with one of his iOS apps being bought by an early-stage investor. "Haptik has been at the forefront of this paradigm shift and finds itself at an inflection point as a company today. At Box, I was able to see the power of the enterprise software business, which I hope to leverage in building a world-class engineering organization at Haptik. I'm very excited to join Haptik and work with the amazing team."
Ever since the strategic transaction with Reliance Industries in April, Haptik has been growing the team organically and through acquisitions. The team is now 160 members strong, double from what it was at the start of 2019. This includes the acquisitions of Convrg, a Los Angeles based chatbot startup, and Buzzo, a Mumbai based conversational commerce platform. With Saumil on board, this further strengthens the company's executive leadership to help enable rapid growth.
---
Are you interested in developing an Intelligent Virtual Assistant solution for your brand?