5 Reasons eCommerce Brands Made Chat Primary Customer Service Medium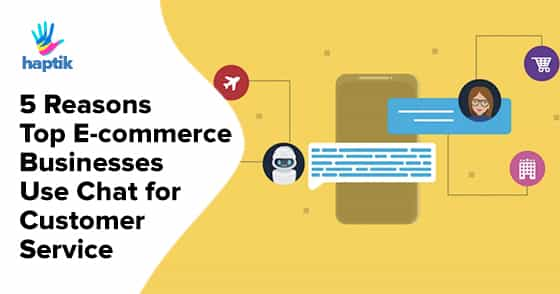 Chat is the primary way people communicate today. They use messaging to socialise, evangelise and even publicise every single aspect of their lives.
As these 5-inch screens become the first point of contact for most businesses, be it for glowing feedback or scathing criticism, it is imperative for every business to ensure that they are readily available to chat.

E-commerce businesses, the digital face of traditional retail, were among the first to adopt messengers and chat platforms as one of the key touchpoints for customers, and there are several lessons to learn from these implementations.

In this article, we explain 5 reasons why businesses, like never before, are depending on chat as their primary customer service solution. Haptik spoke to representatives of top e-commerce companies, who provided examples of how they have successfully transitioned to chatbots as a customer service solution.
1) Chat is the most natural form of digital communication

Messengers are the most used apps in the market today.
Typically, e-tailers will have a hard-to-find phone number, a contact form or an email ID as the nearest support options for the 61% of visitors who come through smartphones.

Chat is among the first options customers prefer when they need service on an e-commerce app. This is because messaging combines the real-time, synchronous nature of calls, with the easily trackable nature of emails, and also the self-serving nature of an FAQ page.

This is very neatly illustrated by Swiggy (Food delivery) and Goibibo (Travel booking). Both these wildly successful services have integrated chat as their primary mode of support.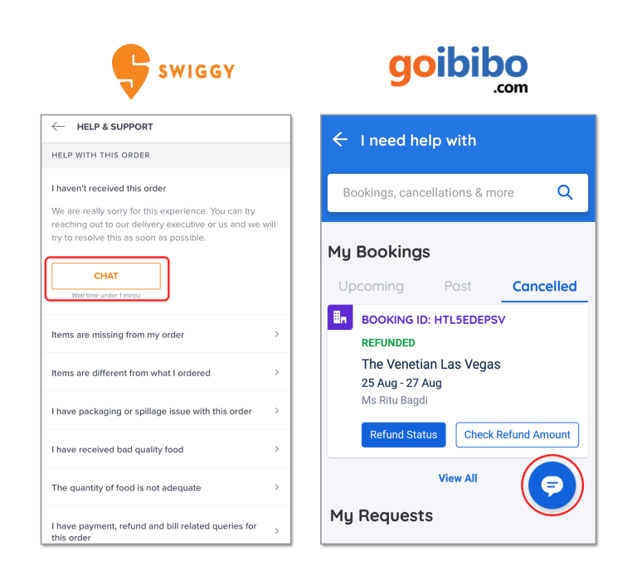 Both Swiggy and Goibibo now use chat as their primary customer service medium

Why this works —


✔️ The chat option is very natural at the point of sale. And offers a seamless customer experience which is a key brand differentiator, even more than low prices and good products according to customers. According to Seshadri Vyas, Product Head for Goibibo's GIA chatbot, "Users who tried using the bot once keep coming back to it for their next query or support need. Over the last 6 months, our share of repeat users has increased 4X!"


✔️ Chatbots respond quickly. OYO Rooms, India's largest hospitality company, has found that a speedy response time is a major factor for the success of a chat solution. Varitant Goyal, Product Manager at OYO explains, "Users expect a reply within seconds on chat. Though we are achieving good reply rates with agents, I feel that ultimate success will be created via a bot."


✔️ Customers need to be heard 24/7/365, but maintaining a fully-staffed customer service center is costly. A 24/7 e-commerce support chatbot is the perfect solution. Businesses stand to reduce customer service costs by up to 30% using bots.


2) Chat enables massive scale through automation over time and complex queries are always handled by humans

While customer service is a major priority for most companies, maintaining a large, dedicated in-house team isn't a scalable strategy. It is also not within every company's budget. That's even before you take into account seasonal, sudden spikes in traffic when companies see a larger than usual amount of inbound traffic.

32% of social media users who contact a brand expect a response within 30 minutes. This is a target human agents cannot always meet.


Chatbots are a perfect scalable support solution as they can easily learn from an existing corpus of marketing data and can be deployed within days.
They ensure that the customer service desk is always manned 24/7 and can easily handle routine, mundane questions right when they come in, and pass on the more, complex queries to human agents.

Also, in an effort to filter queries and make support cost-effective, companies end up making customer service desks really difficult to reach through mechanisms like IVRS. That's where chatbots step in to manage this majority of users who prefer getting service on chat. Goibibo's GIA chatbot handles the first layer of support and encourages users to quickly get their questions answered through Auto Suggestions and FAQs. This 24/7 availability has helped the brand create a customer-friendly perception.

Swiggy has already embraced this approach on their app. Whenever a customer has a query, the bot first steps in to ask the user about the issue they're facing and offers an initial solution. If the user still wishes to speak to an agent, they have the option of either placing a call or continuing the chat.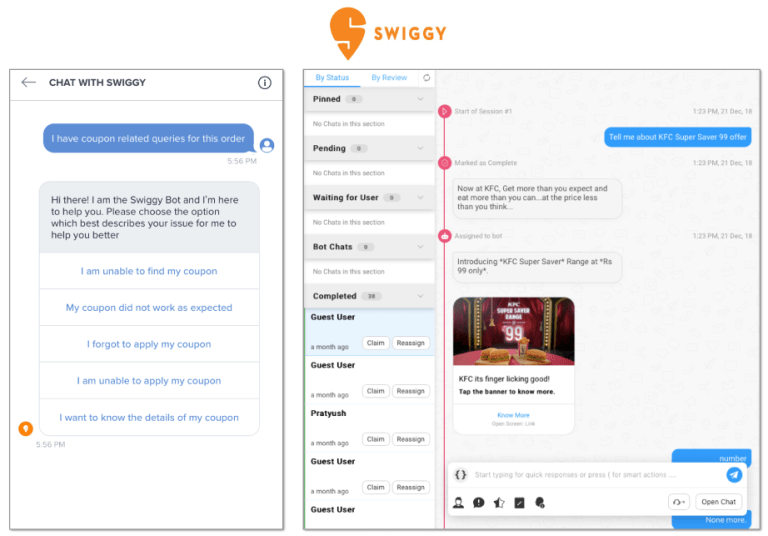 Swiggy's bot in action and the view of a chat agent dashboard

Why this works —

✔️ This makes for a very seamless handoff and the agent can refer to the chat to get a quick summary of the user's problem. Goibibo has optimised their customer service processes and tools for this. This helps empower their human agents to be able to monitor and take over a conversation quickly and easily.
✔️ Saves on training and personnel costs. Goibibo uses a metric called "Human Interactions Saved" to measure the efficiency of a bot. 60% of the times when a user says just 2 or more messages, the conversation ends up being a human interaction saved because of GIA!

✔️ Provides a 24/7 conversational self-service option that's better than a static FAQ page. According to a report by Aspect Software, 73% of customers want to solve product or service issues on their own.
Read about the 11 Trends that Will Shape the Future of Ecommerce in 2021.
3) Chat is an omni-channel experience that can be deployed across messaging platforms


Customers reach brands across an average of seven social media channels and increasingly use platforms like Twitter and Facebook to voice their problems.

In 2018, WhatsApp, with over 1.5 billion engaged users, opened its Enterprise Platform for brands to connect with customers. Among these was OYO Rooms, whose WhatsApp bot has extended the hotel booking experience to chat. The company has found that the bot is receiving thousands of chats per day even without any major marketing or PR push.

In 2019, most e-commerce businesses should have their own WhatsApp channel to automate more aspects of the customer service funnel.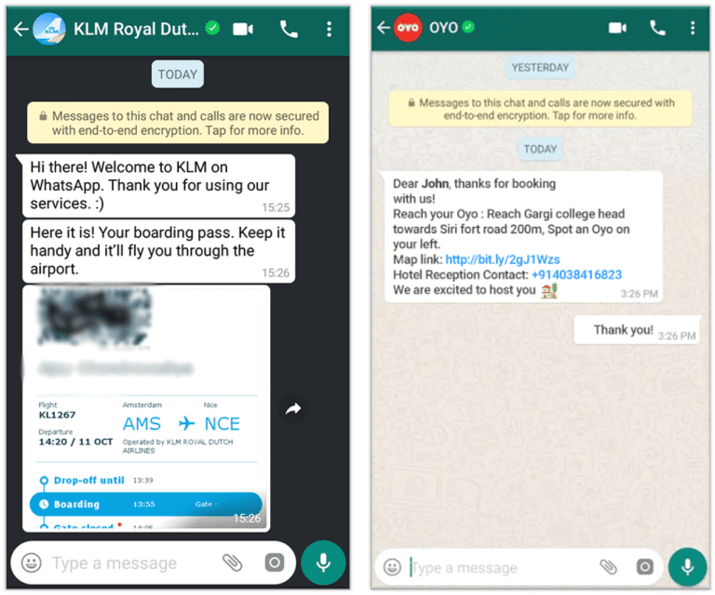 Why this works —
✔️ WhatsApp is one of the most easily accessible apps, ensuring that customers have a direct helpline to your brand 24/7, thus streamlining the entire service experience.

✔️ Different platforms can be played to their strengths for maximum utility from the bots. For example: Use WhatsApp bots to send a post-transaction update, and use Facebook bots to encourage conversations and draw interest to new products and so on. KLM Airlines' artificial-intelligence augmented BlueBot (BB) chatbot on Facebook Messenger and Google Assistant allows users to find flights, pack bags and more. And their WhatsApp bot is an extension of their ticket booking experience.
4) Chat can be used to encourage post-sale retention, collect feedback and drive sales

Every support ticket is an opportunity to connect with a customer. A chatbot can be used to encourage users to give feedback on a positive experience and even encourage them to make a repeat purchase with the help of a personalised coupon.

The conversational nature of chat makes for a really powerful, personal connection with the user, which can scarcely be seen on other mediums. This line by Seth Godin sums this up excellently well — Advertisers struggle to be heard through the noise. Customers service reps, on the other hand, can whisper.

Combining this conversational experience with a marketing device like a coupon code campaign is a great way to incentivise usage — especially since these promotional offers are seeing a sudden renaissance.
Here's how the experience would work for a online pharmacy like Pharmeasy: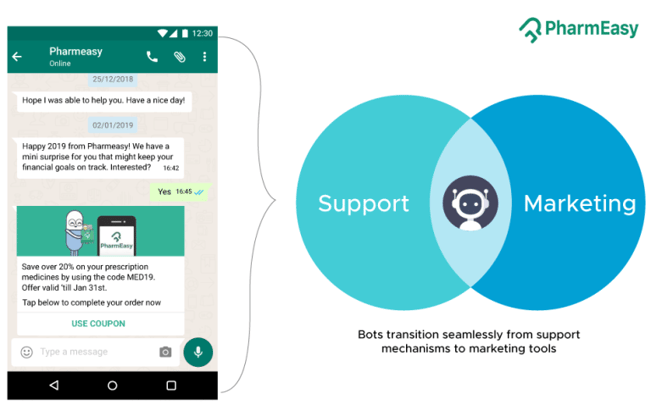 Why this works —
✔️ Bots are engaging. Having a messenger or chatbot that sends custom notifications from your app/website increases app launches by 27% and boosts engagement by 3x.

✔️ Selling the right product at the right time during the right conversation can lead to sales. In fact, for the average small and medium e-commerce business, 70-95% of revenue comes from upsells and renewals. Selling to people who actually want to hear from you is more effective than interrupting strangers who don't.

✔️ The end of a conversation is a great point to collect feedback, since the user has a distinct idea of your product or service by then.
5) Chat can be used to measure and gain insights

Simply finding and fixing customer service issues is never enough. Prevention is better than cure, after all. A great conversational analytics tool can help companies know exactly what products customers are talking about, and their likes and dislikes, which can contribute to making better business decisions.

A conversational analytics tool can help track recurring terms and user journey funnels in minutes, as illustrated for a food ordering service below: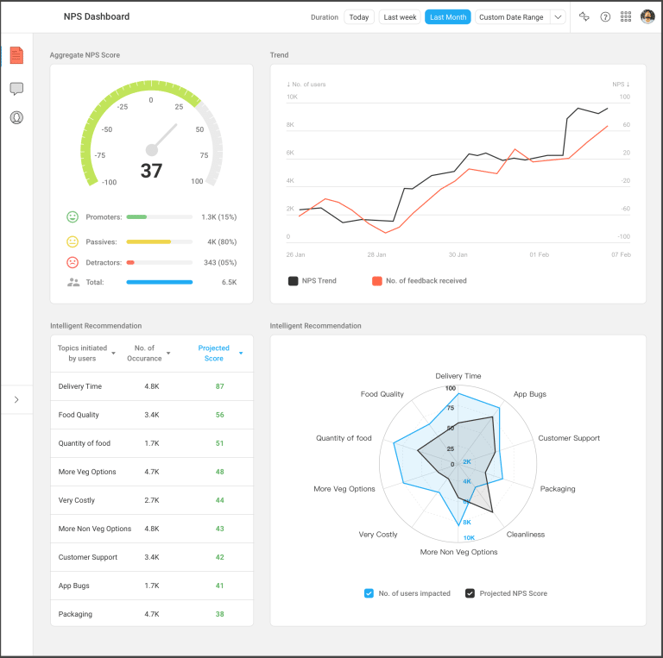 Why this works —


✔️ Know about trends in users issues to preemptively fix bugs and catch them before they turn serious. This can ensure that a company's first time fix rate (the % of complaints fixed the first time around) is the highest it can be, which helps improve overall efficiency.
✔️ Make decisions about product warehousing and planning. Knowing exactly what customers are looking for is a great differentiator in e-commerce. Planning for certain spikes in seasonal shopping (e.g. Decorations during Christmas) can help drive sales and revenues in the right direction.

In conclusion, any e-commerce company is behind the times if it isn't focusing on chat as a primary customer service channel. This is backed up by the experiences that Goibibo, Swiggy, OYO and several other e-commerce players have had. Seshadri Vyas, Product Head for Goibibo's GIA agrees and summarizes this well:


"We feel that customers are giving a strong thumbs up to this channel & businesses looking to be customer friendly have enough reasons to invest in a chatbot."
As smartphones become the primary digital interface the world uses, it is essential for every business to have a direct communication line on chat. This will help them harness the "personal" connection that's the cornerstone of great customer service.
---