Introducing Haptik's Conversation Partner Program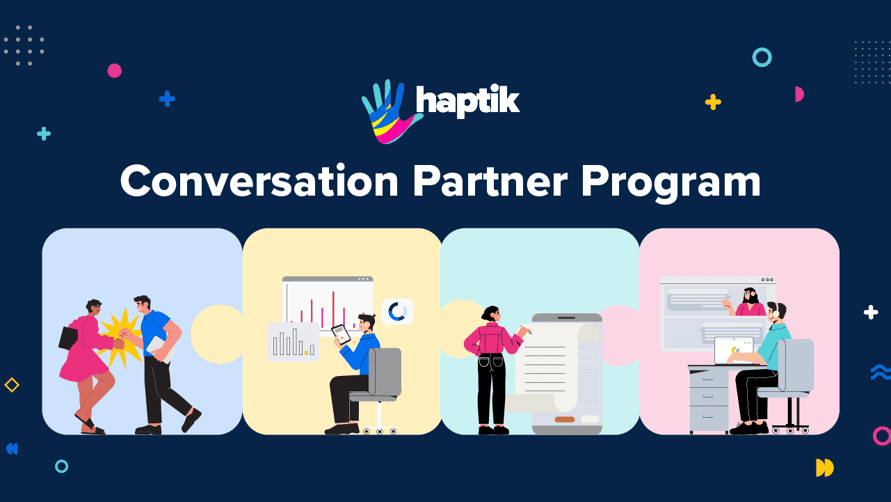 In the last few months, we've been entirely focused on expanding our product portfolio and integrations in order to facilitate the Conversational AI needs end-to-end for fast-growing businesses across verticals. With our Conversational Partner Program, businesses can join forces with the world's most trusted Conversational AI platform and grow their business by offering immersive, upscale customer experiences, unlocking their business reach into new, untapped markets!
As Haptik's Conversation Partner you can: Sell, Deliver & Manage AI-driven Conversational Solutions for Email, Chat & Voice. Our Conversation Partner program is divided into three key categories: System Integrators, Product Integrators, Resellers & Referrals. Businesses can choose from our flexible partnership program and leverage an assortment of perks and benefits such as:
1. Earn recurring referral commission
2. Industry-leading Revenue Share
3. Expand your business offerings
4. Get instant access to Haptik's Presales, Sales, and Technical live training
5. First look at Haptik's new products and features
6. Hands-on delivery support for your 1st customer
& lots more.
We deeply value all our partners and believe that this Program serves as an opportunity not just for us but for the entire ecosystem to shine and propel their business growth by delivering exceptional customer experiences.
By becoming a member of Haptik's Conversation Partner Program, partners including global and regional systems integrators, consulting firms, value-added resellers, and technology providers, can fundamentally expand their product portfolio, accelerate digital transformation for their customers, and seamlessly become a technology leader in the Conversational AI landscape.
---
Our partner ecosystem is growing fast!
Become a partner or learn more about Haptik's Conversation Partner Program by clicking below.