Mortgage Chatbots: 11 Ways They Disrupt the Industry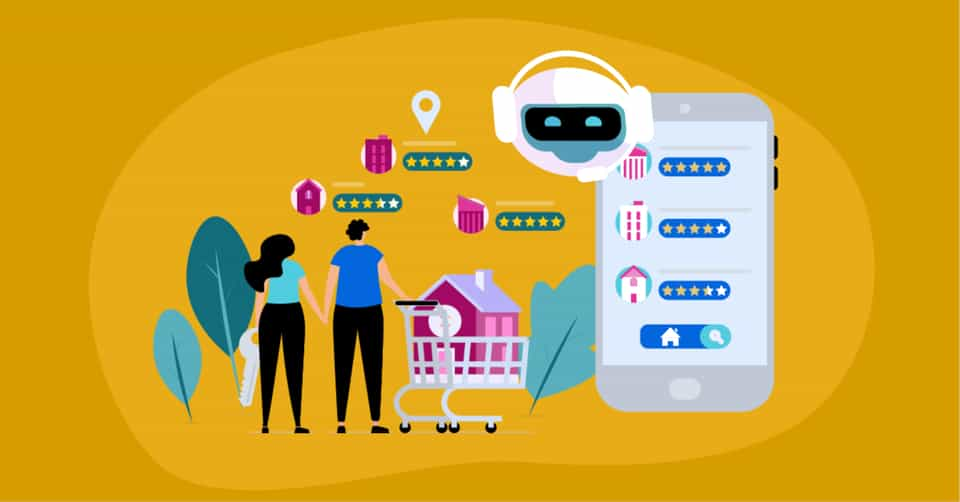 Technology has grown by leaps and bounds, and ChatGPT is the latest technology revolution in the realm of AI that's profoundly impacting business processes and how business gets done.
Of all the technologies, AI-powered chatbots have especially played a key role in the day-to-day operations of businesses across sectors such as retail or eCommerce, health, education, and media and entertainment, to name a few.
Mortgage chatbots have helped streamline the entire lending process for the financial services industry. They have made the sanctioning of mortgage/loans faster for banks and financial institutions, while borrowers also benefit from the seamless nature of obtaining loans quickly.
This article will explain how AI Chatbots can/will transform the mortgage industry. But before that, let's see what an AI chatbot is and what are the challenges faced by the mortgage industry that the bot can solve.
Read More: Why Financial Services Brands Should Leverage Conversational AI for Customer Care
What is an AI Chatbot?
Remember the last time you visited a website, connected to the service agent, and then realized that the person you were talking to wasn't exactly a human?
Did it occur to you that you were talking to a computer program or something that acts like a human but isn't one?
Guess not, right?
That's the beauty of AI-based chatbots. They appear to be a lot like humans, acting and interacting with users in real-time. But that's not the truth.
To define,
Chatbots are artificial intelligence-powered programs that simulate a conversation with the user. You can consider them to be programmed robots that can emulate and understand human behavior. The interaction is in a conventional user language and can either be through messaging applications, on a website, or a mobile app.
Mortgage chatbots are one of the most promising use cases of human-machine interaction in the mortgage industry. They help automate a task (such as loan processing, providing information about a lender, etc.) while in conversation with the end-user, serving them with the required information.
Read More: Personal finance chatbots can help users redefine money management
Major challenges faced by the mortgage industry and the need for an advanced solution.
Reduce TAT

Reducing the turnaround time of processing loans is one of the biggest challenges faced by the mortgage industry. No matter how complex the entire process is, customers always seek closure at the earliest. Hence, they need to work towards reducing the loan processing time.

Dynamically growing expectations

Users today do not just seek a flawless product/service but also a hassle-free interaction experience. With the conventional methods into play, meeting the demands and user expectations is becoming tough.

The 4 core values

Reassurance, transparency, simplicity, and speed are considered to be the core values during the mortgage journey. And meeting all of them at the same time is something that the industry lacks. To have a simplified application process, backed by reassuring customer support, with all of the data in hand (no eleventh-hour surprises), is what leaders must emphasize to convert more customers.

Inability to put data to use.

As mentioned above, the traditional methods are more manual and don't incorporate data into the decision-making process. This makes it difficult for the lenders to understand what the user expects. This is a major drawback given the rising importance of data, and the perks that come with analytics.

Online-offline gap

Working more from the in-house infrastructure with limited resources is another loophole in the mortgage industry. For one, it is hard to reach out to the global customer base. Even if that happens, serving them day in and out is a problem with time difference being the major hindrance.




AI Chatbots - Rethinking the foundation of the Mortgage Industry

Having said the above, it is clear that the industry needs to restructure its approach. This is where AI Chatbots come into play. As one of the advanced technologies, Chatbots have tremendous potential to transform the mortgage industry, and for the good.

A few ways Mortgage Chatbots can disrupt the

financial industry

include:





Round-the-clock services

Stay active 24/7 serving customers throughout the day. Chatbots are, unlike humans, not obligated to work 8-10 hours a day. They are programmed bots and active throughout the day (24/7). This helps serve the customers, irrespective of the time of day.

Analytics

Analytics plays a key role in pre-empting or identifying problems early. It helps forecast whether someone's situation might be vulnerable and devise a course of action. Moreover, for mortgage companies, a solid analytics solution integrated to the chatbot can help with driving better business outcomes and identifying ways to improve the efficiency of the lending process, which further results in improving customer experience (CX) and customer satisfaction (CSAT). Haptik's Intelligent Analytics platform helps derive actionable insights that help businesses improve their ROI metrics and evaluate possible areas of growth, among other advantages.

Mortgage Interest Calculation

Fast and accurate interest calculation is a key area in the mortgage lending process where chatbots can be particularly useful. It is not uncommon for borrowers to have difficulty understanding the monthly installment amounts they must pay towards their mortgage.

It can also be a cause of concern when the amounts are different from the mental calculation they might have made. Mortgage chatbots are able to collect the user input and compute the exact breakup of the repayment amount. This helps borrowers with their decision-making, while helping lenders to eliminate any possible reasons for ambiguity.

Human-like interaction

Connect and communicate with natural dialect. Often, users find it hard to talk in legal terms, failing to express what exactly they want. Mortgage Chatbots are designed and developed to understand the natural language of a human, decoding the simplest of the terms in the right manner.

Accelerate response time

Mortgage Chatbots help reduce the average response time. Being a computer program, the processing speed is high and even the processes executed are free from errors. This not only improves the line of operations but also accelerates the response time of a request eventually boosting productivity

Conversational UX

Mimicking human behavior, chatbots are human-like, thereby creating an impression that they can both understand and engage with the visitors in an interactive manner. Such a human touch improves the efficacy of the conversation, accounting for better leads.

Personalization at its best

Chatbots are like your personal assistants that will stay with you. Whether you want to inquire about your accounts or check the status of your loan, these digital agents will be there for you 24/7. Such a service stands out in the market helping you make a difference.

Automated Loan Assistance

Instead of relying on humans to assist and guide users through the loan processes, users can now refer to mortgage chatbots. Survey results show that 60% of the customers prefer or are comfortable with online modes of application. Chatbots, along with their features, tend to simplify the loan origination process. Besides, considering that users seek 24/7 help and support, automated support increases the efficacy of the system.

Engagement Metrics

Chatbots aren't just conversational agents but at the same time, generate reports which provide customer insights. Experts can study and assess these reports to identify prospects. Leveraging data is one of the key advantages of mortgage chatbots, one that redefines the scope of the mortgage industry

Increase lead generation

Different customers have different expectations and each of them behaves separately. For example, the first-time borrower might need some persuading to give out their details, while people who've borrowed previously might be easier to interact with during the lending process. Chatbots can understand what users are saying and when is the right time to close a deal. This increases the lead generation possibilities.

Cost optimization

It is expected that the integration of Chatbots in the mortgage industry would cut 22% of the total cost by 2030. Since they can solve customer queries in automation with minimal human support, it reduces the need to have call center agents always available to handle user queries. As a result, the cost of operating the business reduces. In addition to the above, Chatbots are economical in the sense that they cost less as compared to traditional mobile applications.
Here's an expert guide on Implementing Conversational AI for Financial Services
To Sum Up
Mortgage Chatbots are an all-in-one solution to serve your customers. Starting with handling requests to assisting customers through the application process, educating them on the procedure, or helping them with the search operation, Chatbots can do all. To put it this way, Chatbots are not just a tool to automate user interactions but one that can transform the mortgage industries to deliver a top-notch customer experience.
---
Want to develop an Intelligent Virtual Assistant solution for your brand?