10 Best AI Chatbots In India (Updated 2023)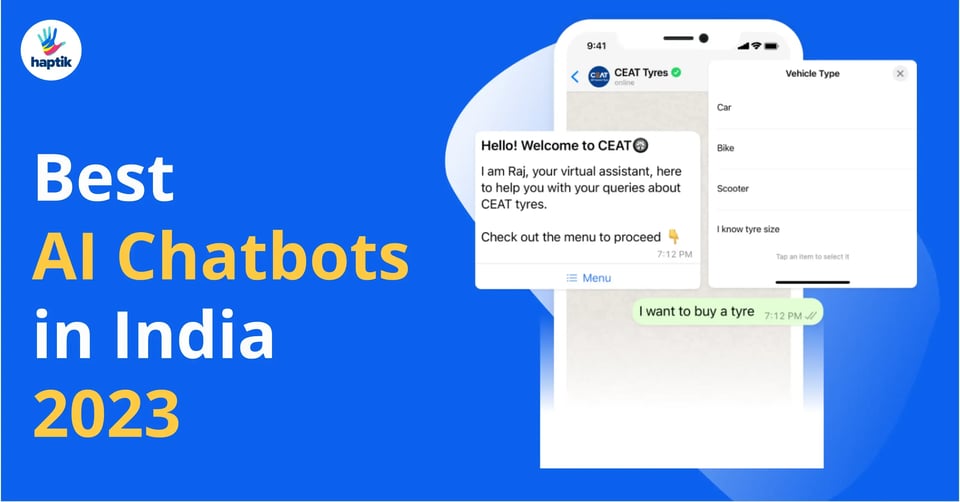 Artificial Intelligence (AI) has changed our world, especially the way we interact. AI-powered chatbots are the norm for most brands across the globe.
With NLP (Natural Language Processing), AI chatbots are equipped to understand the customer's intent, study its interaction history and then provide a personalized response to a query.
There is continuous advancement focused on making chatbots more multilingual, training them to understand cultural nuances and colloquialisms with the sole intention of making conversations with them as human-like as possible.
Today, companies use AI chatbots for lead generation, engagement, customer support, in-store experience replication, personalized recommendations, selling, and much more. And chatbots are predicted to save businesses $8billion by 2023.

The emergence of ChatGPT has only added more sophistication to a chatbot's capabilities in helping businesses accomplish more high-value use cases through the customer journey. (You can read more about integrating ChatGPT with WhatsApp - and the five ways it can take your WhatsApp game to several notches higher, in this blog.)
If you want to implement the best chatbot solution for your business and are looking for inspiration then we have made your job a lot easier. Here we have made a list of the best chatbot solutions implemented by India's leading brands across sectors, which will help you understand the real-life use cases of how chatbots are helping in driving business objectives.
Here are our top 10 picks of India's best chatbots (in 2023):
#1 India's First-ever WhatsApp Commerce Solution by JioMart
For Indian eCommerce giant JioMart, WhatsApp had been a channel mainly for customer support. However, it sought to make the big leap of providing the "most exceptional shopping experience" on the platform, serving more than 10+ million monthly users and driving conversions at scale.
After all, the company is offering India's first-ever WhatsApp commerce solution!
Improving user experience throughout their shopping journey and maximizing their use of WhatsApp chatbot were among JioMart's objectives.
To achieve this, the company has launched a chat-based search that allows users to search for products by chatting with the WhatsApp AI assistant. The feature not only displays products based on user queries but also personalizes the suggestions based on the user's pincode.
The solution has helped JioMart increase average customer spend by 20% in just three months, while its orders increased by 582% along with a nearly 733% growth in revenue.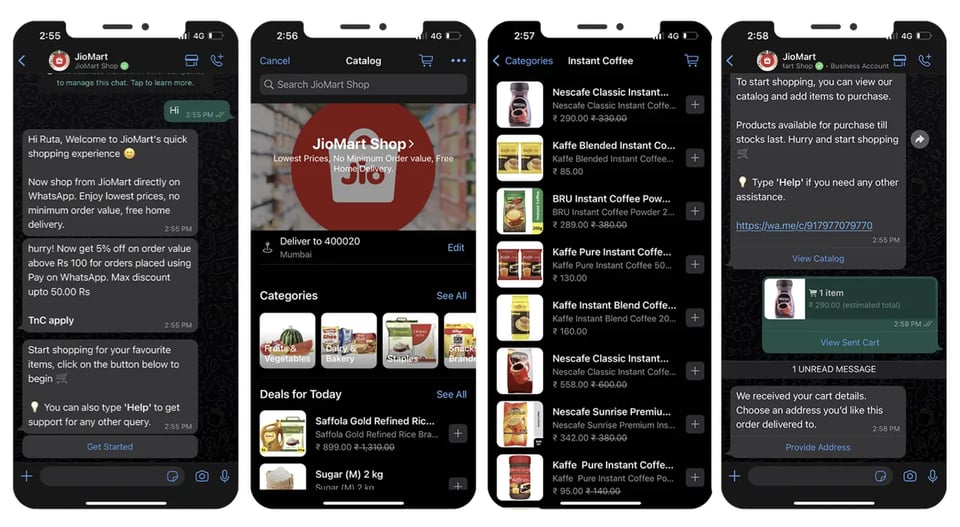 Learn how JioMart used WhatsApp Marketing to increase organic traffic and repeat purchase rate by 68%
#2 24/7 WhatsApp Chatbot by Disney Hotstar
Brands want to offer faster, more efficient and scalable customer service.
Disney+ Hotstar's customer base has grown 10X since 2019 with the acquisition of Indian Premier League (IPL) broadcasting right and the brand faced some key CX challenges, including:
Longer customer wait times
High dependency on call-center agents
Delayed resolution as a result of agent work overload
To offer a superior customer experience, Disney+ Hotstar has launched a 24x7 WhatsApp chatbot that provides strong, consistent experiences for customers. The WhatsApp chatbot helps provide support for 500,000+ customers while managing more than 5000 monthly conversations.
More significantly, the first response time has come down by 99.72% (from three hours to 30 seconds) and the resolution time has reduced by 97% (12 hours to 30 minutes).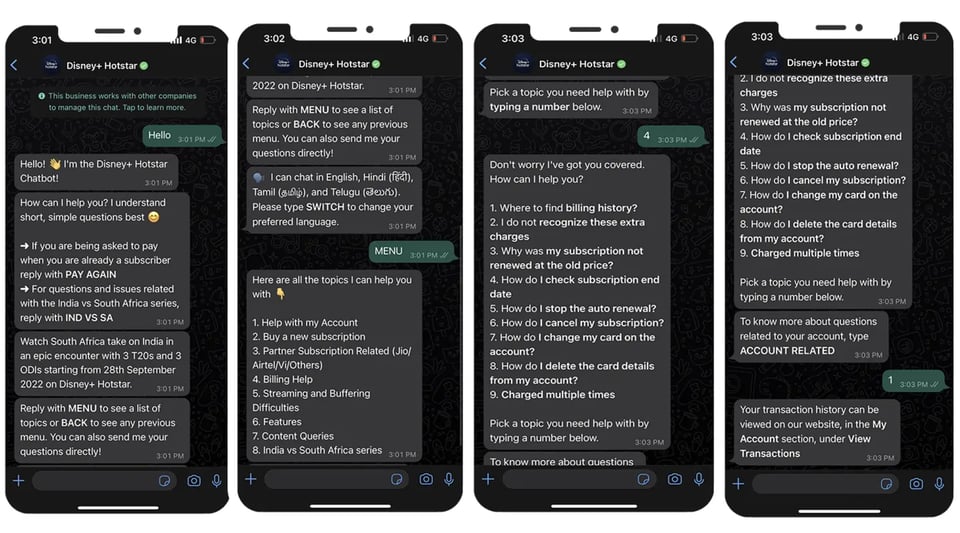 #3 Railway Food Order & Delivery by Zoop India
Railway passengers tend to have a hard time getting high-quality food on their train journeys.
That, now, is a thing of the past with Zoop India's WhatsApp chatbot service enabling travelers on Indian trains to get their food orders delivered straight to their seats.
Travelers can text Zoop's WhatsApp chatbot and enter their 10-digit PNR number, allowing the chatbot to automatically identify the seat/berth of the passenger.
Passengers will then be prompted to select a station where they want to order and get their food delivered. They can choose a restaurant to order their food and complete the payment process, all on the app alone. Once confirmed, passengers can also track their orders for delivery.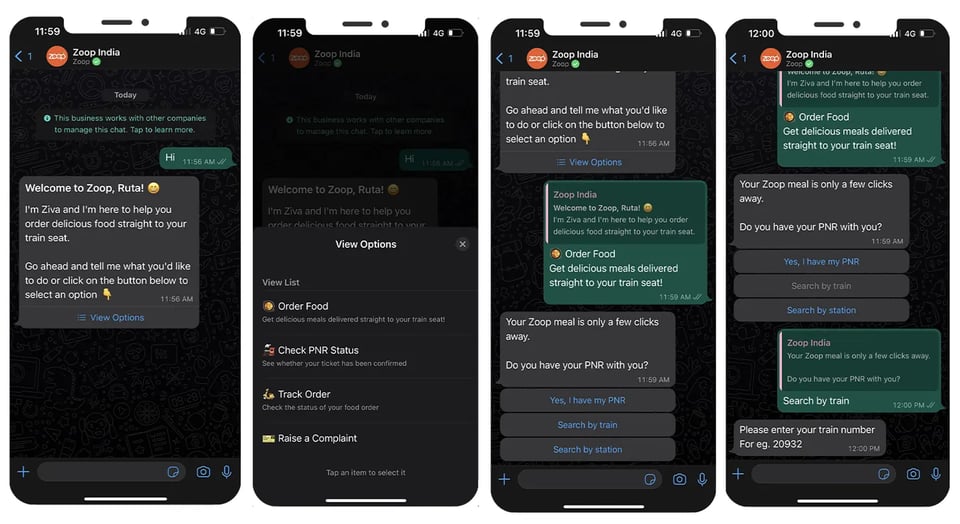 #4 Kaya Virtual Assistant by Kotak Life Insurance
Improving user engagement is important as it allows brands to drive customer retention and reduce churn.
Kotak Life Insurance (KLI), one of India's fast-growing insurance companies, had the challenge of improving customer engagement. Driving digital transformation and enhancing user experience were the other areas in need of improvement.
To address its challenges, KLI has deployed Kaya, an IVA that now handles 88% of routine user queries, while improving discovery and scaling user engagement on the platform.
Kaya has helped KLI achieve a CSAT score of 82%, save 8000 hours of agent time, and drive 700,000 monthly conversations.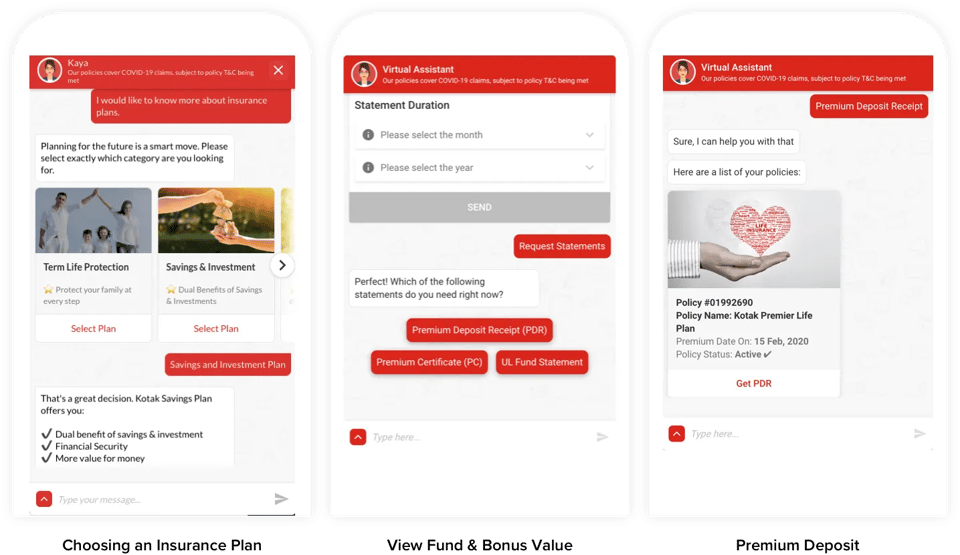 Learn how Kotak Life Insurance increased user engagement by 500%
#5 Omnichannel Support by Starhub
Timely customer support and enhanced customer experience (CX) go hand in hand. If customer service is efficient, it will improve operational performance, and agent productivity and deliver customer satisfaction.
Starhub, a major telco in Singapore, aimed to improve NPS (a north-star metric) and first response time, among others.
The company's AI chatbot contains 3000-plus unique intents and 50-plus pre-built journeys.
The AI chatbot helps achieve a seamless handoff between AI and support agents, and has significantly improved first-response time for queries pertaining to account balance, billing, new offers, and more.
Overall, Starhub improved its NPS by 125%, with the intelligent virtual assistant (IVA) delivering 80% accuracy. It also reduced customer "support wait times by almost half", driving operational excellence and improved CX.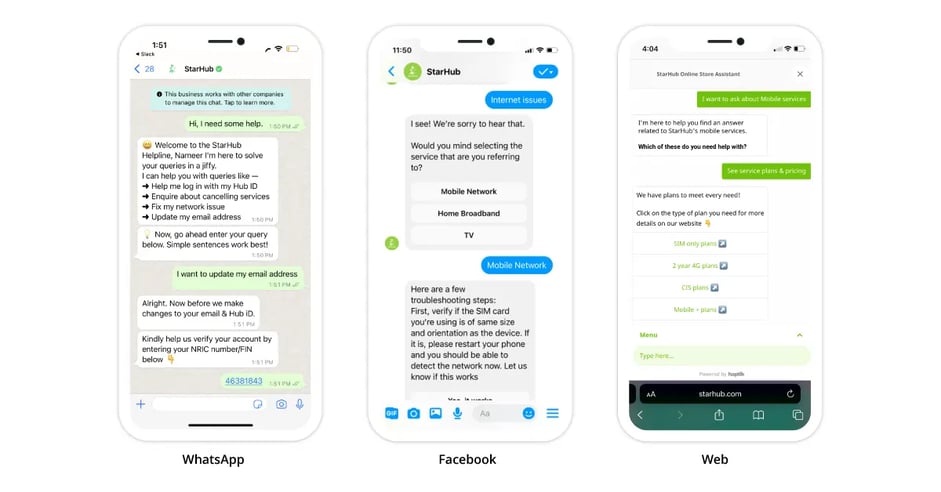 Learn how Starhub achieved 125% improvement in NPS
#6 Dr. Lal PathLabs Virtual Assistant
Health has taken precedence in the last three years with the onset of a global pandemic. And today, more and more people prefer to get their health needs catered to without physically going to a medical facility. Dr.Lal PathLabs intelligent chatbot helps its customers with COVID-related information, locating the nearest center, tracking reports, etc. It also guides about the various tests and their pricing.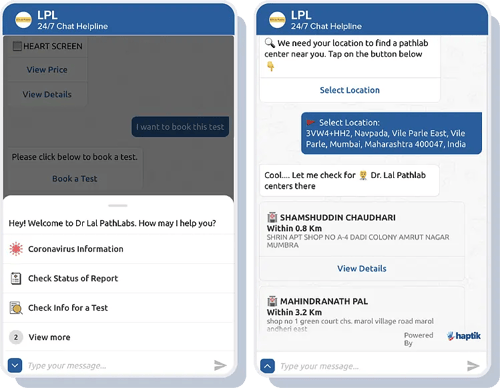 Know how Haptik helped Dr. Lal PathLabs Scale their Customer Support Strategy
#7 Borosil Virtual Assistant
Even though buying cookware seems like a pretty simple task, it isn't. To many people's surprise, there are plenty of variants available. To simplify this process, Borosil has implemented an Intelligent Virtual Assistant that will assist its visitors to get what they are looking for in minimum steps reducing the hassle of going through multiple web pages. The assistant also helps in warranty registration and provides after-sales support.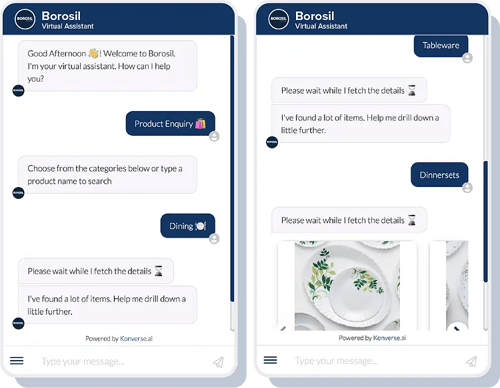 #8 EVA by HDFC
Navigation of a banking website with its plethora of offerings is a tiresome process. Getting even trivial information looks like a mammoth task that will take too much time. To free customers from this directionless searching, multiple clicks, and hours of waiting on calls to reach an agent, HDFC has introduced EVA (Electronic Virtual Assistant), India's first and largest AI-powered banking chatbot.
EVA is available 24/7 to help customers get information about their accounts, cards, or any other service they have enrolled in or are interested in knowing. It assists in bill payments, registers complaints, and much more. It is also present on Google Assistant and Amazon Echo devices.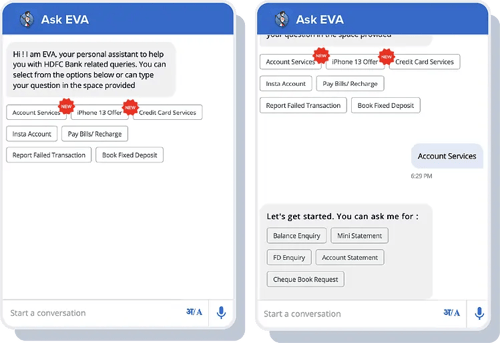 #9 Tally's Virtual Assistant
For a B2B enterprise, providing its customers personalized and unified customer experience is a must. Tally's Intelligent Virtual Assistant is aimed at delivering precisely this.
It engages visitors when they land on the website, addresses routine queries, and encourages them to schedule a demo with the sales team. It also promotes product launches, feature updates, exciting news, and alerts to improve user engagement.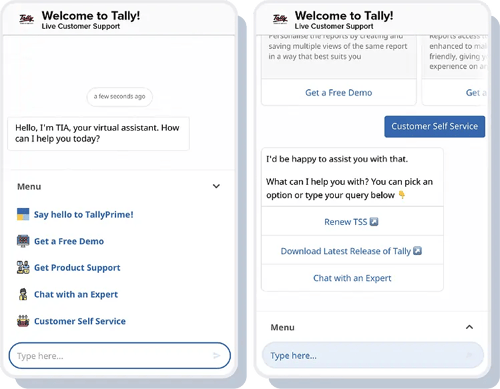 Know how Tally implemented a 24/7 Sales Assistant
#10 MyGov Corona Helpdesk Chatbot
The COVID-19 pandemic shook the world. During the crisis, people needed access to accurate and reliable information about the coronavirus. MyGov Corona Helpdesk – the official Government of India chatbot, was developed with the same intention in mind.
The WhatsApp chatbot answers COVID-19 queries, provides tips, offers preventive measures to stay safe, and shares the latest updates and advisories from the Ministry of Health. The WhatsApp chatbot was also made available in Hindi to increase its reach. As the vaccination drive started across the country, the chatbot upgraded to enable millions of Indians to book vaccinations slots and download their vaccine certificates.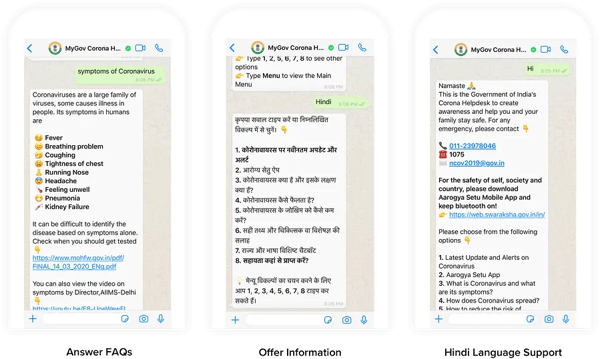 Know how Haptik built the World's Largest WhatsApp Chatbot
To sum up
These real-life use cases show that with AI chatbots, the possibilities are endless. Depending on the business objectives, chatbots can help brands improve their CX, unlock new sales channels, or be an ally to the support team.
Conversational AI is continuously evolving the way we communicate, and Haptik has been at the forefront of this revolution. With 4B+ Conversations and 300+ solutions deployed across the industries. Leading brands like HDFC, Jio, Tata, Disney Hotstar, OYO, OLA, HP, and KFC have shown their trust in Haptik.
This experience and expertise equip Haptik to design the best chatbot solution for your brand.
See Haptik's GPT-powered Chatbot in Action!

Explore AI Chatbot Solutions with Haptik
---