Deliver delightful shopping experiences with WhatsApp chatbot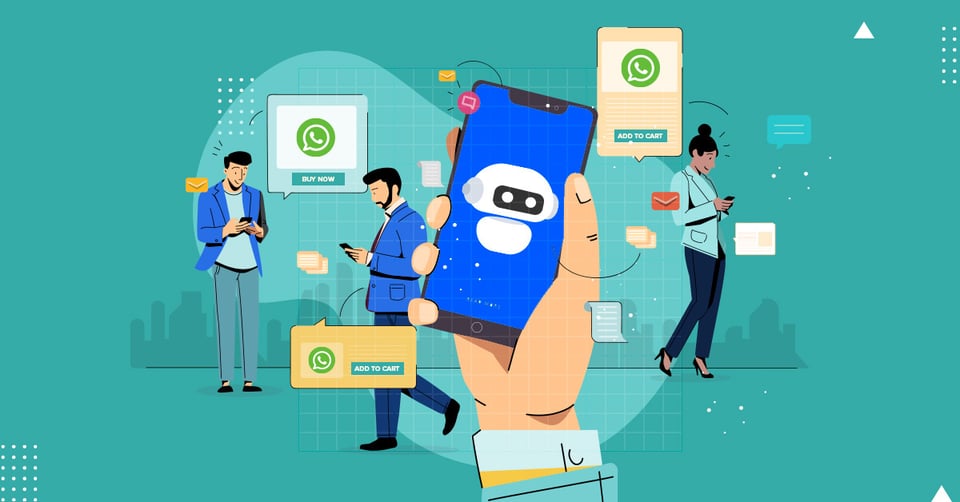 As the universe of online buying expands, customers' expectations are also evolving. 79% of global consumers agree that a brand's experience is as important as its product and services, making it necessary for a brand to provide improved retail experiences to its customer on the preferred platforms. According to Meta, 59% of shoppers want to connect directly with brands through messaging services, WhatsApp has become a powerful channel to engage with customers. And with its latest rollout of commerce features, WhatsApp Business API empowers brands to deliver engaging shopping experiences effortlessly.
In this blog, we will see how brands can utilize the features of WhatsApp Business API with the help of a WhatsApp chatbot and offer a buying experience that meets the customer's demands and delights them.
Making the buying process convenient for the customers
Customers are busier than ever; they are constantly multitasking on the go. That's why convenience has become a primary demand, with 83% of consumers valuing it more than what they did five years ago and 97% backing out of a purchase because of its absence, as per the Businesswire consumer report. This holds especially for specific categories like groceries, personal items, pet products, etc.
Leveraging the UI elements offered by WhatsApp Business API through a WhatsApp chatbot, brands can simplify the buying experience and make it more conversational, saving the consumers time and effort.


Single product messages are best for guiding customers to one specific item from a business' inventory. The products are displayed in a Product Detail Page (PDP) format.
With Multi-product messages, brands can share a selection of up to 30 items from their business' inventory, letting users navigate a specific category.
Using List Messages, brands can present up to 10 alternatives for users to pick from in a menu-type view.
With Quick-Reply Buttons, brands can reduce the struggle of typing back complete answers for their customers; by offering them a list of reply buttons from which they can simply select an option.
To help customers, even more, brands can use a chat-based search, where users can directly search for the product they're looking for by conversing with a WhatsApp chatbot.
WhatsApp promotional messages

are an integral part of the WhatsApp Business solution. With the help of a WhatsApp chatbot, brands can send these proactive, personalized messages reminding customers about top-ups, renewals, refills, etc. Companies can make their customers' lives stress-free by sending relevant and timely notifications.
With a

multilingual WhatsApp chatbot

,

brands can offer customers the flexibility to have conversations in their desired languages. This way, customers can express themselves freely without any barriers.


Brands also can leverage the WhatsApp platform's voice capabilities, making it even easier for customers to interact with them. With WhatsApp Voice Notes, consumers can send a voice message to the WhatsApp chatbot and get a suitable response.


Being available when the customer needs

90% of customers rate immediate responses as essential when they have queries, and 60% define "immediate" as 10 minutes or less. With a WhatsApp chatbot, brands can be available and answer their customer's in-moment queries across their purchase journey. Excellent customer service can lead to repeat purchases and higher chances of recommendation.
Adding personalization to the customer's shopping experience

Customers want businesses to understand their needs and deliver tailored experiences that are meaningful and add value. According to the new Epsilon research, 80% are more likely to purchase from a brand that provides personalized experiences.
Personalized Recommendations:


91% of consumers

say they would shop with brands that recognize, remember, and provide relevant offers and recommendations. With a WhatsApp chatbot powered by an AI recommendation engine like Haptik's, brands can offer buying guidance & product recommendations based on intent & purchase patterns driving enhanced shopping experiences and repeat purchases.


Personalized Communication
72% of consumers say they only engage with personalized messaging, according to

SmarterHQ

. A WhatsApp chatbot can send personalized promotional messages with discounts, offers, information about new product launches, etc., relevant and appealing to the customers, nudging them to buy. Brands can also send timely updates to keep users informed about shipping updates, orders, payments & more.
Providing a seamless checkout experience
One of the primary reasons causing cart abandonment is the complicated and time-consuming checkout process. Brands must ensure a simple, quick, and trouble-free payment experience for their customers to complete their transactions.
With the help of a WhatsApp chatbot, brands can guide and encourage customers to initiate payments while they are on their purchase journeys.
As discussed earlier, a WhatsApp chatbot can send customers messages about recurring bills with an in-built payments link; the customer needs to tap on the link to complete the transaction.
Haptik provides a "3-click" UPI payment experience and also partnered with leading FinTech company PayU to help businesses deliver a personalized, delightful end-to-end shopping experience on our WhatsApp chatbot solution.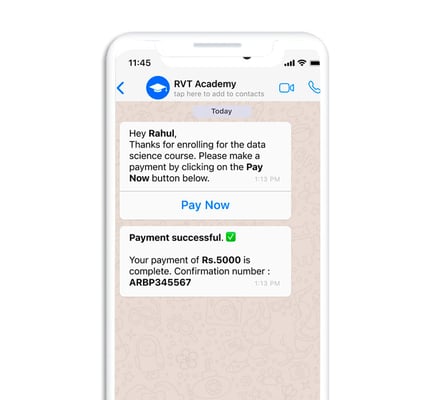 Exceptional shopping experiences on WhatsApp by JioMart

JioMart, was among the first businesses to enable an end-to-end shopping experience for their customers with the help of Haptik's WhatsApp chatbot. The brand saw immediate results with increased orders, average customer spending, and add-to-cart ratios, making it a full-blown channel for the brand.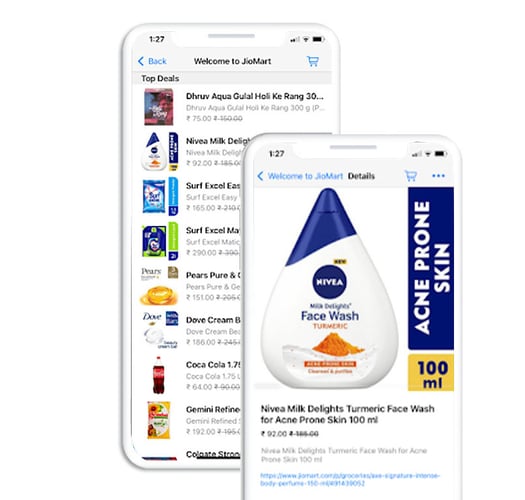 WhatsApp is poised to become the most critical channel for brands to generate sales and unlock hyper exponential growth. A WhatsApp chatbot can be a powerful tool to leverage the platform's full potential and deliver an exceptional experience to your customers. Haptik has powered WhatsApp solutions for some of India's most prominent brands, such as Jio, TATA, HDFC, Dream11, OLA, Kotak Mahindra, etc. We're a recipient of 17 G2 badges recognized by Gartner and Opus Research. With over 4+ Billion interactions, we're India's largest Conversational AI company!