The Next Big Thing for Multilingual Chatbots: Hinglish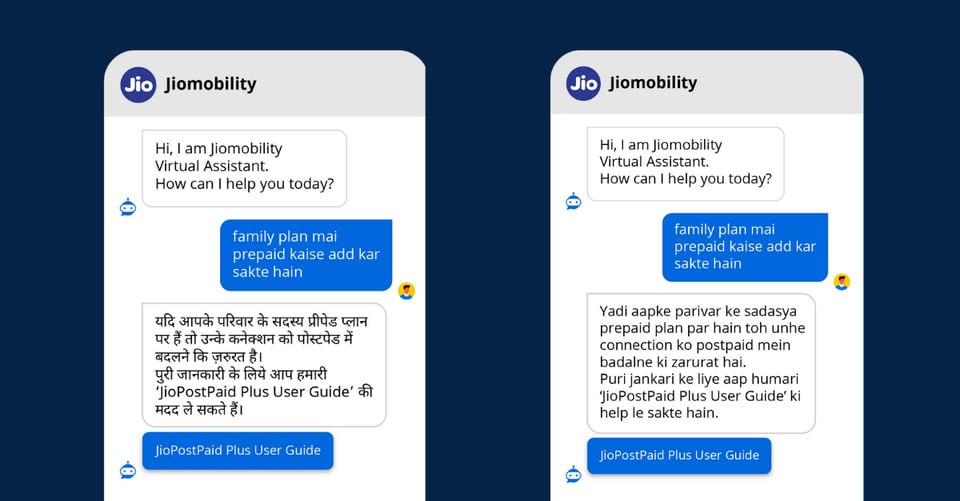 With the world moving online in the post-pandemic world, it is now more critical than ever for businesses to provide the best possible customer experiences in order to sustain in this competitive market. A crucial part of this customer-centric strategy requires brands to support their customers in a language they prefer.
Most brands choose English as their primary language for all types of customer communications. However, using only a single language for a diverse customer base speaking multiple different languages, not only creates unnecessary barriers but also frustrates the end customer. Various statistics show how businesses are missing out on tremendous opportunities by not supporting multilingual conversations:
29% of businesses have lost customers because they don't offer multilingual support
72% of consumers are more likely to buy when help/information is in their own language
70% of customers are more loyal to brands that support their native language
These numbers tell us that while English is a popular language, it does not suffice for all customers. This particularly holds true for a country like India, which is known for its language diversity.
The need for Hinglish
The digital revolution in India has exponentially broadened the Internet user base in the country to include large numbers of non-English speakers that outnumber English speakers. While Hindi & English are more popular than all other vernacular languages, it has given rise to a new language: Hinglish with 350 million+ speakers versus only 125 million+ English speakers.
This shift in language is primarily because users find texting and having conversations in Hinglish more convenient. It is easier for users to type their Hindi queries in Latin script instead of Devanagiri script. Since a vast majority of India lives in semi-urban and rural regions and isn't as fluent in English, it becomes even more critical for brands to adapt to the customer's preferred language instead of a one-size-fits-all approach with English or Hindi.
Here are some ways users often frame their queries in Hinglish:
"Mujhe help chahiye"
"Mera order kahan hai"
"Mujhe refund chahiye"
When we checked with two of our customers - Howtouse and Jiomobility, we found that lack of Hinglish support was the reason behind 40-80% of the bot breaks happening. These numbers were expected to go even higher with Diwali, a prestigious festival in India just a few months away.
Read on: Multilingual Chatbot: Driving Customer Engagement Globally
Why do basic chatbots fail in supporting Hinglish?
When users ask queries in Hinglish, basic chatbots fail to respond and either transfer it to an agent or send an incorrect response. Not only does it impact the customer experience negatively but it also costs extra human resources even when there's no need.
The reason for this gap is because chatbot localization is not as easy as taking an English-language chatbot and translating all its content to Hinglish. Most basic chatbots mechanically translate chats back and forth without understanding the context. A fully functional multilingual chatbot needs to be able to decipher the language, understand exactly what the user wants, and respond naturally. The legacy translation services are not equipped with this natural language understanding, which is essential to make or break multilingual customer experiences.
Hinglish chatbots powered by Linguist Pro
At Haptik, we understand the gaps of traditional translation services and instead use a hybrid of basic translation and custom native translation capabilities, called Linguist Pro to power the most accurate multilingual conversations. Learn more about Linguist Pro here.
Haptik has first launched Hinglish with Jiomobility whose mission is to make superior internet & network accessible to every person in every corner of India. This strategy helps the brand to
Expand user base to tier-2, tier-3 cities of India & provide localized services

Provide flexibility to customers to speak in their lingo and colloquialisms

Resolve a higher number of queries with automation & accuracy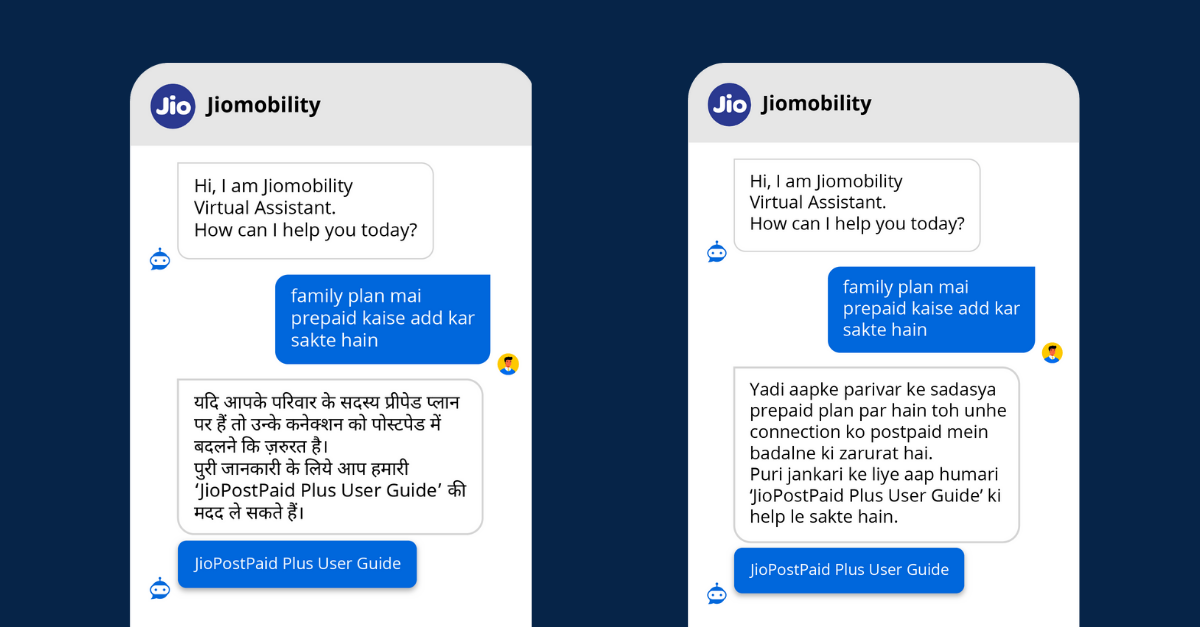 How does it work
When we look at how the technology behind Hinglish chatbots works, it can broadly categorize it into 3 simple steps:
Language auto-detection: As soon as a user initiates a conversation in Hinglish, a Haptik multilingual chatbot automatically detects the language in the first three messages and understands that the user is more comfortable in reading Hindi than English for the rest of the conversation.
Natural Language Understanding using Transliteration: To further understand what the user wants to say in the query, Haptik's proprietary NLU engine transliterates the Hindi text in Latin script to Devanagiri script. Once the translation is complete, the NLU engine uses deep machine learning algorithms to understand the query in Hindi and respond accurately.
"Family plan mein kaise add kar sakte hain" is transliterated to "family plan में prepaid कैसे ऐड कर सकते हैं

Respond in preferred language: Brands can choose either Hindi or Hinglish as their bot language to resolve and respond to their user queries without requiring any human agent
To Sum Up
There's no doubt that multilingual chatbots, especially Hinglish are an indispensable tool for brands that want to strengthen their presence in India. For Hinglish chatbots, translation and NLU are two major components that can make or break the customer experience. Fortunately, Haptik excels as both by using Linguist Pro. Join us in our mission to help brands break all language barriers become by making conversations customer-centric & truly vernacular.