The Next-Gen Digital Payment Trends Using Intelligent Chatbots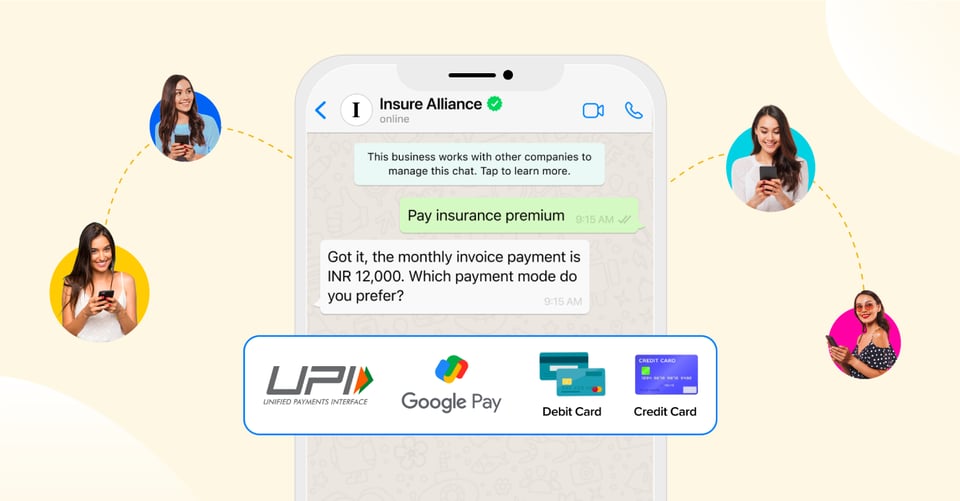 Consider it to be the ease of processing or the trend in the making, digital payments have garnered huge attention worldwide. The global mobile payment market size was valued at USD 52.21 billion in 2022 and is expected to grow at a Compound Annual Growth Rate (CAGR) of 36.2% from 2023 to 2030.
Hence, it seems appropriate to say that the face of business transactions and/or the mode of payment has started transforming, and why not?
As more and more organizations transform their business operations adapting to digitization, it becomes mandatory to restructure the online payment policies. Additionally, the growing advancements in technology and the increasing popularity of mobile phones make online payments the real need of the hour.
Keeping this as the core of our disciplines, we have drafted this piece to shed light on the digital payment trends in 2023, and the role played by AI Chatbots in the efficient processing of these online payments.
Why Consumers Prefer Online Payments
Digital modes of payment have been in trend for a long time. From customized mobile applications to UPI processing, scan-pay technology, and net banking, there are several methods that facilitate online transactions. However, the numbers a year ago were a lot different than they are today. A lot has changed in the last few years. Much of this is attributed to the fact that customers today seek uninterrupted transaction experience. Digitization has given them the ease to connect quickly; hence, the inclination toward digital payments keeps growing.
Note, digital payments offer many more advantages.
Eliminate geographical boundaries: Digital wallets are designed to accept payments in one or more currencies. When a customer travels from one region to another, he/she no longer needs to exchange money.

Extremely convenient: Irrespective of whether you carry a card or your smartphone, you can always process payments, pay your bills, or easily buy goods. The evolution of digital payment systems such as AI Chatbots further streamlines the payment processes, adding to the convenience parameter.

Time-saving: Waiting in a queue to complete the payment protocols has been one of the prominent reasons customers shifted from physical transactions to online payments. The scan-to-pay methodology reduces the wait time while improving the overall experience.
Adds a protective layer: Digital modes of payment are highly encrypted and secured, eliminating all possibilities of fraudulent acts. Additionally, digital modes of payment have a tech-driven fraud detection mechanism in place for real-time screening to combat payment fraud.
Learn more: 9 Best Chatbots in the Financial Services Industry
Top 5 Trends Shaping the Evolution of the Digital Payment Industry
The increasing demand and the growing popularity of digital payments paved the way for innovation opening doors for newer payment trends. Here, we introduce the top 5 digital payment trends to keep an eye on in 2021.
Trend #1: Biometric Authentication to Strengthen Security
Conventionally, online transactions like card payments, UPI, etc come with a secret PIN or a password to validate and process payments. In light of online fraud, the industry has now upgraded its security system by adding biometric authentication.
Biometric authentication is a unique feature that takes into consideration the structural and biological traits of a user to authenticate and/or validate a transaction. The common methods of biometric authentication include facial recognition, fingerprint scanner, voice detection, Iris scanner, view mapping, etc. Only when the biometrics map one of the approved users, does the payment get processed.
Given the increasing cases of cyber theft and online fraud, biometric authentication serves as a reliable method for authenticating digital payments. The fact that the method uses the unique characteristics of a user to confirm the identity, helps set up a sense of loyalty winning customers' trust.
Frost & Sullivan's latest industry report predicts that due to the rising demand for automated authentication and identification, the biometrics market will reach $54.97 billion in revenue by 2025.
Trend #2: Increase in Mobile Wallet Use
The trend of increased mobile wallet use can be viewed in the context of the broader trend of enhancing the user experience of digital payments, which is being driven in part by the use of AI chatbots. Mobile wallets, which allow users to store payment information on their smartphones and make contactless payments at the point of sale, are becoming increasingly popular due to their convenience and speed.
Chatbots can also be used to improve the security of mobile wallet transactions by providing real-time fraud detection and prevention. By monitoring user behavior and detecting suspicious activity, chatbots can help prevent unauthorized transactions and protect user data.
The global mobile wallet market is forecasted to expand at a stupendous CAGR of 22% from 2023 to 2033, according to the latest data provided by Fact.MR, is a provider of market research and competitive intelligence.

Trend #3: mPOS Technology for flexible shopping
Physical retailers or merchants find it hard to collect payments on an ad-hoc basis. Often customers prefer making payments through a card. The inability to process the same incurs a tremendous loss. This is where the idea of mPOS devices (tablets, smartphones, dedicated devices) comes into play.
As one of the revolutionary techs, mPOS aims at streamlining the manner in which payments are processed in retail stores. It consists of a dedicated device with a card reader to accept payments online. All that a customer needs to do is swipe his/her card through the device, validate it, and be done.
Considering the fact that customers hate to stand in queues, introducing mPOS has helped retailers reduce the waiting time of the customers, thereby boosting sales and improving customer experience.
Survey results suggest that mPOS will grow at a CAGR of 19% from 2020 to 2026. This together with the benefits offered by the technology is sufficient enough to accelerate the adoption of the same in the coming times.
Trend #4: Smart Speakers as Payment Assistants
Voice assistants have been in trend for a long time. Be it asking for weather updates or instructing them to play a song, present-day users are comfortable interacting with an automated bot. What's fascinating is that the application of these bots has now entered the payment industry. Survey results suggest that 28% of the users in the US have already switched to voice payments.
With voice-based assistants, customers have the ease to pay their bills, get a credit score, and/or receive notifications on their balance. Besides, voice payments eliminate the need of entering a security pin or password for validating the authenticity of the user. This further accelerates the payment process leading to faster checkout.
A few customers doubt the credibility of the technology given that the same is vulnerable to security breaches. Organizations are working to add dual-factor authentication, and/or biometric verification mechanisms in an attempt to overcome the security constraints and corresponding barriers. The big players have already invested in smart speakers to design and build new versions of the existing ones.
The sudden outbreak of the pandemic made it clear that organizations must revamp their payment infrastructure paving the way for alternatives such as digital wallets, wave to pay, etc. There has been a sudden increase in the usage of mobile wallets given the need for contactless payments.
With these, users will only have to wave their smartphones over the counter to initiate a payment. Such a system is both easy and convenient as compared to the conventional ones. Google Pay, Apple Pay, and Samsung Pay are a few of the many applications facilitating contactless payments.
Besides, NFC payments are also in trend as it eases the entire payment process. Top nations have already adapted to this trend and it is expected that by 2027, 36% of online payments would be processed through NFC-powered cards.
Chatbots and the Financial Sector: Streamlining Payment Processing
It is true that each of the stated trends has the potential to transform the payment system. However, one technology that stands out and apart from others is AI chatbots.
Today, artificial intelligence bots have found tremendous implementation in financial services. They are fast, they are cost-effective, and above all, they are 24/7 available. It is predicted that the integration of AI chatbots in the financial sector would save USD 7.3 billion by 2023. Chatbots have the ability to enhance the end-user experience and optimize the lead-generation process through their natural and engaging interactions. Industry experts are actively investing in the integration of technologies such as NLU, and ML to further enhance the features and functionality of chatbots.
Further to this, GPT-powered chatbots can provide instant and accurate responses to user inquiries, without the need for human intervention. This can help speed up the resolution of issues and reduce wait times, improving overall customer satisfaction. GPT-powered chatbots can accelerate
4 Reasons Chatbots in the Payment Industry is the New Trend
Chatbots are Conversational
The best way to connect and communicate is through speech. When customers are making payments or communicating with a business, they frequently encounter difficulties understanding certain aspects of the process, such as payment options or the information required to complete a transaction, leading to frustration and a negative experience. Having someone who could guide and assist customers helps add value. This is where Chatbots come into play. Staying active 24/7, they help customers with all their requests and queries.
Chatbots can Accept Payments
The functionality of Chatbots isn't limited to solving queries or guiding customers. Instead, they have a lot to offer. The conversational interface of chatbots empowers customers with the ease to request clients for payment. Let's say a customer viewed one of your products on Facebook Messenger or interacted with WhatsApp Chatbot and clicks on the 'buy now' button. Instead of switching to a different application, allow your chatbots to handle all the payments. Dedicated bots can quickly share the payment request followed by the currency and the total amount due for payment. As and when the payment is done, the bot will notify the customer, and the conversational interface returns.
Processing payments digitally, you need to be sure about the privacy and security of your transaction. Developed using the top technology stack (NLP, ML, AI), Chatbots ensure encrypted transactions safeguarding the reliability and security of the same. Multiple organizations are actively deploying messenger Chatbots to send transaction notifications to customers. This further adds to the security helping them validate transactions. AMEX was one of the first few organizations to do such a thing.
One of the biggest advantages of having a Chatbot is that it can be integrated with one or more platforms. Where a few users prefer connecting over a call, others have a tendency to chat. Owing to the multi-channel accessibility, Chatbots can be deployed on all platforms irrespective of the type. This adds flexibility to business operations ensuring that you are where your customers are.
In addition to all of the above, Chatbots help cut down the overall cost of payment processing, optimizing end-to-end revenue. However, one thing to take care of is the experience delivered. While it is true that technology has the potential to revolutionize the payment sector, its successful implementation is crucial in order to achieve the desired results.
Wondering how to build an effective Chatbot that facilitates payments?
Look no further as Haptik's Conversation Studio is here to help. Having served businesses across the globe, our team has both experience and the expertise required to build reliable and cost-effective Chatbots for payment processing. Allow us to help you and the industry grow seamlessly.
Read a Case Study on how Haptik elevated Customer Support for the World's Leading Insurance Company using AI
Conclusion
The definition of simplicity has changed. Today, people look for ease of use in a way that allows them to do things at their convenience. Digitization is one term that totally justifies the above. While a majority of operations have already been transformed digitally, the payment processing segment has caught attention lately and the graph will only increase in the coming times. Haptik has taken the lead in transforming the way users engage with chatbots and is now poised to fully capitalize on the capabilities of AI chatbots, providing large enterprises with out-of-the-box payment integrations to deliver a seamless shopping experience for their customers.
---
Want to develop an Intelligent Virtual Assistant solution for your brand?