India's largest chatbot meetup: Bots-Up Bengaluru Roundup | Haptik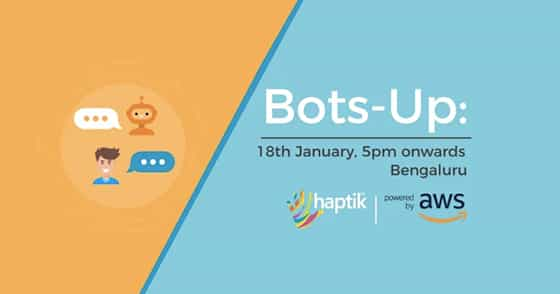 After the successful 1st ever Bots-Up meetup in Mumbai, we hosted the 2nd edition of Bots-Up, India's largest chatbot meetups by Haptik and AWS, this time around in Bengaluru. As we were in the tech hub of the country, this meetup focused on bringing tech leaders and chatbot enthusiasts under one roof to discuss the current state of the industry, the frameworks that go behind building a great chatbot and what the future holds from a technical standpoint.
On 18th January, Amazon's MG Road office was bustling with bot builders, data scientists, product managers, tech leaders and chatbot fanatics from across industries, eager to learn and discuss everything about chatbots.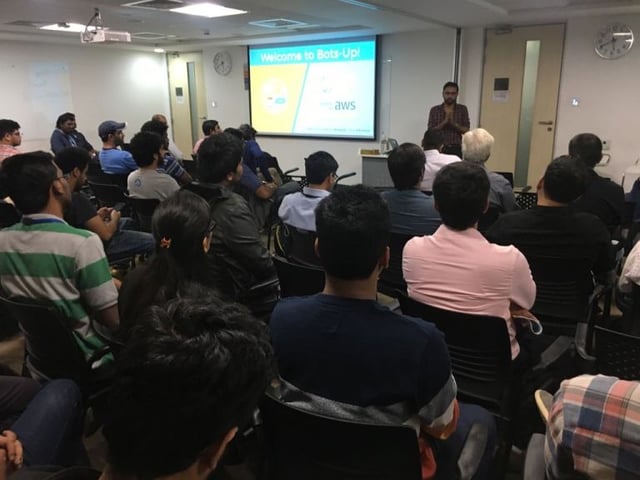 The evening commenced with a keynote session by Swapan Rajdev, CTO and Co-Founder, Haptik who gave a complete lowdown on the frameworks and ideal approaches to build scalable chatbots. His session started with insights on evolution of user interface, followed by tips and tricks to build a great chatbot, such as accurate training data, choice of machine learning stack, the importance of speed & scalability, and tools for continuously monitoring and improving a chatbot's capabilities.
He also shared his experience of building over 100+ chatbots at Haptik, one of the world's largest chatbot platforms, and the how the company overcame challenges that came along the way.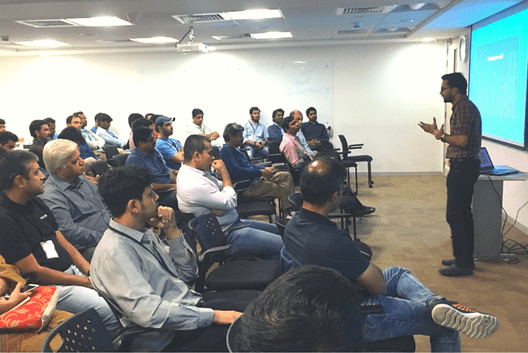 The audience was quite intrigued by his technical insights and asked some interesting questions on current chatbot trends, machine learning, the scope of artificial intelligence and a lot more. One discussion that particularly stood out was related to the usage of parallel ensembling to ensure the speed of a chatbot, with increasing complexity of machine learning models.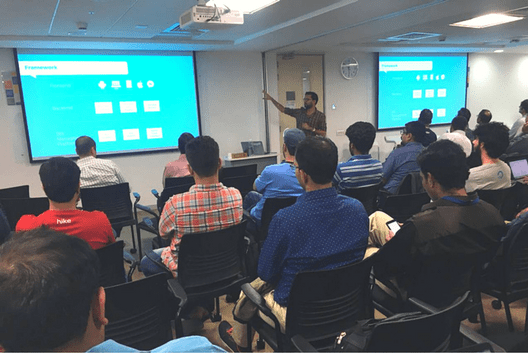 The keynote session was followed by an engaging panel discussion. The discussion was graced by esteemed panelists from across industries, including:
Dr. Partha Talukdar – Assistant Professor at IISC, Bengaluru
Mr. Vikalp Sahni – Co-founder and CTO, Goibibo
Mr. Aravind Ajad – Chief Architect and Architecture Practice Leader of Emerging Technologies, Wipro
Mr. Sohan Maheshwar – Alexa Evangelist, Amazon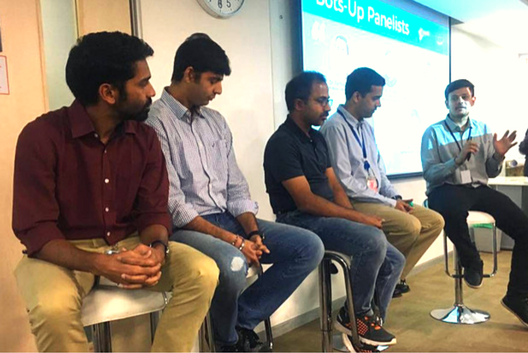 The Panel Discussion
The discussion highlighted various machine learning concepts and what works best while building scalable chatbots. The panel was moderated by Krupal Modi, Lead Machine Learning Scientist at Haptik. His deep understanding of machine learning, chatbot frameworks and on-the-job experience in research and implementation of a chatbot platform, stirred the discussion in the right direction. He raised quite a few interesting topics for the panel to discuss, broadly related to technologies powering conversational user interfaces, relevant use cases for chatbots and the challenges they foresee in the chatbot industry. The panel also discussed metrics and methods to measure the effectiveness and quality of a chatbot, and standard protocols that are yet to be implemented so as to empower bot builders.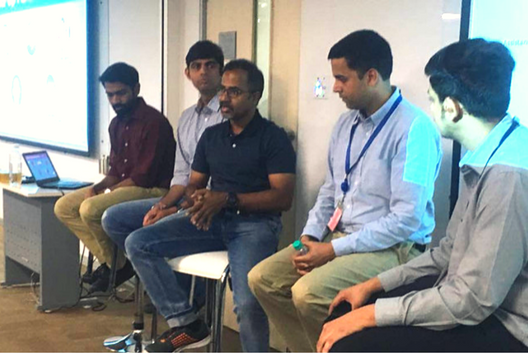 Another interesting discussion revolved around the viability of text v/s voice chatbots, keeping in mind the end user's needs. To this, Sohan Maheshwari from Amazon shared his thoughts on how the applicability of both, varies with each use case. He emphasized that voice bots certainly solve smaller, single command tasks faster than text-based chatbots. On the other hand, when a user requires assistance in a public setting or visual elements are required for completing a task, text-based bots are the perfect interface.
Networking Session
The meetup soon transformed into a networking session where tech leaders and chatbot aficionados from across industries mingled to have face-to-face discussions. Conversations brewed around the recent tech trends in the chatbot space and the evolution of the entire industry in the last few years, over some mouth-watering food.
To sum it up, Bots-Up was an interesting meetup that answered some of the most important questions about best practices in chatbot technology and future of the chatbot ecosystem.
You won't have to wait long for the next Bots-Up meetup! We're coming to Gurugram soon, to bring together leaders and chatbot enthusiasts from various industries once again, to discuss the business aspects of building great chatbots. Till then, stay tuned and leave your thoughts below to tell us- 'Bots-Up'! 🙂