A Complete Review of Yellow.ai vs Contakt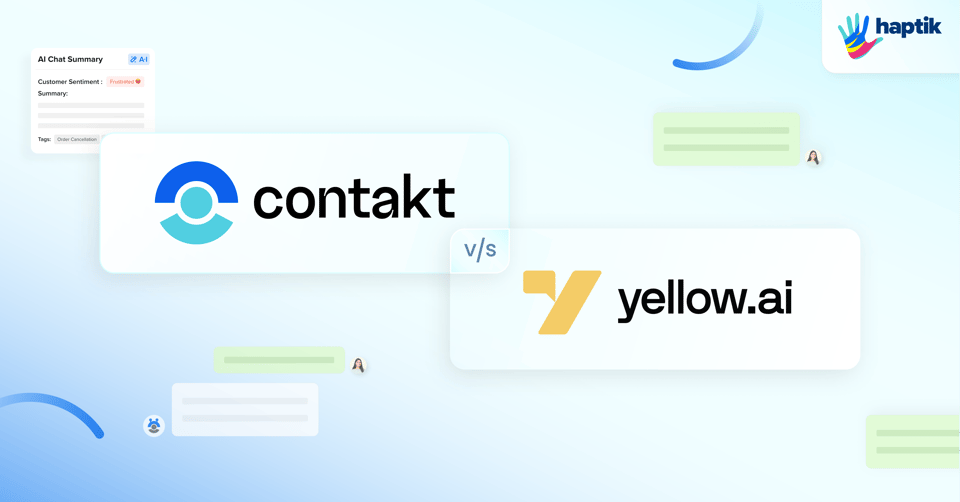 Traditionally, businesses relied on rule-based systems that often struggled with nuanced language and complex queries. However, Generative AI has ushered in a huge transformation with its ability to handle wide-ranging queries and generate dynamic responses - essentially redefining how brands approach customer interactions. This flexibility is a game-changer in helping brands provide more personalized, efficient, and human-like support. Thus, the adoption of Generative AI has become a key part of the modern customer support landscape.
Contakt, by Haptik, and Yellow.ai are two feature-rich customer support suites that help businesses unlock tangible value like acquiring and retaining customers, and winning customer loyalty.
RELATED: A Comparison of Freshworks & Contakt
In this blog, we compare the two platforms across a diverse set of parameters, including capabilities, integrations, and more.
Feature
Description
Yellow.ai
Contakt by Haptik

Pricing

Paid plans of both solutions

N/A

Custom

Conversations-based

Self-Serve




Gen AI-Powered Web Q&A

Use unstructured data to build a powerful AI Assistant in days

✓
Build & deploy bot using dynamic automation platform



✓
Build a fully-functional AI Assistant using PDFs, CSVs, blogs, websites, etc.

GPT Sales Assistant

Pre- & post-sales support

X
Post-sales support only

✓
Offer support throughout customer lifecycle

Multilingual

Personalize customer support with multilingual capability

✓
(135+ languages)

✓
(100+ languages)

Knowledge center

Enable self-service with help resources

✓

✓

Integrations

N/A

Improve customer support efficiency & functionality

100+ integrations comprising CRM, live agents, voice assistants, etc.

100+ integrations including APIs, CRMs, social channels, payment gateways, etc.

Agent Productivity


Unified Agent Workspace

Centralize agent-customer conversations

✓

✓

Agent Co-pilot

Improve agent productivity with Generative AI

✓

✓

Ticketing system

Team Inbox

Maximize agent collaboration

✓

✓

Service level agreement (SLA)

Seamlessly manage SLAs to track key metrics

✓

✓
(99.99% uptime with 24x7 technical support; systems stay active even during server failures)

Analytics & Insights

Insights

Glean insights to improve support efficiency, bot performance, customer satisfaction, etc.

✓

✓

Reporting dashboards

Build custom dashboards as per client requirements

✓

✓

Security

Robust data security

Comply with global security standards

✓
(Enterprise-grade security, complying with ISO, HIPAA, GDPR & SOC 2 regulations)

✓
(Industry-leading security standards adhering to GDPR, CCPA, HIPAA, ISO, and cloud security policies)


Contakt vs Yellow.ai - Overview
Contakt is a Generative AI-first customer support suite comprising AI Assistant for pre & post-sales (AI-powered Web Q&A), Agent Co-pilot & Intelligent Analytics. It serves a diverse and extensive range of industries & is especially suitable for large enterprises with complex use cases. Contakt integrates seamlessly with third-party tools and has a powerful ecosystem of 100+ integrations of APIs, social channels, CRM & Livechat, connectors, payment gateways & more. Contakt offers multilingual support in 100+ languages, enabling brands to provide personalized support to customers spread across geographies.
Yellow.ai leverages Generative AI to offer real-time customer support at scale while, like Contakt, reducing time-to-market with the capability to build and deploy AI Assistants using a dynamic automation platform (DAP). DAP also powers AI agent assist, campaign workflow management, data and analytics, among others. Yellow.ai also caters to businesses in a wide range of industries for enterprise use cases.
Capabilities
Powered by a cutting-edge NLP engine and GPT models, Contakt helps understand the subtleties of human language and generate personalized, human-like responses in a conversational manner. This enables brands to seamlessly tackle both routine and complex customer queries, along with being accurate. Furthermore, it empowers brands to effectively engage customers on chat and increase customer satisfaction with rich multimedia support, feedback collection, campaign promotions, and more.
What's a downside in Contakt: None
Yellow.ai is also backed by advanced NLP and Generative artificial intelligence that facilitate contextual conversations, driving higher customer satisfaction. It comes with pre-built templates, integrations and connectors to build voice assistants. The AI-based tools help with fast build and deployment of dynamic AI agents that help maximize and realize ROI quicker.
What's a downside in Yellow.ai: Users on review sites such as G2 have mentioned that conversational automation and NLP technologies are complex for users not familiar with the platform while having a considerably long learning curve.
Features
How do the features of Contakt and Yellow.ai compare?
Pre- & Post-Sales Support - Generative AI Assistant
With Contakt, brands can deliver personalized support throughout the customer lifecycle. What also sets Contakt apart from Yellow.ai is that, at the pre-sales stage of the customer journey, it:
Handles competitor queries (pricing, products, and so on)
Seamlessly tackles out-of-scope questions
Offers technical and onboarding assistance
Powered by GPT, plays the role of a virtual sales assistant in enabling informed purchases for customers
It also efficiently handles post-sales use cases like order tracking, return and refunds, order cancellation, payment issues, and so on.
What's a downside in Contakt: None
Yellow.ai, on the other hand, resolves post-sales support queries such as order and delivery status, return and refunds, cancellation of orders, payment issues, etc. It also, like Contakt, enables call deflection and escalation in the case of complex queries that require human intervention. Both platforms also help offer faster and efficient query resolution.
What's a downside on Yellow.ai: In the age of Generative AI, customers expect much more than merely post-sales support, which limits brands from engaging customers during the pre-sales stage.
Agent System
Contakt boasts of a high-performance agent system, called Agent Co-pilot, which streamlines agent-customer interactions. It also helps improve agent productivity by equipping agents with:
AI-powered chat suggestions
AI-powered responses based on the intent of customer query
Contextual agent inbox to efficiently manage incoming messages & offer timely query resolution
Yellow.ai agent support system is similar to Contakt as it helps agents with auto responses, ticket summaries, canned response suggestions, and more to reduce query handling time and improve customer experience.
Analytics
Contakt features robust, state-of-the-art analytics that provide invaluable insights into customer service outcomes and the performance of agents and bots. It offers AI-driven recommendations aimed at streamlining processes, boosting efficiency, and improving overall customer satisfaction. Contakt's analytics feature also allows you to build custom reports and dashboards to capture metrics that truly matter and help improve customer service KPIs.
What's a downside on Contakt: None
Yellow.ai's analytics capabilities mirror Contakt's as they help track key customer service metrics, build custom reports and dashboards, and track everything in real-time.
What's a downside on Yellow.ai: Users on forums like G2 have mentioned that Yellow.ai's analytics needs improvement and the user experience with creating reports and dashboards leaves a bit to be desired.
Reviews - Yellow.ai
Reviews - Contakt by Haptik
Verdict
In this detailed comparison, it's clear that both platforms offer cutting-edge AI solutions to the table for diverse industry needs. Contakt stands out with its Generative AI-first approach, excelling in end-to-end customer support, including pre-sales engagement, and a multilingual edge. Yellow.ai specializes in real-time customer support but leans more towards post-sales assistance, with reported complexities in its learning curve. Contakt's strength lies in comprehensive customer journey support and a user-friendly interface for analytics, setting it apart as a versatile and personalized solution for enterprises seeking efficient customer service.