Make Personalized Customer Service A Reality With Haptik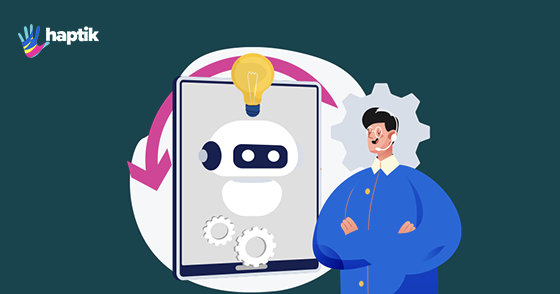 Customers want answers, and they want them fast!

On busy days, support agents get bogged down by repetitive incoming queries, resulting in:
a) Delayed Responses
b) High Average Handling Time
c) More time spent in toggling between tools, and
d) Bad Customer Experience

To avoid these hiccups, businesses must upgrade their traditional support systems and find solutions that can improve their agents' productivity and performance. Peak times cannot be avoided. Hence, enabling your live agents to provide top-notch support during high traffic hours is the key to success.
But, the question is: How?

Here is the answer.
Introducing Haptik's AI Agent Assist - a one-stop solution to empower your customer service agents, with the information they need to resolve queries more effectively and efficiently — while giving customers the speed and personalization they demand. AI Agent Assist analyzes user interactions, identifies context, and helps agents deliver the right response at the right time.
Using Haptik's AI Agent Assist, businesses can:
Reduce Costs: Empowers agents with relevant information to handle fluctuating caseloads and offer the right support to their users — resulting in faster resolution and diminished time-per-interaction.

Reduce Agent Churn: Bring new agents to speed up your support journey by easy onboarding with AI Agent Assist. Save your agents from boring and repetitive work and enhance their employee experience from day 1.

Drive Happier Customer Experience: Equip your live agents with AI-powered resources to pre-empt user needs and solve issues faster, with personalization and empathy.