4 Use Cases for Conversational AI in Media & Entertainment Industry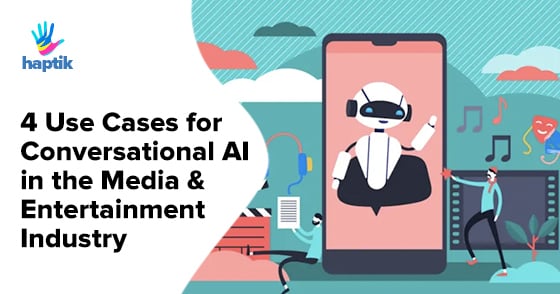 Conversational AI, in the form of AI-powered chatbots and voice bots, has been disrupting a number of key industries across the globe, including E-Commerce, Travel and Hospitality and the Financial Services sector. The Media and Entertainment industry is certainly no exception to this trend.

From information dissemination, to advertising and promotion, to product discovery and more – there are a wide range of applications for Conversational AI in the rapidly evolving Media and Entertainment space.

In a sense, Conversational AI is an ideal fit for Media and Entertainment. After all, Artificial Intelligence and Machine Learning are technologies that process vast amounts of data to realize business outcomes. What could be more natural than putting them to work in businesses where data itself (in the form of written and audio-visual content) is the product offering?

Conversational AI offers a wide range of benefits to media companies. An AI-powered chatbot can boost the effectiveness of communication on any platform in an era where millennial viewership across digital channels is taking precedence as the primary engagement metric. They can even help audiences pinpoint the information they are searching for or swiftly and effectively complete tasks.

Let's take a close look at some of the most interesting use cases for Conversational AI in the Media and Entertainment industry:
Customer Service




Customer service and efficient information dissemination are among the most natural and widespread use cases for Conversational AI.

Recent studies suggest that as many as 96% of consumers across the globe today consider customer service as a key aspect of deserved loyalty to a brand. Moreover, about 72% of them expect customer service staff to know everything about them. With numerous OTT (over-the-top) content platforms breaking into the industry today, Conversational AI can serve as a reliable means of providing customers with instant solutions at scale. This includes news updates, entertainment blogs, music, and video streaming, gaming updates, and much more.


The successful implementation of Haptik's Customer Support solution for Dream 11 only reaffirms this. With a support base of only 30 agents, handling a 10X spike in customer queries during the IPL season was a challenging situation. By deploying a dedicated support bot for the website, Android, and iOS apps of Dream 11, and training it to respond to routine queries and FAQ's about the sports game, Haptik was able to automate the resolution of about 80% of the 1 million+ support queries that Dream11 received. What's more, the average resolution time stood at only 32 seconds!

Learn more about Haptik's Customer Support Bot for Dream11 by reading this case study.
Needless to say, Conversational AI is a great way for media companies to effectively and inexpensively provide information to their customers, and resolve their queries.
Branded Content



One of the most interesting aspects of Conversational AI is that it is perfect for user personalization. By sifting through the vast amount of user data, AI chatbots can showcase relevant content to users and thus garner more views/clicks. This in turn ends up boosting both CTR and customer satisfaction.

Branded content on chatbots enables you to humanize your brand and connect with users in a more authentic, conversational manner. For instance, you can create a friendly character as a bot that can even be tagged as your brand's digital ambassador. In this way, a well-designed and conceptualized chatbot can serve as an appealing piece of content on its own!

But this is just the tip of the iceberg.

Chatbots can also serve as an active distribution channel for branded content. Take any leading media publication house and search for their Facebook bot. They will engage you in a hearty conversation within a minute, with the goal of motivating you to subscribe to regular updates. Here's a look at the chatbot of the Washington Post below: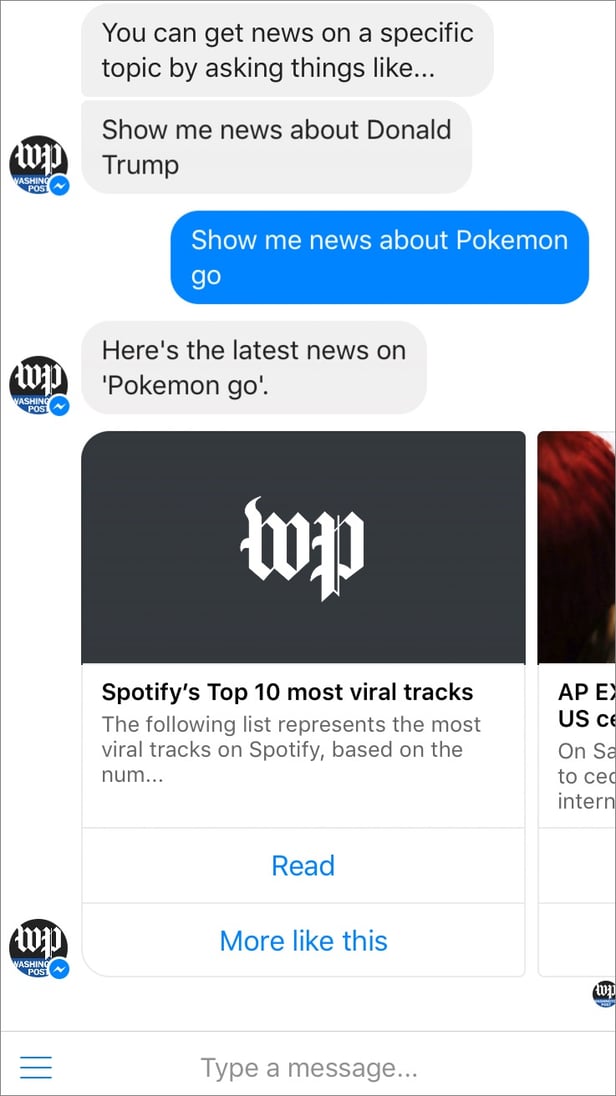 The bot features the top news stories of the day. Users have the option to swipe through five news headlines along with the ability to read more similar stories. And when asked about a general news question, the bot can share specific stories around the topic. These features are enhanced only during specific events. For instance, during elections, users can share their zip codes and the bot returns with relevant election results based on their locations.

Of course, the use of Conversational AI in the Media and Entertainment sector is not restricted to text-based chatbots alone. In a world where the adoption of voice-based conversational interfaces such as Amazon Alexa and Google Home Assistant is steadily becoming widespread, there is tremendous potential for companies to develop and distribute voice-based branded content.



One such innovative example of voice-based entertainment is "The Inspection Chamber" – an interactive sci-fi/comedy drama produced by the BBC, available on Amazon Alexa and Google Home. Dubbed as "conversational radio", the series allows audiences to be a part of the story using voice commands. All users need to do is ask their smart speaker to "open the Inspection chamber" and they can then directly interact with characters in the story for a truly next-generation, immersive storytelling experience.
Advertising and Promotion




Another unique application of chatbots within the industry is in marketing, advertising, and promotions. They can be leveraged as an integral part of a promotional campaign for an artist, book, movie, or even a TV show. For instance, just before the recent season of Game of Thrones hit media streaming platforms (such as Hotstar in India), the marketing team of the power-packed show deployed a neat chatbot on Facebook that took the form of major GOT characters (decided based on user input) that are widely loved by audiences.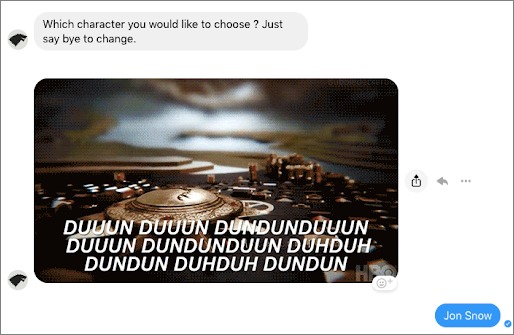 Such a media marketing strategy can prove to be highly effective, since it can engage both ardent and casual followers of a media product. But the masterstroke lies in the fact that customers can engage with the chatbot based on their preferences. This effectively translates to customers engaging with the marketing campaign to make it more relevant and targeted for themselves, which contributes to a positive feedback loop that further increases their engagement!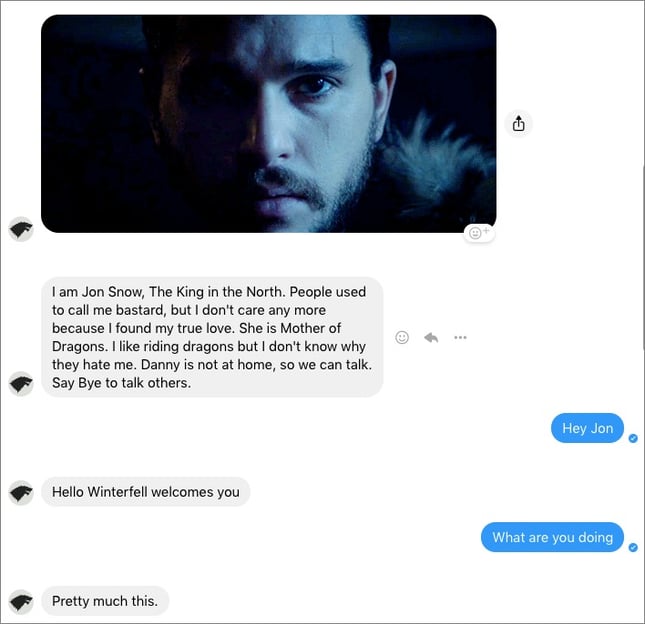 Such chatbots, paired with impeccable timing, have the potential to clock soaring press awareness. In the first week of the launch itself, the bot was picked up by all leading media publication houses such as Mashable, The Verge, CNet and more. This resulted in about 3.92K social shares of press articles along with 5.5 million estimated coverage views! And it did not stop here. After the end of the first two weeks, the bot had handled over 20,000 conversations with 15,000 Game of Thrones fans around the world with an impressive average conversation time of nearly 5 minutes.


Haptik has developed Conversational AI solutions for a number of enterprise partners in the Media & Entertainment sector. You can read more about our work.


Product (Content) Discovery




By understanding the past behaviour of the user on a content platform, Conversational AI can learn about their preferences. With countless media works and digital copies of video, audio and textual content, chatbots can use notifications to help users come across content that they would love to consume. In this manner, Conversational AI optimizes the quality of search results while eliminating the very need to search!

All this and more is enabling content creators to better manage their content lifecycles and accelerate the media production process. Conversational AI serves as a hands-on digital assistant that aids content discovery. Algorithms in the space are not only influencing what customers witness on platforms but even how content is created in the first place!

AI-powered chatbots also provide a great opportunity to push evergreen content if your SEO efforts are failing. If you are able to figure out when, where, why, and how users will want or need your content, you will be able to rest easy. Take the case of the Food Network chatbot that lets users easily discover relevant recipes from their website.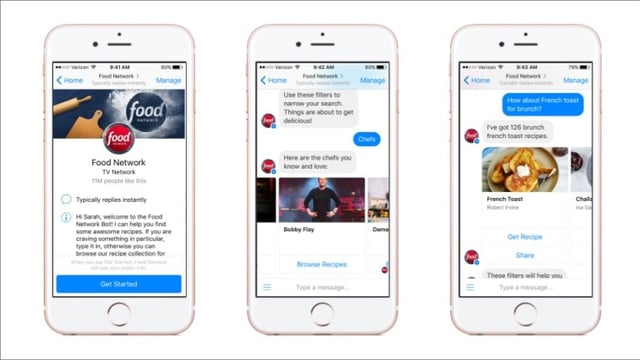 In this way, chatbots eliminate the need for users to interact with a passive multi-panel interface. They can directly interact with dynamic chatbots, share their preferences and receive highly relevant product/content recommendations. Users can even specify particular features of the product/content that they prefer and prioritize their options accordingly. Some experts even refer to such dedicated bots as content bots, whose sole purpose is to deliver content and not to perform tasks.

Conversational AI can also be used to extend personalized recommendations to users. This is made possible through predictive analytics and modelling. The AI analyzes the data, digs through it to unearth relevant statistics, and ultimately leverages it to extend personalized recommendations to users for maximum conversions.
To sum up…




The examples presented above are only a glimpse of the myriad applications of Conversational AI in the Media and Entertainment industry. Chatbots in the media and entertainment sector contribute to significant reductions in customer service costs and help customers come across content that they love engaging with. Leveraging the power of Conversational AI, media companies can significantly expand their range of offerings, improve user experience, and grow their customer base.

So if you're part of a media or entertainment company, and you're looking for the 'next big thing' that will help you revolutionize content creation, promotion and distribution, as well as transform the way you engage and serve your customers, then you do not need to look much further than Conversational AI.


LEARN MORE: Live Chat Agent: Bringing a Human Touch to Conversational AI
---

Are you interested in developing a Conversational AI solution for your business?