Conversational Commerce: Use Cases for Retail, Travel & FSI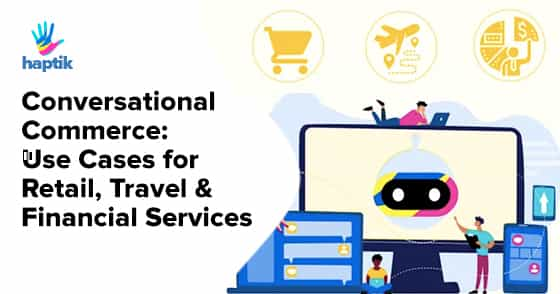 This is PART TWO of our series on Conversational Commerce. Read PART ONE here.
Making use of a variety of conversational interfaces (including messaging apps, chatbots, voice assistants etc.), Conversational Commerce offers customers a direct means of communicating with a brand, coupled with the ability to make online purchases. The result is a far more engaging purchase experience, as compared to the experience of transacting on an impersonal website or app.
Advancements in AI technology, specifically Natural Language Understanding (NLU), have brought virtual shopping assistants into play. These AI Assistants understand a customer's preferences and requirements, make personalized product recommendations, and ultimately nudge them towards the final purchase.
Check out the video below for a quick crash-course on AI-driven Conversational Commerce.
Needless to say, Conversational Commerce is swiftly transforming the way businesses inform, engage and sell to their customers. And while the eCommerce & Retail sector is an obvious fit for an AI shopping assistant, the technology can be leveraged by brands across verticals.
Read on to learn more about Conversational Commerce use cases for three key industries.
If Retail 2.0 was characterized by the growth of eCommerce, Retail 3.0 will be defined by Conversational Commerce. As much as online retail significantly enhanced customer convenience and the ease of shopping, it lacked a certain personal touch.
There are a number of reasons why customers might be wary of making purchases online. They may be unable to decide what to buy, and find the process of researching information, comparing options, reading user reviews etc. to be tedious. Moreover, as many as a third of first-time online buyers feel that what they ultimately purchase does not satisfy their original intent – something they believe is much rarer in offline purchases.
The best way to address these issues with online retail is to take a step back and examine how they are addressed in offline retail.
Imagine walking into a physical retail outlet. You will likely be greeted by an in-store sales assistant, who will talk to you to understand precisely what you want, and present you with options that are available at the store and match your requirements. This attentiveness and personalized service serves to enhance the overall experience of your store visit.
So who's the friendly, helpful sales clerk in an online store?
A virtual shopping assistant of course!
Here's a guide on eCommerce Chatbots and how to Drive Sales and Customer Retention
The assistant engages customers in conversation and understands their requirements and preferences. It makes relevant product recommendations to customers based on their current requirements as well as their past purchase behavior. It can present user reviews to convince a customer about the suitability of a product. It can further guide customers by answering FAQs about the product. Through all this, it nudges the customer towards making the final purchase.
You can watch a virtual shopping assistant in action below.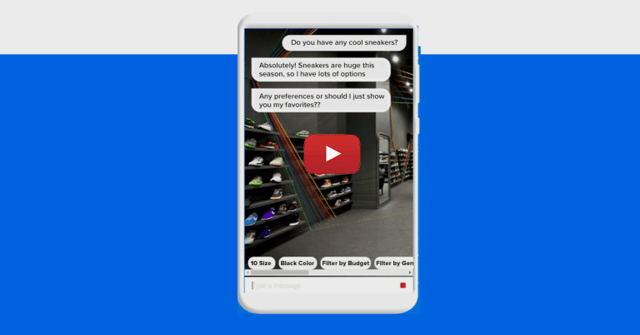 Conversational Commerce can serve as an enabler for offline retail as well. A customer who intends to visit a brand's retail outlet can seamlessly search for products and get personalized recommendations by interacting with the virtual shopping assistant. A successful interaction with the assistant boosts the chances of a successful purchase during the store visit.
According to Microsoft's Voice Report, 54% of customers expect to use digital assistants to make retail purchases over the next 5 years. So there's little doubt that it is imperative for retailers to embrace Conversational Commerce in order to make their brands truly future-ready.
Conversational Commerce Use Cases for Travel & Hospitality
Travel planning is usually a very arduous and intensive process. Travel & Hospitality brands (including hotels, airlines, travel agencies, etc.) who make this process as swift and seamless as possible will significantly enhance their customer experience.
Reviews and ratings are helpful to travelers when they're looking for options, but they cannot be the only criteria. Your personal interests, who you're traveling with, what kind of place you'd like to visit, what kind of accommodation you'd like to stay in, what activities you'd like to indulge in etc. are all considerations that a good travel agent would take into account while offering you recommendations.
An AI Assistant can effectively play the role of a virtual travel agent – guiding customers from the initial stages of planning their trips, right up until the moment they make their final bookings.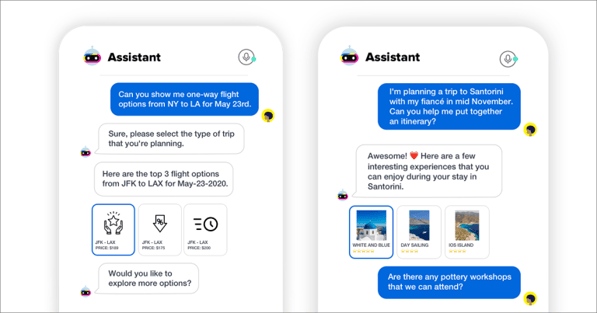 92% of Millennials prefer banks that offer digital services over ones that do not. So it is really no surprise that the financial services sector has always pursued digital transformation aggressively! And the adoption of Conversational Commerce is no exception to that trend.
FSI brands need a means of engaging digitally-savvy customers and informing them about their product offerings. Effectively promoting financial products and services presents certain unique challenges. More so than perhaps any other kind of product or service offering, buying financial services requires a great amount of careful deliberation and attention to detail.
Let's say you're planning to invest in mutual funds. If you were to visit a bank, you would consult a financial advisor. The financial advisor would ask you about your risk profile, the nature of your financial goals, the period of investment, and considerations such as the quantum and stability of your income. On the basis of this, and other follow-on questions, the advisor would then offer you mutual fund options that are best suited to your requirements
An AI Assistant can serve the same function in the online world. It can engage a customer in conversation, ask the questions needed to pinpoint their specific requirements, and then recommend the most suitable financial products. The assistant effectively stimulates the experience of talking to a financial advisor – serving as a valuable aid to customers looking for loans, insurance, credit cards, stock recommendations and more.
The video below should give you a quick snapshot of some of the best Conversational Commerce use cases for FSI brands.
Even if customers might not make the final purchase using the AI Assistant, a virtual financial advisor is nonetheless a valuable lead generation tool for the Financial Services sector.
The Future of Selling
Effective sales is the lifeblood of virtually every major industry. Nothing makes your customers feel happy and valued more than perfectly understanding their needs and giving them precisely what they're looking for (if not better!). AI-driven Conversational Commerce enables brands to do so at scale – delivering exceptional customer experience on the digital platforms of their choice.
The number of digital voice assistants estimated to be in use by 2023 is 8 billion. We're looking at a future where conversational interfaces hold even more sway than they already do at present. It's crucial for brands across verticals to be prepared to market and sell their products and services in the conversational marketplaces of tomorrow…today!
---
Want a Conversational Commerce solution for your brand?