Haptik named as Leader for Bot Platform & Live Chat | G2 Spring 2021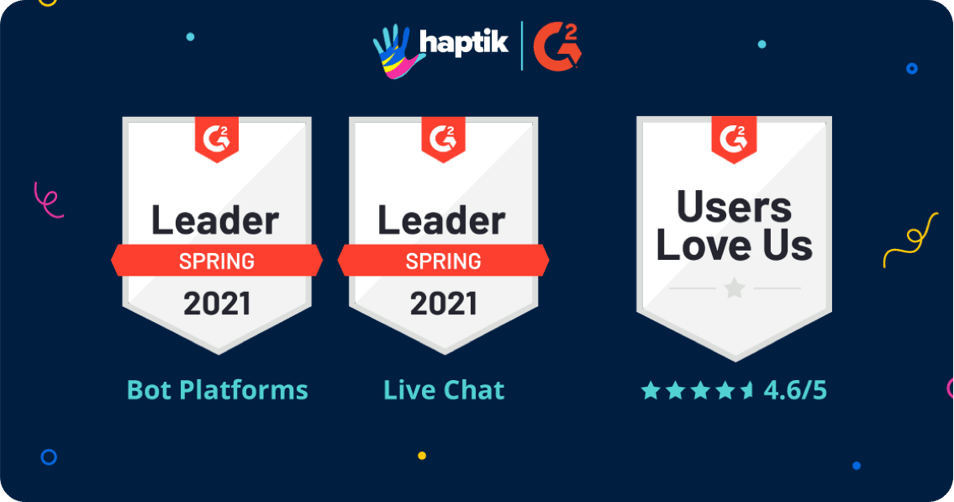 Being regarded as a pioneer in business by customers is an achievement by itself and we'd like to share one such achievement with all of you!
In only a few months of being listed on G2 - the world's leading B2B software and services platform, we're proud to let you know that Haptik has been recognized as a Category Leader in Bot Platforms & Live Chat categories by G2 in it's Spring 2021 report.

As G2 categorizes companies as Leaders on the basis of customer reviews, this achievement is a testament of the love & support that our customers have shown for us by leaving us glowing reviews. Our average rating is 4.6/5.0 based on 37 number of reviews, ranking higher than most peers across both categories.
This recognition serves as one of the biggest acknowledgments for our hard work and gives us more motivation to serve our customers, day in and day out with the best possible service.
We would like to thank all our customers for having faith in us as a company, trusting the product & services we offer, and giving us the opportunity to help you grow and scale your business.
From here, it is only upwards and onwards. We will forever be committed to giving you the best possible experience. :)