How to Increase Traffic to Your WhatsApp Chatbot in 2023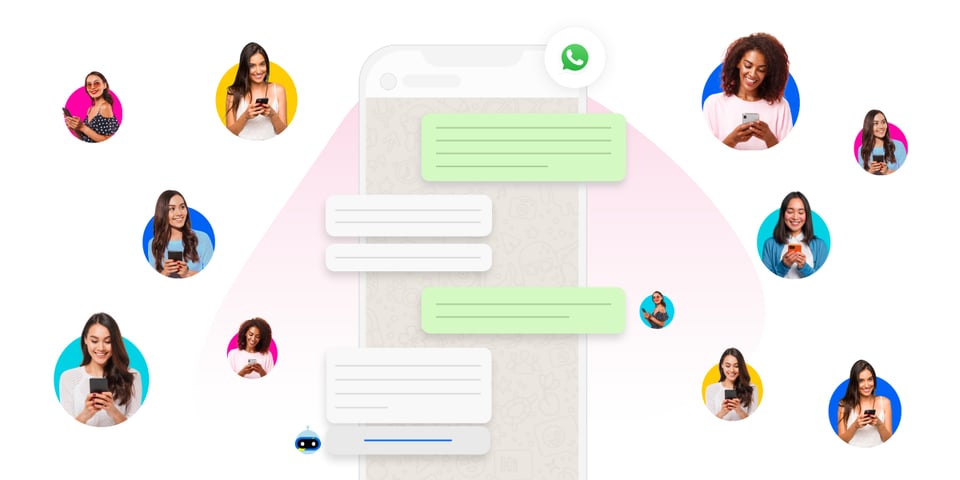 It is undeniable that WhatsApp is one of the most popular mobile messaging apps in the world, with over 2 billion monthly active users and an astounding 100 billion messages sent per day. This level of popularity makes WhatsApp an ideal platform for businesses looking to establish two-way communication with their customers. The rise of intelligent conversational WhatsApp chatbots has further solidified the platform's position as a valuable tool for businesses looking to improve customer engagement, increase sales, and streamline communication.
Brands are increasingly recognizing these benefits of incorporating WhatsApp into their marketing strategy as an integral automation marketing tool. However, the first and most crucial aspect to consider is driving the visibility and discovery of a brand on WhatsApp.
In this blog post, we will be discussing key strategies for acquiring potential customers on a WhatsApp chatbot. We will cover ways to generate traffic both organically and through paid media channels, whilst obtaining user opt-ins without violating user privacy.
1. How to Use Social Media Organically to Acquire Traffic on WhatsApp Chatbot
Social media has made it easier for brands to connect with consumers, and WhatsApp is no exception. With more and more people turning to social media to stay in touch with friends and brands, brands can take advantage of this trend by acquiring users where they are most active i.e. on WhatsApp. By doing so, you can easily obtain user opt-ins and build a strong connection with your audience.
Let's discover some of the organic ways brands can adopt to promote user opt-ins and drive relevant traffic to initiate enriching conversations.
Bio: Brands can seamlessly integrate their WhatsApp business account with Instagram by including their WhatsApp business number in their bios often referred to as wa.me links. The clickable link facilitates effortless communication for customers, providing a direct, quick, and convenient way to inquire about products or receive assistance with a purchase, resulting in higher engagement and sales.
Story: Instagram profile page story highlight is highly visible, as they are pinned to the top of the profile. Brands can create Instagram story highlights on the official Instagram profile with wa.me links. Once in the story, users can simply swipe up to start a conversation directly on WhatsApp and engage with the brand.
Post: Brands can also create a wa.me link and mention it in the in-feed post descriptions, but the link is not clickable. Although savvy users can copy the link and paste it into the browser to initiate a conversation with the brands on WhatsApp.
Bio: Once a brand configures its WhatsApp Business account, it can integrate a WhatsApp button within its Facebook page. It is essential to include a clear call-to-action within the text of the post, inviting users to click on the button to connect with the brand via WhatsApp. The button is a permanent fixture on the brand's Facebook page to encourage connecting via WhatsApp.
Post: Brands can include the wa.me link in the description of the in-feed Facebook posts and direct the users to their official WhatsApp number for better engagement.
Bio & Post: Twitter can be an effective tool for driving traffic to a brand's official WhatsApp chat. It can be achieved by including the wa.me link to WhatsApp in the brand's Twitter bio and incorporating it into tweet descriptions. Both ways links are clickable, giving users a chance to directly engage with the brand.
2. 3 Effective Ways to Drive Traffic to WhatsApp Chatbot from a Website
Businesses should take advantage of the initial contact with potential customers on their website, as 92% of shoppers tend to visit a brand's website multiple times before making their first purchase. Let's look at some ways you can engage with the customers post their consent.
Brands can utilize the homepage banner space to showcase the official WhatsApp number and describe the next course of action to initiate a conversation on WhatsApp. Brands could get creative to inform users about their presence on WhatsApp using a QR code, WhatsApp number, or even a wa.me link.
The more prominent the placement, the more likely users will be engaging with your brand. Clicking the button on a mobile device will open the chat directly on WhatsApp while clicking from a computer will open the conversation on WhatsApp web.
Adding a number as a click button in the 'Contact Us' section makes it easy for an end-user to reach the business. Optimizing the metadata content on the website's Contact Us page for WhatsApp support will improve the visibility on Google Search, making it easier for customers to reach the brand.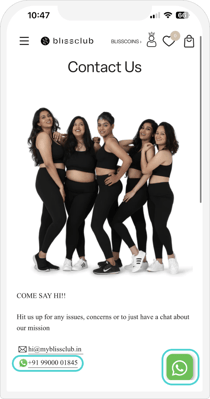 Header and Floating Button
Placing a 'Chat with us' button in the header (usually on the top-right corner) of the website or a floating WhatsApp icon is an effective way to make customers aware of the available communication channel. This placement qualifies for easy access and instant customer engagement with concerns, questions, or requests.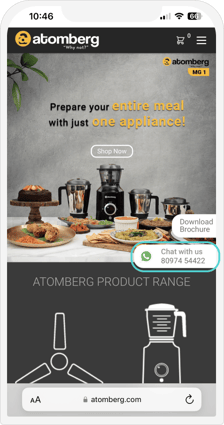 3. How to Leverage In-person Events to Obtain User Opt-ins
For in-person events, you can enhance the user experience by creating a QR code and placing it on various event collaterals, such as exhibition booths, standees, business cards, brochures, and survey forms. It allows attendees to quickly scan the QR code, opt-in, and initiate the WhatsApp chat with the brand.
4. How to Use Telephone to Direct Traffic to WhatsApp Chatbots
Another interesting way that brands can generate more traffic on WhatsApp is via telephone, in two ways:
It involves adding a 'move conversation to WhatsApp' option in the IVR menu, providing customers with an alternative and instantly accessible communication channel. The user base can be aware of this option at multiple stages, such as when wait times exceed a certain threshold or when a call is disconnected.
This strategy can be implemented during peak hours of brands when wait times are high. It is a practical approach for brands looking to alleviate wait times and improve the overall customer experience.
Missed call automation is a widely adopted method in India. Hence this is a second way brands can obtain user opt-ins due to its simplicity, ease of use, and convenience. It allows customers to initiate communication with a brand by simply giving a missed call to a designated WhatsApp number.
5. How to Use Paid Social Media to Acquire Traffic on WhatsApp Chatbot
Three ways brands can leverage click-to-social media ads to collect user opt-in and begin engaging via the chat interface:
The "Send message to WhatsApp" button or one-tap button in the Facebook ads manager lets users directly initiate a conversation with a brand through WhatsApp after clicking on a Facebook ad. To access this Click-to-WhatsApp Ads feature, brands need to create a business account on WhatsApp and connect it to their Facebook Page. It offers customers a seamless and direct communication channel, potentially increasing engagement and customer satisfaction.
Instagram ads utilize the "Send message to WhatsApp" button to direct traffic to the brand's WhatsApp account. This feature allows users to start a conversation with a brand through WhatsApp by clicking on an ad, similar to how it works with Facebook ads.
RELATED READ: Convert More with Click-to-WhatsApp Ads
One effective strategy for driving traffic to your WhatsApp Business account is through the use of search engine ads. By running text ad campaigns on search engines like Google and Bing, you can increase awareness of your brand's support channel through WhatsApp, as well as promote new products and services.
This is a powerful paid media tactic that can help you reach potential customers who are actively searching for your brand or products. By targeting the right keywords and creating compelling ad copy, you can drive more traffic to your WhatsApp Business account and increase the chances of converting those visitors into customers.
6. Product Packaging: An Interesting WhatsApp Entry Point to Consider
Enhance customer engagement by incorporating offline entry points like QR codes into the brand's product packaging, receipts, and other offline advertising collaterals like brochures, and newspapers. It ensures a seamless transition from offline to online communication, providing a convenient and efficient way for customers to connect with a brand directly via WhatsApp without manually entering a long WhatsApp number.
However, it is advisable to include the WhatsApp number alongside the QR code for users unfamiliar with the QR code concept.
7. OOH (Out-of-Home) Advertising: A WhatsApp Entry Point, Brands Shouldn't Overlook
Utilizing QR codes or wa.me links on outdoor advertising, such as billboards and subway signs, can provide brands with significant reach and exposure. This strategy effectively transforms traditionally non-interactive advertising spaces into active ones, providing consumers with an immediate means to engage with the brand and access additional information.
8. Getting Traffic on WhatsApp Through Press Releases
The press release is an effective medium for brands to establish their expertise and gain the trust of their target audience. In addition to including a link to their website, brands can also mention a wa.me link or QR code of their official WhatsApp number in press releases. It allows them to reach more people, raise awareness of their WhatsApp presence, and offer a convenient alternative for direct communication with the brand, ultimately resulting in increased engagement on WhatsApp.
Take Away
In conclusion, messaging channels like WhatsApp can be a valuable tool for engagement with a targeted audience. As more and more brands utilize this platform, it's essential to understand how to increase traffic to this channel to maximize return on investment. By implementing strategies such as paid media campaigns, promoting user opt-ins, incorporating offline entry points like QR codes, and continually analyzing and optimizing efforts, brands can achieve their goals. Remember, experimentation, analysis, deployment, and repetition are the key to success in driving traffic to WhatsApp Business accounts.
Haptik's WhatsApp chatbot solutions have helped prominent brands such as Jio, CEAT, Upstox, HDFC, CASHe, and Kotak Mahindra, among others, improve customer engagement while scaling their revenue.
Ready to grow your brand with Haptik's WhatsApp chatbot solutions?