How to Use WhatsApp Marketing Software to Acquire Customers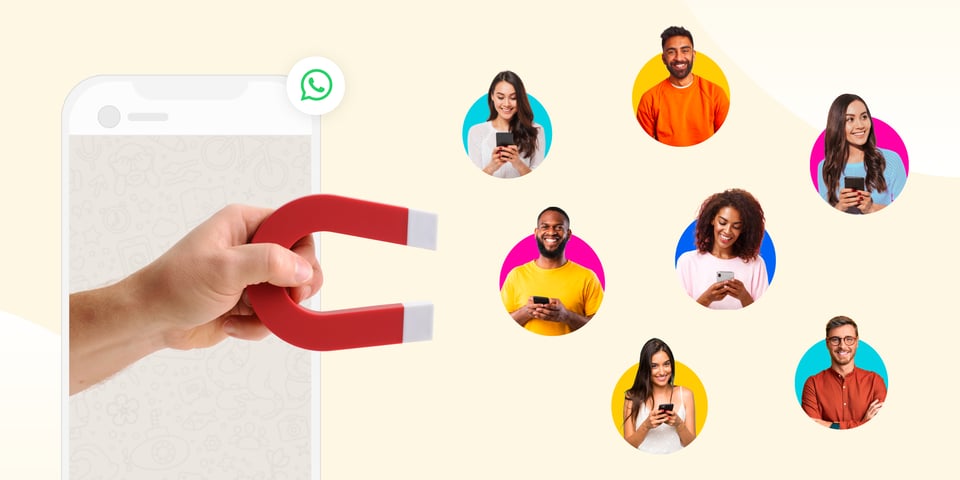 For B2C brands, employing diverse customer acquisition techniques is crucial to enhancing brand recognition, improving customer acquisition, and driving revenue growth. Social media advertising, influencer marketing, and email marketing enable brands to target specific demographics, while referral and content marketing help establish brand authority and incentivize referrals. A robust customer acquisition strategy involves attracting leads, nurturing them until they are sales-ready, and converting them into customers.
WhatsApp Marketing Software is a powerful business tool to attract potential customers. By leveraging WhatsApp as a marketing channel, businesses can scale their multichannel strategy and achieve amplified customer acquisition.
With personalized messages and notifications, businesses can effectively reach a broad audience and promote their products and services.

WhatsApp's interactive message format enables companies to showcase their offerings seamlessly, increasing the probability of customer acquisition.

WhatsApp's real-time engagement and retention features can increase customer lifetime value, leading to reduced customer acquisition costs.
So, investing in WhatsApp Marketing Software is essential to optimize the entire customer acquisition strategy on the most popular messaging platform and improve the likelihood of long-term customer retention.
This blog has addressed the advantages of WhatsApp Marketing software for customer acquisition, encompassing strategies such as Click-to-WhatsApp ads, WhatsApp chat bubbles, and QR codes. Additionally, it has discussed best practices for maximizing WhatsApp marketing effectiveness, including successful campaign examples.
I. Benefits of Using WhatsApp Marketing Software for Customer Acquisition
II. Strategies for Acquiring Customers with WhatsApp Marketing Software
1. Click-to-WhatsApp Ads
2. WhatsApp Chat Bubbles
3. QR Codes
III. Best Practices for Using WhatsApp Marketing Software for Customer Acquisition
IV. Real-world WhatsApp Marketing Success Stories for Customer Acquisition
V. Closing Note
I. Benefits of Using WhatsApp Marketing Software for Customer Acquisition
WhatsApp marketing software offers numerous benefits for businesses seeking to acquire new customers.
By leveraging the platform's one-to-one engagement capabilities, brands can easily connect with potential customers and increase their chances of converting them into paying customers.

Automated responses to customer queries can also enhance customer satisfaction.

The one-tap product catalog feature on WhatsApp provides unparalleled convenience for shoppers, making it easier for them to browse and purchase products seamlessly.

Personalized product recommendations based on their browsing behavior can drive up the average order value.

WhatsApp marketing software is a valuable tool for businesses looking to upsell and cross-sell their products to customers. By offering contextual add-ons, businesses can increase the value of each customer's purchase and maximize their revenue.

WhatsApp Chatbots can personalize subsequent follow-up campaigns by interacting with customers and collecting preliminary details, increasing the likelihood of conversion.

In addition, chatbots can automate the lead generation and qualification process, improving the efficiency and accuracy of customer targeting.



II. Strategies for Acquiring Customers with WhatsApp Marketing Software
In today's business landscape, delivering a smooth customer experience is crucial for success. The WhatsApp Business platform allows businesses to engage with customers throughout the marketing funnel, from lead generation to post-sale follow-up. The platform can enhance customer acquisition efforts and deliver a versatile solution for businesses seeking to streamline their customer journey.
1. Click-to-WhatsApp Ads
Businesses encounter difficulties in acquiring potential customers even after clicking on their ads due to insufficient information or unresolved queries. Providing users with an opportunity to engage with ads and obtain the necessary information can enhance customer confidence in a product and improve return on ad spend. Click-to-WhatsApp Ads facilitate more profound engagement with ads, resulting in improved conversion rates.
How to Use Click-to-WhatsApp Ads for Business Benefits
Click-to-WhatsApp Ads have emerged as a promising feature for businesses to engage effectively with their target audience. By directing users to WhatsApp, companies can initiate a conversation with potential customers, thus creating an opportunity to establish a relationship and generate leads. However, given the expected high volumes of incoming chats, businesses need to leverage automation tools to respond to queries promptly and efficiently.
In this context, Haptik's Intelligent Virtual Assistants (IVAs) can be valuable, enabling businesses to streamline operations and enhance customer experience. By deploying conversational advertising campaigns, companies can encourage users to engage with virtual assistants, who can help them discover their preferences and make personalized recommendations.
Following this, businesses can leverage this opportunity to collect crucial customer information, such as phone numbers, and email ids, in exchange for discounts, thus nurturing leads further down the acquisition funnel. With this data, businesses can then retarget customers with personalized messaging and promotions, creating a more personalized and effective outreach.
In summary, Click-to-WhatsApp Ads, powered by automation tools like Haptik COnversational Commerce Suite, can help businesses create a more engaging and personalized customer experience, leading to better lead generation and conversions.
2. WhatsApp Chat Bubbles
An essential factor in the success of a WhatsApp marketing campaign is the ease with which a customer can initiate a conversation with a business. Many companies are adopting website chat bubbles that allow users to quickly start a conversation with a brand on their laptop or mobile device to facilitate this. By adding a WhatsApp chat bubble, businesses can eliminate the need for customers to save the business's number before initiating communication.
A WhatsApp chat button can be strategically placed on a website or social media page to nudge visitors towards initiating a conversation, which can help drive sales. A floating WhatsApp icon can be especially effective in making it easier for visitors to reach out to a business with any questions or requests they may have.
Overall, incorporating WhatsApp chat bubbles or widgets into a business's website or social media presence can significantly improve the ease and speed of customer communication, leading to increased engagement and sales.
3. QR Codes
QR codes present a highly effective tool for businesses to facilitate immediate and direct communication with their target audience on WhatsApp. By integrating QR codes into various offline channels, such as product packaging, receipts, brochures, and newspapers, businesses can enhance customer engagement and streamline the transition from offline to online communication.
QR codes enable customers to start a conversation with a business effortlessly, without manually entering a lengthy WhatsApp number. However, companies are advised to include the WhatsApp number alongside the QR code to cater to users who may need to become more familiar with QR codes.
Once customers scan the QR code, they can instantly access a WhatsApp chat window with the business to seek guidance, ask questions, and address their doubts. This level of accessibility creates an unprecedented level of trust between the customer and the brand, as they have a direct, open line of communication with the business 24/7.
Overall, incorporating QR codes into a business's offline advertising collateral presents an efficient and highly effective way to drive customer engagement and foster brand trust.
III. Best Practices for Using WhatsApp Marketing Software for Customer Acquisition
As businesses continue to look for ways to reach customers and increase sales, WhatsApp marketing has emerged as an effective tool for customer acquisition. However, to get the most out of this platform, it is essential to follow some best practices.
Obtain User Consent to Message Potential Customers
One crucial practice in customer messaging is obtaining permission before sending any communications. Seeking consent from potential customers ensures that messages are well-received, as individuals are more likely to respond positively to communications they have agreed to receive. As such, it is imperative to prioritize getting customer consent prior to initiating any messaging efforts.
Personalize Messages for the Target Demographic
After obtaining customer consent, brands must personalize their messaging to cater to their target audience. Generic messages often fail to engage customers, whereas personalized messaging that addresses their specific needs and preferences can enhance engagement. Hence, brands should segment their audience and develop tailored marketing messages to communicate effectively with their target market.
Maximize Customer Engagement Using Multimedia Content
Leveraging multimedia content is an impactful approach to enhancing customer engagement. Integrating images, videos, PDFS, and GIFs into business messaging can effectively convey information while making it more engaging for the audience. However, it is crucial to use multimedia content that complements the message and does not detract from it. A strategic approach to multimedia content can result in improved customer interaction and massive success in marketing efforts.
Address Customer Needs & Swiftly Resolve Issues
Efficient and effective customer support is paramount in the realm of WhatsApp marketing. Swiftly attending to customer queries and resolving issues promptly, is critical to cultivating a relationship of trust and loyalty with your clientele. Businesses must be readily available and responsive to customer messages, demonstrating a solid commitment to customer satisfaction.
Use Timely Messaging as a Business Strategy
The strategic timing of messages is a key factor to consider in WhatsApp marketing. By sending messages at opportune moments, their impact can be amplified, resulting in greater effectiveness. For instance, sending personalized meal offers or promotional messages during a user's birthday or anniversary week can generate exalted interest and ultimately increase sales. Employing a thoughtful approach to timing messages is a valuable tool for businesses seeking to optimize their WhatsApp marketing efforts.
Analyze Metrics to Optimize WhatsApp Marketing
To accurately gauge the effectiveness of WhatsApp marketing campaigns, conducting a thorough analysis of relevant metrics is vital. This involves tracking key performance indicators such as open, click-through rate, ad spends, source of traffic (organic & paid) to WhatsApp, and conversion rates. By closely examining these metrics, businesses can gain valuable insight into their marketing campaigns' performance and identify improvement opportunities. A metrics-driven approach to WhatsApp marketing analysis can enable companies to optimize their strategies and ultimately achieve greater success.
IV. Real-world WhatsApp Marketing Success Stories for Customer Acquisition
1. CASHe
CASHe, India's only social loan company, is gaining traction with its innovative WhatsApp chatbot, developed in partnership with Haptik. The chatbot offers an instant loan credit feature to simplify, streamline, and secure lending for salaried millennials. CASHe leverages technology to enable hassle-free access to economic financial services, including instant personal loans, Buy-Now-Pay-Later, and Credit Lines.
CASHe has effectively utilized its website's homepage banner space to showcase its official WhatsApp number and provide clear instructions on initiating a conversation on the platform. By driving website traffic to its WhatsApp chatbot through organic campaigning on social media, CASHe has successfully acquired more than 50,000 new customers. This strategic approach has enabled the company to leverage its online presence and expand its customer base effectively.
2. JioMart
JioMart, in collaboration with Haptik, has introduced a WhatsApp chatbot to augment customer support services and meet the increasing expectations of customers who are willing to make purchases on social platforms. This move aims to foster repeat purchases and drive a substantial surge in organic traffic to the platform.
As part of their organic campaign, JioMart leverages Facebook and Instagram to post banners, Click-to-WhatsApp ads, and feed posts, so as to effectively promote their presence on WhatsApp. The integrated approach of executing the campaigns has proven successful, significantly increasing traffic to their chatbot. Currently, JioMart receives an average of 1500 orders per day with a 68% repeat customer rate.
3. CEAT
The Customer Experience and Digital team at CEAT aimed to enhance their customer engagement through meaningful conversations on a vast scale. The primary objective was to acquire high-quality leads, increase conversion rates, and expand the brand's reach on messaging platforms where its target audience was highly active.
CEAT incorporated a WhatsApp button on its official Facebook Page and on its website to increase traffic to its WhatsApp chatbot. The button is a permanent feature that invites users to engage with the brand directly, aimed at promoting seamless and efficient customer interactions. The company has experienced a 542% surge in leads since launching the WhatsApp chatbot.
Closing Note
In today's competitive business landscape, brands must capitalize on all available opportunities to engage with their target audience and establish enduring customer relationships. WhatsApp Marketing Software presents a multitude of avenues for businesses to acquire and engage customers effectively. Employing industry best practices and strategies, including personalized messaging, automation, and seamless integration with other digital channels, can enable businesses to deliver a superior customer experience, enhance brand loyalty, and drive conversions.
Adopting a customer-centric approach, deeply understanding their preferences, and tailoring messaging to meet their unique needs, are crucial for success. Leveraging the power of WhatsApp can enable businesses to thrive in today's dynamic digital landscape.
Related Read: How to Increase Traffic to your WhatsApp Chatbot in 2023
---