G2 Fall 2021 names Haptik as a Leader for Bot Platforms & Live Chat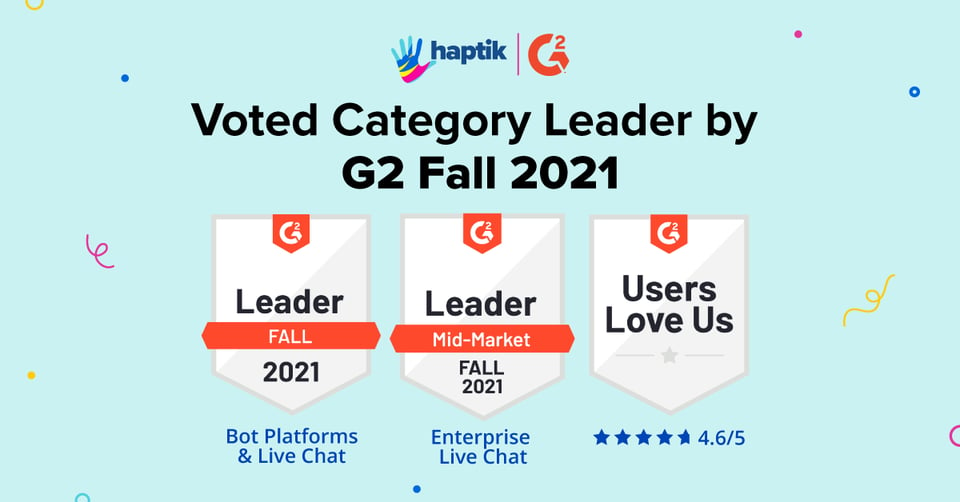 Last week, G2 released their Fall 2021 report and we're proud to let you know that Haptik has been recognized as a Category Leader for Bot Platforms & Live Chat.
Incidentally, this time we have also emerged as leaders in the Enterprise Live Chat category! 🎉
As G2 categorizes companies as Leaders on the basis of customer reviews, this achievement is a testament to the love & support that our customers have shown for us by leaving us glowing reviews.
We're super stoked and would like to thank all our customers for rooting for us again and making this happen. 🙏
79% of our customers have rated us 5 stars on G2 and strongly believe that Haptik's product is headed in the right direction, besting other enterprise competitors.
Our customers' faith & love in us as a company has helped us score better than our industry counterparts and voted us as a category leader for Bot Platforms & Live Chat categories. This recognition serves as one of the biggest acknowledgments for our hard work and gives us more motivation to serve our customers, day in and day out with the best possible service.
From here, it is only upwards and onwards. We will always be committed to giving you the best possible experience. 🚀
---
Find out what our customers have to say about us!