How to Build a Chatbot for eCommerce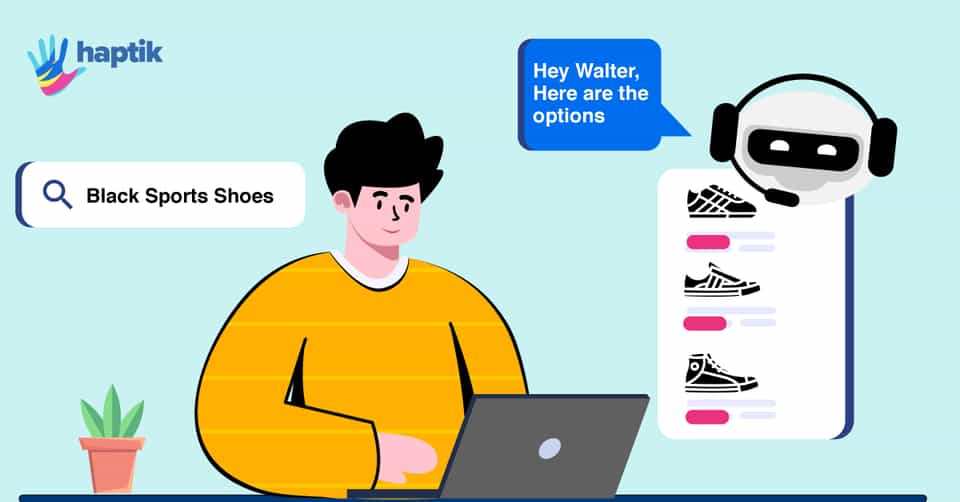 What is an eCommerce Chatbot?
An eCommerce Chatbot is an Intelligent Virtual Assistant (IVA) powered with Artificial Intelligence and Machine Learning capabilities. It is designed to transform the digital shopping experience for customers while increasing revenue and reducing costs for eCommerce businesses. With in-built NLU models, these chatbots enable eCommerce brands to convert visitors into paying customers and consistently provide 24/7 assistance to them.
According to research by Statista, in 2021, retail e-commerce sales amounted to approximately 5.2 trillion U.S. dollars worldwide. This figure is forecast to grow by 56 percent over the next few years, reaching about 8.1 trillion dollars by 2026. With online shopping already ranking among the most prevalent internet activities, the figures are unequivocal in predicting a highly promising future for the eCommerce industry.
An AI Chatbot is accelerating eCommerce businesses growth by:
Driving omnichannel sales by giving relevant product recommendations, product information, etc. powered by conversations.
Improving customer engagement throughout the customer journey with on-demand personalized experiences.
Building brand loyalty and trust among the customers by improving the overall shopping experience.


What are the Benefits of Using Chatbot in eCommerce?
Online chat has emerged as a new channel to drive online sales and convert website visitors into customers. Market.Us says one of the factors affecting the growth of the chatbots market is individuals' preferences towards social media and messaging apps such as Facebook, WhatsApp, and Instagram which is expected to have high demand for chatbots in messaging apps.
Hence, forward-looking eCommerce brands are capturing this latest trend to drive their online sales and provide instant personalized experiences using AI-powered eCommerce Chatbots. Some of the key benefits of eCommerce chatbots are:
1) Nurture Website Leads: When a prospective customer is browsing your eCommerce website, that is where the lead generation process gets ignited. It means it's time to nurture your lead. An eCommerce chatbot interacts with online shoppers in a personalized fashion and helps convert them into happy satisfied customers.
2) Provide 24/7 Support: In addition to nurturing qualified leads, eCommerce chatbots provide on-demand availability of website support which is the biggest perk for customer support teams. Being available round the clock and replying to your customers within seconds with all information ready at hand, really transforms the shopping experience for end-users.
3) Customer Retention: Customer retention is the process of turning customers into frequent buyers and preventing them from switching to a competitor. As a performance metric, it indicates whether your products and the quality of your service delight your existing customers. eCommerce chatbots help retain existing customers by delivering personalized services across all digital platforms to help provide a customer-first experience.
4) Improve ROI: An eCommerce chatbot also helps improve the revenue rates, CSAT scores, NPS, and eventually, the customer experience curve. With improved customer experience, customer loyalty and customer lifetime value increase. This in turn improves the ROI for eCommerce businesses.
How to Build an eCommerce Chatbot
In today's fast-paced world, customers demand instant gratification and personalized experiences. To cater to this need, businesses are increasingly turning to chatbots to engage with their customers and guide them through their buying journey. The four steps below will guide you to build a successful eCommerce chatbot strategy.
Step 1: Choose the Right Channel
The first step in building an eCommerce chatbot strategy is to choose the right channel. Businesses need to decide whether they need a website bot, a WhatsApp chatbot, an app chatbot, or a combination of these. One channel that has gained immense popularity in recent times is WhatsApp. With over two billion monthly active users, WhatsApp offers businesses the opportunity to reach a massive audience and engage with them on a platform they are already using. WhatsApp's commerce capabilities, such as product catalog integration, transactional messaging, and payment integration, make it an excellent choice for businesses looking to elevate the commerce journey for their customers.
Watch how Haptik built an end-to-end Commerce journey for JioMart.
Step 2: Choose the Right Objectives
Once businesses have chosen the right channel, the next step is to choose the right objectives. Chatbots can serve multiple purposes, such as sending proactive messages on WhatsApp to offer promotions and discounts, generating more direct sales, handling order-related and support queries, and more. By choosing the right objectives, businesses can ensure that their chatbot strategy aligns with their overall business goals.
Step 3: Choose the Right Solution Partner
To build a successful chatbot strategy, businesses need to partner with the right solution provider. A business service provider like Haptik with its strong and powerful integration ecosystem enables and enabled many multi-millionaire brands to scale their cross-functional teams vis-a-vis marketing, sales, and support across various industries like retail & eCommerce, Travel & Hospitality, Edtech, Fintech, and many more.
Currently, Haptik provides integration with Shopify, Magento, PayU, and Razorpay, among many others.
Read More: WhatsApp Chatbot Integration Ecosystem Guide To Drive Engagement
Step 4: Use the Power of GPT to Build Your Bot
The utilization of GPT in constructing AI chatbots has not only expanded the realm of possibilities for businesses but has also redefined their capabilities and revolutionized customer interactions. GPT or Generative Pre-trained Transformer is an AI model that uses machine learning to generate human-like responses. Haptik's Bot Response Generator and an Intelligent Sales Assistant are the byproducts of Generative AI that can provide immersive personalized experiences to customers by identifying their unique intents.
Step 5: Continuously Analyze and Improve
Any strategy is incomplete without having the performance check and continuous monitoring. To help businesses with the right insights, Haptik empowers brands to have their custom dashboard to view commerce-specific analytics. Through this plugin, businesses can have reports on campaign ad spends, identify their top-selling products, revenue generated, and cost per lead along with some powerful visualizations like traffic heatmaps, trends in purchase patterns, and even more.
Final Thoughts
Building an intelligent eCommerce chatbot with an advanced NLU algorithm strengthens both commerce capabilities and customer experience for eCommerce brands. Now not just an AI-powered but a GPT-powered chatbot for your eCommerce brand can give wings to the customer experience transformation initiative and improve overall ROI for your business.
In conclusion, chatbots are a powerful tool that businesses can use to personalize customer communication, guide them through their buying journey, and provide them with a seamless experience. By following the four steps mentioned above, businesses can build a successful eCommerce chatbot strategy that aligns with their objectives and provides a personalized experience for their customers.
Read More: Create impactful support experiences with Instagram Chatbots
---
Ignite your commerce journey with Haptik's GPT-powered eCommerce Chatbots