WhatsApp Business Pricing 2023: What It Means For You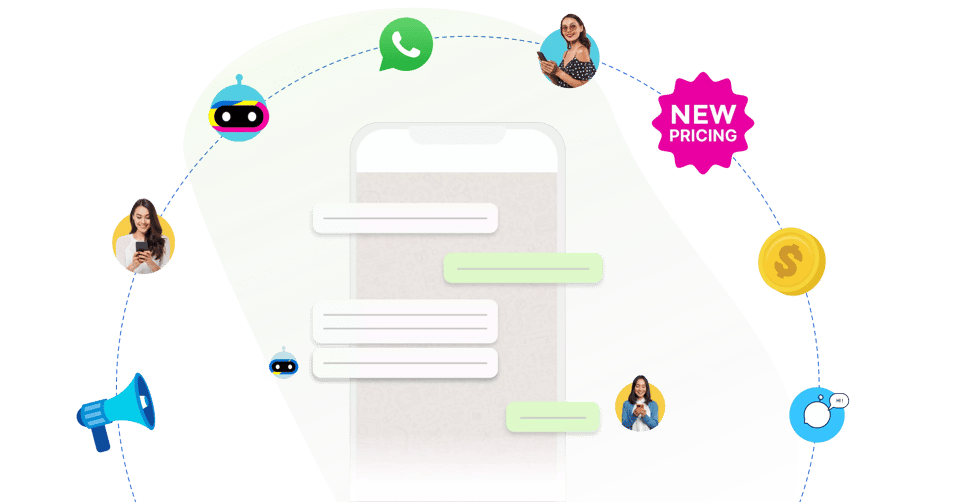 WhatsApp has announced a new business pricing model, with the changes to come into effect on June 1, 2023. The conversation-based pricing model will shift from two conversation categories (user- & business-initiated) to four. Accordingly, business-initiated conversations will be split into Utility, Authentication and Marketing, while user-initiated conversations will be called Service conversations, which enable customers to resolve queries.
According to an explainer by WhatsApp, "Our vision is for WhatsApp to be how people and businesses communicate at every stage of the customer journey." The new conversation categories and naming are aimed at aligning the product experience and pricing with WhatsApp's vision.
New Conversation Categories and Expansion of Conversation-based Pricing:
Effective June 1, 2023, WhatsApp's new conversation-based pricing model will become active. Here's what each conversation category means.
Utility Conversations: These are initiated by businesses in relation to transactions, including post-purchase notifications and recurring billing statements shared with customers who've opted in to these messages. The illustration below is of a Utility conversation between a business and a user.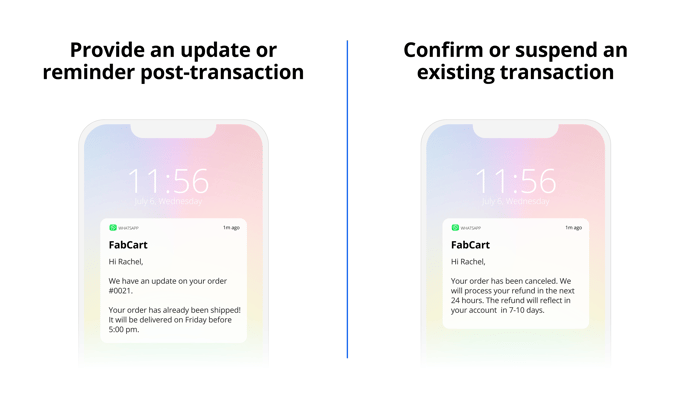 Authentication Conversations: After announcing that it'd launch Authentication Conversations on November 1st, WhatsApp shared an update saying there had been an unexpected change and hence it'd not be going ahead with its planned launch with a view to ensuring the best long-term outcome for the WhatsApp Business Platform.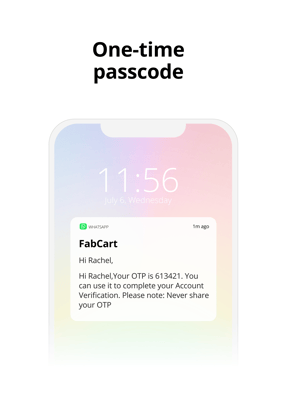 Marketing Conversations: These are business-initiated conversations that allow businesses to promote their products and services, such as personalised offers and discounts, which users have opted in to receive.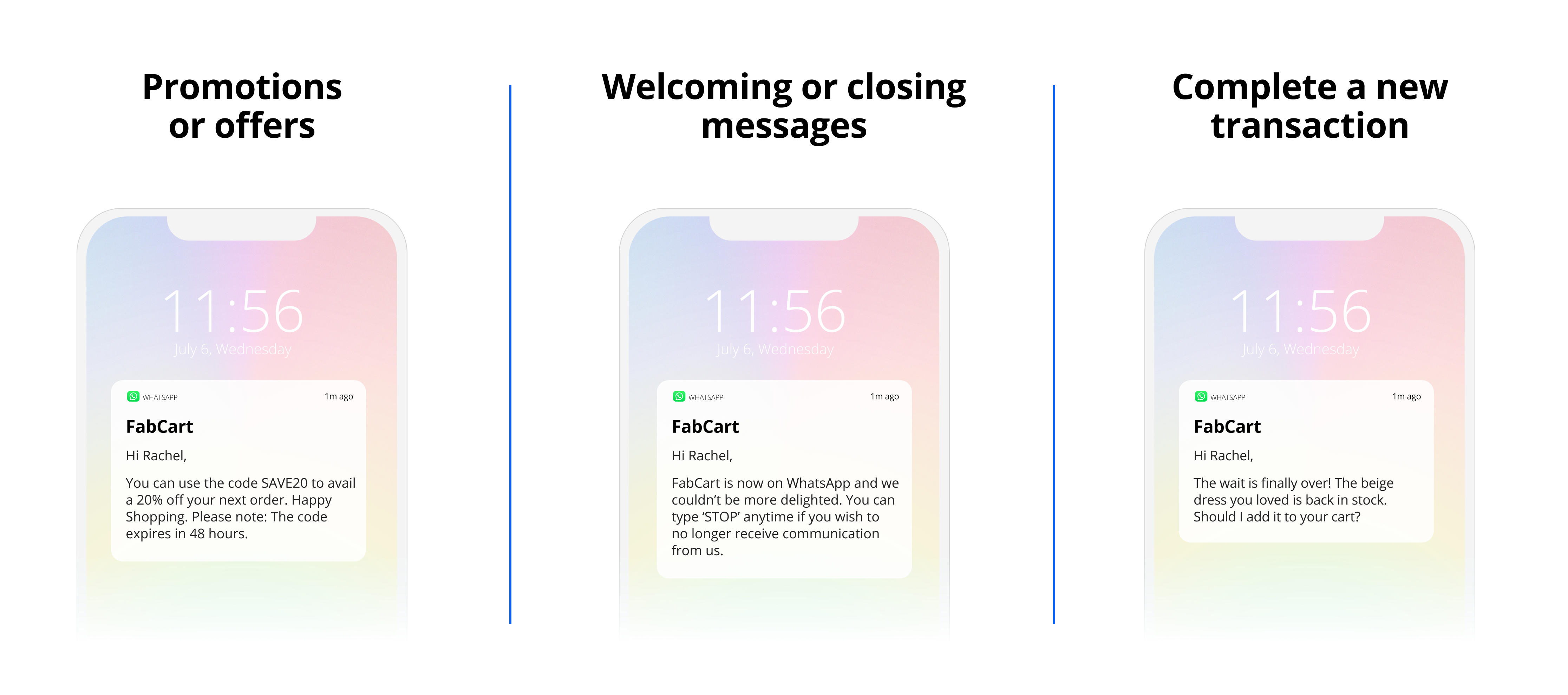 Service Conversations: These are user-initiated conversations where the priority is query resolution.


WhatsApp New Pricing
The rates for both business- and user-initiated conversations will vary based on their country and region, The rates for India and North American regions are as follows: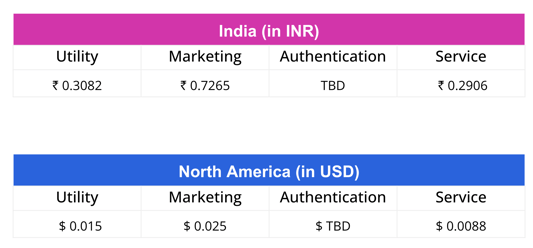 Additional Changes to the Pricing Model:

Free Entry Point Conversation Window: As per the new pricing model, the free conversation window is being extended from 1 to 3 days when a conversation starts from Facebook or Instagram ads that Click to WhatsApp or a Facebook page CTA for all businesses. This means businesses and users can continue their conversations, resulting in improved outcomes and higher conversions.
Free Tier: Effective June 1, 2023, WhatsApp will offer businesses a free tier of 1000 Service (or user-initiated) conversations. However, this won't apply to business-initiated conversations.
New WhatsApp Business Features
In addition to the updated pricing model, WhatsApp is launching "Conversation Metrics" that allow businesses to measure the performance of their messages. These features are set to roll out in the second half of the year 2023.
Across Utility, Marketing and Service categories of conversations, businesses will soon be able to access performance data informing them of sends, reads and top block reasons, which will be accessible on WhatsApp Manager.
Click rate, click-through rate and media views will be available for Marketing messages alone, allowing businesses to take stock of the performance of their marketing campaigns.
The ROI Measurement Playbook will help businesses with step-by-step instructions to implement full ROI measurement for marketing messages.
Recap: Current WhatsApp Pricing
As per the existing pricing model, WhatsApp Business conversations are split into two categories that are priced differently:
User-initiated: A conversation that initiates in response to a user message. Whenever a business replies to a user within the 24-hour customer service window, that message will be associated with a user-initiated conversation. Businesses can send free-form messages within this 24-hour customer service window.
Business-initiated: A conversation that initiates from a business sending a user a message outside the 24-hour customer service window. Messages that initiate a business-initiated conversation require a message template.
All conversations are measured in fixed 24-hour sessions. A conversation starts when the first business message in a conversation is delivered, either initiated by the business or in reply to a user message. Businesses and users can exchange any number of messages, including template messages, within a 24-hour conversation session without incurring additional charges. Each 24-hour conversation session results in a single charge.

Related: The Ultimate Guide To WhatsApp Marketing In 2023
---
We want to partner with you as you embark on your growth journey
---