Haptik enters into a strategic partnership with Zoho SalesIQ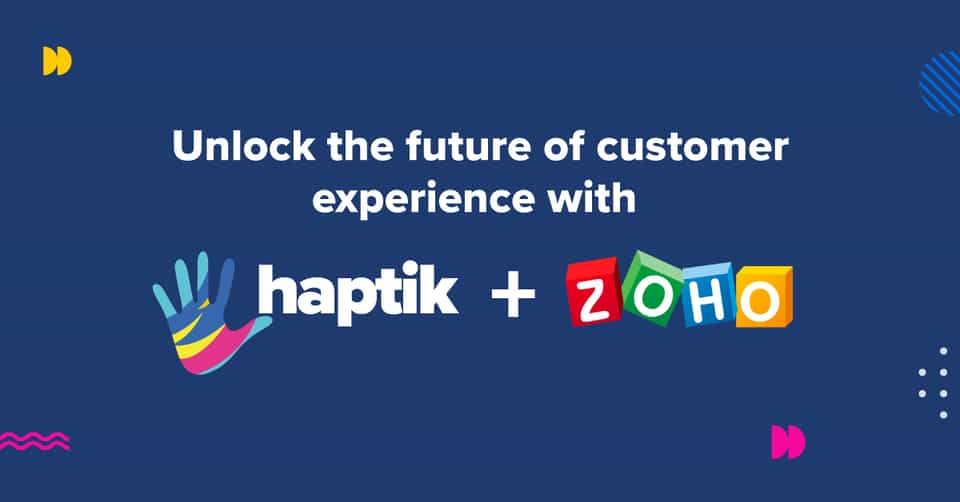 We're excited to let you know that we have partnered with Zoho Sales IQ to help businesses deliver consistent and engaging customer experiences across all messaging channels using powerful analytics and AI-driven virtual assistants.
With this integration, Haptik's virtual assistant proactively engages with users across popular messaging channels such as WhatsApp, Facebook, Instagram & Telegram, answering routine queries, generating leads, and driving conversions for businesses that use Zoho SalesIQ.
Haptik's partnership with Zoho SalesIQ offers an uninterrupted and engaging customer experience across the funnel.
Acquisition: Seamlessly categorize prospects based on their activity and engagement using Zoho SalesIQ and collect leads using Haptik's virtual assistant

Personalization: Integrate with Zoho CRM to tailor conversations and drive engagement by showing relevant offers, products, discounts, announcements, etc

Engagement: Power up user engagement and deliver lightning-fast support using AI

Live Agent Assistance: Transfer high-risk issues to Zoho live agents with full context based on expertise and ability to handle the issue and drive enhanced resolution

Omnichannel experiences: Reduce customer wait times and deliver consistent & accurate brand experience across instant messaging channels

Powerful data: Merge data from Haptik into Zoho CRM, Zoho Desk, and Zoho Analytics and get a 360-degree view of your business
"We're seeing a radical change in consumer behavior, People are more willing than ever to buy from brands that offer speed, personalization, and convenience like never before! Working with Zoho SalesIQ gives us the opportunity to power millions of businesses with lightning-fast AI-driven experiences across instant messaging channels. Haptik brings a full-stack Conversational AI solution including advanced NLU capabilities trained on 4Bn+ interactions to help Zoho SalesIQ customers transform conversational experiences with the most sophisticated virtual assistant.
With Haptik and Zoho SalesIQ, businesses can seamlessly improve their overall brand experience from acquisition to conversion, and build meaningful customer relationships with the combined power of Conversational AI, Live Chat, and Analytics." said Swapan Rajdev, CTO and Co-founder at Haptik.
"Addition of Haptik AI to the SalesIQ bot platforms will help business to build powerful virtual assistants. With extensive pre-built templates, deep NLU capabilities backed by a dedicated onboarding team, Enterprise can automate complex customer engagement with confidence." adds Jeri, Head of Product, Zoho SalesIQ"
Unlock the future of customer experience and deliver a unified AI-first omnichannel customer experience using Haptik's out-of-the-box Integration with Zoho SalesIQ.