How to sell more with conversational AI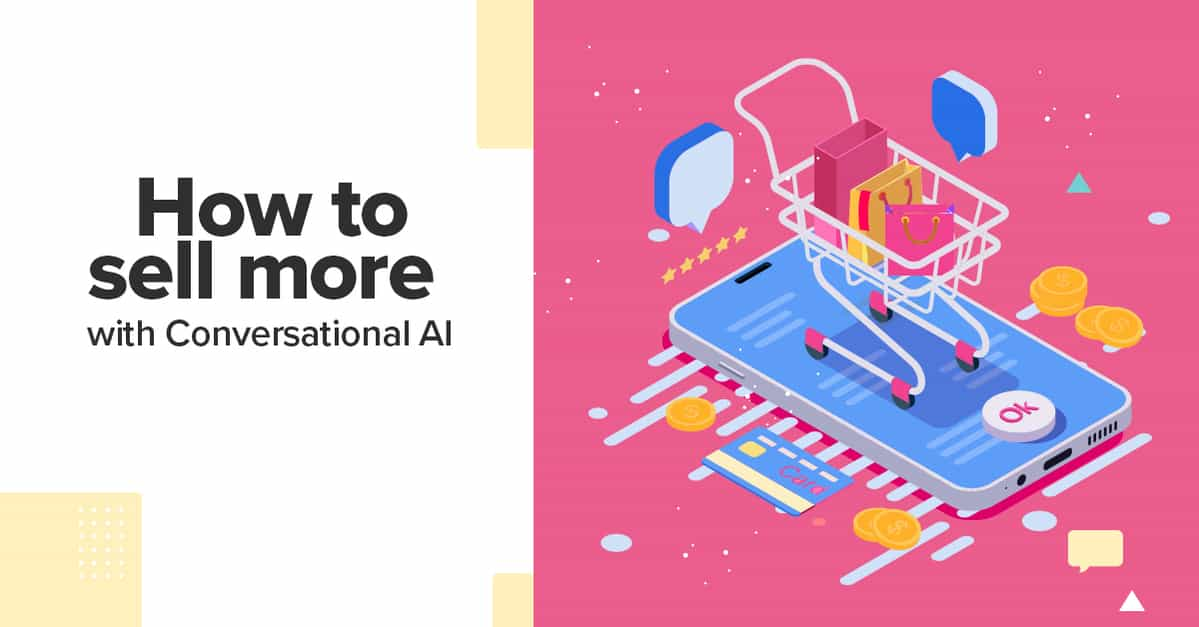 Consumers are looking for quick, personalized, and convenient ways to connect with brands. And that's where companies across sectors are turning toward the power of conversational AI. With 67% of the global consumers having interacted with an AI chatbot in the last 12 months, it showcases the widespread adoption of conversational AI. AI chatbots are proving their mettle across business functions like customer support, engagement, sales, marketing, etc., and that's why the conversational AI market is ready to surpass $32.70 billion by 2030.
Let's look at how conversational AI can help brands drive more sales, generate revenue, and unlock hyper-potential growth.
Using Conversational AI to boost sales
#1 Being Omnipresent:
With the help of Conversational AI, brands can establish an omnichannel presence and reach customers where they are already spending time. 66% of global consumers agree that social media platforms like Facebook, Instagram, WhatsApp, etc., have become credible sources for them to discover and research products & services before they invest in them.
Here are a few statistics that prove the significance of these platforms:
90% of people on

Instagram

follow a business
91% of Indian shoppers who use

Facebook

use it for shopping activities
Companies using the

WhatsApp Business API

are already sending over 100 million daily messages
Using AI chatbots, brands can engage customers and offer support by being available on all the powerful platforms, thereby nudging them across the sales funnel.
#2 Achieve greater marketing returns:
Each brand wants maximum returns from their digital advertising spending, and conversational AI can be a catalyst in helping brands achieve this objective. With the help of an AI chatbot, brands can run interactive Conversational Ads with a Click-to-Message CTA's through which they can start a conversation with the prospects and answer all of their in-the-moment queries to generate leads instantly.


Brands can also collect behavioral user insights with the help of an AI chatbot. Using this data, they can build targeted campaigns for their customers instead of one-size-fits-all messaging

.

72%

agre

e

that they only engage

with marketing messages that are customized and contextualized to their specific interests and desires. By having relevant communication, companies can have greater engagement and a higher chance of conversions.
Read more on Chatbot Marketing: How to use chatbots for marketing in 2022
#3 Automate lead generation and qualification process:
Rather than asking the prospects to fill a long lead generation form with higher possibilities of drop-offs, brands can interest them in two-way communication by deploying an AI chatbot. The AI chatbot can converse with the prospects; provide information, and collect more details on their specific requirements, budgets, and other preferences. Further, used to qualify the leads and create solid pipelines.
Know how to use WhatsApp chatbot for lead generation
#4 Personalized selling
92% of shoppers got influenced to buy products with personalized shopping recommendations. Conversational AI can help brands add personalization to online shopping at scale. With a powerful recommendation engine like Haptik's, brands can transform their AI chatbots into shopping assistants that provide customers with expert-like guidance, understand the intent behind the purchase and help them find exactly what they are looking for in the minimum amount of time.
#6 Improve conversion rate
Giving customers a great buying experience is equally important as the product or service itself. An AI chatbot interacts with online shoppers personally, guiding them throughout their buying journey and recommending the best products, thus improving conversions and leaving a lasting impression that instills customer loyalty.
#7 Enhance upsell opportunities
With access to customer data in real-time, AI chatbots can proactively recommend the right add-on at the right time. These chatbots can suggest based on a customer's interest and historical purchase trend, increasing the up-selling opportunity for businesses.
#8 Retargeting
A staggering 69.57% of carts get abandoned, and four out of five shoppers leave their carts before buying. Conversational AI can help brands recover abandoned carts by sending personalized notifications that engage customers at the right time in their buying journey. With an AI chatbot, companies can notify customers with periodic updates to keep them informed about their orders, payments, and shipping statuses. Additionally, AI chatbots can re-engage customers by sharing new discounts & offers, back-in-stock alerts, pending cart reminders, etc., and nudge them to complete their purchases.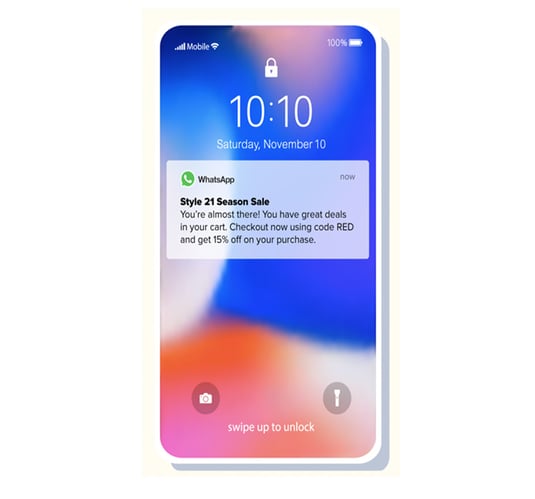 Learn how to win back abandoned carts with WhatsApp chatbots
Reports predict that consumer retail spending via AI chatbots worldwide will reach $142 billion—up from just $2.8 billion in 2019, a testimony to the potential of conversational AI. Conversational AI empowers brands to be part of their customer's buyer journey. With the help of AI chatbots, brands can be present at crucial customer touchpoints to provide support, add value and nudge where necessary, leading to improved conversions, higher sales, and repeat purchases. Haptik has been at the forefront of the conversational AI revolution. It is a recipient of 15 G2 badges recognized by Gartner and Opus Research and powered conversational AI solutions for leading Indian brands such as Jio, TATA, HDFC, Dream11, OLA, Kotak Mahindra, etc.