3 Reasons Why WhatsApp is the Future of Commerce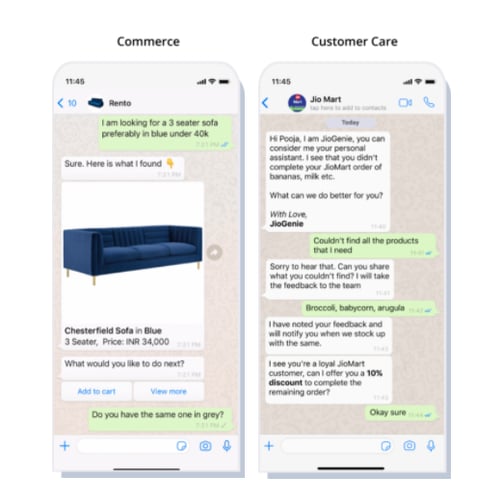 With 2 billion users and counting, WhatsApp is the world's largest messaging platform. People across 180 countries use the app to communicate with their friends, families, and co-workers through swift and seamless messaging. A WhatsApp Chatbot has become a valuable customer engagement tool for brands – with over 5 million businesses using WhatsApp to engage and serve customers.
As WhatsApp continues to expand the range of services it offers businesses, it is increasingly being seen not just as an engagement tool, but a platform to enable conversational commerce as well. This has given rise to the concept of 'WhatsApp Commerce' – offering and selling products and services to customers using WhatsApp as the primary channel.
There are a number of factors that point towards WhatsApp being the future of commerce. In this article, we explore three reasons why brands need to prepare for this new paradigm shift.
Download Report: How is WhatsApp Shaping Commerce?
1. Recent Developments around WhatsApp Commerce
In recent months, there have been a number of developments that clearly indicate WhatApp's move towards becoming a commerce platform.

In April 2020, Facebook made a $5.7 billion investment in Reliance Jio. Following this deal, users of JioMart, Reliance Retail's new eCommerce platform, were able to transact seamlessly over WhatsApp, ordering products and services from local stores and small vendors. This partnership between JioMart and WhatsApp is a strong signal of WhatsApp's intention to play a major role in the Indian retail space. Haptik's Whatsapp IVA has successfully assisted JioMart's vision to boost the growth of hyperlocal retail shops in more than 200 cities in India.
Read: How JioMart handles 40% Customer Support on WhatsApp.
Another significant development is the peer-to-peer payments feature, WhatsApp Pay, initially launched in India in February 2018, and beta-tested in collaboration with ICICI Bank. WhatsApp Pay went live in India in November 2020. NPCI has allowed only 20 million of its over 450 million users to avail the service. In its current form only peer-to-peer (P2P) transactions are allowed.

Facebook CEO Mark Zuckerberg has already declared that WhatsApp Pay will be rolled out in several other countries over the course of the year, indicating that the impact of these developments will be felt in retail marketplaces across the globe.
2. COVID-19 and the demand for 'Contactless' Shopping
The COVID-19 pandemic, and the social distancing norms that have become necessary in its wake, has brought about massive changes in consumer behavior. One of these is the need for 'contactless' shopping options that would minimize or eliminate the need for physical interaction with store staff or other shoppers.

Needless to say, this situation has given a significant boost to conversational commerce. And with WhatsApp usage having grown by 40% during the months of the COVID-19 crisis, it has been the platform of choice for many house-bound consumers to place food and grocery orders and track deliveries.
Apart from facilitating home deliveries, one of the most popular WhatsApp Commerce use cases that have been observed is 'Order & Pick-Up', wherein consumers book slots to pick up daily essentials from stores – which serves the purpose of helping avoid crowding in stores.

While it has disrupted operations for many businesses across the globe, COVID-19 has also created opportunities, and this growth in conversational commerce and contactless shopping is clearly one of them. This trend, coupled with developments like JioMart and WhatsApp Pay which we discussed earlier, is a signal that WhatsApp is battle-ready to seize this opportunity and establish itself as one of the predominant commerce platforms.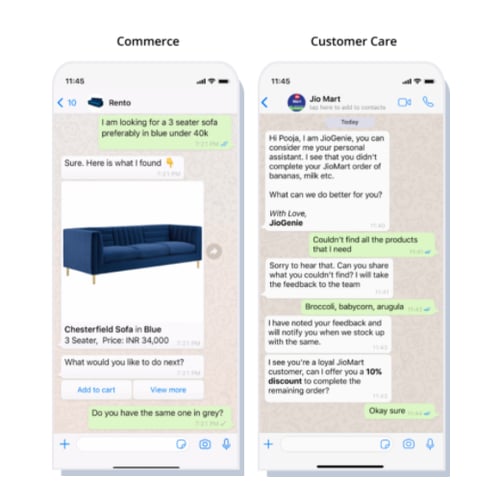 READ MORE: Best WhatsApp Message Templates to use in 2022
3. The strength of WhatsApp as a platform
The sheer scale of WhatsApp as the world's largest messaging app, coupled with a number of features that facilitate ease-of-use, make it a very attractive platform for brands to do business on. WhatsApp has low friction for user adoption – with over 400 million customers spending over 4 hours a day on the app, and the average user checking the app 23 times a day. It is already the platform of choice for people to chat with friends and family, so using it to chat with a business to make inquiries or purchases is the logical next step. Indeed, the COVID-19 crisis has shown that customers will readily take to WhatsApp as a shopping tool when given the option.
WhatsApp has also increasingly started to introduce a number of elements to make the conversational experience simpler and more interactive. These include quick replies and buttons, which enable users to progress faster in their conversations with businesses. The WhatsApp Business App (which is meant for small businesses) includes a catalog feature which is also expected to be available to users of the WhatsApp Business API.

WhatsApp has introduced two new interactive elements for the Business API: List Messages and Quick Reply buttons, making it easier for brands to have conversations with their customers.

At Haptik, we have been a part of the beta release of these feature updates and have implemented them for Reliance Jio for their Telecom and Jio Mart WhatsApp Chatbots. Here's how these buttons work and improve the user experience:

#1 List Messages
WhatsApp's new List Messages presents a choice of up to 10 alternatives for users to pick from in a menu-type view. The feature makes it easier for people to choose from a list of alternatives such as past orders, plans, offers, a shopping list, etc.

List Buttons has been a long-requested feature from brands, and will now enable a more seamless experience for customers while purchasing items or getting customer support. Instead of going through a numbered menu and pressing 1, 2, 3, a list of buttons now makes the experience 3x faster.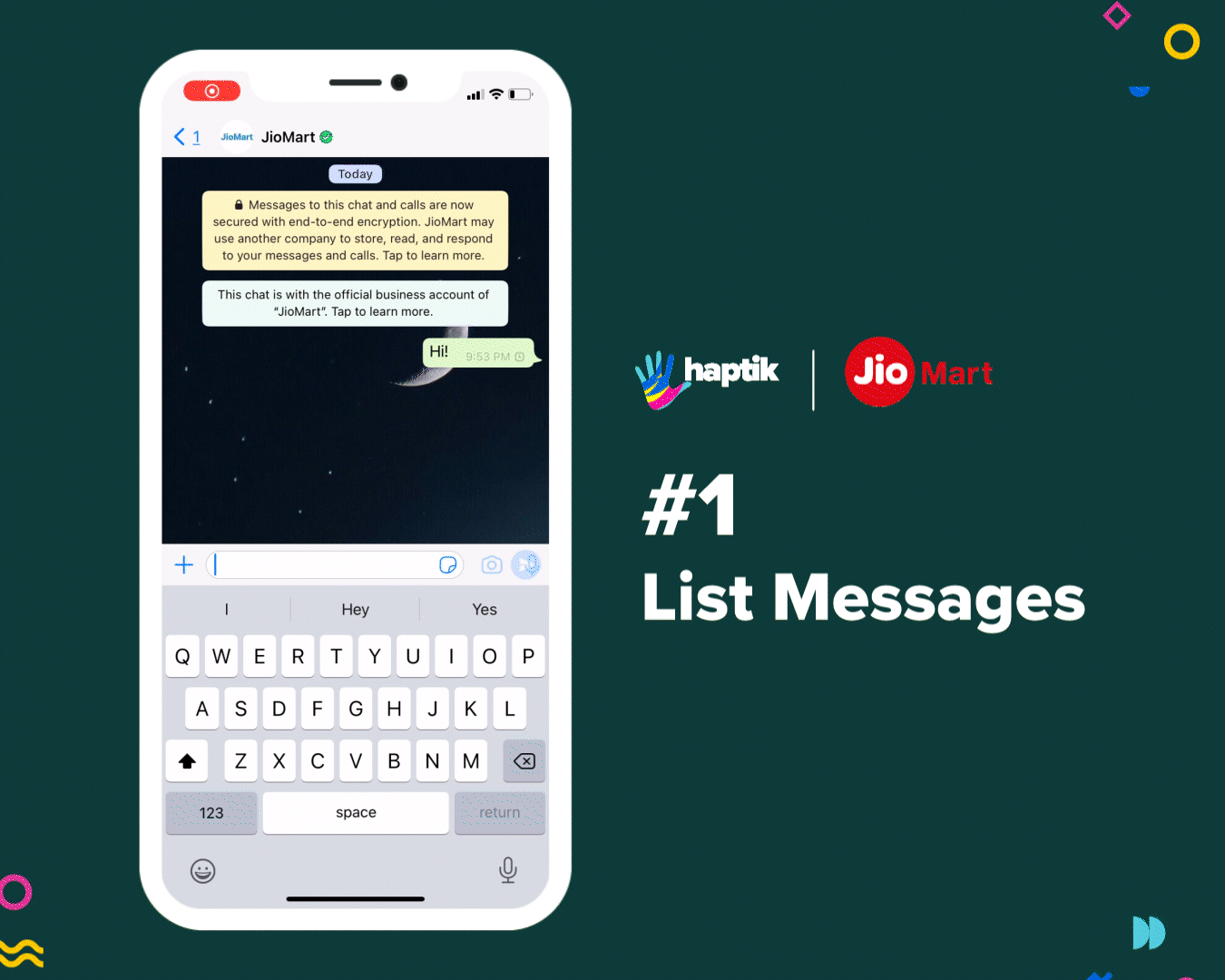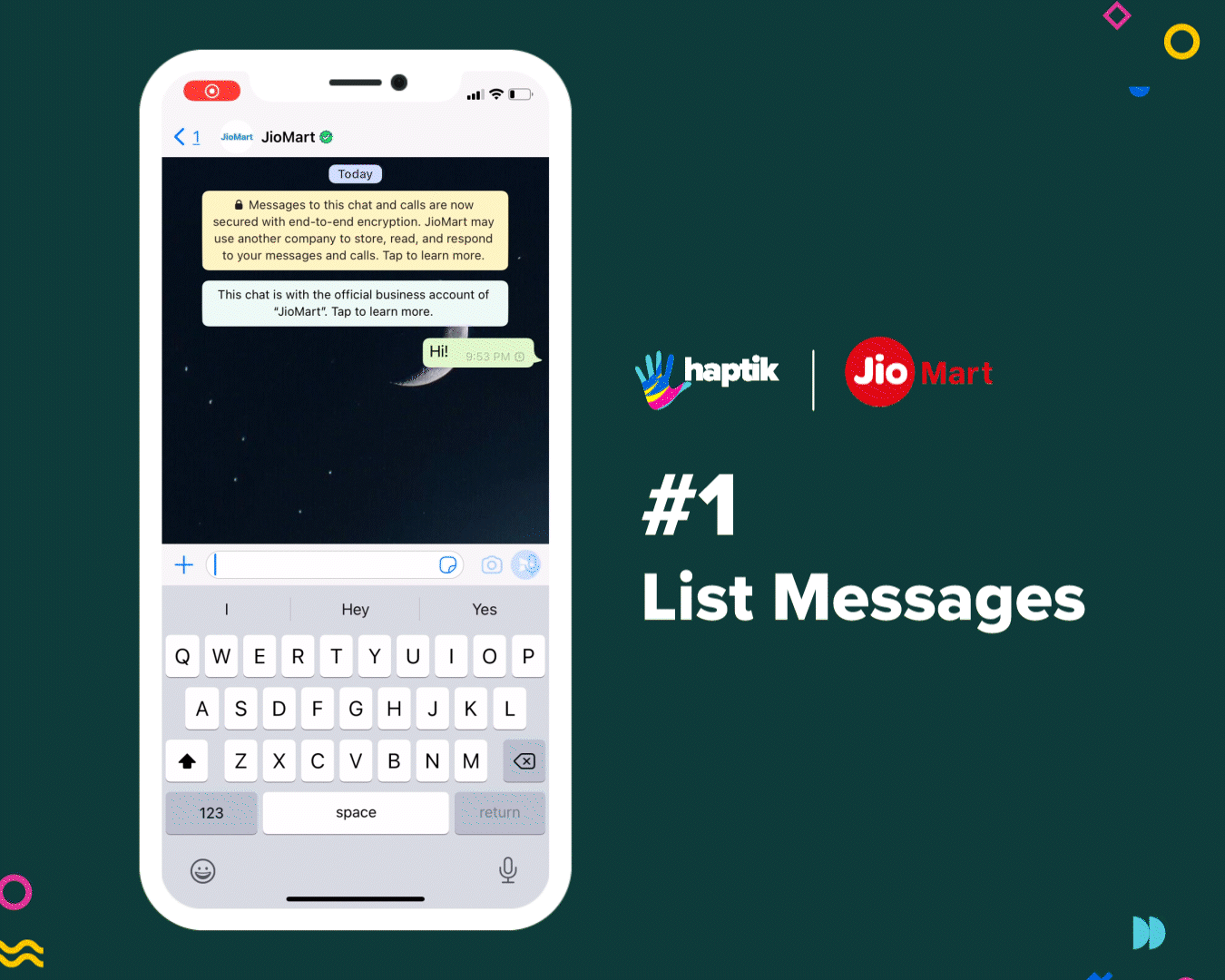 #2 Quick Reply Buttons
Customers can now select an option from a list of reply buttons rather than having to type back complete answers from a list of alternatives. This feature makes the entire conversation journey significantly faster, particularly when choosing between two options such as Yes/No, Order Now/Order Later, etc.
With Jio, we have seen promising conversion data for both the List Messages and Quick Reply buttons, along with extremely positive customer feedback. These features have been in demand for many years, and we are confident they will hugely accelerate the adoption of conversational commerce on WhatsApp.
Taking it one step forward with
WhatsApp Business Pro

WhatsApp Commerce has been the engine behind the growth of many small and large-scale companies. It has evolved into a full-blown channel that brands are leveraging to sell and transact with their customers, emerging as the most efficient channel to buy and sell digitally. You are leaving serious money on the table if you're not unleashing the true potential of WhatsApp Business API. (It is home to 2 billion+ active users, across the world!)
It wouldn't be wrong to say that WhatsApp is the ONLY channel that a few brands leverage to connect with their customers. WhatsApp and Haptik are constantly tackling one question: How can we improve the commerce experience on WhatsApp?
Haptik's WhatsApp Chatbot solution has undergone major changes and we see a potential to create a formidable WhatsApp offering. This idea has given birth to WhatsApp Business Pro - Haptik's Ultimate Conversational Commerce Solution for WhatsApp! We have built powerful integrations to streamline the shopping experience on WhatsApp.

WhatsApp Business Pro is designed to cover the entire shopping journey of customers. We are confident that the convenience of shopping with WhatsApp Business Pro is an experience that your customers will be delighted with.
---
Watch the On-Demand Webinar!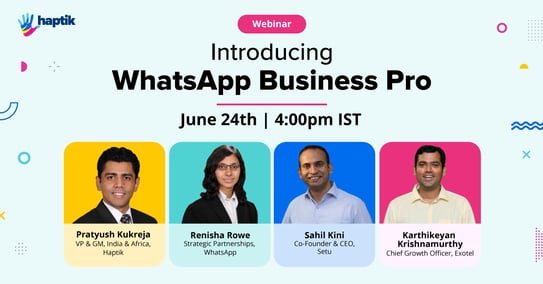 ---
Features of WhatsApp Business Pro
1.
Easy payment in two clicks (Our personal favorite!)

The frictionless experience of digital payments has accelerated the adoption of cashless transactions. Right from retail outlets in malls to local Kirana shops, the UPI code scanner sits comfortably at the cash counter of every shop. As your customers have grown accustomed to digital payments, their expectations and demands have increased rapidly. This is where our 2-click payment experience helps. WhatsApp Business Pro will allow your customers to make direct payments from WhatsApp while they are on the purchase journey. The best part? They don't have to navigate between multiple apps. You can also use notifications as payment reminders and ensure a frictionless payment collection process.
2. AI-Powered Recommendation Engine
Imagine this: The salesperson in your store is trained to judge the intent of the visitor and recommends products based on intent and their past visit behavior. Well, we've made this a reality. Haptik's AI-powered recommendation engine increases upsell and cross-sell opportunities by contextually suggesting products your user needs based on their intent and past behavior. Haptik's Recommendation Engine automatically matches user requirements with your product catalogs, description, customer reviews, and other data to help you convert passive visitors into engaged buyers.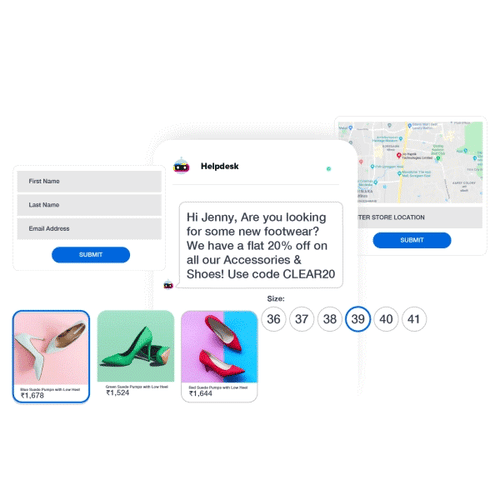 3

.

Discovery and Easy Opt-In
WhatsApp requires a brand to get an opt-in from a user before it can start engaging with him/her i.e. the user needs to consent to start a conversation with your business. Businesses can include a deep link, banners, or a contact form on their website which can be used to submit details. It can also be done by deflecting IVR calls to WhatsApp. This can be done simply by including an option in the IVR message which says "Would you like to continue this conversation over WhatsApp?"

With WhatsApp Business Pro, we're introducing "Missed Call" as another opt-in option. A user can simply give a missed call to your virtual number to get started!
A key advantage of WhatsApp Commerce is that you can get it up and running fairly swiftly. Unlike a website or app, which requires a long development phase, it is possible for a brand to implement a WhatsApp solution, either with live agents or an AI-powered chatbot, in as little as 7 days!
Last, but not least, WhatsApp is a Direct-to-Consumer channel, which means that brands using the solution do not need to pay a commission to any intermediaries, which is the case with many other sales channels.
To sum up
Between WhatsApp's expanding capabilities and scope, and the move towards conversational commerce and 'contactless' shopping, WhatsApp Commerce is certainly poised to be the next big thing for brands. In the months and years ahead, the way people shop will change dramatically, and it is crucial for businesses to stay on top of these developments and ensure that they are ready to engage on the platforms where their customers will be.
---
Interested in exploring WhatsApp Commerce for your brand?