Haptik & MDI NOVARE sign a strategic partner agreement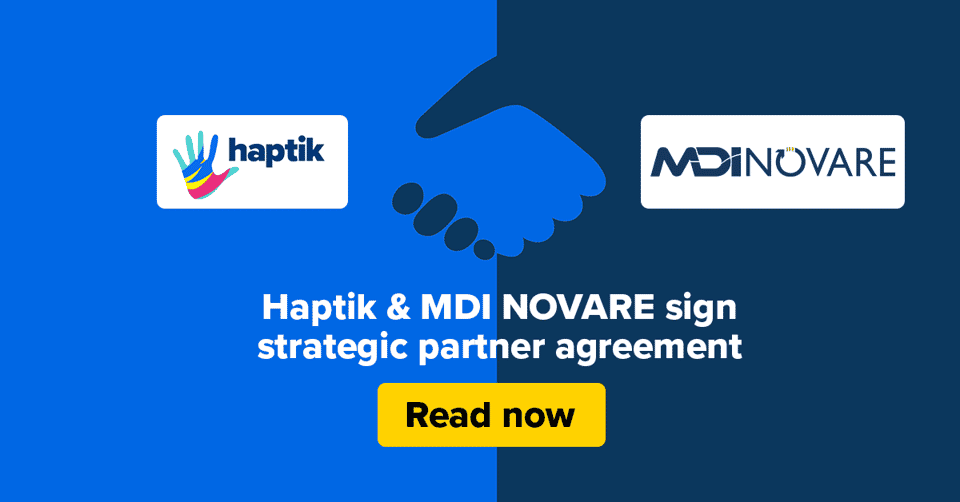 Haptik is delighted to announce its new strategic partnership with MDI NOVARE to solve CX challenges in the Philippines. This partnership will enable MDI NOVARE to provide personalized CX experiences to their customers with Haptik's AI chatbots.
Philippines, April 29 - Jio Haptik Technologies Limited (Haptik), one of the world's largest conversational AI companies and a subsidiary of Reliance Jio Platforms, today announced a strategic partnership with MDI NOVARE, leading Philippines-based information, and communications technology solutions provider to facilitate widespread use and value of AI chatbots for businesses in the Philippines.

Anila Rao, VP & Business Head, APAC at Haptik said," With the launch of our conversational partner program a few quarters back, our focus in APAC countries has been mainly to look for strategic partners who can add value and help elevate customer experiences for their clients through Haptik's AI Chatbots and Enterprise CX platform."
With MDI NOVARE's strong focus on digital transformation for enterprise customers, Haptik's Enterprise CX solutions fit beautifully with the company's current services offerings which they deliver to their customers. With this partnership, Haptik benefits by having a strong local partner to improve and solve customer experience challenges in the Philippines market. Haptik and MDI NOVARE will jointly transform customer experience across sales, customer support, co-marketing, sales enablement, and training with AI-powered virtual assistants.

Anila added, "Thanks to MDI NOVARE's presence, scale & strong reputation of over 30 years in the Philippines region, it did not take us long to decide, collaborate and jolt this strategic agreement together. With Haptik's industry-leading virtual assistants & chatbots built using the best NLP architecture we feel it's a great win not only for MDI NOVARE and Haptik but also for businesses in the Philippines".
"We are happy to team up with Haptik to bring AI solutions to more businesses in the Philippines," says said Allan So, Chief Commercial Officer, MDI NOVARE. "Growing our footprint in AI with best in class partners like Haptik is part of our mission to be the National Champion in Technology as we bring the power of AI chatbots to deliver next-level Customer Experience."
Haptik announced a few quarters back that it was doubling down investment in APAC on the back of strong customer growth, market demand, and expanding its partner network with multiple domestic players to understand region-specific business needs. With MDI NOVARE's vast regional presence and industry experience in the Philippines, the partnership strives to help businesses automate customer support, boost lead generation, generate revenue, and at the same time deliver uninterrupted and delightful CX experiences across every channel using Haptik's cutting-edge AI/ML NLP technology.
Haptik's proprietary NLU leads the industry with the most human-like conversational ai experience for businesses. Its tailormade industry-specific NLP, Machine & Deep Learning models ensure maximum accuracy as compared to other NLU engines and reduce bot fails.
Recently, Haptik has been recognized as a 'Leader' in the Bots Platform & Live Chat categories in the G2 Spring 2022 Report. Haptik is also ranked as a 'High Performer' for Live Chat, Conversational Marketing, and Customer Support, winning 12 badges collectively across segments.

About MDI NOVARE:

MDI NOVARE (Micro-D International, Inc.) is one of the most trusted world-class leaders in enabling digital transformation across enterprises, spearheading innovation for top telecommunications companies, financial institutions, manufacturing and BPO firms, and government agencies through our deployment of next-generation technology, best-of-breed automation processes, and efficient end-to-end solutions.

Backed by more than 30 years in the information technology industry as a National Champion in the Philippines, MDI NOVARE collaborates closely with its partners to design, integrate, and maintain infrastructure for cloud computing, network and security, big data analytics, and managed services.

Website: www.mdi.net.ph/ and www.novare.com.hk/

For more information, please contact:

Shruti Rajan
APAC Partnerships