WhatsApp Flows: Bringing Structure to Business-Customer Interactions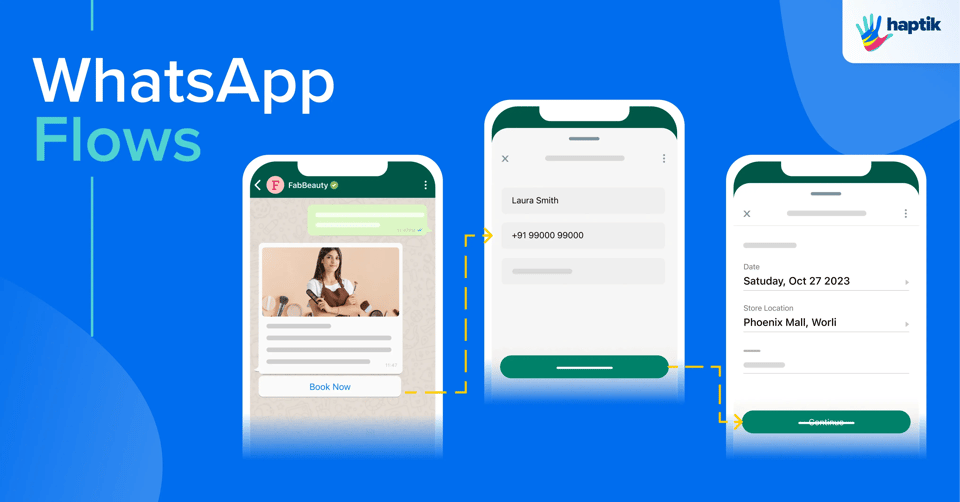 WhatsApp for Business has, for a long time, underpinned the way businesses interact with customers and vice-versa.

It helps businesses across industries drive lead generation, sales, support, feedback collection, and campaigns to maximize ROI, increase revenue, and win customer loyalty.
Customer experience is at the heart of these use cases as businesses acquire customer consent to send marketing and promotional messages, transactional messages, account notifications, service updates, and much more. When customers provide consent to receive business messages, it leads to more streamlined and personalized communication that is a win-win for customers and businesses.
RELATED: ChatGPT on WhatsApp: 5 Ways to Level Up Your WhatsApp Game
Flows are among the latest WhatsApp Business features designed to further improve the quality of interactions between customers and businesses.
In this blog, let's find out more about WhatsApp Flows, who's it for, and its use cases.
What Are WhatsApp Flows?
It's a WhatsApp Business platform feature allowing businesses to offer their services on WhatsApp. With Flows, businesses can build customized journeys to elevate customer experiences and unlock higher efficiency of AI Assistants and agent solutions.
In a blog article, WhatsApp explains: "We're launching Flows so businesses can offer more experiences like quickly choosing your train seat, ordering a meal or booking an appointment – all without leaving your chat. With Flows, businesses will be able to provide rich menus and customizable forms that support different needs."
Applications of Flows
Flows expand the range of functionalities for businesses using WhatsApp to engage with customers and power their day-to-day operations. Form fields can be seamlessly integrated into customer journeys for data collection for:
Appointment booking

Product customization

Account registration

Registration for events & promotions

Feedback submission
This method of data collection not only improves accuracy and customer satisfaction but also helps glean valuable insights for personalized customer interactions and improving services.
Use Cases of WhatsApp Flows
Businesses with an active WhatsApp Business account can set up Flows for various use cases and to unlock business value.
Product & Services Information
Businesses can use Flows to provide customers with, for example, insurance quotes and coverage pertaining to health, two- and four-wheelers, finance, and more. They can also be leveraged to reduce customer churn by renewing deals, cross-selling products, and more to increase revenue and trigger loyalty.
Improved Lead Generation & Conversion
According to success stories of Meta partners, brands have achieved higher rates of conversion and sales by using Flows compared to the results of chatbot-led engagement.
Businesses can collect high-quality leads that convert downstream with WhatsApp Flows. Whether it's placing an order, scheduling a demo, or signing up for a service - businesses can use WhatsApp Flows to generate leads by proactively engaging with customers. WhatsApp's high open (98% on average) and response rates ensure that messages sent within WhatsApp Flows drive higher engagement and conversion.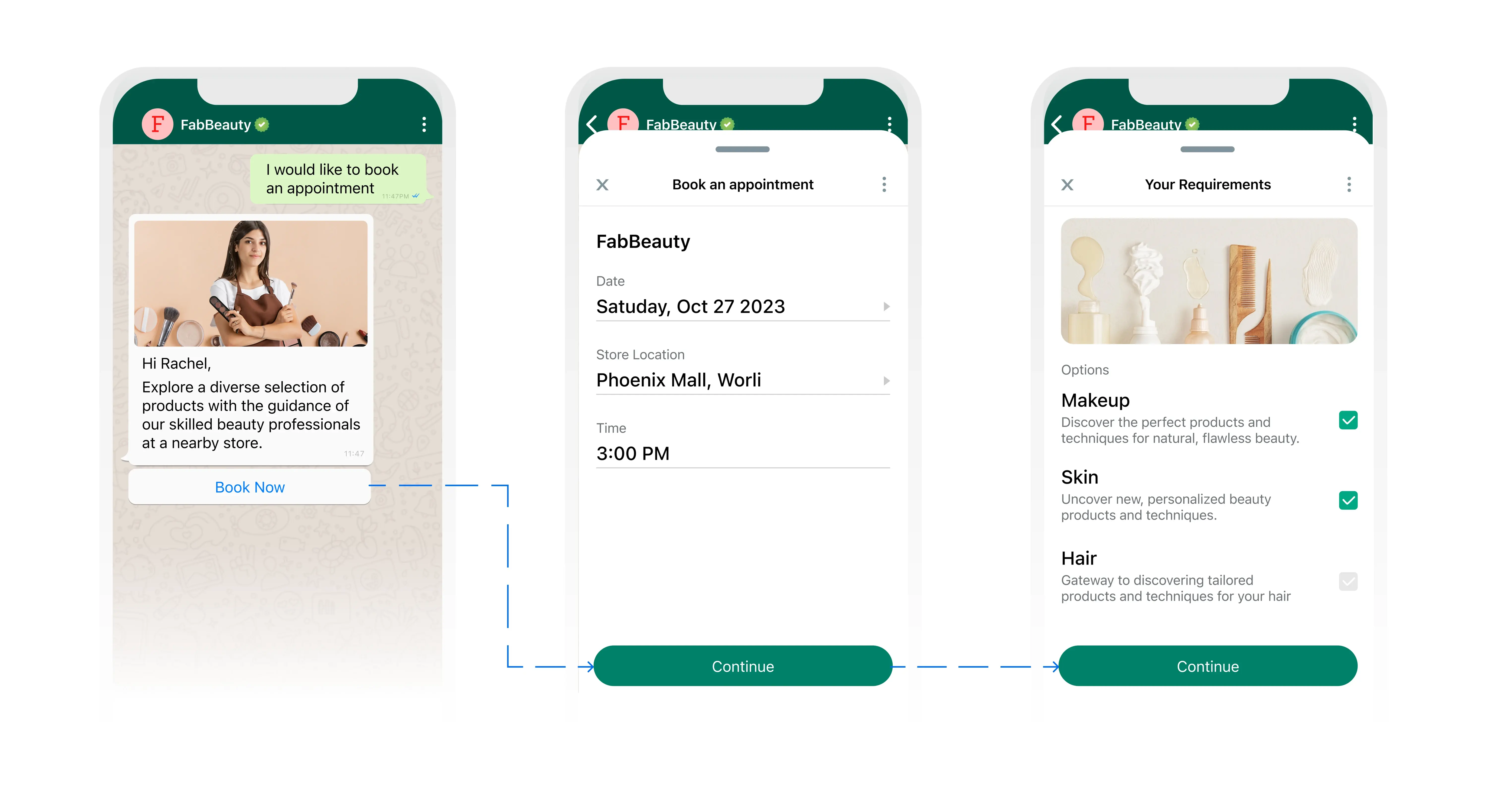 Streamlined Customer Support
Customer support is key to not just acquiring customers but also driving retention. WhatsApp Flows help automate routine customer support tasks, such as FAQs, appointment scheduling, and query resolution. This automation ensures timely responses and consistent service, reducing customer wait times and improving satisfaction.
ALSO READ: The Ultimate Guide to WhatsApp Marketing in 2023
Increased Customer Engagement
The ability to create customized journeys allows businesses to foster stronger customer relationships. Flows help with engaging customers and encouraging them to participate in their own journey by sharing preferences and concerns. This seamless flow of information between customers and businesses ensures that the latter don't just respond to every customer's needs and pain points but also deliver tailored solutions, which is the hallmark of phenomenal customer service.
How Haptik Can Help
Haptik powers conversational messaging on WhatsApp for a multitude of brands with GPT-powered chatbots that help with customer acquisition, conversion and sales, and support.
Haptik facilitated the first-ever end-to-end shopping experience by developing a WhatsApp Assistant for JioMart, an online shopping platform.
More recently, its GPT-powered virtual sales assistant helps Tira, a personal care brand, drive product orders on WhatsApp through a personalized, near-human-like conversational experience.
Buyers can reach Tira on WhatsApp and engage in a dialog with the Sales Assistant powered by Haptik. It will understand the buyer's requirement and generate dynamic responses while retaining contextual information.
Based on the buyer's query, it can fetch relevant information from the brand's website to generate a satisfactory response to drive the order/purchase on WhatsApp.
Conclusion
As businesses seek meaningful and personalized ways to connect with customers, WhatsApp Flows help businesses to engage customers, drive customer satisfaction, and loyalty. The best part is Flows have been integrated with WhatsApp message templates, making it seamless for businesses to build Flows templates within a short turnaround time without developer knowledge. Flows allow businesses to build and refine their rich and unique journeys tailored for WhatsApp.
---