How Conversational AI is revolutionizing CX across sectors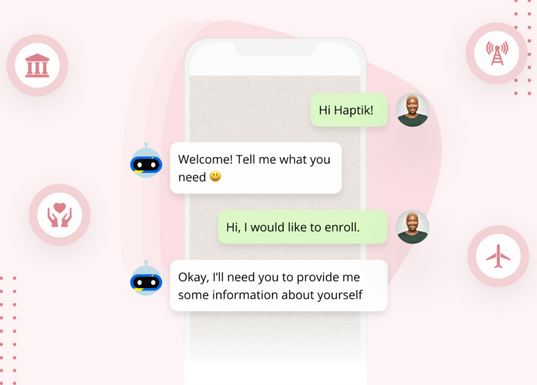 We are living in a world of conversational AI. It is redefining the way businesses operate across the globe. APAC is no different; it is among the fastest growing, projected to reach $3.022.4 million by 2028. 92% of leaders across the Asia Pacific agree that their organizations are already leveraging AI-powered solutions compared to last year when only 42% were doing the same. From providing quick support to helping consumers choose the right products & services to drive engagement, conversational AI is adding value throughout the customer life cycle.
In this blog, we'll see how different industries in the APAC are embracing conversational AI and deploying various use cases to acquire more customers, deliver better customer experiences and optimize costs.
Telecom:
Like any other industry, Telecom is also harnessing the benefits of Conversational AI. According to a report published by Forrester, 64% percent of the respondents from the telecom sector say that they are already implementing AI technology within their businesses. With the help of AI chatbots, brands are able to assist customers virtually by resolving their grievances in a personalized manner while freeing them from waiting for human agents.
The fierce race among telecom companies often results in customers switching from one service provider to another. That's why telecom brands need to satisfy customers' expectations. Using Conversational AI, brands can analyze users' preferences and past purchase patterns and then profile subscribers accordingly to offer real-time customized plans. StarHub, a leading homegrown Singapore telecom brand, achieved an improvement of 125% in NPS post-deployment of a virtual assistant on its Facebook page.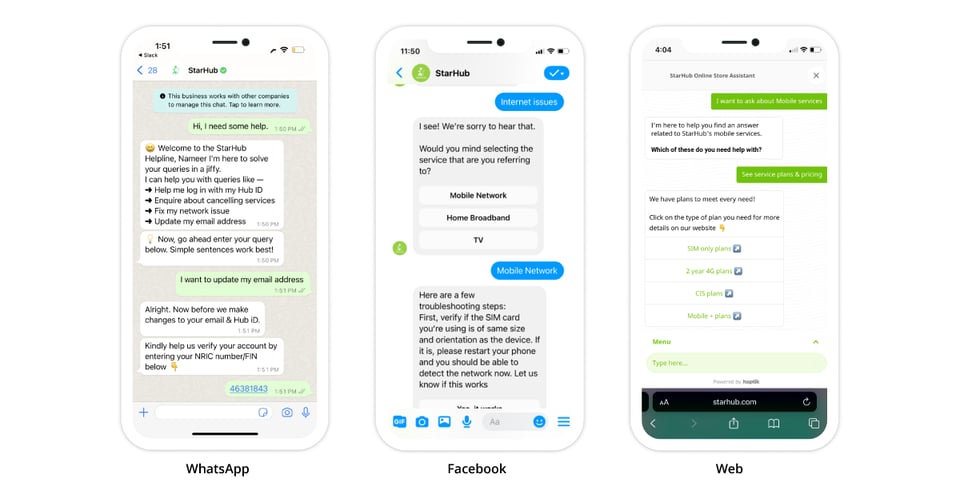 Quick Read: How voice chatbots boost customer experience in Telecom with the help of use-cases
Insurance:
The insurance industry in APAC saw a 7% increase in 2021, the highest since 2016. Today, customers look forward to a seamless experience from FAQs to making a claim. Conversational AI is helping insurance companies to fulfill this demand.
With an AI assistant, an insurance brand can respond instantly to customers' queries regarding plans and policies, benefits and coverage, pricing, payment plans, and more. Beyond that, an insurance chatbot can also serve as a virtual insurance advisor to customers by offering personalized policy recommendations and helping them compare two or more plans. In short, conversational AI is helping insurance brands to make insurance more accessible to customers.
Zurich Insurance Group receives large volumes of queries and service requests from customers, who expect immediate answers and instant resolution of issues. One of the success factors in deciding the seamless customer journey is the customer experience. To enable a seamless experience, Haptik deployed an IVA for Zurich called 'Zuri' which automated 84% of customers' queries through step-by-step guidance while achieving 70% end-to-end query resolution.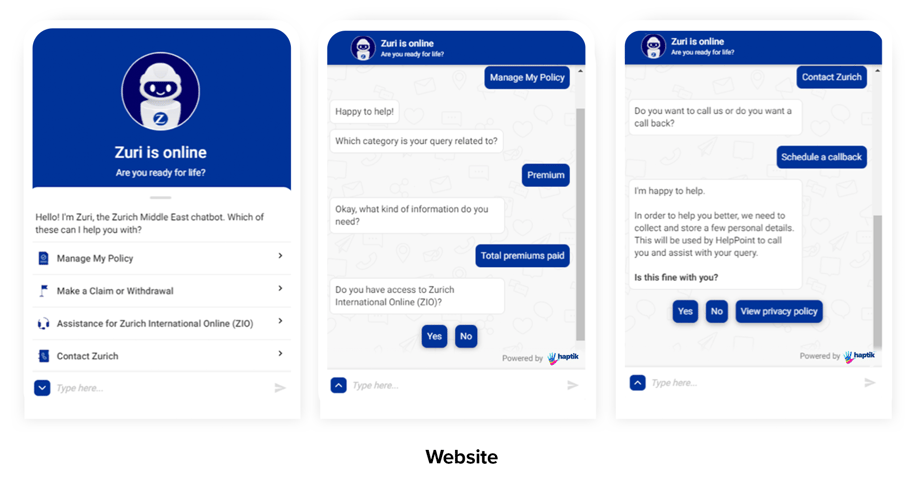 Retail & eCommerce:
Today, customers want brands to understand their needs and deliver tailored shopping experiences. 48% of Singaporeans claimed they would engage with chatbots more often if they could produce more personalized recommendations. Conversational AI is helping brands add personalization to online shopping at scale.
Medshop's IVA 'Fredy' is improving the accessibility of essential medical supplies for consumers which has resulted in the expansion of its presence into four more countries. With the rise in user demand, the prowess of conversational AI to address user concerns promptly is an X-factor. Medshop deployed Haptik's advanced conversational AI chatbot to achieve higher efficiency and improve decision-making with access to control over data.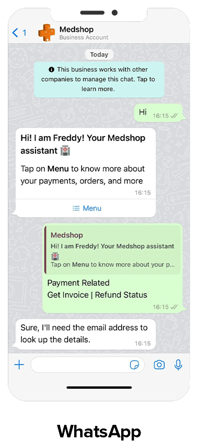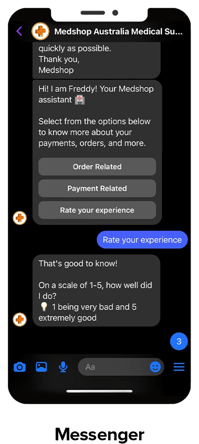 Convenience is another factor that customers are now looking for when making their shopping decisions. That's where Conversational Commerce is taking center stage; consumers in the Asia-Pacific region are 1.26 times more likely than the global average to use messaging for product research. Buyers across Malaysia, Thailand, and the Philippines plan to increase their spending through conversational commerce channels by 63-75% in the next few years.
Learn More: How Conversational AI amplifies retail customer experience
Travel & Hospitality:



The travel industry was one of the most severely impacted by COVID, especially in countries like Malaysia and Thailand, which thrive on tourism. As the COVID restrictions are easing, the travel sector is bouncing back. According to a report by Pacific Asia Travel Association (PATA), international visitor arrivals will grow by 100% between 2022-2023. But the traveler's expectations have increased, and they are looking for contactless personalized experiences. Conversational AI is empowering the industry to meet these expectations.
The AI-driven chatbot acts as the perfect travel concierge for your customers to answer real-time requests and get a first-class experience. RedDoorz, launched a multilingual AI Chatbot across its website, mobile apps, and messaging channels such as WhatsApp and Facebook Messenger to provide personalized customer support to Southeast Asian customers.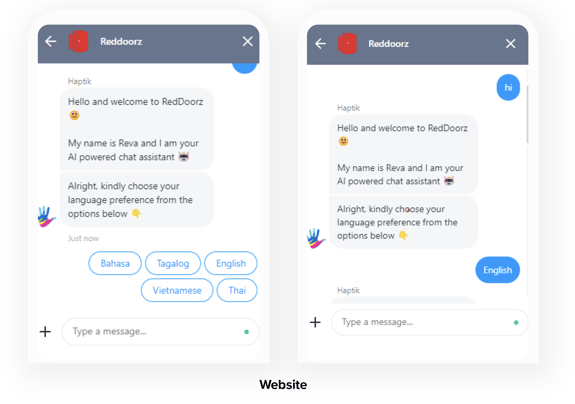 Banking:
The evolving customer expectations have pushed the finance sector to become more proactive and adaptive; conversational AI is enabling this transition. Especially in the South-East Asia region, where the Philippines, Indonesia, Malaysia, and Singapore are all seeing rapid growth in the adoption of conversational AI to seek increased results.
Being a service-first industry, To free customers from this directionless searching, multiple clicks, and hours of waiting on calls to reach an agent, HDFC has introduced EVA (Electronic Virtual Assistant), India's first and largest AI-powered banking chatbot. Catering to these issues manually not only increases the cost for the banks but also ruins the customers' experience. A recent study by Juniper stated that $7.3 billion of the operational cost would be saved using chatbots in the banking sector by 2023.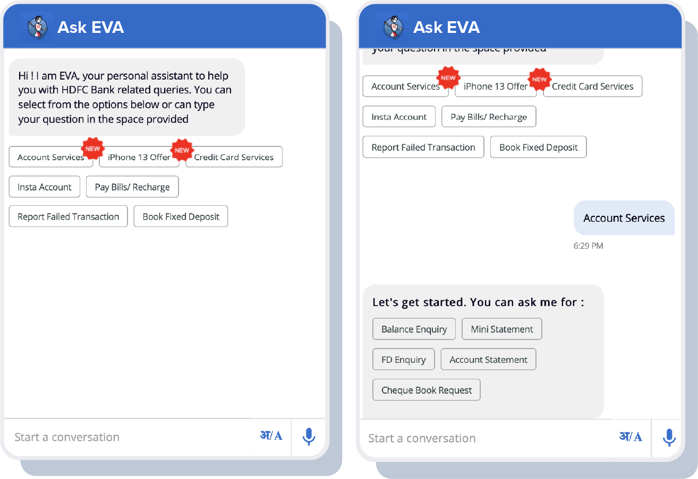 Conclusion:
These are just a few examples, but conversational AI is changing the development vector of varied industries and successfully driving growth for enterprises of all sizes. And that's why the Asia Pacific Conversational AI Market is expected to witness market growth of 18.7% CAGR. With the help of AI chatbots, brands across industries can be present at all crucial customer touchpoints to provide support, drive engagement and encourage them to purchase more.
Haptik has been at the forefront of the conversational AI revolution. It is a recipient of 15 G2 badges recognized by Gartner and Opus Research and powered conversational AI solutions for leading brands such as POS Malaysia, SOCAR, TREVO, FashionValet, StarHub, MyRepublic, and Reddoorz, to name a few!