4 Chatbot Solutions For The Financial Services Industry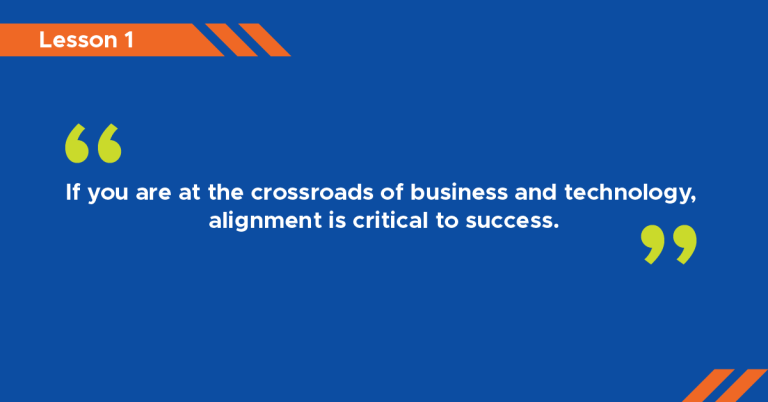 According to a report by Gartner, it is estimated that by the year 2020, customers will manage 85% of their relationships with a bank without directly interacting with a living being. In 2017, leveraging new technology and robotic automation was amongst the top three strategic priorities for banks, as per Ernst and Young (E&Y). Much like how internet banking took India by storm in the early 2000's, the last few years have witnessed the rise of Conversational AI in the financial sector.
As a leader in the Conversational AI space, Haptik has been working with enterprises across the Financial Services sector to develop Conversational AI solutions for various use cases. Let's take a look at a few solutions which we see are creating true end-user impact.
Customer Support
In a world where 'Customer is king', it's imperative that their queries and issues are addressed and resolved in real time. To facilitate this for one of our enterprise partners, Edelweiss Tokio, a leading life insurance brand, we built chatbot that acts like a self-service tool for the end customer. Right from highlighting the description, key features, and benefits of a selected life insurance products, to helping them calculate their insurance premiums, this chatbot has a number of functionalities to make consumers' lives easier. Moreover, the bot helps them address queries about their policies and download relevant documents such as renewal scripts, fund statements, policy documents etc, all within a click.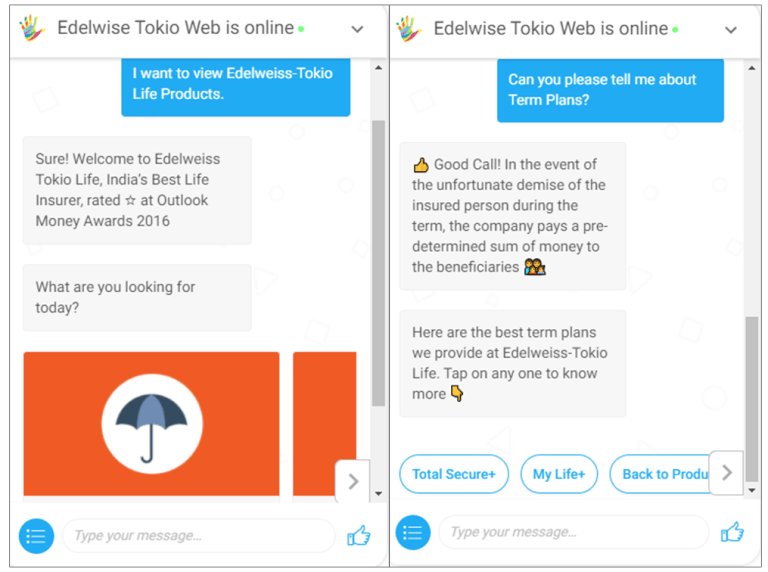 CASE STUDY: How Haptik Helped Zurich Insurance Elevate Their Customer Support Experience Using Conversational AI
Lead Generation
Insurance, by nature, is a difficult product to understand for any user. Hence, when it comes to lead generation or user acquisition, one of the major challenges in this category is explaining the benefits of term insurance plans in a simple and engaging manner.
Haptik took up this challenge, partnering with online insurance broker Coverfox to generate viable user interest for their products and explain the different kinds of term insurance plans available to customers through an interactive interface.
In order to get this done, Haptik created a Finance quiz to get users interested in playing a game. At the end of the quiz, the chatbot decoded a financial score of the user on a scale of 10, based on some key questions about his or her financial health. This was followed by a prompt asking the user if they would like to improve his/her score by getting in touch with an expert.
The bot proved to be highly successful for Coverfox, delivering a conversion rate of 16.79%.
You can read more about our work for Coverfox.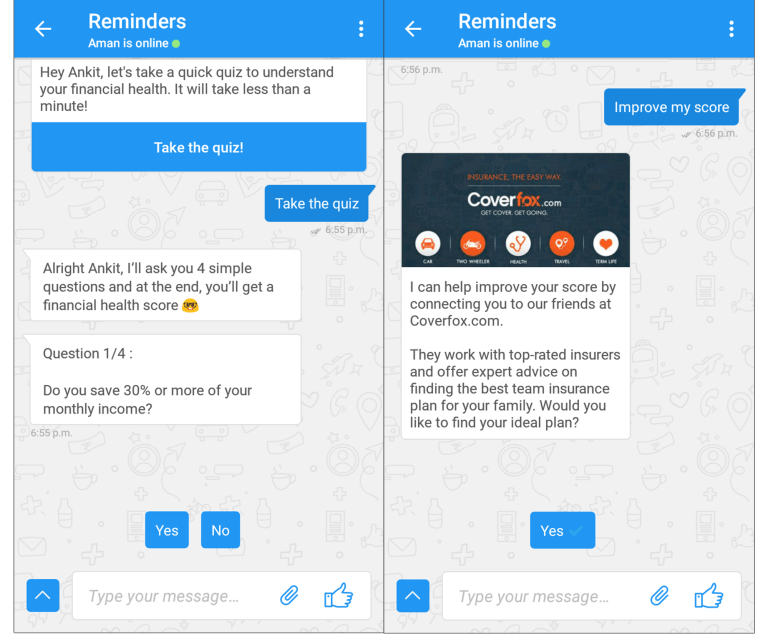 Engaging users to purchase a credit card is one of the continuing challenges that the banking industry faces. Hence, ICICI Bank partnered with us to explore conversational marketing methods to bring forth their available credit card options to users.
The purpose of this bot was to not only generate high-quality traffic for the cards but also help with scheduling of in-person appointments for document pick up. We were looking to kill two birds with one stone: acquire + optimize.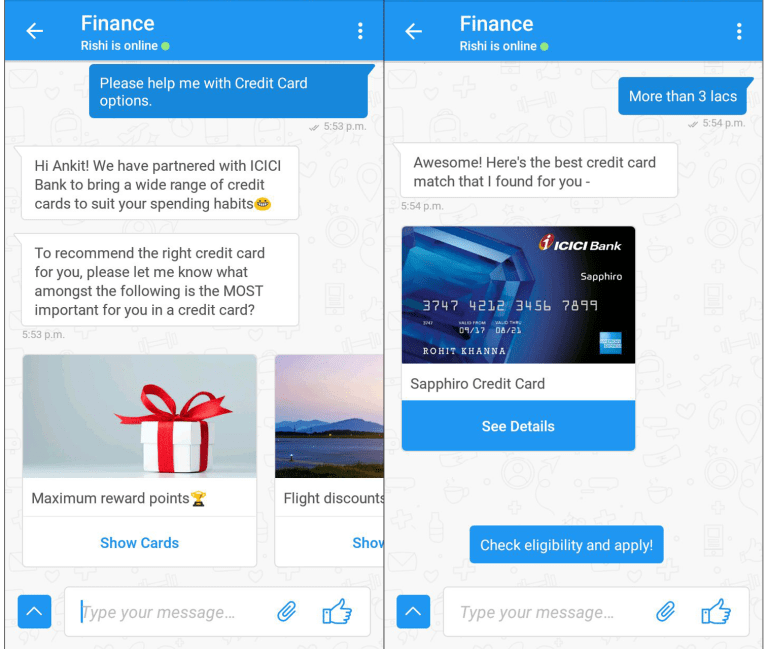 We created a chatbot that prompted the user to pick a credit card based on their needs and spending habits. Then depending on the income range of the user, the credit card that fits best with their needs was suggested. The user could verify their eligibility, view additional information and book an appointment with an executive. As opposed to traditional forms of marketing, our audience responded well to this new method and it turned out to be very beneficial for the bank as well.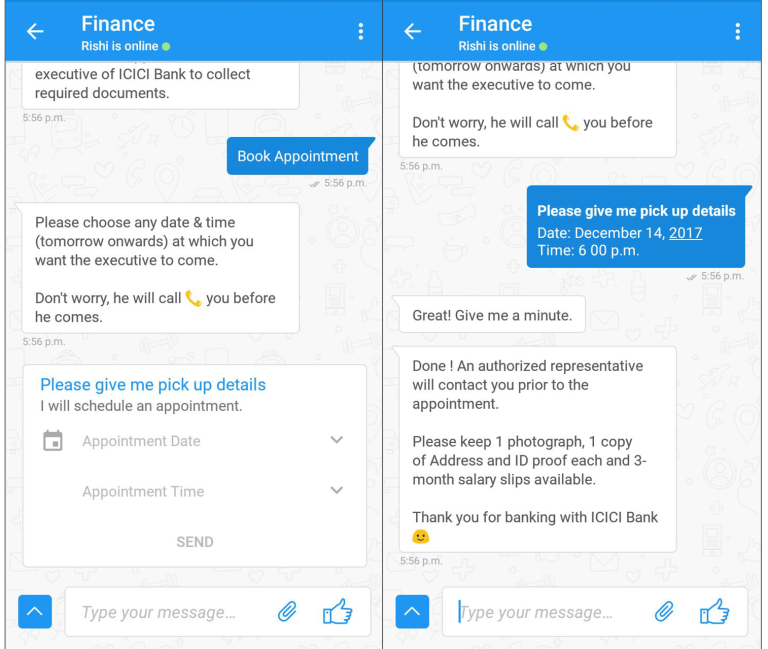 User Engagement
The BFSI sector is highly competitive and therefore, it is extremely vital for brands to position themselves in a manner that resonates with the consumer. To achieve this, brands have to go the extra mile to educate their users about their services in a simple and engaging manner.
Conversational AI has proved to be a highly effective medium for content marketing. Haptik partnered with HDFC Life, among the leading insurance providers in India, to help introduce users to the company's offering in a conversational format. The user was engaged with a story of a poor poet who saved regularly to reap the benefits of his savings later in life.
Keeping the user intrigued till the end, we connected the story to the importance of financial planning and the need for investing in a life insurance plan. This was followed by a prompt to explore the various life insurance options offered by the company. The campaign did wonderfully well and helped position HDFC Life as a brand that is one step ahead of the game when it comes to communication.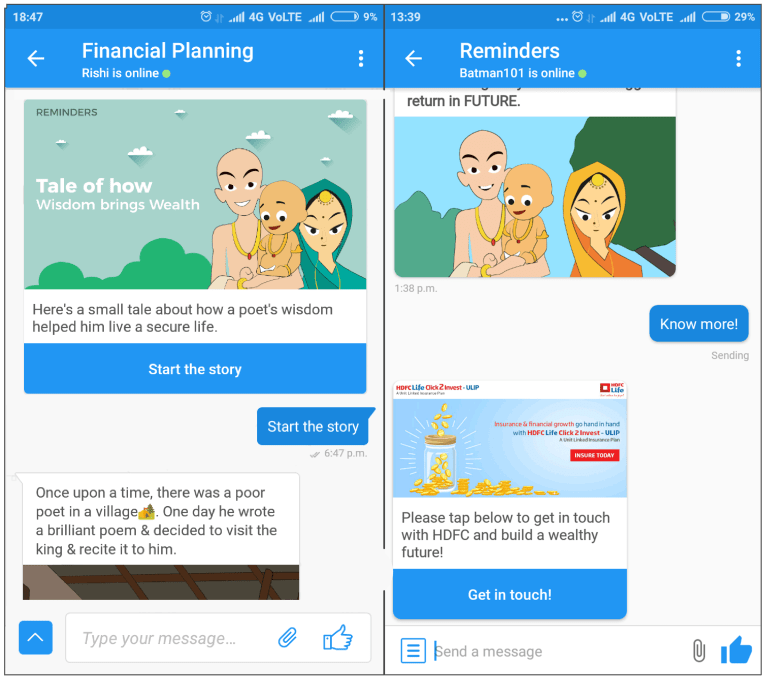 Read More: How Haptik Redefined Direct-to-Consumer Advertising for HDFC Life
Another successful user engagement campaign that Haptik developed for the BFSI sector was for online financial marketplace BankBazaar. They needed an innovative clutter-breaking engagement format during Q4 (Jan-March), which is the busiest period for BFSI aggregators, witnessing maximum spends on new user acquisition.
To help BankBazaar engage their target audience (financially-savvy, premium Millennial customers), we built a Direct-to-Consumer chatbot and integrated the SDK on the Times of India and Economic Times apps, called "The Finance Shop". The bot allowed users set custom financial goals, learn money-saving tips, set payment reminders etc. These features served to engage users, while also educating them about financial products such as credit cards, home loans, personal loans etc.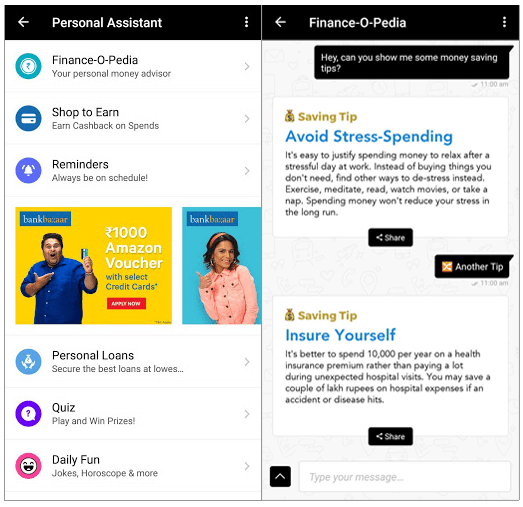 The bot effectively engaged BankBazaar's target audience – with users spending an average of 2.4 minutes interacting with the bot, exchanging an average of 3-4 messages. 28% of users who interacted with the bot ended up redirecting to the BankBazaar portal, and the campaign led to a 17% increase in purchase consideration across the target audience.
You can read more about our work for BankBazaar.
Customer Feedback
A user's feedback about his experience with a brand is as vital as the user's engagement with the service of the enterprise. This particularly holds true in the BFSI industry, where users are sensitive about their monetary transactions and it's imperative that they feel satisfied to have a long-term association with the provider.
There are a number of Conversational AI solutions that can be used to effectively collect customer feedback. One solution Haptik developed to streamline the process of receiving user feedback, is an Interactive Voice Response Bot or IVR Bot that collected feedback through the most simple mode of communication: the phone call!
An automated call would be generated once the user completes a transaction, and a voice bot would go through a series of questions asking the user about his/her experience with that transaction. The user simply has to speak back with answers, such as on a scale of 0-10, likelihood of recommending the service, feedback for the customer rep, etc.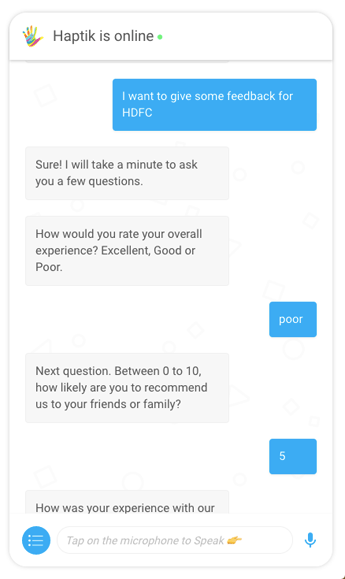 This serves as the perfect use case to understand the user's sentiment about the product, his overall experience with the enterprise and the suggested improvements in processes to make sure no user has an unsatisfactory experience in future. More importantly, it cuts out inefficiencies in the system by making the entire feedback collection process automated.
IVR bots have applications for other use cases as well, particularly Customer Support.
To sum up…
Given the vast potential for the use of Conversational AI in the BFSI sector, what you've seen above are only a few examples of what Haptik's bots can accomplish in this industry.
With Conversational AI becoming increasingly ubiquitous, it is only a matter of time before conversational interfaces become a key component of every financial services institution. As a leader in the Conversational AI space, Haptik is more than well-equipped to cater to the needs of BFSI firms and their customers.
Learn more about what Haptik can do for the Financial Services industry.
Are you interested in developing a Conversational AI solution for your business?