Events Round Up: Haptik in action all around the world!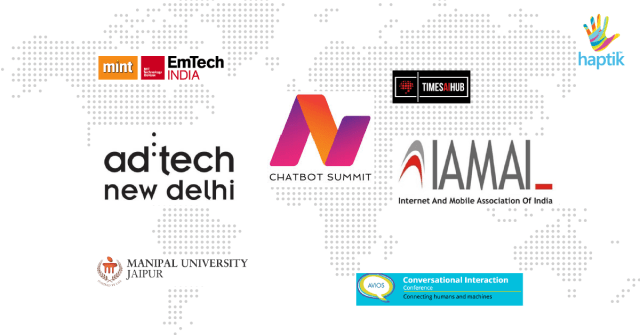 With Conversational AI becoming a reality as the next paradigm shift in technology, the last few months have seen a flurry of events and conferences all over the world to bring more light to the topic. As one of largest chatbot platforms in the world, Haptik has been fortunate to be a part of a number of renowned tech conferences and business summits.
Here's presenting a round-up of our experiences from varied events and conferences.
Conversational Interaction Conference, San Jose, USA
Aakrit Vaish, Co-Founder and CEO, Haptik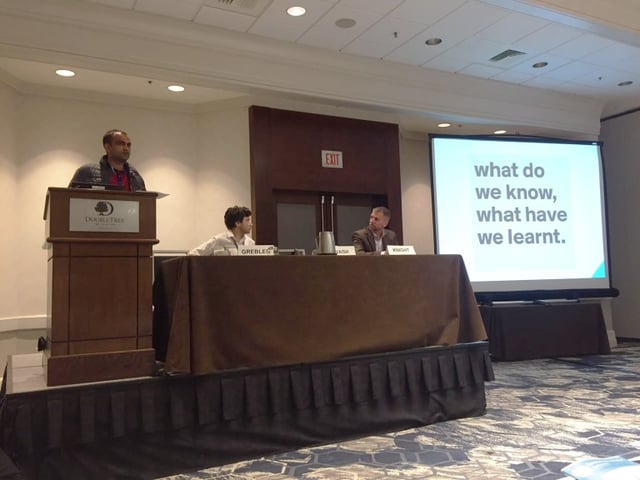 We were thrilled to have participated in the Conversational Interaction Conference, a 2-day conference that highlights the evolution of conversational interfaces to get tasks done. Aakrit was a keynote speaker at the event where he highlighted his'key learnings from having built over 100 chatbots at Haptik'. During his session, he spoke about the kind of work Haptik has been doing in the chatbot space, and how we pay special attention to design, considering it more than just a technology problem.

The audience was a good mix of industry insiders, startup evangelists and leaders from platform companies including prominent names such as Ilya Gelfenbeyn from Google, and Alborz Geramifard from Amazon.


"We started with the goal of building a team of cutting-edge engineers. However, we ended up hiring comedy writers because we realized that engaging chatbots require character and script writing, and a comedy writer would be the perfect fit here!", said Aakrit.
Key Takeaway – Most discussions revolved around speech to text technology and if voice could possibly be the next paradigm shift in this space. Another major discussion point was the level of proliferation of smart voice devices like Alexa and Google assistant in the western world.


Chatbot Summit, Tel Aviv, Israel
Prateek Gupte, Director of Engineering, Haptik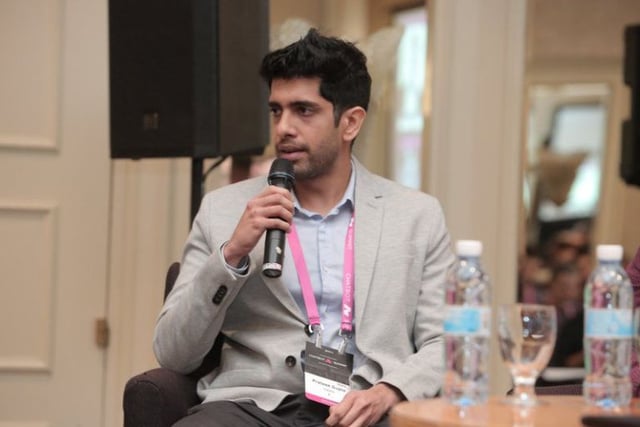 Prateek was present at theGlobal Chatbot Summit, which is one of the biggest international events that brings together chatbot enthusiasts and industry leaders to discuss the future of the conversational AI space. Prateek participated in an interesting panel discussion on'How to build a smarter chatbot using AI'. The panelists discussed specific use cases of chatbots across various industries, the importance of content when building a bot, and the necessity of narrow domains for chatbots to work best. Most of the attendees of the Summit were professionals from international chatbot agencies and representatives from companies who use existing platforms such as ChatFuel, DialogFlow, IBM Watson, Amazon Lex etc.


"A key component for chatbots to become mainstream is to focus on content. This requires creating chatbot specific content from scratch, rather than porting content over from another medium.", said Prateek.

Key Takeaway – There was much hype around the capabilities of voice bots and the fact they are yet to reach a point where they receive similar acceptance as text-based chatbots. Another major takeaway was the absence of a clear winner when it comes to the best or the most holistic chatbot platform, as many bot developers use multiple platforms to build chatbots.


IAMAI Summit, New Delhi, India
Kartik Poddar, SVP and Business Head, Haptik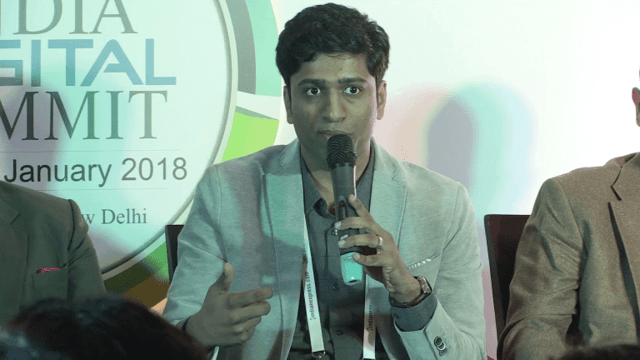 The flagship event ofIAMAI (Internet and Mobile Association of India), India Digital Summit is one of the most premium digital events in the country. Kartik represented Haptik by being a part of a panel discussion that revolved around'How chatbots are revolutionizing the digital space'. He emphasized how chatbots are a unique interface that can adapt to address user needs and can be customized for diverse industries. Unlike apps or websites, chatbots need no learning because users are already comfortable with chat and the interface adapts based on user inputs. He also highlighted that one of the best use cases for chatbots is automation of repetitive tasks which generally would require customer support.


"Chatbot technology is very exciting because it is one of the few technologies can enable personalization at scale.", said Kartik.
Key Takeaway– Most conversations brewed around the importance of design and how bot builders need to factor in the objective of building the chatbot, the personality, tone and a seamless visual experience for the end user.


Ad:tech, New Delhi, India
Aakrit Vaish, Co-founder and CEO, Haptik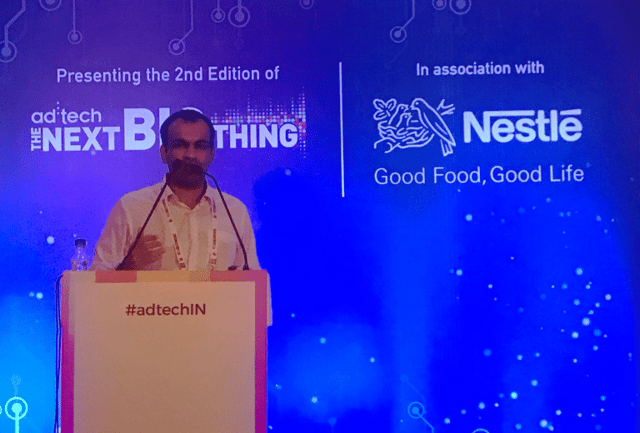 Aakrit wasn't just evangelizing the concept of chatbots abroad; he also actively spoke on the topic back at his home ground. He was atAd:tech India, one of India's largest advertising events that gathers the best minds from the digital industry. Aakrit had the opportunity to present two sessions at this event. The first session calledConversations with a Bot, highlighted how marketers can leverage conversational interfaces for various use cases including lead generation, customer service, and branded content. The second was a pitch at theNestle Next Big Thing Challenge, where Aakrit presented a conversational AI based nutritionist built by Haptik, which works on both voice and chat across platforms, including mobile, web, Alexa and Google Home.


"It is very important to have one single end goal in mind when building a bot versus trying to make it do everything. ", opined Aakrit.
Key Takeaway– While there is a lot of interest for bots from brands, there is hardly any proof of what exactly works for major brands. This creates a massive opportunity and vacuum for whoever gets it right first.


Emtech India, Gurugram, India
Swapan Rajdev, Co-founder and CTO, Haptik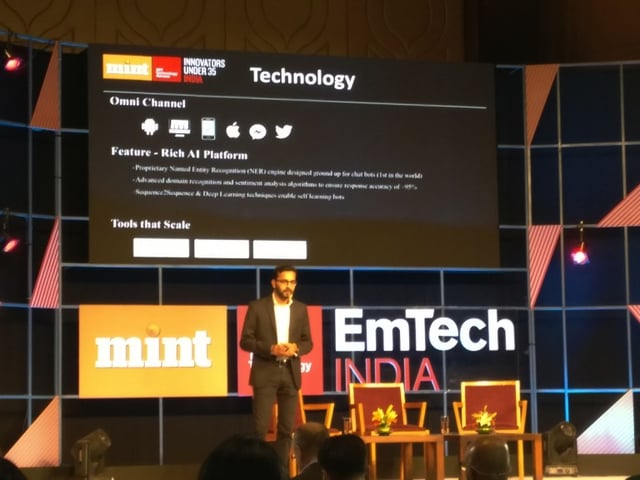 We're exhilarated to have been part of EmTech India where our CTO and Co-founder, Swapan Rajdev featured as one of India's Top 10 Innovators under 35. Organised by Mint and MIT Technology Review, this award is given to 10 participants on the basis of innovation and scale of business. EmTech India is an iconic platform that brings together business leaders, innovators, and changemakers who are passionate about addressing global issues by turning ideas into solutions. Participants from diverse industries suggested unique solutions that can substantially help overcome these challenges.
Swapan presented his journey of building chatbots at Haptik and how we provide unique conversational AI solutions that help businesses across sectors.


"AI and chatbots are being used by all companies, big and small, and with the help of chatbots companies can save a lot of money", said Swapan.
Key Takeaway – Artificial intelligence and chatbots have the potential to solve various end-user problems and these technologies are the next big thing that will the shape of multiple different industries across the globe.
Times AI Hub, New Delhi, India
Krupal Modi, Lead Machine Learning Scientist, Haptik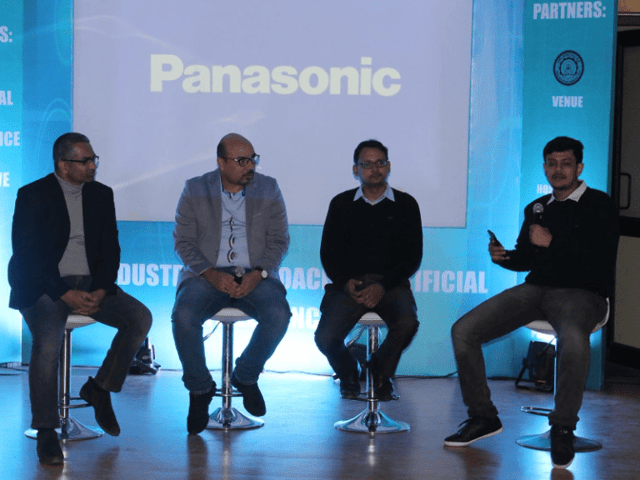 Times AI Hub, hosted in IIT Delhi and powered by Times Jobs, is a major event that focuses on bringing together AI industry stalwarts and young students to discuss industrial uses of artificial intelligence. Krupal Modi was part of an engaging panel discussion that highlighted 'How AI is leading the change in every industry'. Panelists and speakers at this event were a mix of academicians and leaders from various industries, who broadly discussed the impact of AI in their respective sectors.
Krupal shared his learnings from deploying Haptik's chat-based solutions across diverse industries and spoke about how the company's customer support department developed to become a skilled bot training team. He also shed some light on the capabilities of Haptik's chatbot platform that smoothly augments machine intelligence with human intelligence.


"In less than a year, we realized that our customer support team was recognized as bot training team", said Krupal.
Key Takeaway – One key takeaway from this discussion was that in spite of major developments in the AI space, companies still face issues while making a concrete AI strategy, and executing AI centred projects for their company.


National Entrepreneurship Summit, Jaipur, India
Apurva Mudgal, VP- Product, Haptik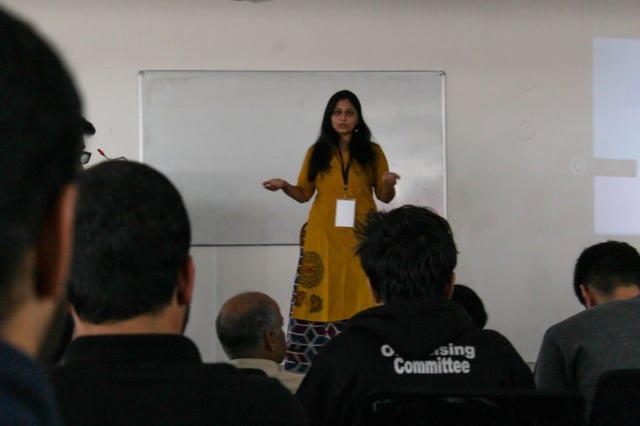 Apurva enlightened young minds at the National Entrepreneurship Summit, the flagship event hosted by the E-Cell of Manipal University, Jaipur. This 3-day event garners students from all over the nation to attend sessions that give them useful insights into the business world. Apurva's hour-long session on 'AI in Business today', focused on the viability of chatbots in enterprises, and shed some light on the effect this technology on the computing landscape. She also spoke about how we're making chatbots to help clients across industries solve various end-user problems. Apurva summed up her session by sharing insights on the current technologies used in the conversational AI space.


"AI is changing the way humans live. You can either create the technology or be replaced by it", said Apurva.
Key Takeaway – The students were especially intrigued by the implications of chat automation in the BPO space and inquired about industries that will see most adoption of chatbot solutions.
This year has been absolutely amazing so far, and we're in no mood to settle anytime soon!
So, here's to all the fun we had at chatbot events across the globe, and cheers to many more that we're yet to hustle in. 🙂