How Conversational AI Amplifies Retail Customer Experience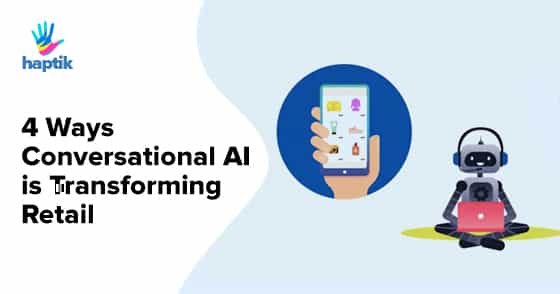 Did you ever imagine how our shopping experiences have changed in the last few decades?

Where we used to travel miles to get a full-fledged retail store of our needs, today, it's just a matter of a few clicks. The internet revolution over the last few decades has disrupted the way we buy and sell things. Specifically, the eCommerce boom that brought retail into the online world. However, the transformative impact of technological innovations on retail did not stop there.

Technologies like Artificial Intelligence (AI) and Machine Learning (ML) kept playing their part to elevate the CX curve for retail businesses. As online shopping replaces brick-and-mortar retail stores, AI is now taking the center stage in retail. According to research by Tractica, the global AI revenues will grow from $643.7 million in 2016 to an excess of $36.8 billion in 2025.

In an era where consumers are constantly expecting personalized services, Conversational AI can be seen across the value chain. It is emerging as a powerful tool for retail businesses to help retailers align their offerings with the evolving customer expectations. Many brand leaders look at it as a solution to gain a strategic advantage over their competition.

As a result, retail enterprises are increasingly leveraging the power of AI-driven data and emerging retail chatbot technologies to optimize customer experience, both online and offline. And the one consumer-oriented solution that retailers are relying on is Conversational AI.
READ MORE: How Conversational AI Can Help eCommerce Brands Prevent Cart Abandonment
Why Conversational AI in Retail?
Retail chatbots powered as a Conversational AI technology have a crucial role to play in bringing together customers and retailers. In this read, we are going to explore some of the significant factors that have led businesses to consider Conversational AI as the cornerstone of future retail engagement.
24/7 Accessible

In the new digital world, geography is no longer a limitation for retailers. But, they need to have the ability to field customer queries across time zones 24/7 and act upon the queries instantly. That's where Conversational AI chatbots come into play. These Online shopping bots are an around-the-clock self-service tool, allowing customers to reach out to retailers and resolve their queries anytime and anyplace. Chatbots for the retail industry enables a smooth conversational flow during the customer journey all the time, without having to wait for an agent to respond, or be restricted by the "working hours".
Improves In-Store Experience



Conversational AI can automate in-store operations and reduce a substantial amount of operational expenses in retail stores. It can help sales personnel to assist customers in the store, reduce queues through contactless payment methods, replenish stock by real-time stock monitoring, and overall improve the in-store experience for customers. A report by Aspect Software has revealed that 73% of customers prefer self-service options during their purchase journey and expect a faster checkout – a fact which does provide a strong impetus to retailers to implement

Conversational AI solutions.
Streamlines Operations

Digitally evolving multichannel retail has made store operations more complex. Store assistants are no longer restricted to receiving goods, stocking them, and managing inventories. They are expected to provide product information, keep track of promotional offers and handle merchandising for their customers. Conversational AI can be effectively utilized for such productive work, thereby saving a lot of time for your store agents to focus on other complex tasks. In simple terms, customers always expect a streamlined purchase journey, and Conversational AI chatbots steal the show in retail.

Tracks Customer Behaviour

Conversational AI is also capable of detecting the mood, intent, and interest of your customers throughout the purchase journey. Some global retail brands have even introduced a facial recognition system for this function installed at checkout lanes. If a customer is annoyed, a store representative will immediately talk to him or her. Retail Chatbots also leverage the intent prediction feature to understand customers' tone, context, and behavior. It helps retailers build stronger relationships with customers by providing personalized assistance throughout the conversational flow.

Empowers Customer Support

Conversational AI can be deployed across different channels, hence providing brands an opportunity to create an omnichannel customer experience. These retail chatbots are capable of serving 24/7 and are significantly cheaper than onboarding more agents with rotational shifts. If the customer support query is complex or beyond the scope of the retail chatbot, there is a seamless process to hand off the query to a live agent based on their skill sets and current workload. This enables a smooth hassle-free customer experience for the support teams in the retail industry.
Online and Offline Retail is The New Trend

Over the last few years, news of the retail 'e-pocalypse' has spread far and wide. A string of public lay-offs and bankruptcies have plagued the sector in recent times. Store closure announcements that increased by over 200% in the last few years, were no different.

So, has the retail sector been subsumed entirely by eCommerce?

Not exactly.

The truth is that retail cannot dispense with brick-and-mortar stores altogether. A recent report by CBRE has revealed that online-only retailers account for a mere 10% of transactions, while sales from physical stores account for around 50% of transactions. Moreover, even young 'digital natives' prefer shopping in retail stores, as they wish to physically examine their purchases. At the same time, online retail continues to thrive, and is poised to grow to $73 billion by 2022!

So clearly, when it comes to retail, the online and offline worlds are both crucial and hence, need to be connected. Conversational AI plays a crucial role in bridging the gap between them – guaranteeing a uniform online and offline experience for customers. By engaging with retail chatbots, customers can browse through inventories and familiarize themselves with product offerings, and promotional deals, before they make it to the store.

Thus, Conversational AI can contribute to a more positive and fulfilling in-store experience for customers, raising their overall engagement with retail brands and driving repeat visits.
READ MORE: 3 Ways Conversational AI Can Drive eCommerce Sales
Final Thoughts

While online retail offers convenience to customers, they still desire the social and experiential touchpoints offered by offline retail. As retailers work towards giving their customers the best of both worlds, they are increasingly relying on Conversational AI to deliver the best possible customer experience wherever their products are bought and sold.
Also, brand leaders need to upgrade their approach while implementing AI into their business. They need to understand that it is an intelligent conversational technology and that can show remarkable results in the long run. The first step is to set a long-term AI-driven objective, start with small projects and then align them with long-term customer experience goals.
Are you interested in developing a Conversational AI solution for your business?