How is WhatsApp Shaping Commerce?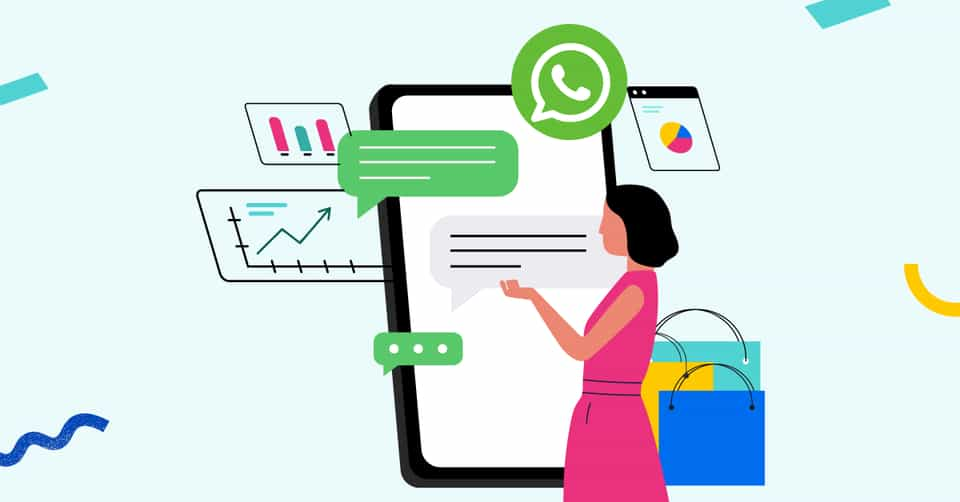 The pandemic has catapulted us into the future. Contactless Shopping has emerged as the new normal, transforming consumer behavior and significantly boosting the adoption of Conversational Commerce.
As WhatsApp Business API continues to expand the range of services it offers to businesses, it is increasingly being seen not just as an Engagement or a Customer Support tool but a platform to enable Conversational Commerce. This has given rise to the concept of 'WhatsApp Commerce' – offering and selling products and services to customers using WhatsApp.
WhatsApp Business API has become a must-have for every eCommerce business today. Whether it's providing Customer Care or Engagement, eCommerce brands cannot ignore the powerhouse of a channel that WhatsApp has become.
As eCommerce brands ride the Social Commerce wave, WhatsApp Commerce will play a significant role in contributing to their revenue growth. More than 40 million people view a business catalog on WhatsApp each month.
You can download the complete WhatsApp Shaping Commerceor continue to read a summary of the main takeaways discussed.
Driving Discovery on WhatsApp
Before starting a conversation, the first and most crucial aspect to consider is driving visibility and discovery. WhatsApp has made it highly flexible for brands to get customer opt-ins. Practically, brands can use every communication channel to get customer opt-ins, e.g., SMS, website, social media, telephone, etc.

Let's look at entry points brands can use to begin conversations with customers on the world's largest messaging channel.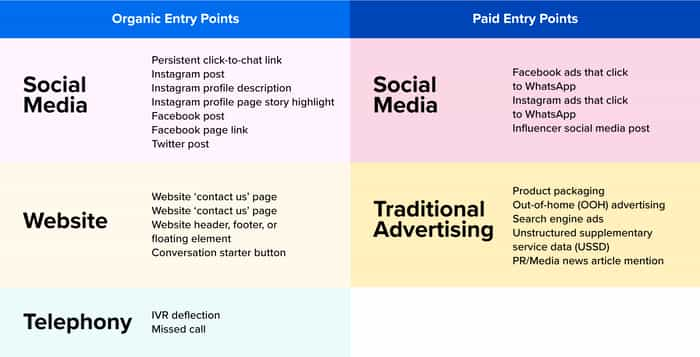 Let's look at how you should select the channels that make the most sense. The process of arriving at the solution includes answering four critical questions:
Ask yourself:
Where should we place entry points?


Always add entry points to WhatsApp where your customers engage with your brand.

What behavior do we want to encourage?
E.g., If you're going to answer product questions to close sales, create a "Click to WhatsApp" campaign and entry points on product pages.



What call to action should we include? Always let customers know why they should start a WhatsApp conversation with you.

How can we provide context-aware responses? Deep links automatically trigger a pre-populated message rather than simply opening a WhatsApp thread. You can use deep links to delight users with context-aware responses that focus on their specific needs.
Redefining Customer Engagement with Marketing Notifications
WhatsApp has always prioritized the user experience. It doesn't want its users to get spammy messages from brands. That's why until now, businesses could only send transactional notifications via approved Message Templates, like sending an order status update. But with its marketing notifications, it is allowing brands to send messages to opted-in customers outside of these stringent parameters.
WhatsApp's marketing notifications include:
Product recommendations related to a customer's previous purchases
Helpful informational alerts
Relevant offers
Newsletters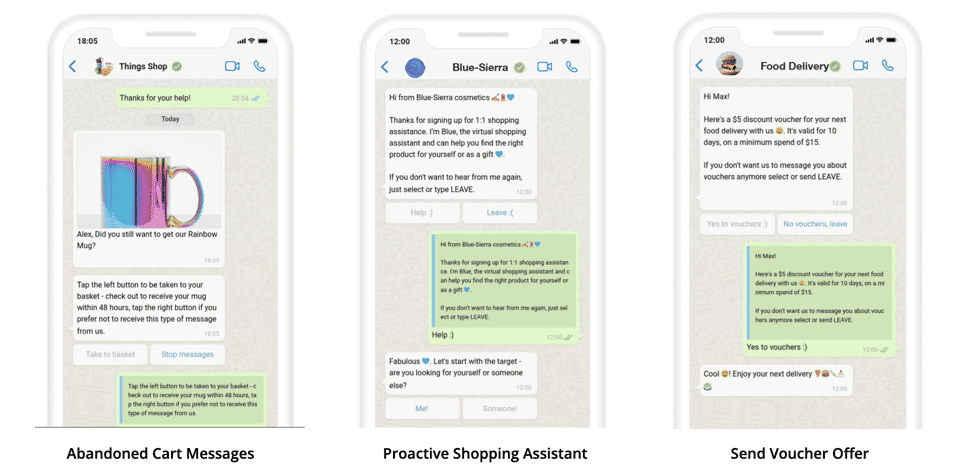 The aim is to empower brands to promote their products by proactively sharing helpful information across the buying journey. But it is essential to keep the communication relevant; because users can block or report a business number that they find intruding.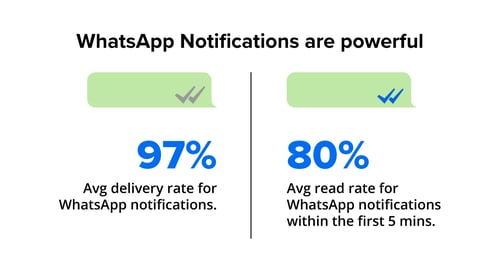 Shopping Experience with WhatsApp Commerce
Customers today are demanding a quick, convenient, and personalized shopping experience. And to keep up with this demand, WhatsApp Business API has several UI elements to make the buying experience more straightforward and interactive, making the WhatsApp Commerce buying experience simple, fast, and frictionless for the customers

Multi-product messages
Multi-product messages contain a selection of up to 30 items from a business inventory, allowing a user to navigate to a specific category.
Single-product messages
Single product messages are messages used to guide customers to one specific item from a business' inventory.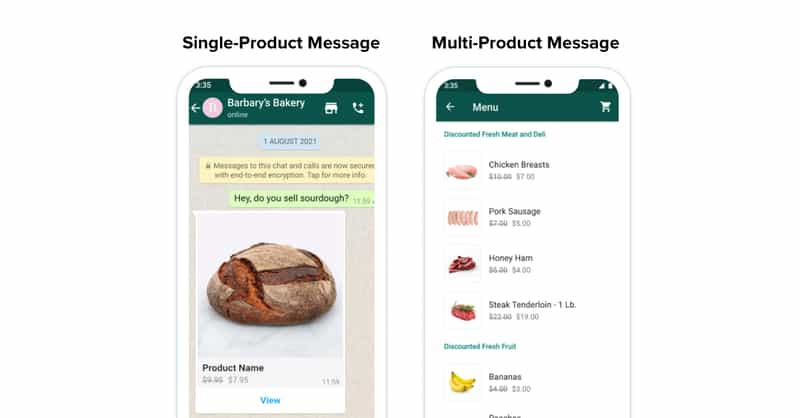 Shopping cart experience
Customers can add up to 99 units of each catalog item to a shopping cart, but there is no limit on the number of different items added to a cart.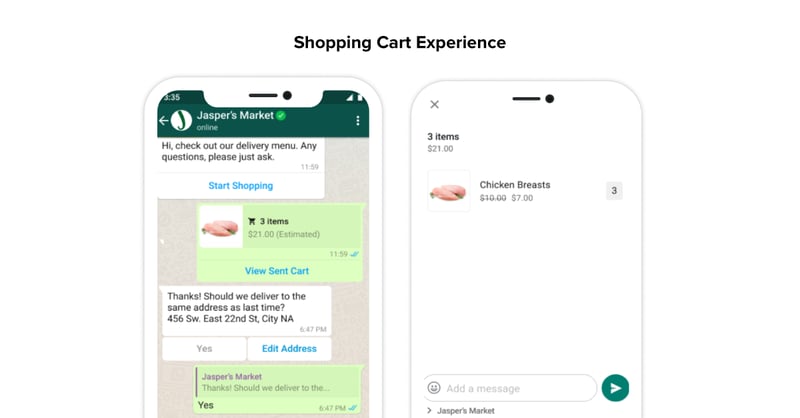 List messages & Quick reply buttons
List messages present a choice of up to 10 alternatives for users to pick from in a menu-type view. A customer can choose from a list of replies with quick reply buttons rather than type the complete answers.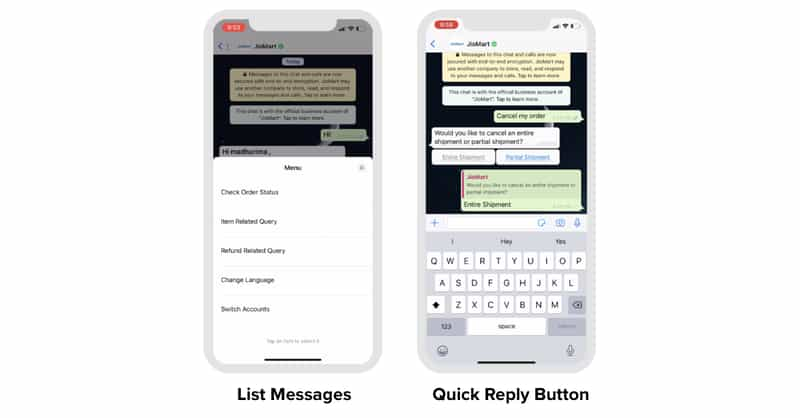 WhatsApp Commerce payment
A frictionless 3-click payment experience on WhatsApp allows customers to pay without navigating between multiple apps.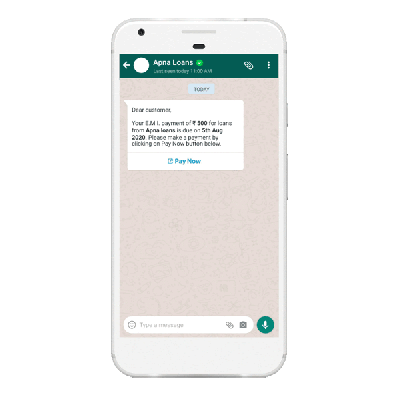 Haptik is proud to be the first Business Service Provider to have implemented an end-to-end shopping experience for the JioMart WhatsApp chatbot, which saw some excellent results.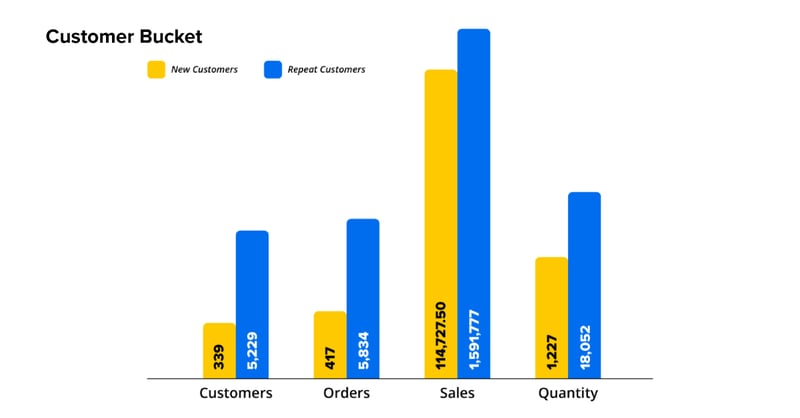 Post-Sales Support through WhatsApp Chatbot
Customer care on WhatsApp Business API can be handled either with human agents or with a WhatsApp chatbot. The latter approach offers 24/7 support with the immediate resolution of simple queries. Order tracking and refunds & cancellations are two of the most common support use cases. Both of these can be handled over WhatsApp swiftly and entirely frictionless. From a user experience standpoint, a key advantage is that the customer does not need to navigate through a website or app to find these features but can access them instantly over chat. WhatsApp is also a very useful tool for collecting customer feedback, particularly feedback of a more subjective nature. Customers are also more likely to share their feedback over a conversational interface than go through the tedious process of opening and filling up a static feedback form.

To Sum Up
WhatsApp commerce is becoming the growth engine for many small and large-scale companies, making WhatsApp chatbots a critical element in every brands' digital transformation strategy. This is just a summary of our report; download the complete report to get more detailed insights on every aspect of WhatsApp Commerce and transform your business by unleashing the true power of WhatsApp Business API.