How EdTech can leverage WhatsApp Commerce in 2023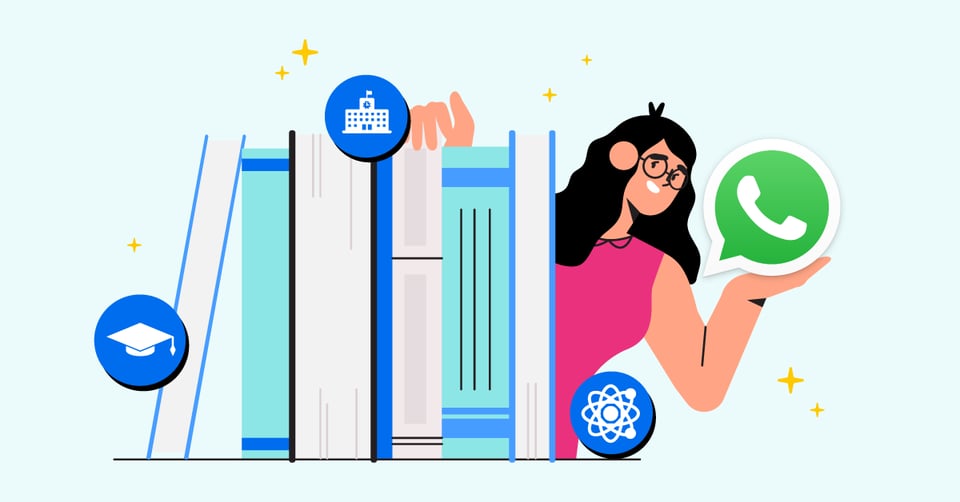 India's EdTech sector has shown massive growth in the last few years. Since the onset of the Covid-19 pandemic, the industry has received approximately INR 300 billion (US$4.04 billion). With the shift towards digital learning rising, the competition between the EdTech brands is intensifying; companies need to strive hard to deliver better experiences for all the stakeholders: students, teachers, and parents and create a competitive advantage for themselves.
This blog discusses how EdTech brands can leverage the benefits of WhatsApp Business API and WhatsApp Commerce capabilities to create delightful customer experiences and unlock hyper potential growth.
Why should EdTech leverage WhatsApp Business API?
As one of the most popular messaging platforms among GenZ & millennials and with low friction for user adoption, WhatsApp is the perfect go-to channel for Edtech companies. With WhatsApp Business API, brands can engage with students at scale.
With recent developments, WhatsApp is expanding its range of services to enable Commerce on the platform. The WhatsApp Commerce solution comes with interactive UI elements and marketing notification-based features that make the entire customer experience more conversational and personal, making it the perfect fit for the EdTech brand.
As you have understood WhatsApp Commerce, let us look at some critical use cases for EdTech brands.
Key WhatsApp Commerce use cases for EdTech
Student Acquisition
The EdTech brands are continuously introducing new courses to equip students with the right skill sets required to ace the evolving job market. The brands need to generate awareness and interest among students regarding these courses and provide them personalized guidance at each stage to secure enrolment. By using an Edtech WhatsApp chatbot, brands can open up a two-way communication channel; and engagingly share information utilizing the transactional and non-transactional messaging capabilities of WhatsApp Commerce.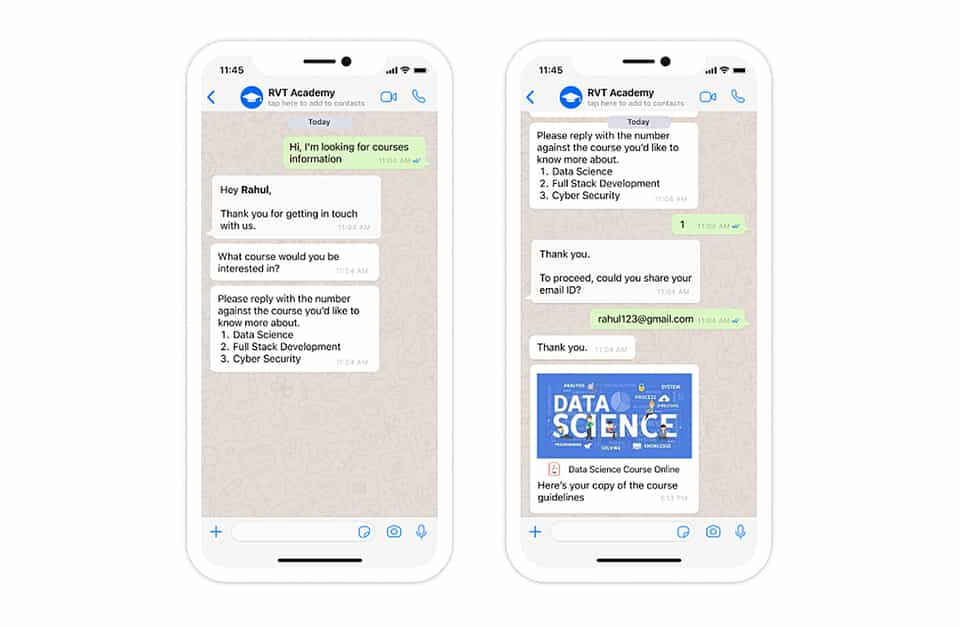 Nudging Students with Marketing Notifications
Students can be on the fence or could be evaluating other courses. During this time, proactive communication can be vital. By utilizing marketing notifications, an essential part of the WhatsApp Commerce solution, the EdTech WhatsApp chatbot can send messages with valuable information that makes decisions easy for the students.
The open rate of WhatsApp chats is more than 90%, making it an excellent follow-up channel. The critical thing to note is that WhatsApp requires brands to get opt-in before sending marketing notifications.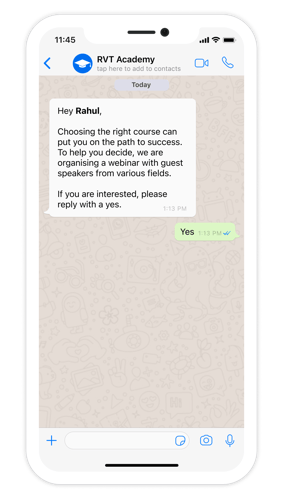 Automate Enrolment Process
EdTech brands can automate the registration process and even perform the initial screening by deploying an EdTech WhatsApp chatbot.
The WhatsApp chatbot for EdTech, powered by Haptik's AI-recommendation engine, can serve as a virtual counselor. Post gathering all the necessary details from the student, it can crawl into the system and help students with the relevant course suggestions.
The WhatsApp chatbot for EdTech can also collect documents like mark sheets. The WhatsApp chatbot makes the process easy; the student has to scan and share the document.
The applicants can also be kept informed by sharing timely notifications about the status of their applications, interview schedules, or any other developments with the help of an EdTech WhatsApp chatbot.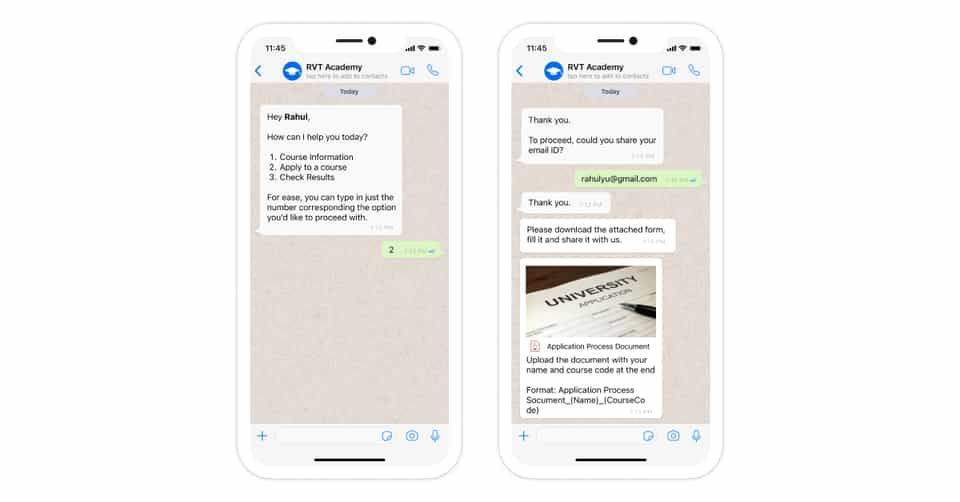 Promoting Complementary Courses
Today, students actively seek to upskill themselves. With the WhatsApp chatbot for EdTech, brands can send personalized course suggestions by understanding the student's past course history. Using the powerful UI elements offered by WhatsApp Commerce, brands can help students to browse, engage and enroll easily.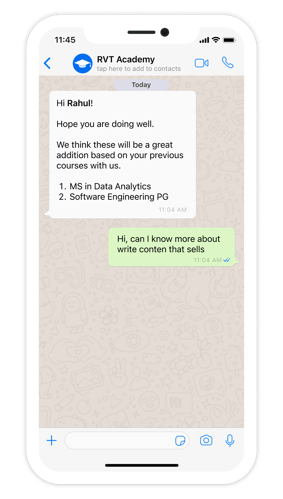 Enabling Seamless Payment Experience
WhatsApp Commerce makes it extremely easy for brands to enable parents and students to make direct payments from WhatsApp and complete their enrollment without navigating between multiple apps. If the student chooses a subscription model, the EdTech brands can use the notification facility to send recurring payment reminders and collect payments without any hassle. EdTech WhatsApp chatbot can also notify and share the e-invoice after the successful payment.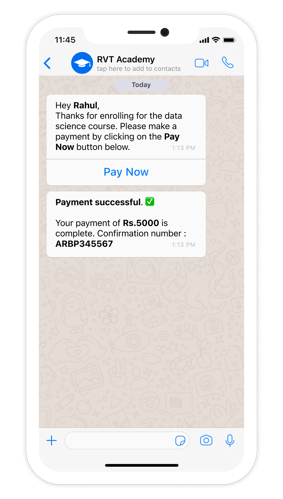 Alerts & Reminders
As discussed earlier, marketing notifications are essential to the WhatsApp Commerce solution. Brands can leverage them to share personalized messages to inform and update students with the upcoming events or sessions, timetables, and cancellation announcements. etc., in real-time. The probability of missing the reminders on WhatsApp is far less than an email. Brands can also get signups and send reminders for these events directly on WhatsApp with the help of an EdTech WhatsApp chatbot. In short, EdTech brands can amplify their student engagement through WhatsApp Commerce.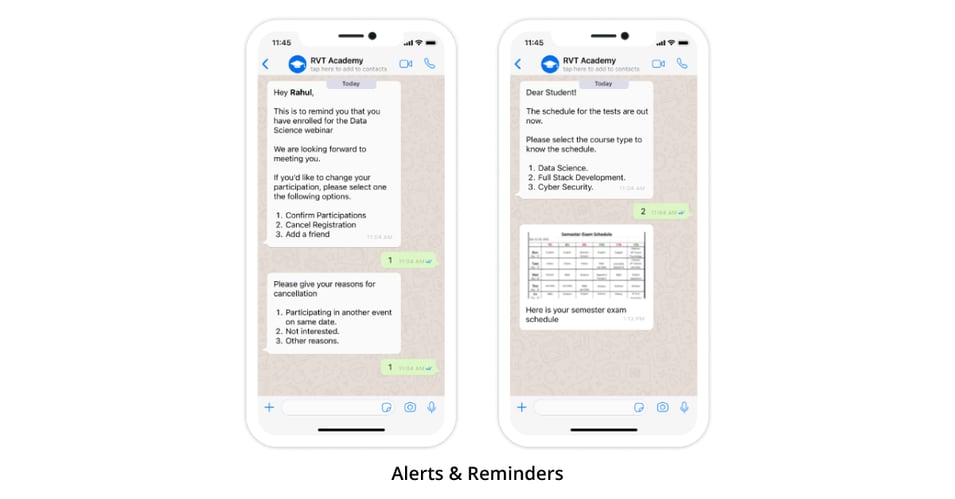 Student Support
As students across the globe enroll in programs, it is essential to be available 24/7 to help. A WhatsApp chatbot for EdTech can assist students with FAQs and resolve regular queries end-to-end while redirecting only the complex issues to human agents.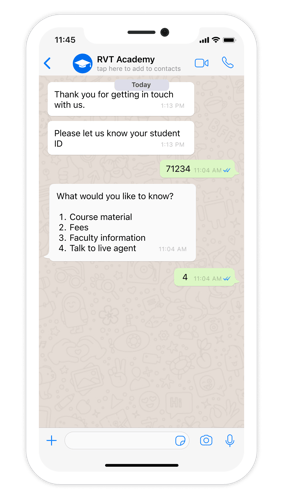 Driving Learning and Development
A WhatsApp chatbot for EdTech can help bridge the gap between the students and the teachers and streamline the learning process by using the rich media capabilities offered by WhatsApp Commerce by using the rich media capabilities offered by WhatsApp Commerce. Brands can easily share learning materials in all formats (pdf, links, video, etc.).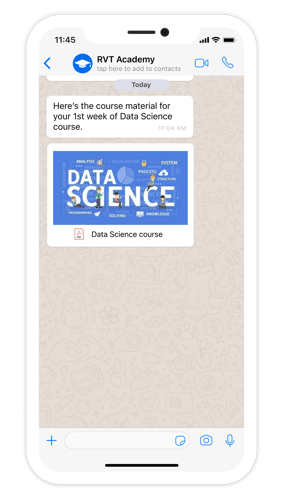 Know more about how chatbots are helping EdTech
Key Takeaways
Virtualization and digitization have changed the way we learn and collaborate. Today's GenZ generation demands quick, convenient, and personalized experiences; WhatsApp Commerce has become the must-have tool to serve this mobile-native generation with several interactive UI elements and notification-based features. WhatsApp chatbots can play a critical role in leveraging the full potential of WhatsApp Commerce for EdTech brands.
At Haptik, we've had the experience of working with some of the biggest EdTech companies in India and other players in the education sector. We have also powered WhatsApp solutions for some of India's most prominent brands, such as Jio, TATA, HDFC, Dream11, OLA, Kotak Mahindra, etc. We're a recipient of 15 G2 badges and recognized by Gartner and Opus Research. With handling over 4+ Billion interactions, we're India's largest Conversational AI company!