How to Effectively Automate Insurance Claims with Chatbots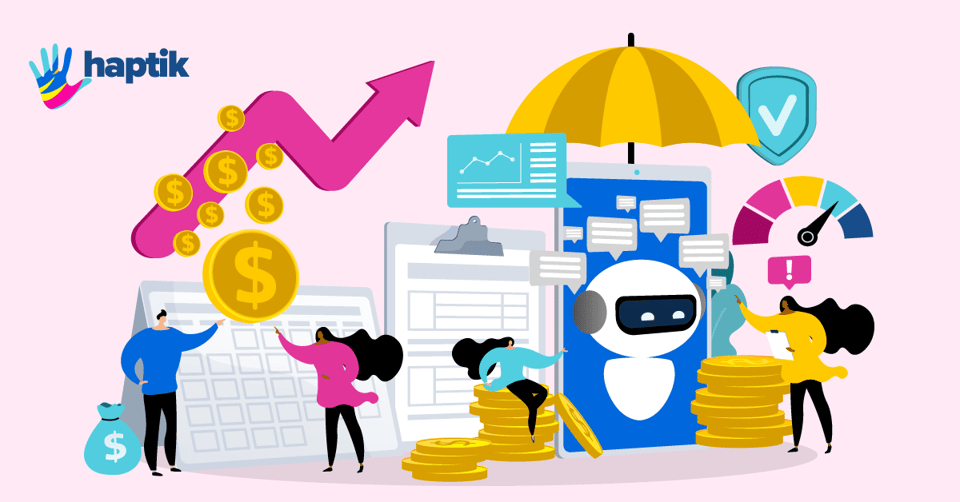 Like all other businesses, insurance companies are looking at digital transformation as a critical factor for survival and growth in times to come. Customer experience through personalization and automation is the outward manifestation of this transformation. Internally, automation is the key driver for efficiency. Adopting Artificial Intelligence (AI) makes the process easier and feasible for an insurance company. Use cases for AI adoption include customer-facing implementation of insurance claims chatbots or internal operations, including settlements.
Why Should Insurance Companies Consider Implementing Insurance Claims Chatbots?
There are many instances of insurance companies bolstering their claims processes with the help of intelligent agents. Metromile can approve 70 to 80% of claims immediately with AVA's help, an app based-claims assistant. Through such efficient processes, companies can generate positive customer sentiments through better service and boost profitability. Accenture estimates that insurance companies can increase their annual profitability by 20% with the right investment in the technology.
Automation brings efficiency. It allows you to complete your processes faster and provides for frictionless information exchange. For customers fed up with the long wait and moving from one call center agent to another, chatbots offer a much better customer experience. With the help of a chatbot, they get a resolution for their claims within seconds.
Insurance claims chatbots allow for more cost-effective operations. A better consumer experience translates into better revenues. From a monetary perspective, chatbots are useful strategic tools for the insurance industry.
Communication preferences of consumers are changing. More consumers prefer text-conversations over verbal conversations.
All of these points provide a compelling argument for the adoption of chatbots for the insurance claims process. Understanding the claims process and expectations of customers and the insurance industry from that process help us better understand how to utilize chatbots effectively.
DOWNLOAD NOW: Implementing Conversational AI: What Insurance Brands Should Keep in Mind
Understanding The Insurance Claims Process
While the claims processes may vary with insurance and service providers, we can define a generic approach for better understanding. Each claim passes through five broad stages.
First Notice of Loss (FNOL)/Claim Filing

The process starts with the policyholder/nominee reporting a claim with the insurance company. You may have to fill up a detailed form and attach the required documents. Traditionally, after the initial claim report, an agent gets assigned to the case. The agent would help you perform further process steps until the claim's settlement.

Claims/Damage Assessment

Depending upon the type of insurance, there is physical and eligibility verification. For example, for vehicle accident insurance, the assessment might involve inspection of the damage. The damage verification determines any liabilities depending upon the context.

Investigation & Verification

The investigation verifies the claims and assessments for fraud and eligibility under the policy terms. For certain types of insurance and claims, the insurance company may need to pay only the policyholder/nominees or, additionally, the third parties too.

Evaluation & Claims Processing

This process decides the reimbursement amount, which the company conveys to appropriate stakeholders. For example, in a medical claim, the company may inform the sanctioned amount to the customer's healthcare provider. After the intimation, the final reimbursement process begins.

Claims Settlement

At this final stage, the company disburses the insurance amount to the policyholder or the nominee. The payment signals the final settlement of the claim.
What Are Insurers Priorities When It Comes To Claims Settlement?
Faster claims settlement

Claims settlement, in many ways, determines the growth of the insurance companies. Most of the time, the customer would be under stressful conditions, triggered by a painful event. In such situations, customers value seamless interactions and a quick and efficient process to settle their claims. The better speed of the claim resolution increases the chances of the insurance provider's growth.

Fraud Detection

Insurers want to make sure that they can detect fraudulent claims equally quickly. While they want to settle the claims early, paying for fraudulent claims can burden them. They need to ensure that they can verify the claim validity and the payable amount based on policy terms and the extent of the damage.

Cost Efficiencies

There is a delicate balance the insurers need to strike between customer satisfaction and cost-effectiveness. There are many ways to make the claims process run faster. You can employ more people and put in place technological solutions. Both of these options require investments and continued expenditure. The capacity utilization also needs attention, as there might be periods with fewer claims than usual. People may have to sit idle. Ensuring that you remain profitable and provide greater customer satisfaction is a significant worry for an insurer.

Avoid Litigations

Inefficiencies in the claims settlement processes can result in litigation. Litigations put stress on resources and damages reputation. Insurance companies want to avoid them to the extent possible. By identifying commonalities in data of historical claims that resulted in litigation, chatbots could predict which new claims might have similar outcomes and recommend preventive measures.
READ MORE: 5 Conversational AI Use Cases for Insurance
What do Customers want?
Ease of claims filing

Consumers, on the other hand, value the ease when filing the claims. Understandably, they won't be in the best mindset at the time of filing the claim. Depending upon the circumstances, even small difficulties can induce stress and dissatisfaction.

No geographical boundaries

With increasing travel & commuting and expanding geographical boundaries, restrictions on where customers can file the claims may not be the best experience insurance companies can provide.

Proactive information

Customers appreciate it if the service providers can share updates about the progress of their insurance claims proactively. Making the customers sweat for this information is bound to generate negative sentiments.

Faster settlement times

This factor is the pinnacle of the process. If customers feel the claims settlement process is lengthy and time-consuming, it contributes to dissatisfaction. All other elements are hygiene factors, something that we take for granted. But claim settlement times can be a delighter or deal-breaker depending upon how fast you finish them.
How Can Insurance Claims Chatbots Help?
We have seen what matters most to the insurance companies and customers regarding insurance claims. It is now time to examine how intelligent chatbots can be effective instruments of efficiency and customer satisfaction.
First Notice of Loss (FNOL)

Depending upon the process and type of insurance, the FNOL and filing a claim may be a single or separate process. The FNOL is the point when the customer first informs the insurance provider about the incident. For vehicle insurance, the FNOL may come from the site of the accident. For medical insurance, the customer may report it at the time of hospital admission.

A chatbot plays a crucial role in facilitating this process efficiently. Using a chatbot, the customers can report the incident from anywhere and anytime. The chatbot can then intimate the appropriate person for further processing.

The chatbot also provides a significant advantage over phone-based incidence reporting. If the volume of incoming calls is high, it will reduce agents' availability to respond to the phone call. In that case, the customer may need to wait for a significant time. With a chatbot, there is a dedicated personal assistant always available for every customer without any delay.

File A Claim

Even where the FNOL and formal claim filing are separate steps in the claims process, insurance claims chatbots are useful. They cut down the significant time of filling lengthy claim forms and submitting documents and images. Customers can easily do it from their mobile devices based on guidance from chatbots. But that's not all.

A chatbot can intelligently check already available documents and further reduce the time and friction from the process. For a customer, this may mean fewer documents to file for each claim. While for insurance providers, it means a reduction in data management and acquisition efforts and costs.

Here's a Smart Skill that allows user to file insurance claim in just about few seconds.
Update Claim Details

An insurance chatbot makes it easier for the customers to update their claims if needed. Both the customer or the chatbot can trigger such an update. The chatbot can proactively determine if there is a need for additional details and notify the customer about it. The customer can then update the required information. On the other hand, the customer can also request an update by informing the bot. The bot can then process the request after due verification. If necessary, the bot can also involve a human agent for further communication.

Claim Validation

Thanks to Machine Learning (ML) capabilities, combined with Natural Language Processing and Pattern Recognition, chatbots can differentiate fraudulent and valid claims. The insurance chatbot can ensure that claims are validated by extracting appropriate information from the invoices, images, and other documents. The bot can then process the valid claims in the most efficient manner possible.

The bots can develop anomaly detection abilities by analyzing a vast amount of data about previous valid and fraudulent claims. These capabilities allow them to know if a medical report, diagnosis, or treatment is genuine or not. Similarly, for vehicle insurance, it can analyze the patterns of damages and repairs and determine whether a claim is probably fraudulent or not. As it gets increasingly more data with every transaction, its abilities improve, and the predictions' accuracy improves.

Tractable, a U.K.-based AI technology company, is bringing machine learning algorithms for such situations. It is using computer vision and machine learning to scan and analyze images of damaged vehicles. Such analysis will help auto insurers to determine whether the vehicle needs repairs or some parts need to be replaced.

Claims Settlement

Claims settlement is a relatively trivial task for an intelligent chatbot. It eliminates repetitive clerical work that consumes time for a service provider. Instead, it can evaluate if it can safely settle a claim using an underlying machine learning algorithm. Based on this determination, the bot can automatically resolve the payment at the first safe opportunity.

The underlying algorithms ensure that it settles only legitimate and complete claims while still cutting down on time to process the payment.

Track Claim

A study undertaken by J.D. Power suggests that when a company appropriately manages customer expectations of the complete claim cycles, the satisfaction levels can increase beyond the industry average (Source). By tracking claims intelligently, insurance claims chatbots can help companies achieve these satisfaction levels.

Customers can know the stage where their claim process has reached through simple, conversational queries or well-designed input options. But beyond that, through predictive analysis, chatbots enable a customer to know when they can expect the process to complete. The insurance industry is already adopting predictive analysis for multiple use cases. Tracking the claim is a crucial process that can influence the customer experience directly.

Notifications on Claim Status

Insurance claims chatbots can provide proactive notifications as the claim process moves forward. They can also notify the customers about any requirements of additional documents or information or any deficiencies to respond appropriately. Chatbots can also respond to customer queries, making customer interaction more meaningful.
Learn how Haptik's insurance chatbot seamlessly resolved 70% of Zurich's inbound customer queries end-to-end.
Insurance Claims Chatbots Can Co-Exist With Humans
While chatbots provide claims automation and replace some routine human work, adopting these capabilities doesn't mean humans have no place in the claims process.
For example, machine learning algorithms can, based on historical data, identify straightforward claims for automatic processing. It can then route complex claims that require human intervention to an appropriate agent.
Increasingly, chatbots are also employing sentiment analysis to gauge customer responses. Since customers usually interact under a stressful condition, they may find the chatbot's interactions unsatisfactory. The sentiment analysis algorithms using natural language processing can identify such situations and involve a human agent for further communication.
Who Is Already Using Chatbots for the Claims process?
We already mentioned Metromile, which is using chatbots for their claims settlement. But Metromile is not alone.
Lemonade, an AI-powered insurance company, set a new world record of settling a claim for $979 in under 3 seconds. Its insurance chatbot, Maya, registered the claim, processed all the information, ran fraud detection algorithms, approved the claim, and shared the payment instructions with the bank, all within 3 seconds.
FWD Singapore uses virtual assistance, Faith, to allow its customers to file claims 24/7. So does Merchants Insurance Group with the solution from Hi Marley.
To Sum Up
The chatbots in the insurance already had traction in improving the customer service experience through communication. Now, they are making fast inroads into the claims process as well. It is time to roll out these intelligent virtual assistants for your customers, too, if you have not already started. They represent the future of how the insurance sector will utilize the technology. Those who get started now can certainly benefit from the early movers' advantage.
The State of Insurance Chatbots in 2022: Use cases, Reports, case studies, and more.
---
Want to develop an Intelligent Virtual Assistant solution for your brand?