Trust 'Conversational Commerce' to Achieve Holiday Sales Goals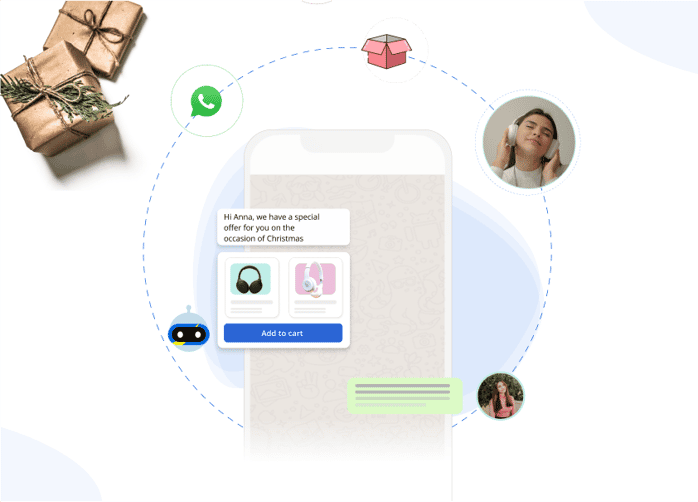 Sold Out!

Out of Stock!

Your request is being processed…

Your size is not available!
Shopping during the holiday seasons and festivities feels something like this, right? Be it Flash Sales or Exclusive Offers- business websites and apps get overwhelmed with so much traffic that every process becomes slower as if playing with customers' patience! Surely you, as a brand, do not want to be a part of it!
The holiday season is knocking on the door. And it's time for your business to gear up with conversational commerce to offer customers the most delightful shopping experiences during the rush.
Singles' Day, 12.12 Sale, Christmas Eve, New Year's Eve, and a long list of upcoming events! It is the best time for businesses in South-East Asian countries to revamp their marketing strategies and bring something innovative such as a WhatsApp chatbot or AI chatbot to the table, making the shopping experience unparalleled.
From this holiday season, let's reach where your customers are instead of expecting them to visit your app or websites for shopping!
eCommerce brands in SEA need to ensure their proactive presence wherever their target audience is, i.e., different social messaging apps like WhatsApp, Facebook Messenger, Instagram, and more. WhatsApp is the most used social messaging app globally. So, what can be more alluring than surpassing your holiday sales expectations with ongoing conversational commerce trends of 2022 on WhatsApp?
WhatsApp Commerce helps businesses to provide their customers with a delightful end-to-end shopping experience resulting in
Increased sales
Reduced CAC
Boost in ROAS
More organized and streamlined purchase process
Hyper-personalized customer experience and more.
It is an undeniable fact that conversational commerce is the future of eCommerce! Are we saying it? Nope! The latest conversational commerce market insights, trends, and statistics about it are pointing to the craze of leveraging the power of AI-powered WhatsApp chatbots.
Let's take a glimpse at the numbers highlighting the SEA eCommerce landscape:

As per the Facebook and BCG report, Thailand (40%) and Vietnam (36%) are the two leading countries in the chart for having the highest number of respondents embracing conversational commerce platforms. The following countries on the list would be Indonesia (29%) and Malaysia (26%), followed by the Philippines (23%).
RedDoorz is Southeast Asia's largest fast-growing, technology-driven hospitality brand. Haptik's robust conversational AI chatbot provided a steady and unbroken customer experience in the most commonly spoken languages across channels like WhatsApp, Facebook, Website, and mobile apps.
Tokopedia is Indonesia's one of the biggest online marketplaces. The success rate of its authentication process has significantly increased by 10% since it integrated WhatsApp Conversational Commerce.
Considering the global market, a research report by Meta depicts a bright future with conversational commerce. The research points out the exponentially growing commitment and love for conversational commerce among consumers.
The report states that over 67% of the buyers surveyed intended to continue shopping via conversational commerce.
68% of buyers trust a retailer more if associates are instantly available via messaging. Buyers prefer assistance to give better suggestions and advice, solve queries, and help buy what they are looking for.
eCommerce + Conversational Commerce = A Deadly Combo During Holiday Season in SEA Region
By the end of this year, in Southeast Asia, eCommerce sales will touch the $90 billion mark! Indonesia will lead the chart with 65% of the entire region's sales overall. For the coming years, the Philippines will lead the area in growth.
In the words of Dan Neary, Facebook's vice-president of APAC, "I really think the nerve center for a lot of the innovation around commerce is coming out of Asia, particularly South East Asia. The trends are certainly much more pronounced in the Asia Pacific than anywhere else.
Definitely, the data points to maximizing Mega Sales Days, particularly for the APAC region, while thinking holistically about the new customer journey. Every business needs to ask: when there is so much choice, how can I ensure that my product or service is discovered by the people who are most likely to love it? So they need to go beyond traditional e-commerce experiences and think about how people discover, consider and purchase their products,"
Most shopped eCommerce product categories in SEA
A research report, "Transforming Southeast Asia – From Discovery to Delivery", by Lazada in partnership with Synagie and GroupM, reveals that the most shopped eCommerce product categories are Fashion, followed by Beauty & Personal Care, and Groceries. Let's take a deeper look at the stats of these categories:
1. Fashion & Apparel
A report by Statista states that revenue drawn from the fashion segment would cross $21 million in the SEA countries. It shows an annual growth rate of 12.26%, demonstrating that user penetration is 29%, and by 2025, this figure is expected to reach 36%.
2. Beauty & Personal Care
Beauty, makeup, skincare, and hair care products are trendy in the South-East Asian eCommerce space. The Beauty and Cosmetics segment market is expected to grow annually by 5.3% (CAGR 2020-2023).
3. Groceries
During the pandemic outbreak, the grocery segment grew nearly 3 times in the SEA region. Regarding fresh groceries, 48% of the buyers spent more in April 2020. Around 83% of consumers agreed to continue shopping for groceries online.
Guide to different conversational commerce stages for SEA eCommerce brands
As a successful brand in the eCommerce space, if your primary focus is to provide one-of-a-kind shopping experiences to your customers, then you have come to the right place. Here you will learn about the different phases of making a purchase decision. And how your business can improve at each stage using Haptik's intuitive and intelligent conversational commerce platforms and solutions.
Customer Acquisition
Every day, on average, a user opens and checks WhatsApp around 23 to 25 times. WhatsApp message open rate is over 90%. Marketers can run campaigns to notify customers about back-in-stock alerts, personalized discounts, reminders about saved items, and pending transactions.
JioMart, an eCommerce grocery venture launched and run by India's most valued firm, Reliance Industries, experienced 3x more traffic than expected right after deploying Haptik's conversational commerce WhatsApp chatbot.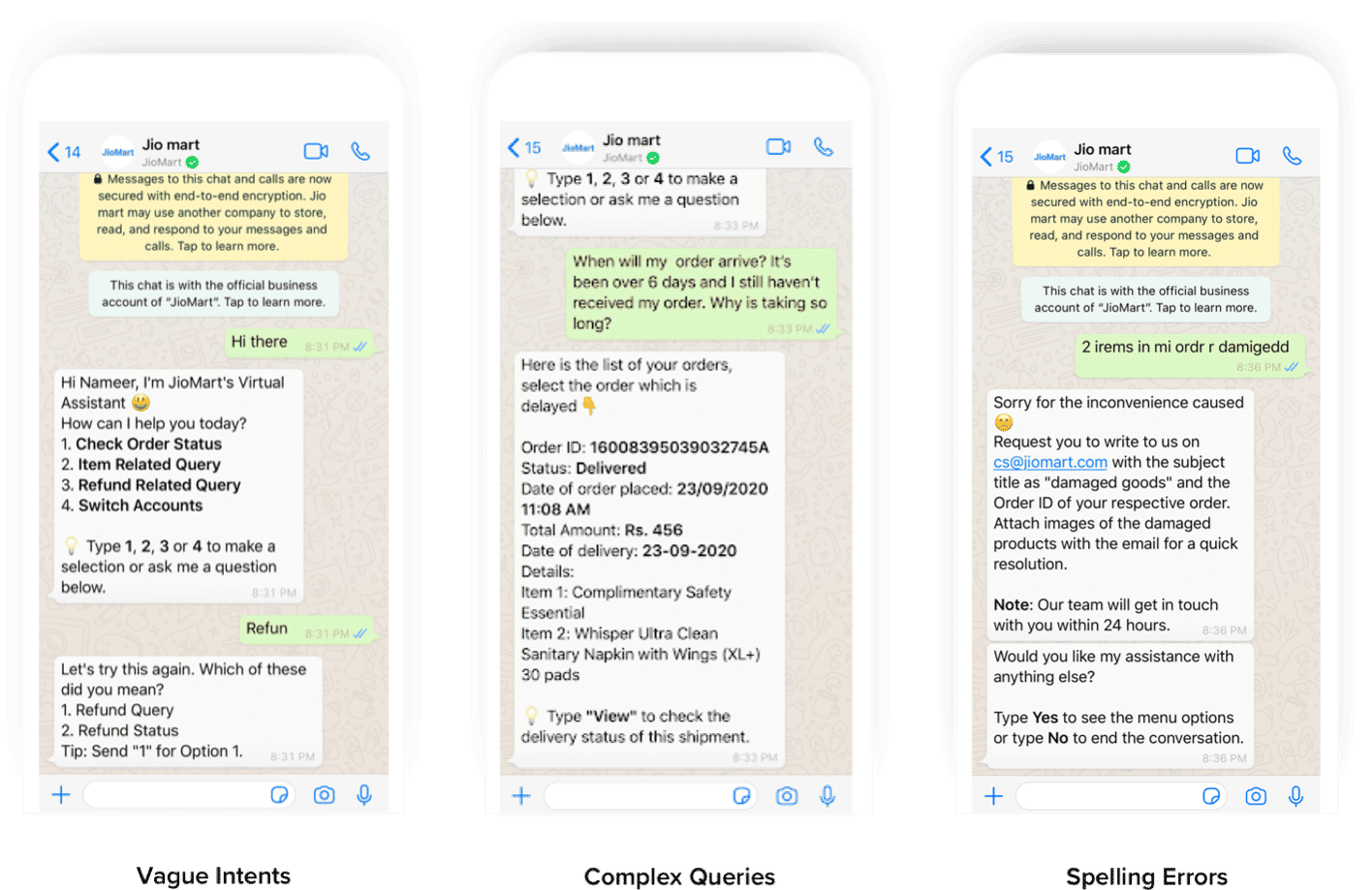 Conversions
A conversational commerce chatbot for businesses can help your eCommerce business flourish by discovering the right opportunities in the middle of the interactions with the prospects. The cross-selling and up-selling of the right products will observe a spike in the sales graph.
Tata CLiQ is the flagship digital commerce initiative of the Tata Group that operates in categories such as Electronics, Appliances, Fashion, and other Accessories. Tata Cliq's conversational chatbot converted its visitors into shoppers by providing buying assistance and product recommendations that increased the cart addition rate by 2.4x.
Customer Engagement
Take the first step to improving the engagement with your customers. Sending real-time notifications and proactive messaging on channels like WhatsApp helps brand recall. To cultivate customer-first philosophy, customers need brand assurance too. Well, what better way than assisting them before they come to you?
Flo Mattresses, a mattress company based out in India, improved lead generation by 317% by engaging with visitors and converting them into high-intent leads.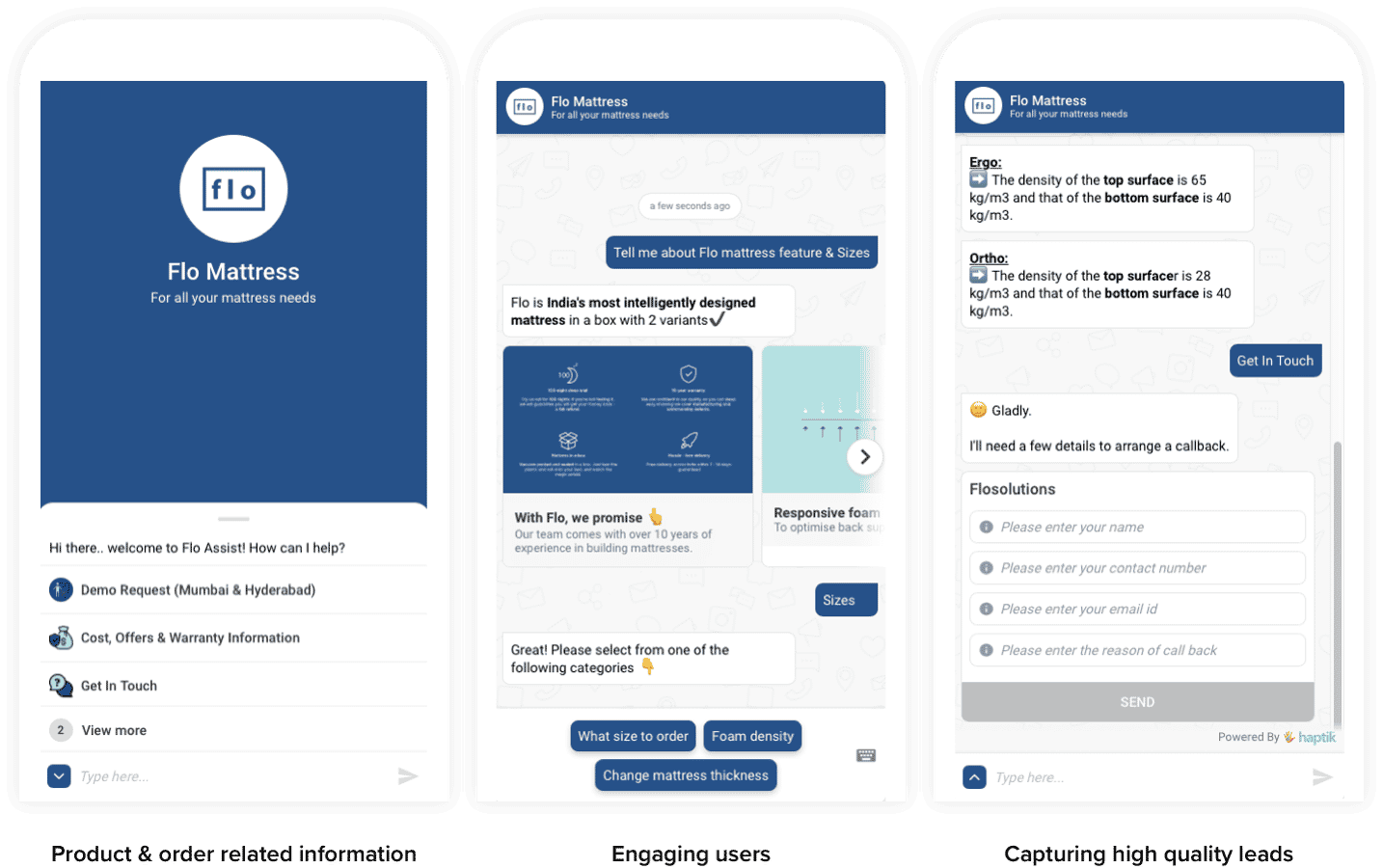 Delight Consumers
Brands or businesses with stellar customer services or phenomenal post-purchase support delight customers the most. 93% of consumers make repeat purchases with brands with whom they had a great shopping experience.
Pepperfry an Indian online marketplace for furniture and home decor has become a household name for furniture and home decor. They were able to improve their CSAT score by 60% and amplified the CX using Haptik's AI-powered chatbot.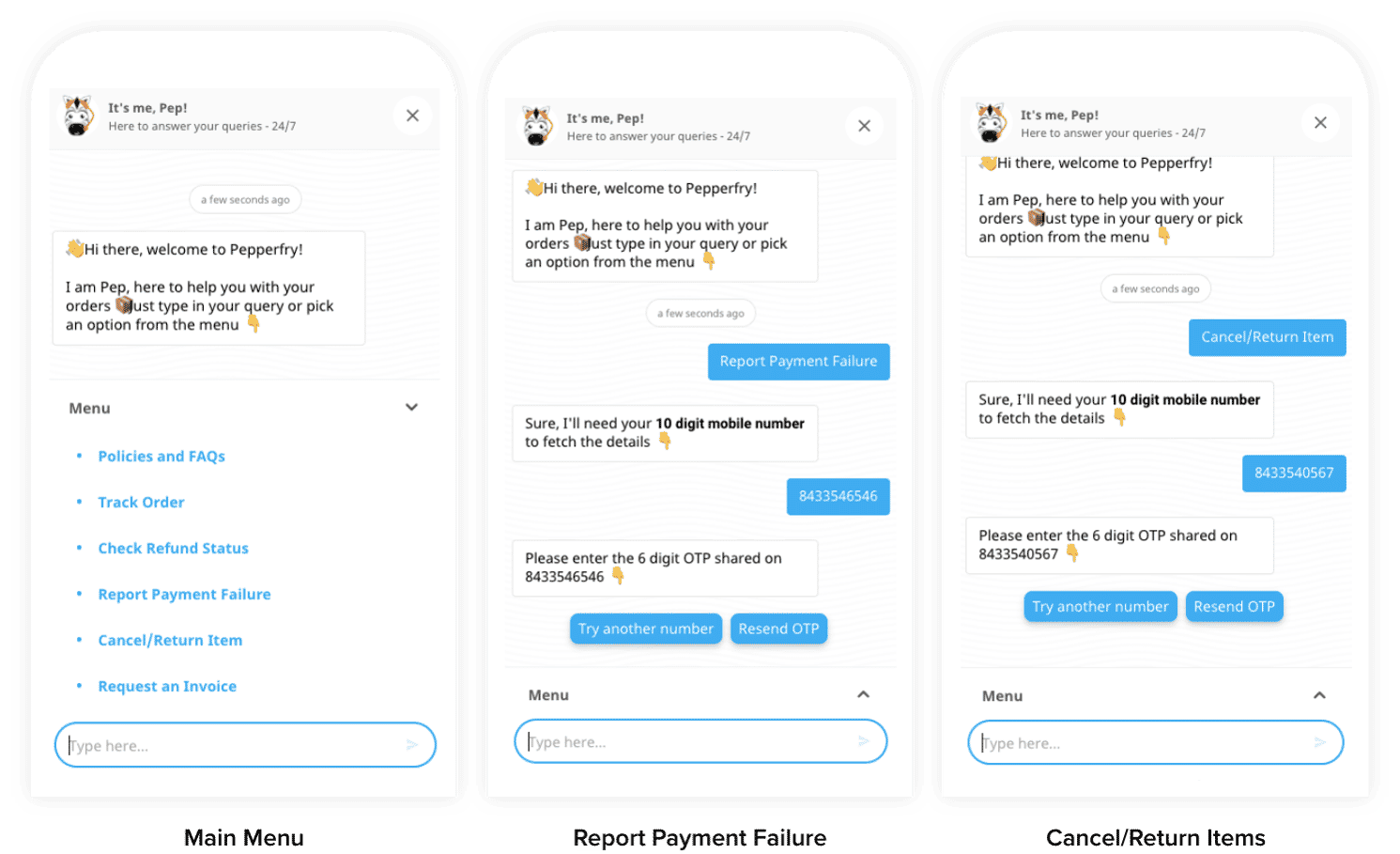 Wrapping up
A market survey report states that by 2023, using the best WhatsApp chatbots, businesses will start to save around 2.5 billion hours! It is undoubtedly alluring for diverse business domains like banking, and finance, including the fashion and apparel industry.
AI Chatbots enable your business to offer 24/7 customer support at a comparatively lower cost. Anytime, from anywhere, customers can get personalized assistance and guidance.
Brands or businesses from the SEA region may utilize WhatsApp Conversational Commerce to amplify lead generation, reduce customer acquisitions cost, boost revenue, cut down business costs and flourish during the upcoming holiday season and beyond. So, why not try it out?