Introducing Buzzo: An AI-driven Voice Assistant for Shopping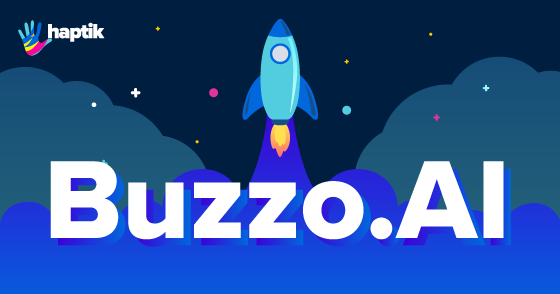 Everything you need to know about how Haptik owned Buzzo is enabling eCommerce brands to drive engagement and conversions with AI-powered voice assistance.
Online shopping is already ingrained in modern lives to an extent that groceries, food, apparel, furniture, cosmetics, electronics, and almost everything else is being ordered online and no age group is resistant to this change anymore. However, this shift from offline to online shopping left one major gap — the trust and confidence a customer gets from the expertise of a knowledgeable salesperson while shopping offline.
Today, most customers spend several hours or sometimes even days researching a product to purchase, especially for high-value, expensive products while shopping online. This often leads to a situation wherein customers get overwhelmed with information and choices, and ultimately abandon or delay the purchase.
It is said that nearly 46 percent of shoppers stated that they have failed to complete a purchase just because there were too many options to choose from. While several consumers enjoy this DIY nature of online shopping, many still feel the need for a product expert to guide through their purchase decision.
Introducing Buzzo: AI Shopping Assistant to power voice commerce on apps & websites
Buzzo transforms your customers' online shopping experience by saving time and effort and acting as their personal assistant. It offers buying guidance even for someone with a zero frame of reference; personalized results based on the user's stated preferences; provides insights deeper than just product specs; and enables super quick, multi-layered filtering. In addition, it bears a human-like persona to deliver a shopping experience as close to the real one as possible. Let's talk about how some of these features work.
Improve Conversions with Buying Guidance:
Suppose a fitness enthusiast is looking to buy a fresh pair of yoga pants, and tells the AI Assistant, "I'm looking for yoga pants". This query prompts the Assistant to provide guidance around the key parameters that customers take into account before buying yoga pants and helps set a frame of reference in case the user does not have one. In this case, it displays the pros and cons of major fabrics used, i.e. cotton and polyester, which essentially educates the user on how they should go about their search.
In parallel, the Assistant prompts the user with a question asking her preference towards fabrics while showing the most commonly selected options based on past data available. This prompt is aimed at having the user apply quick filters to narrow down the search. Further, in order to encourage the user to continue using natural language, it recommends hints as answers to the question, such as "suitable for summers" or "wearable in chilly mornings".
The buying guidance feature essentially tries to replicate the real offline experience of a shopper, where an in-store expert tries to determine the best suitable product for a user by asking questions about a customer's preferences and usage.
Convert Browsing Sessions into Purchases with Complex Preference Matching
Another proprietary feature the AI Assistant offers is personalized recommendations through 'complex feature mapping'. It basically understands the naturally used terms while specifying requirements, and converts them into catalog filters to showcase the most relevant products.
Imagine a woman looking to buy a foundation for her makeup needs. She activates the AI Assistant and simply says "I am looking for a matt finish foundation that should be wearable for more than 8 hours and have deep sun protection". This triggers the Assistant to decode these preferences into industry terms like "SPF value" and "stay-in-place" to filter out relevant products that meet the criteria.
Thus, the AI Assistant is capable of decoding such complex preferences and applying relevant filters automatically, saving the user's time and effort in having to develop a comprehension of all the terms manually. Moreover, the resulting personalized recommendations prove to be more effective in improving session-to-transaction conversion rates.
Impact Purchase Decisions with Deep-Product Queries
The next key feature of the AI Assistant is its ability to generate deeper product insights that can help a user gain answers to very specific questions regarding a particular product, or perform a feature-wise comparison of multiple products. The Assistant aptly answers such queries by scanning through available product specs and reviews.
For example, a customer looking to buy an AC might want to know whether the product is noisy or silent in its operation. In this case, the shopping assistant would look for decibel levels in specs and sift through reviews containing terms such as noise or noisy, silent or silence, and other such combinations, verb forms, synonyms, and antonyms to provide a clear answer to the user. These answers are designed to sound like coming from an actual person. In our case of an AC, it could throw up something like "I totally get you! No 'grrring' sounds are a must. This one is good at cooling silently, though it might make a slight amount of white noise."
It can even display ratings on such parameters and the most relevant reviews addressing the user's question. Further, users can compare products in a list of results and drill even deeper by asking the assistant to compare two products on a specific parameter — like when the user asks — which one produces lesser noise. These capabilities enable the Assistant to provide a uniquely delightful experience for online shoppers.
Increase Sales with Targeted Up-selling and Cross-selling
One more way in which Buzzo assists e-commerce players, as well as their customers, is through its contextual cross-selling feature.
Let's refer to our yoga pants example once again to understand how this works. Assume that a customer searches for and adds to her cart a pair of yoga pants. Post that, that assistant suggests the user some 'frequently bought together item categories' based on previous data, like sports shoes with yoga pants.
To this, the user can simply respond with something like "show me shoes that go with my pants", and the assistant gets into action by using already developed knowledge models to find relevant products basis the current product attributes.
For example, in this scenario the assistant finds the user's shoes of a specific color & pattern, basis the attributes of the yoga pants the customer has selected like the striped pattern and red and black color (refer GIF below).
Similarly, in the case of online food ordering, this cross-selling feature suggests the right add-ons at the right time — based on what customers generally order together and combinations of items that have been reviewed positively.
The cross-selling feature essentially helps unlock the potential for growth in average order value per user, driving higher revenues for e-commerce players.
Wrapping it up
In conclusion, all these capabilities essentially make Buzzo a one-of-its-kind voice-based AI assistant that best replicates the in-store expert that customers look for to streamline their search and selection process. It not only feels human but also talks and helps the customers like one. With these capabilities, it can delight customers and thus, enhance conversion rates, improve sales figures, and help acquire new users as well. Essentially, this form of effective and efficient voice-based commerce is poised to transform the online shopping experience globally.
If you are looking to leverage voice AI to enhance the shopping experience on your app/website, we would love to hear from you at buzzo@haptik.ai
---
Want to develop an Intelligent Virtual Assistant solution for your brand?