Conversational AI: Key Differentiators, Insights & Examples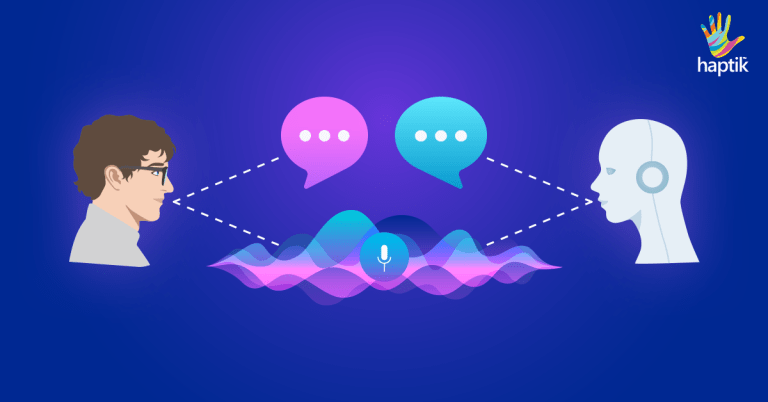 Haptik is a Conversational AI platform for Customer Engagement.
While the term itself does carry some weight, it ultimately boils down to the practical difference it can make to your business. So, we think it's worth the time to explain the concept and what it means for you – the business, the market you're in and most importantly, your customer.
Here's everything we'll be discussing. Feel free to skip the definition if you're familiar with the term and domain:
😄 Customer Engagement in the Age of Messengers
❓ What is Conversational AI
🤝 Why Conversational AI Works to Engage Customers
✨ How Businesses Can Use Conversational AI
💻 Approaching the Customer: Picking the Platform
😎 The Technology Behind a Solid Conversational AI Platform
✔️ What it Means for Businesses
😄 Customer Engagement in the Age of Messengers
If you ask any marketing expert, customer engagement is simply talking to a customer and reeling them in when the time's right. This means being there for the user whenever they look for you throughout their lifecycle. And therein lies the trick: How can you be sure you're there at all times and especially when it matters most to the customer?
Today, this means having a presence on a chat platform.
But this isn't a sudden development.
The paradigm shift to utility bots has been unfolding since the 2008 smartphone wave. In fact, it is this belief that even led to the creation of the Haptik Personal Assistant utility bots which then led to our Conversational AI platform, which is now our main product.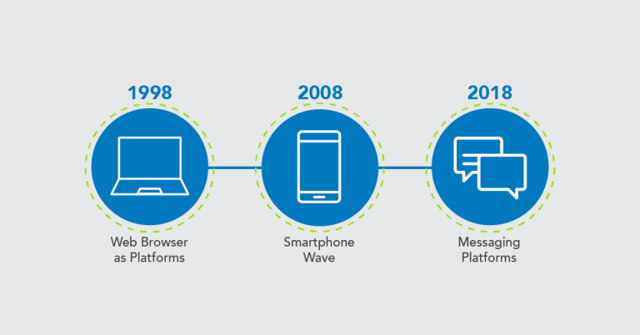 ❓ What is Conversational AI
Conversational Artificial Intelligence or Conversational AI is a set of technologies that enable computers to simulate conversations.
Businesses can use Conversational AI to automate customer-facing touchpoints everywhere – on social media platforms like Facebook and Twitter, on their website, their app or even on voice assistants like Google Home.
Conversational AI systems offer a more straightforward and direct pipeline for customers sort problems out, address concerns and reach goals.
Both the terms 'Conversational Chatbot' and 'Conversational AI' have the same meaning.

'Conversational AI', however, is more inclusive of all the technology that falls under the bot umbrella like voice bots and voice + text assistants, whereas 'conversational chatbots' have a more limited 'text-only' connotation.

Take a look at our chatbot dictionary for a more detailed primer.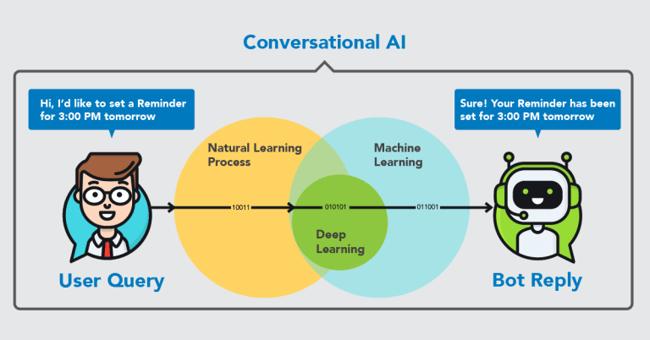 Three questions arise here:
1. Why does Conversational AI work for customers?
2. How can your business put Conversational AI to use?
3. Which platform should you pick?
🤝 Why Conversational AI Works to Engage Customers
1) It's timely, 24/7
The biggest benefit of having a conversational AI solution is the instant response rate. Answering queries within an hour translates to 7X more likelihood of converting a lead. Customers are more likely to talk about a negative experience than a positive one. So nipping a negative review right in the bud is going to help improve your product's brand standing.
2) Customers prefer messaging
The market shapes customer behaviour. Gartner predicted that '40% of mobile interactions will be managed by smart agents by 2020. ' Every single business out there today either has a chatbot already or is considering one. 30% of customers expect to see a live chat option on your website. 3 out of 10 consumers would give up phone calls to use messaging. As more and more customers begin expecting your company to have a direct way to contact you, it makes sense to have a touch point on a messenger.
3) It's engaging and conversational
We've already extolled the benefits of having a direct hotline for customers to reach you. However, the conversational aspect is what differentiates this method from any other.
Conversational bots make for great engagement tools. Engagement drives stickiness, which drives retention — and that, in turn, drives growth.
4) Scalability: Infinite
Chatbots can instantly and easily handle a large volume of user queries without requiring any increase in team size. This is especially useful if you expect or suddenly see a massive spike in user queries. A spike like this is a recipe for disaster if you're completely dependent on a small team of human agents.
With a bot that can handle massive scale, you can breathe easy even when your footfall turns into a stampede.
Fun fact: Dream11 handled a massive spike of over 1 million queries during IPL 2018 with a team of just 30 people. Watch the video here.
✨ How Businesses Can Use Conversational AI
Your business is communicating with a user throughout the time they're using your product.
In our experience delivering conversational AI solutions to enterprises, we've noticed that some use cases are able to leverage such technology better than others.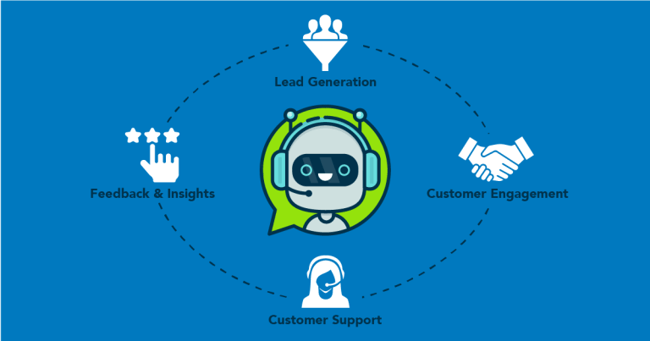 Our list of the best performing use cases is below:
1. Ushering a customer in (Lead Generation):

Haptik's Lead Bots have seen 10X
better conversion rates compared to standard web forms.
2. Keeping current customers happy (Customer Engagement):

Our clients have seen a 65% increase in retention rates simply by plugging an interactive utility chatbot within their app.
3. Answer questions and handle complaints as soon as they come in (Customer Support):

Gartner predicts that by 2021, 25% of enterprises across the globe will have a virtual assistant to handle support issues.
4. Learning from customers to improve your product over time (Feedback and Insights):

Customers are 3X more likely to share their feedback with a Bot than fill survey forms.
💻 Approaching the Customer: Picking the Platform
Today, more than ever, instant availability and approachability matter. Which is why your presence should be dictated by your customer's preference or the type of message your business wants to convey. Keep in mind that these can overlap or change depending on your demographic you wish to acquire or cater to. There are very few set-in-stone rules when it comes to new customers.
Here's how you would plan your strategy dividing by the type of message:
1. To handle app complaints, these platforms are probably Twitter and Facebook since they're the most convenient. So deploy bots there.
2. To send updates and acquire customers, deploy a custom bot on your website or a real-time platform like WhatsApp.
3. To handle a massive volume of customer service queries for time-sensitive industries like e-commerce, banks, and airlines, deploy a custom voicebot, a website bot or an in-app bot.
This choice is similar to deciding whether a strong Facebook presence or a LinkedIn presence is right for you. Decide this on the basis of the customer your business is trying to serve and find. Similar customers will congregate on one particular type of platform.
😎 The Technology Behind a Solid Conversational AI Platform
1. The AI in Conversational AI
Simply put, the AI in Conversational AI is what gives it the 'brains' necessary to converse like a human.
This AI behind a conversational platform can range from complex systems that use techniques like Deep Learning to simple if-else chains that simply guide users through a flowchart.
At Haptik we use a combination of the following approaches.
Layer 1: Handle conversations through pre-built flows that anticipate multiple cases possible. Techniques used here include Natural Language Processing to process these incoming user messages and Information Extraction to understand these intents.
Layer 2: A Generative and neural conversation model that we use helps us cater to queries which the bot is usually not trained on. The bot goes back to ask the user a variation of their query if it does not understand a particular part of the request.
Layer 3: Default to a Small Talk module that can handle random open-ended queries about the weather, etc. The bot picks up the context to understand the conversation is heading, generates an appropriate response based on the information it has and provides a user response appropriately.
2. The Humans in Conversational AI
Conversational AI bots are here to stay, but can only function optimally with the help of skilled people. Haptik has a team of in-house AI trainers who continuously train our bots with new terms to improve its capabilities daily.
Their roles can be broken down into 3 sub-areas:
a) Bot Builders: They're responsible for making a bot end to end i.e. developing the character, tone, content, and responses of the bot.
b) AI Bot Trainers: They essentially 'teach' a chatbot what to say and train it to respond to different user queries. They do this by monitoring user queries, labeling data that is unanswered, and feeding it back into the data set for the bot to learn and respond to those queries over time.
c) Bot Quality Analysts: Responsible for reviewing the bot from a qualitative perspective, understanding user requirements, and relaying that feedback to the product management team to improve the experience. These Bot Quality Analysts are responsible for improving bots' capabilities by observing their behavior and improving their personality and quality over time. Their responses and suggestions are fed into the system and we have built tools for easy entry of data that is already annotated.
Fun fact: All of our AI trainers were previously chat assistants. In 2016, Haptik initiated programs to transform our human chat agents into bot developers and trainers. Read the story here.
3. The Platform in Conversational AI
Haptik started in 2014 as an all-in-one Personal Assistant App. Users could simply come in and chat on the app to fulfil any need ranging from purchasing jeans to paying a bill to book a plane ticket. Over 400 in-house experts would pick up these requests and cater to them individually using the Agent Dashboard.
We now use our Agent Dashboard to handover only the most urgent queries that require human intervention on our bots. This human + bot approach ensures that all situations are taken care of. Be it irate customers who demand instant responses, or a standard FAQ, this is a holistic solution that scales and performs well.
Over time as our business progressed, we started formally building a platform that could build nodes, handle integrations albeit without a super shiny UI. Over time, like most products, this dashboard has evolved into a beautiful Bot Builder dashboard that houses all our chatbots in all their complexity. Needless to say, today this is one of the most powerful pieces of software we've created so far.
A simple problem turns into a use-case which turns into a software which turns into a product which turns into a business which turns into a domain.
We didn't set out to create a Conversational AI platform. We simply were solving the problems we saw along the way and over time turned into a tried and tested software we know a lot of people could use.
So, after we built our bots, we needed to see how well we were doing. But not just based on the number of app installs or top-of-the-funnel numbers. We needed to know exactly what people were talking about, what people liked talking about and what people hated about our bot. And so we created our Conversational Analytics Tool.
So, here's the trifecta of a Conversational AI product:
1. Bot Builder
2. Agent Chat Interface
3. Bot Analytics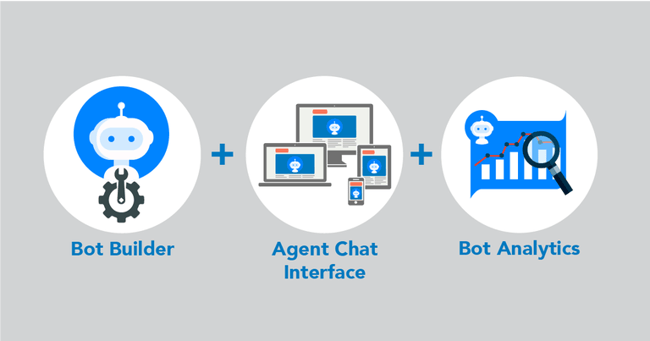 ✔️ What it Means for Businesses
"I see a natural progression from knobs and dials to clicks and taps, to swipes and gestures, to voice and emotion", says Imran Chaudhri, the iPhone's original UI designer.
Businesses are no exception to this rule, as more and more users now expect and prefer chat as the primary mode of communication, it makes sense to leverage the many benefits Conversational AI offers. It's not just for the customer, your business can reduce operational costs and scale operations massively too.
By ensuring that you're available to listen and talk to your customer at any time of the day, Conversational AI ensures that your business always wins top marks for engagement and availability.
So, finally, where does Conversational AI work?
Everywhere.
Any business in any domain that has a user touchpoint can use a Conversational virtual agent. It's better for users and for the business. Nothing else matters.
---
Think your business could use some solid Conversational AI support?