Conversational Commerce: Your definitive guide to C-Commerce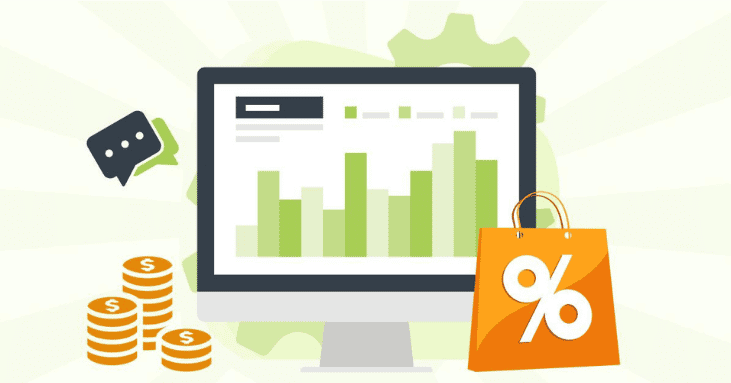 Shoppers are looking for personalized brand experiences that cater to their individual needs and preferences. Brands need to move past having just a 'search' button on the website and offer rich personalized experiences to buyers at the right time in their purchase journey.
Personalization goes beyond addressing a customer by their name. Brands that cannot deliver true personalization will lose prospective buyers and revenue. As per a McKinsey study, brands that ace personalization drive 40% more revenue than "average players".
Personalization extends to messaging that brands must get right to foster strong, deeper connections with prospects. Messaging applies to delivering product information, gifting advice, sharing a store location, order delivery status, and more.
Messaging apps like WhatsApp, Instagram and Facebook Messenger have grown in prominence as platforms that online users spend most of their time on. With conversational commerce (also known as c-commerce), buyers can chat with brands and find products they're looking for, get tailored recommendations based on their purchase history, receive reminders and alerts and make payments.
Table of contents:
What is conversational commerce?
Conversational commerce is the phenomenon of using chat and messaging applications to engage in conversation to promote and sell products and services.
Brands leverage AI-powered technologies such as chatbots, messaging platforms, and automated tools to offer personalized buying experiences and delight their customers.
Steve Jobs said: "Get closer than ever to your customers. So close that you tell them what they need well before they realize it themselves."
Today, brands need to be a step ahead of shoppers on their buying journey, and conversational commerce is a true enabler of personalization.
Stages of c-commerce
Conversational solutions help brands move prospects across the funnel by having real-time conversations. The buyer's journey typically has five stages that starts with awareness and continues with advocacy.
Awareness
The first stage of the purchasing journey is awareness when a prospect realizes the need for a solution (a product or service) to their pain point. They explore and become aware of the possible solutions and resources before reaching out and inquiring about brands directly to gather the information that can help in their decision-making.
During the awareness stage, c-commerce helps brands to showcase their capabilities and earn the trust and confidence of prospects.
Podcast: How is c-commerce changing how we sell?
Consideration
At the consideration stage, prospects often have enough research data and information to start considering solutions to their problems. Conversational commerce helps businesses to get into a one-on-one dialogue and offer relevant information to persuade their prospects to choose them over a competing business.
While the prospect hasn't yet made a decision on a product or service, the consideration stage moves them a step closer to their goal of finding the best solution.
Decision
After being problem-aware and considering the possible solutions, the prospect is ready to make a decision. At this stage, factors such as product or service cost, customer perks, and post-purchase support influence the prospect's decision to engage with a business and buy from them.
C-commerce helps brands to interact with their prospects in real-time, offer alternative pricing options, and promote additional product or service features to drive the buying decision.
READ: How to use c-commerce to solve eCommerce challenges?
Once the customer has made a purchase, conversational solutions help deliver timely shipping updates and delivery notifications on messaging platforms of choice such as WhatsApp or Facebook Messenger. Businesses can also send product usage guides, tips, FAQs, and other supplementary documentation or videos to help customers use the product to its full potential.
Retention
Research indicates that acquiring a new customer is six to seven times more expensive than retaining an existing customer.
Conversational commerce allows businesses to maximize the customer experience beyond the initial purchase. One can build loyalty and referral programs that reward points and remind customers to redeem special discounts and offers. The most valuable buyers can be offered a priority support channel and exclusive discounts that will further strengthen the customer's relationship with a brand.
Businesses can also re-market to their customers using cross-channel advertising, and by offering them platform-specific content and offers as they form deeper connections with the brand. Proactive messaging is another platform for brands to engage shoppers with targeted messages that influence purchasing decisions and drive brand recall.
Advocacy
At this stage, businesses must ensure that their customers don't just buy their products or services but also become brand advocates who recommend them to their friends, acquaintances, and family.
Conversational commerce enables businesses to achieve customer satisfaction by gathering real-time user feedback and offering product and service offers most relevant to a customer.
The user feedback gives customers the chance to resolve their pain points, make better purchasing decisions, and gives them a sense of being heard and valued.
Loyalty and rewards programs that incentivize customers who make repeat purchases are another way to engage and delight customers. Rewards can include membership discounts, first-use access to products, free birthday gifts, and more.
Why conversational commerce is essential for businesses
Conversational commerce has fundamentally transformed several aspects of the brand-customer communication process across nearly every channel and touchpoint in the customer journey. Following are some of its key benefits.
Personalized shopping experience

Websites are designed for structured interactions like viewing content and browsing catalogs, and do not accurately mimic the organic, free-flowing way in which people shop – asking questions, looking for advice, exploring options, and interacting with other humans during the transaction.

Modern conversational solutions powered by AI and Natural Language Processing (NLP) can accurately understand user intent and emulate the in-store, personalized buying experiences customers are looking for.

Improved turnaround time for customer queries


Conversational commerce enables brands to have an always-online, 24/7/365 support presence. Modern chatbots can handle thousands of queries simultaneously and resolve the most common user queries without requiring any human intervention. Brands that use c-commerce solutions can greatly improve the scalability and productivity of their customer support workforce by freeing up support agents to focus on high-value queries.



Drives up sales and conversions




AI-powered virtual assistants can play the role of a sales agent, engaging users with personalized product recommendations and suggestions based on user intent and conversational context, gently moving them further along in the sales funnel.

Brands can use conversational solutions in a variety of ways, including upsell cross-sell, cart abandonment recovery, remarketing campaigns, and several other use cases for reducing costs, increasing ROI, and improving bottom-line revenue.

Provide a superior customer experience

A report by PwC states that 73% of customers place customer experience (CX) as a key factor in their purchasing decisions. The report adds that customers are happy to spend more for a better customer experience.

With the ability to get real-time customer support on any device, exclusive deals, recommendations, and insights that are tailored to their specific preferences, customers are much more likely to be loyal to the brand and recommend it to other people in their network.
Industry-wise use cases of conversational commerce
Conversational Commerce has revolutionized business processes in several industries by simplifying complex workflows, automating tasks, and enabling employees to provide superior customer experiences across all customer touch points.
Education
C-commerce plays a more significant role in the education sector today than in pre-pandemic.
With online learning as the new norm and students getting increased access to smartphones and the internet, conversational solutions help with information exchange while improving the convenience for educational institutions, students and parents to stay updated on exam schedules, fee payments, and virtual co-curricular activities.
Fundamentally, conversational commerce offers key use cases for students, tutors, parents, and others who're part of the education setup, including:
Virtual learning assistance and student feedback
School/college campus news, updates, and guidance
Increased student-tutor engagement and connectivity
Admission details and query resolution
Related: How retail chatbots amplify customer experience
Travel and hospitality
As per data from a survey, 87% travelers prefer interactions with chatbots if it saves them time and costs.
Conversational Commerce helps travel companies improve their customer service and provide customers with the nuanced, personalized experience they are looking for.
In the travel industry, conversational commerce delivers powerful use cases such as:
Travel inquiries and booking
Reservation cancellation
Cross-selling
Customer feedback collection
These help improve customer satisfaction and in turn offer tremendous growth potential for travel companies.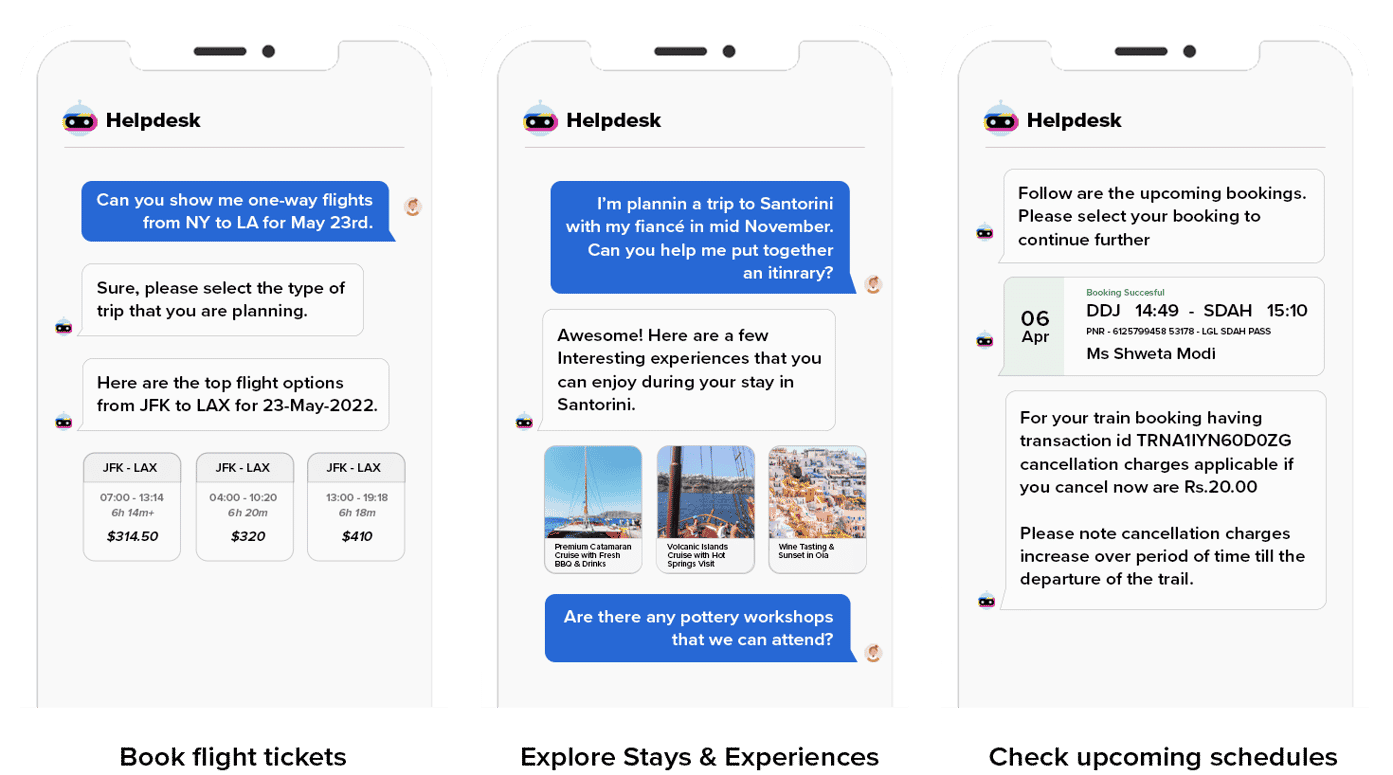 Fintech
Fintech companies stand to benefit substantially from conversational commerce given the alignment between the capabilities of the solution, customer needs and business goals.
NLP and AI have made it easier to interpret customer queries and send personalized responses. Whether the query is technical, accounts-related or general, conversational solutions allow customers to skip long call center queues and instead get instant solutions to their problems in real-time.
Key use cases of conversational commerce in fintech include:
Real-time & automated customer support
Client onboarding via video
Personalized financial consultations
Product promotions



Explore Industry-Specific Pre-Built Templates
Types of c-commerce
Most of us have experienced conversational commerce in our day-to-day life. Here are the types of conversational commerce that we interact and engage with almost daily.
Chatbot
It is a conversational solution that helps businesses automate user interactions with the help of AI and deliver a seamless and satisfying customer experience.
Chatbots help resolve customer queries related to order status and shipping information, product availability, customer complaints, and service inquiries - allowing customer service agents to focus on more meaningful tasks.
As per data, 40% of shoppers pay no attention to whether they are being assisted by humans or an artificial intelligence solution so long as their query is resolved.
Live chat
It is a conversational commerce tool that helps a website's visitors get quick responses (almost in real-time) to their questions without submitting a form, writing an email, or calling the customer support.
Live chat apps offer customers the option of chatting with a bot or a human agent. They reduce wait time and keep customers progressing in the buying journey.
For businesses, live chat allows customer support to handle multiple chats at any given moment.
Messaging and support apps
Messaging and support apps allow businesses to connect directly with customers on the channels where they are: WhatsApp, Instagram, Facebook Messenger, and more.
Conversations on these messaging apps can feel more casual and genuine, which help build an emotional connection with customers.
Another key advantage is the higher level of security offered by these channels using end-to-end encryption to secure chat data between the customer and the business they interact with.
Voice assistants
Voice assistance software is arguably the most typical reference for conversational commerce. Customers can integrate their voice assistants (Alexa, Siri, Google Assistant, and others) with their favorite shopping apps and get product recommendations based on purchase history, add items to cart, or confirm orders using voice.
Voice assistants respond instantly to voice commands and provide a sense of enjoyment in the overall shopping experience. Voice assistants are smarter now than a few years ago. Use of AI and ML has made them more responsive, versatile and capable of matching actions to user expectations. So much so that 65% of people between the ages 25 and 49 now use voice assistants on an everyday basis - whether it's to make purchases, get answers to questions, or find a local business.
How to start and implement a conversational commerce solution?
Conversational commerce is a powerful tool that helps businesses improve their marketing, customer support, and sales processes. Before implementation, businesses must:
Design a conversational commerce strategy and map it to business goals
Identify the best platform based on capabilities, budget, and requirements
Define key performance benchmarks and measure them periodically
Every business should consider taking the following three steps to get started with their conversational commerce journey.
Leverage chatbots
Chatbots are the key to making conversational commerce strategy work.
Businesses can either build their own chatbots or utilize third-party chatbot builders to design bots capable of handling complex customer queries.
Chatbots can be designed to respond in a company's unique brand voice to customer queries.
Higher purchase completion rates, increase in average order value, customer satisfaction and higher productivity of support agents are key business outcomes of using chatbots as part of the conversational commerce strategy.
Set up messaging on social media, mobile and web
Social media is a key part of conversational commerce with people increasingly using platforms such as Instagram, WhatsApp, Twitter, and Facebook Messenger to connect with business accounts.
Businesses must have verified profiles on those platforms, so that their customers know they are interacting with the right business account.
The messaging on the various apps and the website must be consistent to provide the desired user experience.
It's also vital for businesses to personalize their responses and ensure the messaging has a human touch to it, whether customers are interacting on social, the mobile app, or the website live chat.
Offer best-in-class customer experience
Conversational commerce should help customers find support quickly and in a way that's cost-effective for businesses.
Metrics such as first response time are key to achieving customer satisfaction that in turn helps boost conversions and sales while also driving customer retention and loyalty. Personalized customer assistance is another key aspect of providing a satisfying customer experience.
Data is a key enabler of achieving best-in-class customer experience. Businesses must use the data from conversations with customers to glean insights that can provide direction for customer support, marketing, sales, and product strategies.
Future of conversational commerce
Shoppers today are looking to interact directly with brands in real-time and on their preferred channel of communication, which is confirmed by data.
RELATED: Why is c-commerce chatbot the future of eCommerce?
According to research by Facebook, 55% said that they felt more connected to a brand if customers were able to chat directly with the brand and ask for help.
It is a paradigm shift in the way people research and buy products. It also emphasizes the need for brands to cater to customers' shifting buying behavior.
It is predicted that, by 2025, artificial intelligence will be the enabler for 95% of all customer interactions. Technologies such as AR/VR and holograms will become a part of the customer experience that brands must offer to stay relevant.
It also means that brands must combine technologies, data and communication platforms together to offer the desired customer experience.
FAQs
Why is conversational commerce important?
Conversational commerce is important because it is designed to help brands drive sales and conversions. Data indicates that customers' purchasing decisions increasingly depend on their experience with a brand. Chat and messaging apps enable brands to offer personalized customer experiences that translate into better customer satisfaction and higher conversion rates.
How to get started with conversational commerce?
Brands can begin their conversational commerce journey by following a few simple steps.
Know business needs
Conduct research (competitor analysis, customer reviews, etc.)
Choose a conversational solution partner
Launch the conversational commerce solution
Monitor performance to drive desired results
What is an example of conversational marketing?
Conversational marketing is the approach of starting a one-to-one conversation between a brand and its customers with the objective of gaining the trust and loyalty of customers. It offers brands benefits such as better ROI, higher CSAT, higher brand awareness and engagement.
Chatbots, social media messaging apps, and live chat are popular examples of conversational marketing that enable brands to communicate with their customers in real-time. By providing relevant information and personalizing the conversation, these tools offer a seamless buying experience.
What are the benefits of conversational commerce?
In a digitally-connected world where customers expect products and services to be available on-demand, conversational commerce is a viable solution for brands.
Adopting conversational commerce can help gain a wide array of benefits that includes superior customer service, personalized customer experience, higher conversion rates, and reduced cart abandonment.
Is conversation the future of commerce?
Brands are leveraging conversational AI and commerce to interact, engage and sell to their customers, who prefer the personalized experience powered by chatbots, messaging apps, and live chat.
As per a survey, 67% of shoppers said they intend to increase or retain their current level of spending via conversational commerce, which indicates that conversations would drive the future of commerce.
Conclusion
There has never been a more exciting time to hop on the conversational bandwagon for your brand – the technology is ready, the solutions are ready and most important of all, your prospects are ready.
Haptik's conversational commerce solution helps eliminate roadblocks that might affect customer experience.
Whether it is the world's most popular messaging apps like WhatsApp or Facebook messenger, a website, or any digital touchpoint, Haptik's solutions enable the implementation of virtual assistants and marketing funnels that keep prospects engaged, eliminate indecision, and nudge them towards a purchase at each stage of the purchasing journey.