Interakt: A One-Stop Solution for SMBs to Drive Sales on WhatsApp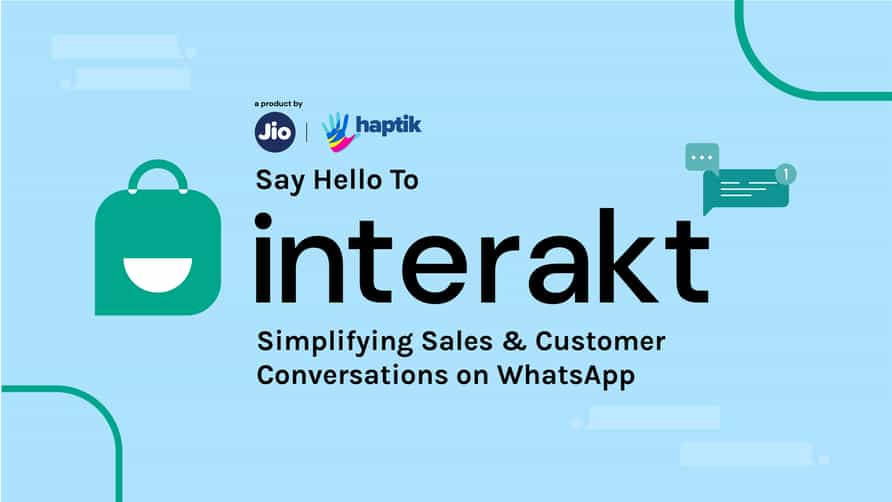 The Covid-19 pandemic saw the rise of the D2C commerce sector. One of the biggest challenges that D2C brands face when trying to build an online customer base is to engage with customers in personalized one-on-one conversations.
WhatsApp aims to reduce this gap by providing you with the opportunity to explore personalisation at scale.
How can D2C businesses leverage the power of WhatsApp Business API?
Over the last couple of years, instant messaging has taken the D2C business sector by storm. It is one of the key factors that give D2C companies an edge over the competition. Since personalisation is integral to offering delightful customer service, a direct messaging platform like WhatsApp will be indispensable to D2C businesses.
WhatsApp is the go-to app for millions across the world. Its immense popularity ensures that you can reach customers conveniently through a familiar channel. WhatsApp boasts of a high engagement rate of 60% and its messages have a high open-rate making it ideal for customer interactions.
A recent study conducted by WhatsApp has revealed that 75% of customers prefer to message brands just the way they do with peers, friends, or family. This goes to show that WhatsApp has gained prevalence as an essential communication tool for businesses globally.
In India, many small and medium businesses rely on the business version of the app to serve their customers. However, at present, there aren't many tools available at their disposal to track conversations, manage increasing chat volumes, support multiple users, and record transactions.
Interakt, a product of Jio Haptik, was launched to meet the growing communication needs of small and medium businesses. It is built to harness the power of conversational commerce through WhatsApp Business API.
This is Haptik's first product created for the thriving SMB & MSME economy in India, which by some estimates has over 50 million businesses and contributes to almost 30% of the country's GDP. The platform will equip businesses in these sectors to manage all their business communications, sales, and customer service through WhatsApp seamlessly.
If you are an SMB owner, Interakt offers you a dedicated WhatsApp Business number with which you can connect with your customers through automated messages, real-time conversations, alerts, and notifications.
The Interakt App can be easily downloaded on Android/iOS app stores. It is exclusively available to Shopify store owners for download from the Shopify App Store.
What are the benefits of using Interakt?
By incorporating Interakt into your D2C communication strategy you will be able to:
Quickly respond to customer queries

Manage customer interactions effectively

Get your teams to work together seamlessly

Offer great customer support and boost customer satisfaction

Alert customers on the go about orders placed

Record customer transactions

Recover lost sales by sending timely alerts to customers on abandoned carts, back-in-stock products and much more
Interakt will enable you to be present where your customers are, on a platform they are most familiar with - WhatsApp.
Top features of Interakt that will simplify your D2C business communication
Interakt offers you a host of power-packed features that can transform your business communication, boost sales and drive business growth.
Shared team inbox

Interakt's shared team inbox has a user-friendly centralized dashboard that supports multiple users and devices. With the shared team inbox, your team can collaborate and manage chats hassle-free. They can view, access, track and respond to customer chats easily. Chats can also be assigned to specific agents letting each one of them know who is responsible for which chats. This ensures that no chats are missed out and every customer query is attended to. The shared team inbox is bound to increase your team's productivity and efficiency.

Automated bulk notifications

This feature lets you send personalized messages and alerts in bulk to customers urging them to recover their abandoned carts or keep them updated on the status of their orders.

Quick replies

With quick replies, you can set automated responses to frequently asked customer questions. This will save your business a lot of time and effort allowing your agents to focus on more important tasks.

Conversational analytics

With Interakt you can monitor key chat metrics like Average Response Time and Average Resolution time to gauge how quickly your agents resolve customer issues. Analyzing live chat metrics will provide you with powerful insights on the quality of your chat process.

Integrations with third-party solutions

If you have an existing CRM like that of Hubspot, Zoho, Freshdesk or an e-store like Shopify, WooCommerce or Magento you can now connect it to Interakt. The integration will enable you to serve your customers better and manage your routine tasks more efficiently.
Upcoming Features of Interakt
Interakt also plans to roll out additional features such as advanced analytics, integrations with payment gateways & leading social media channels, FAQ Bot, and catalogue creation as a part of enabling WhatsApp Commerce for businesses. These features will complement the existing ones and enable you to effectively manage customer interactions and sales through WhatsApp.
Go live with Interakt
Today, Interakt has helped leading businesses witness a 75% rise in customer engagements, 60% increase in abandoned carts recoveries, and 60% hike in message open rates, making it an invaluable communication platform for growing enterprises. Get started on Interakt today and avail a 14-day free trial.