Proactive Messaging Via SMS: Why Your Holiday Marketing Needs It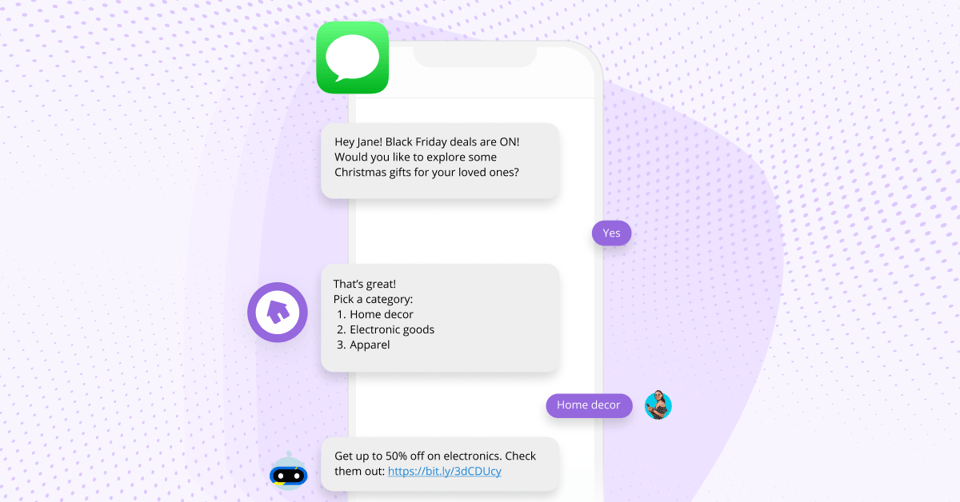 The holiday season is the busiest time of the year for retailers and consumers alike. Black Friday and Cyber Monday are the days the best online deals are made available for online shopping. It's when people loosen their purse strings to buy gifts, home décor, electronic goods, and more. Retailers can cash in on the shopping frenzy and use the increased spending and demand to drive more sales.
The consensus is that holiday sales in 2022 will sustain its year-on-year growth trajectory, with eCommerce holiday retail sales in the US, for example, forecast to grow by 15.5% and reach $236 billion, as per a report by Insider Intelligence.
Brands, however, need to be 'proactive' and grab the attention of shoppers by promoting the best offers, offering exclusive deals, pre-booking discounts, sharing rewards, and more.
Table of contents:
Proactive Messaging for your holiday campaign success
One way to set your brand up for sales success this festive season is through Proactive Messaging. It enables customer-facing teams to send personalized notifications and messages via short message service (SMS)—and on other channels and messaging apps—to engage with prospective buyers.
Proactive Messaging doubles up as a marketing tool that can be used to grow your brand during the biggest shopping season. SMS marketing is incredibly effective, too, considering its open rate is the highest at 98% among all marketing channels, and consumers prefer receiving text messages.
Proactive Messaging helps:
Inform and alert shoppers on new products, holiday season collections, and to explore products of interest
Improve uptake on holiday sale bundles and reduce cart abandonment
Foster a positive brand image by making holiday shopping personalized and memorable
Give holiday shoppers peace of mind with timely shipping details and delivery status
Collect shopper feedback to improve customer experience during festival shopping
Why your brand needs Proactive Messaging for holiday season sale
Proactive SMS messaging helps your brand to inform shoppers of the best holiday deals and create interest to buy from you. With the help of SMS chatbots, your brand can proactively message and connect with shoppers during the holiday season. You can send one text message to get the conversation started and nurture the relationship with shoppers as you go along.
Proactive Messages allow your brand to get your workflow in order for the holiday shopping season. For instance, during Thanksgiving, you might receive a ton of queries on "gifts for Thanksgiving" and the collections available in your online store.

Proactive Messaging allows you to:
Create triggers to send automated responses to common shopper queries during the festive season sale
Greet and engage shoppers and showcase product discounts that are available for Black Friday and Cyber Monday
Create geographical location-based triggers to ensure your holiday campaign drives the desired results
How to use Proactive Messaging this holiday season
You can use proactive SMS messages to:
Acquire
Send SMS messages to shoppers, informing and making them aware of holiday season sales and discounts. Include a link to the product page to allow shoppers to explore and potentially make an inquiry or add it to their wishlist.
Sell
The goal of this type of proactive SMS notification is to help shoppers purchase products. Send checkout reminders and use strategies such as "FOMO" and limited-time holiday season offers that increase the chances of driving the sale.
Delight
Send text messages that notify shoppers of order confirmation and delivery status. Send product user guides, FAQs, video tutorials, and inform return and refund options as part of post-purchase support to drive customer satisfaction.
Continuous engagement
Engagement is continuous and an intrinsic part of the shopping experience. Listen to shoppers' needs, personalize your solutions and be helpful at every stage of their purchasing journey to drive brand trust and loyalty.
Proactive Messaging use cases
Brands can leverage Proactive Messaging for use cases such as:
Sales notifications
Reminders
Points & rewards
Back-in-stock alerts
Order tracking notifications
Return & refund
Sales notifications
As soon as your eCommerce store's Black Friday and Cyber Monday deals go live, proactively notify buyers of the products on special sale, flash sale, limited-time offers, and more. The goal of sales notifications is to pique buyer interest and encourage them to explore your discount sale collections.
Reminders
Multiple reasons can cause shoppers to abort a holiday season purchase. Proactive reminders help bring back shoppers who might have dropped off during the buying process and encourage them to go ahead and complete the purchase.
Points & rewards
The rewards program is one of the most effective tools for brands that aim to gain and retain loyal customers. Proactive messages informing buyers of their accumulated points and rewards are a great way to drive repeat purchases and foster brand loyalty. The right messaging encourages buyers to use their accumulated points and rewards on festive shopping.
Back-in-stock alerts
As per a survey conducted in 2022, 44% of digital buyers in the US and the UK chose to be notified by a text message when a product of their interest is back in stock. The higher demand and shopping frenzy during the festive season often results in products going out of stock. However, with proactive back-in-stock alerts, you can bring shoppers back to your eCommerce store to complete the sale.
Order tracking notifications
Your buyers don't want the contact with your brand to conclude at the completion of a purchase. According to parcelLab research, 90% of consumers want brands to engage with them at the time of delivery. They want to know the status of their order and delivery, and proactive notifications can help deliver the desired post-purchase experience. The messaging here should include details pertaining to order confirmation, shipping details, and expected date of delivery. Order tracking notifications help brands to win the trust and loyalty of their customers.
Return & refund
Holiday purchases tend to have a higher rate of being returned and customers requesting a refund than purchases at other times of the year. Once a buyer initiates a return and asks for a refund, a proactive notification acknowledging the receipt of their request and the expected timeline for completion can put their minds at ease. Timely notifications, followed by fulfillment, build brand reputation and gain buyer trust.
Conclusion
According to data, retailers report that 20% of their annual sales is done during the holiday period from Black Friday to Christmas. Proactive Messaging via SMS (among other channels) helps retailers establish a one-to-one conversation with the shopper, and is an effective method to grab shoppers' attention early during the festive season sale. SMS as a messaging channel is also the most preferred by consumers.
Proactive Messaging can be used to send notifications at each step of the purchasing journey: Acquire, Convert, Engage, and Delight. Its use cases include sales notifications, back-in-stock alerts, reminders, return and refund, and order tracking notifications.
To achieve holiday season sale success, brands must:
Identify the best times to send notifications that the shoppers are most likely to engage with
Personalize proactive messages for campaign goals including engagement, conversion and brand advocacy