Alfagift Plans to Use WhatsApp to Power Seamless Shopping Experiences for Customers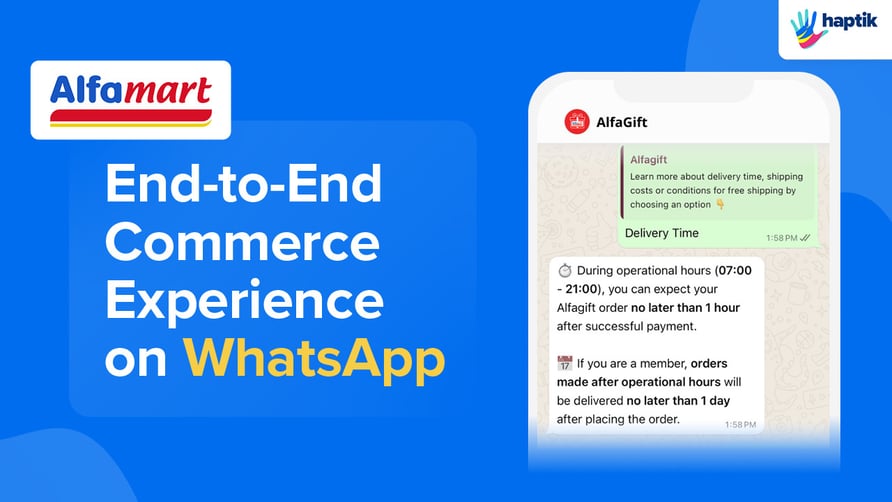 WhatsApp has redefined how the brand-customer relationship plays out. From engagement to acquisition to sales to post-sales engagement and beyond, WhatsApp can be a powerful solution throughout the customer lifecycle. According to data, businesses using channels like WhatsApp see an average customer retention rate of 63%. Just as significantly, 41% of those who message businesses on WhatsApp intend to purchase from them. It puts into perspective WhatsApp's capabilities when businesses get their strategies right and follow the best practices.
A shining example of this is Alfagift's WhatsApp commerce solution powered by Jio Haptik.
Alfagift is an omnichannel groceries mobile application by Alfamart, one of Indonesia's largest grocery chains, which plans to use WhatsApp to drive the end-to-end shopping experience. Alfagift's WhatsApp Assistant will also power use cases such as order tracking, FAQs, and feedback collection.
The Alfagift WhatsApp Commerce Journey
With Alfagift's WhatsApp Assistant, customers will be able to browse products based on location, purchase their favorite products, track orders, get their queries resolved, and even submit feedback.
Once customers initiate a conversation with the WhatsApp Assistant, it will collect their location in the first step. Customers will then see clickable buttons to either Start Shopping, Track My Order, or Explore FAQs.
Alfagift's WhatsApp Assistant will streamline the customer experience by enabling product search and recommendation, followed by inventory check and cart/order confirmation, before prompting customer's address confirmation using the address widget, and a payment link to complete purchase!
The lightning-fast conversational interface will make it a friction-free experience for customers no matter where they are in their journey. The entire process works cohesively from purchase to payment to feedback collection.
This is testament to WhatsApp's powerful capabilities in delivering seamless buying and support experiences for customers.
RELATED: How IDfy-Haptik Integration Powers End-to-end KYC on WhatsApp
On the Alfagift-Haptik Collaboration
Aakrit Vaish, co-founder & CEO, says: "Jio Haptik is proud to partner with Alfagift, a giant retailer in the Indonesian market. We're delighted that our WhatsApp commerce solution helps drive a seamless buying experience for customers while getting timely support and resolution in their moment of need. What makes me happier is that the solution we've built for Alfagift showcases our expertise and technical capabilities as a leader in WhatsApp commerce. We look forward to a long association with Alfagift and continue to deliver exceptional customer experiences."
WhatsApp offers enormous potential for brands to reimagine customer experiences while scaling engagement, revenue, and support. The Alfagift-Haptik partnership looks set to revolutionize the Indonesian retail landscape and how! It will help customers enjoy a seamless shopping experience and receive timely, on-demand support, making the journey more streamlined and efficient than ever before.
ALSO READ: The JioMart Shopping Bot That Mark Zuckerberg Is Talking About
---