4 Ways to Use Click-to-WhatsApp Ads for Marketing Campaigns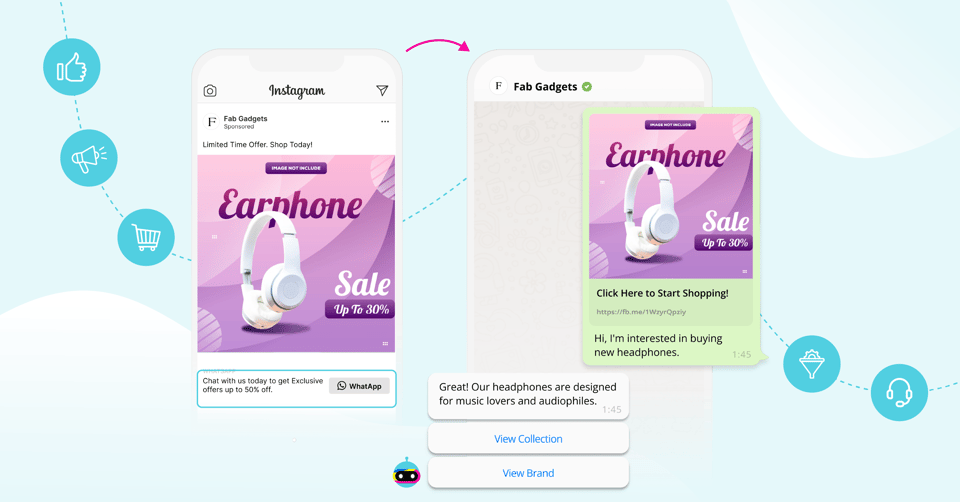 In today's rapidly changing digital advertising space, staying ahead of the curve is essential for success. Click-to-WhatsApp Ads have emerged as a valuable feature for marketers, offering businesses a unique opportunity to engage with customers throughout their digital journey on the popular messaging platform. By utilizing Click-to-WhatsApp Ads, brands can:
Raise awareness
Promote sales consultation
Facilitate instant product purchases
Shorten the sales cycle
Provide exceptional customer service, and
Foster customer loyalty with special deals
With just one click, customers can initiate a conversation on WhatsApp and address their pre-purchase concerns effectively, resulting in increased conversions. WhatsApp's user-centric approach and powerful ad targeting capabilities allow companies to optimize their ad campaigns for maximum effectiveness, yielding a higher return on their marketing investment.
This blog will explore some creative ways to leverage Click-to-WhatsApp Ads for your WhatsApp marketing campaign, unlocking new avenues of growth for your business.
How to Use Click-to-WhatsApp Ads for Your Marketing Campaign
4 Ways to Use Click to WhatsApp Ads for Your Marketing Campaign
1. Lead Generation
Click-to-WhatsApp Ads offer brands a potent lead generation tool, leveraging high engagement and personalized communication to foster increased conversions.
Click-to-WhatsApp Ads allow users to initiate a conversation with your brand with just one click. It leads to a quick and easy exchange of information, enhancing customer experience.
WhatsApp allows for personalized communication, making it easier to tailor business messages to individual customers. It can lead to an increase in the likelihood of a sale.
Click-to-WhatsApp Ads can be a cost-effective way to reach potential customers, as brands only pay when a user clicks on the ad.
Businesses can generate leads by offering free consultations or downloadable resources in exchange for contact information.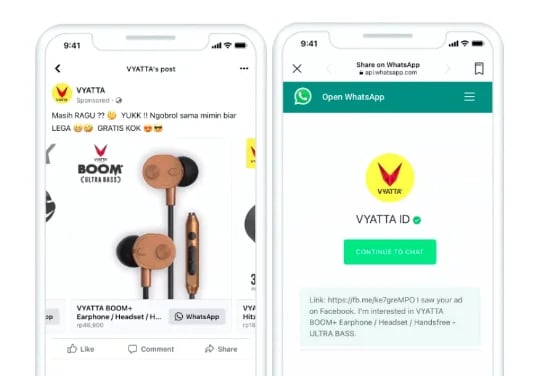 Vyatta, an Indonesian tech accessory company, utilized Facebook collaborative ads that click to WhatsApp to target Shopee store visitors who hadn't purchased anything in the past 60 days. They discovered that these ads resulted in 5 times more purchases and 79% lower cost per acquisition compared to standard collaborative ads.
2. Personal Shopping Assistance
Here are some benefits of using Click-to-WhatsApp Ads for personal shopping assistance:
WhatsApp enables businesses to provide real-time assistance and recommendations, leading to faster response times and more satisfied customers.
Personalized shopping assistance can lead to increased sales, as customers are more likely to make a purchase when they receive tailored recommendations and advice.
It can set businesses apart from competitors, offering a unique and valuable service that can attract and retain customers.
Personal shopping assistance on WhatsApp can enhance the customer experience, making customers feel valued and supported throughout their shopping journey.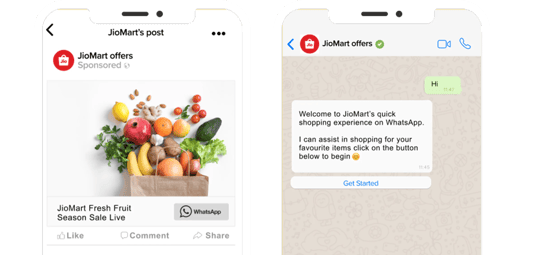 JioMart's WhatsApp Chatbot, created by Haptik, is the first-ever end-to-end shopping experience on WhatsApp. The integration of JioMart with WhatsApp is revolutionizing consumer engagement and shopping convenience in India, with impressive results - a 37% monthly growth in active users and a 9-fold increase in orders.
3. Event Promotion
Click-to-WhatsApp Ads can provide businesses with a powerful tool for promoting events and engaging with potential attendees. Here are some benefits of using Click-to-WhatsApp Ads for event promotion:
Businesses can engage with potential attendees and answer questions about the event, making it easier for customers to RSVP and get involved.
Click-to-WhatsApp Ads allow businesses in targeted advertising based on location, interests, and demographics, ensuring that the right people come across their event promotions. It creates a sense of community around the event and makes attendees feel valued.
Setting up Click-to-WhatsApp Ads is quick and easy, making it simple for businesses to start event promotions and reminders with potential attendees.
The direct line of communication established during the event can facilitate the ongoing or further conversation between attendees and the business.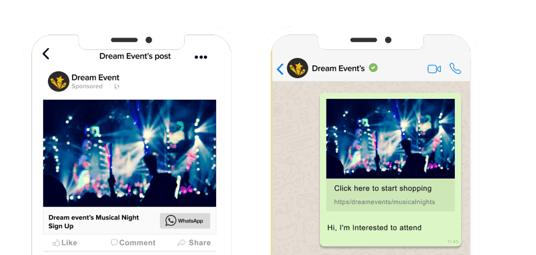 4.
Request Instant Product Prices
Click-to-WhatsApp Ads streamline price quote requests, using real-time messaging for prompt and efficient brand communication. Here's how it can work:
Establish a dedicated WhatsApp number for such queries.
Create a Click-to-WhatsApp Ad that showcases your product or service and encourages potential clients to message you on WhatsApp to know the product or service pricing.
Customers can edit a pre-populated message to address their specific inquiry. Your business can then provide personalized offers or discounts, depending on the customer's request.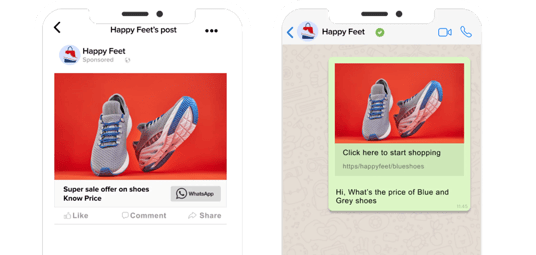 If further interested, customers can continue the conversation to potentially make a purchase directly through WhatsApp.
Conclusion
In today's competitive business landscape, creativity, and innovation have become critical components of successful marketing strategies. With consumers being bombarded with numerous ads on a daily basis, businesses need to find new and creative ways to capture their attention and stand out from the crowd.
Incorporating creative strategies like Click to WhatsApp Ads into the marketing campaign can help businesses to break through the noise and connect with the target audience on a deeper level. By prioritizing innovation and creativity in marketing efforts, brands can stay ahead of the curve and drive long-term success for the business.
The Power of Click-to-WhatsApp Ads: Drive More Sales Today