Automation in Insurance: How to Gain Tremendous Competitive Advantage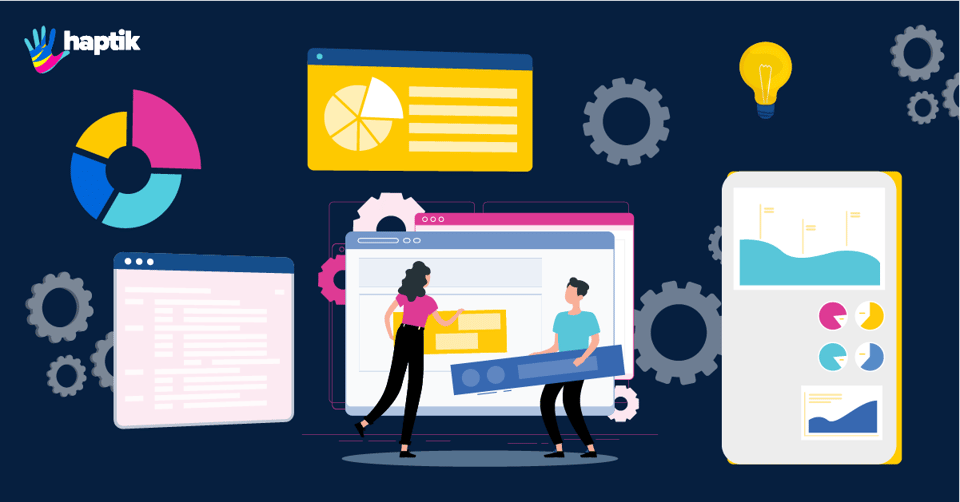 Automation is becoming the backbone of futuristic businesses by driving the entire workflow, starting from customer outreach to continuous customer loyalty. Manufacturing is the leader in using automation for better supply chain efficiencies. However, the insurance industry is increasingly adopting automated insurance agents to propel growth.
Using conversational interfaces (chatbots), these automated agents transform the way insurance companies facilitate the customer journey. They are being used to increase awareness, drive purchase decisions, and ensure a smooth experience throughout the customer life cycle.
How Do Automated Insurance Agents Work?
Quite often, people use automated virtual assistants or agents and chatbots interchangeably. While most capable implementations have both of them working together, they are different. You can use them separately for specific purposes. The conversational bots (the chatbots) provide an interface that allows customers to use natural language for interaction. The underlying implementation of smart agents then utilizes the power of Machine Learning (ML) and Artificial Intelligence (AI) to make sense of the customer queries, process them, and provide the answers in natural language to the customers.
However, for ease of understanding, this article uses both of them interchangeably. The technology is most useful when both these components act as an integral part of the overall implementation.
Emerging Technologies As the Backbone
These intelligent agents use many ML and AI algorithms. Primary among them for the insurance industry are Natural Language Processing (NLP), sentiment analysis, anomaly detection, predictive analysis, and computer vision. This list is by no means complete and exhaustive. With the continuous innovation in the technology field, better algorithms are emerging each day.
The Insurance Customer Lifecycle
We can broadly divide an insurance customer's lifecycle into four distinct stages. During the pre-purchase phase, the customer evaluates their own needs, looks for the insurance companies and products that can fulfill those needs, and then compares various offerings. Once they have made up their mind, customers buy an appropriate insurance plan by filling up application forms, submitting required documents, and making payments. After the customers have purchased the policy, it enters into active mode. During the active state, customers pay periodic premiums, renew policies, and might need to carry out endorsements. The fourth stage is the claims state. Not every consumer for every policy will make an insurance claim, but insurance companies need to handle and settle those claims when they do.
Queries and communication from the customers are overarching events across these stages.
Learn how Haptik's insurance chatbot helped enhance KLI's customer engagement by 500%.
Why Is Automation in the Insurance Sector Becoming The Go-To Choice for Both Customers and Insurance Providers?
Traditionally, human agents and telephone call centers were the primary channels of customer service. Both the mediums were time-consuming. The customers were not in control. The introduction of web-based channels provided customers with the power to a certain extent. It reduced the time required to process various requests, but it is a tedious channel in today's context. As customer preferences changed, their expectations from the services and businesses also changed. Chatbots are excellent digital tools to meet this transformed customer mindset.
Chatbots are always available for customers. It fits in with our 24/7 lifestyle.

They free companies from the constraints of scaling up to a great extent. Since they can serve customer requests concurrently, companies can reduce the wait time and increase customer satisfaction through better response.

It allows customers to benefit from the self-service option while proving cost-effective internally.

Automated insurance agents streamline tedious processes. Customers no longer need to fill up long forms or answer endless queries. Through natural language and conversational interfaces, the experience is smooth and frictionless.

72 percent of consumers agree that insurance companies use confusing jargon. Conversational interfaces can better influence customers into taking appropriate actions by making information easy to understand.

Automated agents reduce the overall cycle time, thus making the processes efficient.

Chatbots also increase customer engagement through immediate gratification and personalized services.
These intelligent agents bring multiple benefits. On the one hand, they improve customer satisfaction through better customer service. On the other hand, they help companies control costs and increase profitability.
How To Effectively Use Chatbots at Each Stage of the Customer lifecycle
Pre-Purchase Stage
Regulatory Reporting
In general, we mention chatbots only in terms of customer interactions. However, an insurance company can also use them for various reasons, including fulfilling regulatory reporting requirements. Companies must file annual or quarterly financial reports, with quantitative as well as qualitative data. The underlying machine learning, artificial intelligence, and analytical capabilities of the automated insurance agents can proactively fulfill these needs and answer queries using conversational AI during audits.
Plan Recommendation
A well-designed bot can understand the customer's needs and identify the right plan to suit those needs. These recommendations are instant, so the chances of conversion increase manifold.
Such recommendations can also boost sales as the bot, through predictive analysis, can identify the best plan for the customer with the highest probability of conversion. It derives these predictions by analyzing millions of historical data points.
Here's a Smart Skill that will help the user find an insurance plan as per their requirements.
Quotes/Illustrations
AA Ireland is one of the largest providers of car, home, travel, and life insurance. They improved customer conversion by more than 11% with the 'Quote-to-Sale' Bot using ServisBOT's Conversational AI platform.
Chatbots use natural language processing to get to know your audience effectively. It allows them to personalize the service offering that best suits each policyholder. Based on these preferences, the chatbots can generate and send quotes to the customers directly. Such personalized offers increase the chances of conversions.
Support
Chatbots can act as dedicated support agents for customers 24/7. It can help your customers find information and documents, guide them through the processes, or answer their queries with the standard answers it has been trained with.
For issues they can't solve, chatbots can help customers reach an appropriate person.
The accessibility of chatbots for customer interaction through multiple devices, including mobile phones, makes them perfect tools as virtual assistants. Not only that, through integrations and APIs, chatbots can also create support tickets in the help desk systems for customers.
Customer Education
Customers find it difficult to understand and remember every aspect of the policy. They also have questions about their unique needs, situations, and requirements. A bot helps them ask the right questions and then provides them with the answers immediately.
The questions can range from the eligibility requirements to procedures for purchase, premium payments, and filing of claims. Chatbots can provide answers using any appropriate medium, including text, documents, audio, and even video.
During Purchase
Document Submission
The conversational agents can guide customers through the standardized document submission process. With the help of supporting algorithms, it can identify deviations and raise flags if additional documents or information is required. By utilizing computer vision, natural language processing, and anomaly detection capabilities, these automated agents can also enable fraud detection early in the process to mitigate risks.
Underwriting
Through Machine Learning, automated agents can effectively determine the risk of offering a policy to a particular individual. It gathers information through a conversational interface and then analyses the patterns of risks from historical data. Then it uses predictive analysis to determine the risk to the company if it offers the policy to the customer.
Fraud Management
By studying millions of data points and applying pattern recognition, anomaly detection, and predictive algorithms on those data points, intelligent agents can identify potential fraud risks. Reuter Events suggests that "Fraud detection has improved and systems are now robust enough to provide analytics in real-time. Some insurers have gained the ability to scan for fraud before a policy or claim is approved, pushing Big Data from a siloed fraud unit all the way to agents in the field."
Policy Issuance
If there are no deviations or red flags on the information customers provide, the insurance bots can issue the policy. In that sense, you can use them for the end-to-end process from the inquiry to the policy issuance.
The customers get the choice to access the policy anytime through these bots.
Payments
The automated insurance agents can also integrate with payment gateways and banks to seamlessly accept payments. As the banking sector is also undergoing a digital transformation, real-time banking and payment transactions are no longer difficult to achieve. The insurance industry can leverage these capabilities to provide frictionless payment processes for its customers.
Post-Purchase
Customer Queries
With the capabilities to enter into natural conversations with customers, conversational bots can help insurance companies nearly eliminate their support woes. Customers no longer have to wait for answers, and through simplified, natural patterns of conversation, every piece of information they need is easily available to them.
Policy Endorsements
Just as insurance bots can issue a policy, they can also carry out the endorsements (modifications) by analyzing the requested changes and ensuring there are no issues with submitted changes and documents. They can follow the coverage changes as well as updated payment details and cycles.
Policy Renewals
When it is the time to renew the policy, chatbots can proactively follow up with the customers and guide them through the renewal process. From determining the underwriting changes, bots can ensure the customers have the smoothest path possible to renew their policies.
Payments and Refunds
Bots can be used for premium payments and refunds processes as well. Customers can complete their policy payments through a series of guided steps or request refunds.
In case of any issues, the chatbot directs customers to a human agent, who can handle any non-standard queries or actions.
Agent Inquiries
It's not only the customers who benefit from automated insurance bots. Apart from the bot handing over customer queries to the agents, agents can also use the same bot for their questions or respond to the customer queries. They benefit from the conversational style of inquiries and get the answers effectively.
The agents can also transfer the conversation to another agent seamlessly. The intelligent bot can make the new agent aware of any pertinent information from the ongoing conversation, allowing them to progress without asking the same questions to the customer. Compare this with the phone calls, where the new agent will need to ask the same questions repeatedly.
Alerts, reminders, and status updates
Chatbots can share notifications through websites or mobile apps, informing customers of any important information or events. They can send out personalized alerts and reminders, too, so that the customers can take timely actions for their policies, like paying premiums.
READ MORE: Conversational AI in Insurance: A Glimpse of the Future
Insurance Chatbots for Claims Management
How insurance companies manage claims is one of the most crucial parameters of their success. If customers have negative feedback on your claims management and settlement processes, it will hurt your growth. Chatbots can help you strengthen your claims process in an efficient and cost-effective manner by providing smart ways for the customers to file claims.
We have already discussed the use of chatbot in extensive detail in our previous article, How to automate Insurance Claims with Chatbots effectively. It will give you detailed insights into how chatbots in claims processing work.
Ensuring Correct Implementation of Automation in Insurance
As with any transformation, automation for the insurance industry has challenges. If the automated agents and chatbots are not designed and implemented well, they might cause customer dissatisfaction. Here are some guidelines that will help you ensure a successful implementation.
1. Implement automated agents gradually. Start with more straightforward questions and use cases, and then add complexity and intelligence progressively. It is preferable to do a few things better than to try multiple things and fail at all.
2. Ensure that you have tested the bots' performance thoroughly before rolling out to the customers.
3. Make extensive use of chatbot analytics to track how your automated agents behave. Tracking the bot performance will give you great insights into customer behavior, which can further improve your services.
4. Implement feedback loops right in the conversational interface. While talking to customers, the bot can ask how satisfied they are with the interaction. The answers can help you determine how you can make the process more streamlined. The input will add one more dimension to the other analytics you are already tracking.
To Sum Up
The experience of using automation in insurance has been positive for the insurance industry. According to a survey by SnatchBot, over 80% of customers found the bot experience satisfactory. Overall, conversational interfaces and text-based communication are becoming the preferred mode of exchange, and the insurance sector needs to follow the trend.
Experts predict that more than 80% of insurance underwriting will undergo automation. Despite these trends, less than half of the insurance industry is using automated agents. For those who start using them soon, there will be a considerable competitive advantage.
Want to develop an Intelligent Virtual Assistant solution for your brand?