My Journey From B2B to B2C & Building A "Business"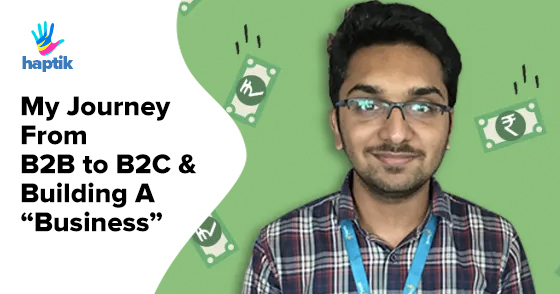 In May 2015, when I walked into the Haptik office for an Interview, one of the first questions asked to me was, "Do you think you'll be able to make the move from B2B to B2C?"

I was naive, you can say and without much thought I said, "With mobile and apps I see B2C growing exponentially in the coming months and I will do whatever it takes to make the switch".

Regardless, I did get the job and in my second week I was responsible for rolling out SOPs (Standard Operating Procedures) for a Push Notification that was supposed to be going to millions. Within seconds of the first batch being rolled out, our 100+ assistants were bombarded with various questions and complex queries. Obviously, the SOPs had failed to cover all bases and this episode hit me in my face. That's when I realized what the interview question really meant, and it kept me awake the entire night.

In June 2015, is when I made my switch from B2B to B2C. I went from pitching to clients face-to-face; to pitching to an entire user base at a click of a button. Being an early member of the core team I was juggling between Operations and Partnership whilst trying to learn and do a good job at both.

In a couple of weeks Swati joined and took over the Ops processes leaving me to focus on what I was best at – Bringing paisa for the company 🙂

But it wasn't like before.

This Dhanda was different. I had to make calls to top managements of the best startups/companies, write long emails and keep following up with them every day. In a months time we had on-boarded dozens of paying partners and the management was loving it. The first 8 months at Haptik were all about this for me and with new partners getting on-boarded every month, our payouts were increasing almost 100% MoM (Month on Month). By this time I had proved my mettle and was taking up newer responsibilities in Marketing and Operations time and again.

But my biggest responsibility came when we had to integrate 'Recharges' into the App and set up a Payment Gateway.
For this to happen, I had to understand payments, failures, refunds, different bank process for card payment/net banking, recharge statuses and soon I realized, it wasn't only for me to understand. I had to make sure everyone across the company understood these processes and spoke the same language.

This also brought in the complete reconciliation of all the money inflow/outflow.
We grew 500% in a month and I suddenly become the accounts guy (albeit briefly) for the company with 15 – 20 sheets to be tallied every month.

Surely enough, I took it up as a challenge and gave it my best shot!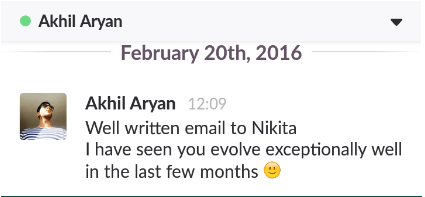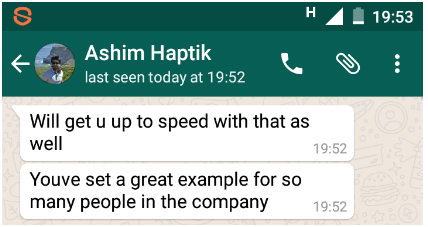 Over the months at Haptik, we have moved from being an information-based company to a transactions based "Conversational Commerce" company. The move required collective effort from all the verticals – Product, Marketing, Ops, Partnerships and I'm happy to report, the change we made and the effort we took has been fruitful and has sent us spiraling in the right direction!

Now we have the best team (aka warriors, ninjas, tribe – whatever you want to call it) taking care of each vertical with user experience and company's growing transaction numbers being everyone's prime focus. We are more stable than we ever were and are readying ourselves for the exponential growth planned in the coming months.

As of today, I focus on transactions and campaigns under a bunch of categories, treating each category almost like a separate business.
What has kept me going and motivated in this company for the last 15 months, you ask?
1. The amount of learning you take back each day, week, month – MASSIVE!


2. You can easily walk up to the management and ask for more responsibilities


3. You are not judged for your bad day


And I believe what the company has loved in me in all these months is the ownership I take for all my projects; and hence jocularly I am also called the 'Founder of Partnerships at Haptik' 🙂