Bots-Up Mumbai Roundup: Highlights from India's largest chatbot meetup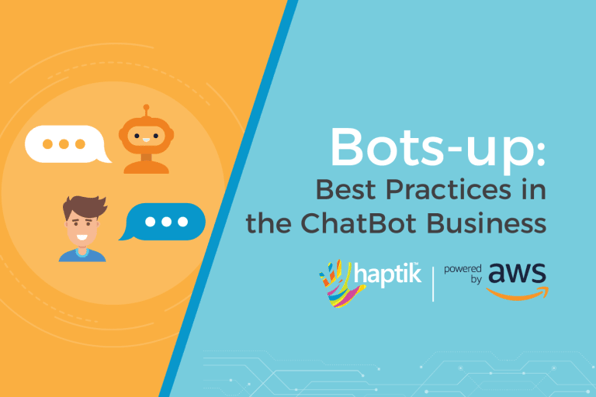 The day we were all waiting for finally arrived. It was an eventful Thursday evening, and Haptik HQ was bustling with industry specialists from multiple sectors. Haptik, one of the world's largest chatbot platforms, hosted the 1st ever Bots-Up– a series of meetups focusing on what, how and why of chatbots, on 23rd November, and what an event it turned out to be!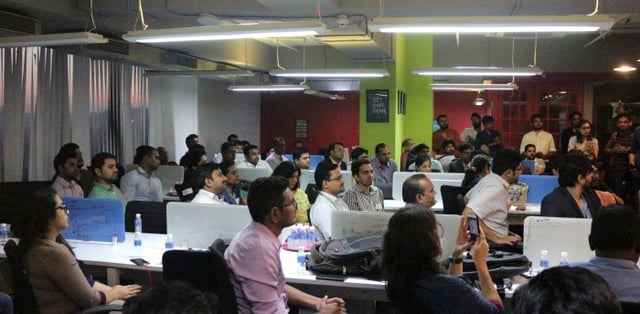 As chatbots are fairly new to the world, Bots-Up was majorly an initiative to evangelize the audience about the concept of chatbots and bring major business players and enthusiasts under one roof. And with a little good fortune, we were able to meet and greet professionals from industries such as BFSI, Retail, Media, and many others.
The evening began with a keynote session by Aakrit Vaish, Co-founder & CEO of Haptik, giving the audience a lowdown on changing behavior of users in the technology industry and how chatbots are the 'next big thing' in this space. He began his talk with the journey of a user in the tech ecosystem, followed by the evolution of chatbots, and how chatbots have an opportunity in almost every industry. (P.S.- his favorite quote- "Chatbots are everywhere!").
Deep diving into the details of what goes into building a great chatbot that solves everyday human problems, he shed light on Haptik's amazing journey, the ways in which we address chatbot related issues, and how Haptik has scaled to become one of the world's leading chatbot platforms. Aakrit also answered some interesting questions which revolved around the concept and the direction in which the industry is headed.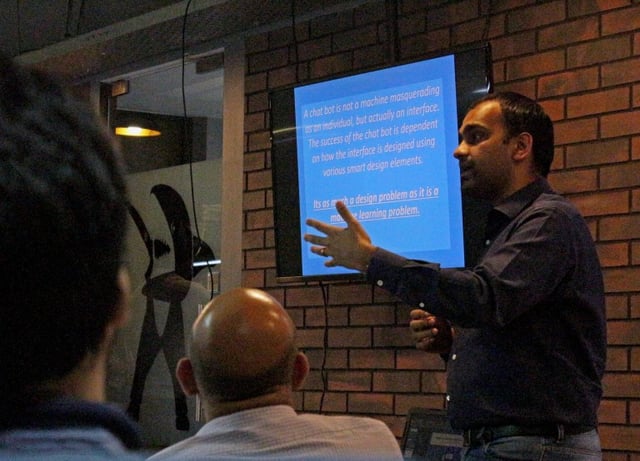 The highlight of the meetup was an informative and interactive panel discussion on the chatbot ecosystem. Many business leaders graced the discussion with their thoughts, including-
Ashish Singhal: Head- Internet Banking, ICICI Bank
Adit Jain: Co-founder & CEO, ChatterOn
Anand Krishnan: Business Head- Digital Marketing, Lodestar
Apurva Mudgal: VP- Product, Haptik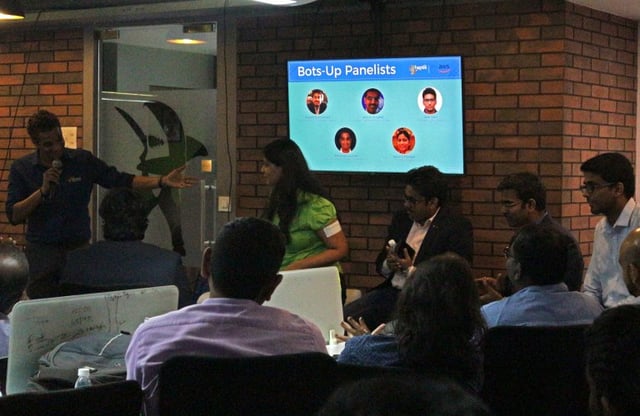 The panel was moderated by Mr. Sandeep Laxman, Startup Evangelist at Amazon Internet Services. Well, his light-hearted demeanor and signature style made the talk interesting and his quiz on Amazon products made the audience compete for some surprise gifts. He brought up quite a few engaging topics for the panel to discuss and share their perspectives on.
One of them, in particular, was about the future of chatbots and whether their optimal usage shall replace humans in the business world. It was interesting to witness the panel shed light on this, majorly highlighting how in the long run technology always creates more jobs instead of poaching them.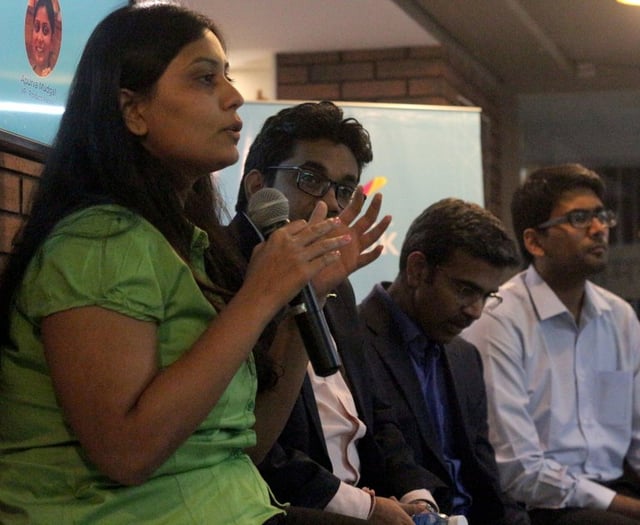 The panel also discussed what elements go into building a successful chatbot. One needs a platform, like a smartphone, which most of us have already adopted, tech layers such as an NLP (Natural Learning Process) layer, and the skill to design like you would for a web browser.
Post the discussion, the meetup transformed into a networking forum where professionals from different industries mingled to have one-on-one discussions with other like-minded chatbot aficionados, over some food and drinks.
Overall, the meetup answered some of the biggest questions about chatbots and artificial intelligence and what's in store for everyone in the upcoming years.
We look forward to hosting more of these meetups in various locations across the country. Till then, write to us hello@haptik.ai and let us know 'Bots-Up'! 🙂