Advantages of Click-to-WhatsApp Ads for Businesses & Marketers
WhatsApp ads on Facebook/Instagram (News Feed, Stories) support business objectives for lead generation, sales, and marketing.
Cross-Channel Promotion
Leverage Facebook's Click-to-WhatsApp to merge audiences of Instagram & Facebook and generate more leads. Target custom audiences with Facebook's ad manager and initiate conversations for increased outreach.
Direct-to-Customer Sales
WhatsApp streamlines product discovery through conversational commerce. It enables companies to shorten their sales cycle by showcasing products in a catalog, making it easier for leads to purchase through conversation.
Amplified Conversion Rates
Employing a Click-to-WhatsApp ad strategy aligned with the chosen Facebook ad objective can potentially increase conversion rates, fostering stronger connections & growth opportunities for small businesses.
Reduced Advertising Cost
The Click-to-WhatsApp feature offers a cost-effective way for businesses to connect with their customers directly. Marketers and advertisers only have to pay for relevant clicks and engagements, reducing the overall advertising costs.
WhatsApp broadcasts and promotions generate a 99% open rate due to its regular use, making it an effective communication tool for businesses.
How to Set Up Click-to-WhatsApp Ads for Effective Marketing
Click-to-WhatsApp ad lets businesses maximize customer engagement by advertising throughout the user's digital journey. Generate awareness, drive consideration to sales consultation, instant product purchase, offer exceptional care, and promote loyalty with special deals.
Step 1: Create & Set Up WhatsApp Business Account
To initiate WhatsApp ad campaigns, businesses are advised to create a WhatsApp Business account through a reputable WhatsApp Business API provider such as Haptik.
The business account should contain comprehensive information about the business, including a profile picture (logo), business name, physical address, website URL, catalog, and other relevant details. Optimize the profile with the appropriate business category and unlock numerous messaging capabilities and features. Once completing the account setup, businesses are ready for the next step in their advertising efforts.
Step 2: Link WhatsApp Business Account with Facebook Ads Manager
The next essential step is to connect the WhatsApp Business account to the company's official Facebook account, which will automatically link it to the Instagram account, provided it is already connected to the Facebook page. This mandatory process can be easily completed from the company's business page's settings.
Click 'Settings' on the Facebook business page
Select the WhatsApp option from the left-hand side menu
Enter country code & WhatsApp number
Click on 'Send Code'
Verify the OTP and connect your WhatsApp Business account to your Facebook page successfully.


Once completed, businesses can create click-to-WhatsApp ads for your business.
Step 3: Create Click-to-WhatsApp Ads
Prior to launching a Click-to-WhatsApp ad campaign, it is imperative to establish the business goals to ensure optimal impact. Facebook limits WhatsApp campaigns to three objective categories: awareness, consideration, and conversion. Ideal objectives for building brand awareness are reach, engagement, and lead generation. Opt for catalog sales or store traffic for better conversion.
Set the daily or lifetime budget based on the campaign budget and select WhatsApp as the platform in the Ad Set Section. Choosing the appropriate audience type (saved, custom, or lookalike) according to your campaign's objective will increase your chances of success. Create persuasive headlines and CTAs with short, compelling body text, select the appropriate multimedia format, and publish to launch your campaign.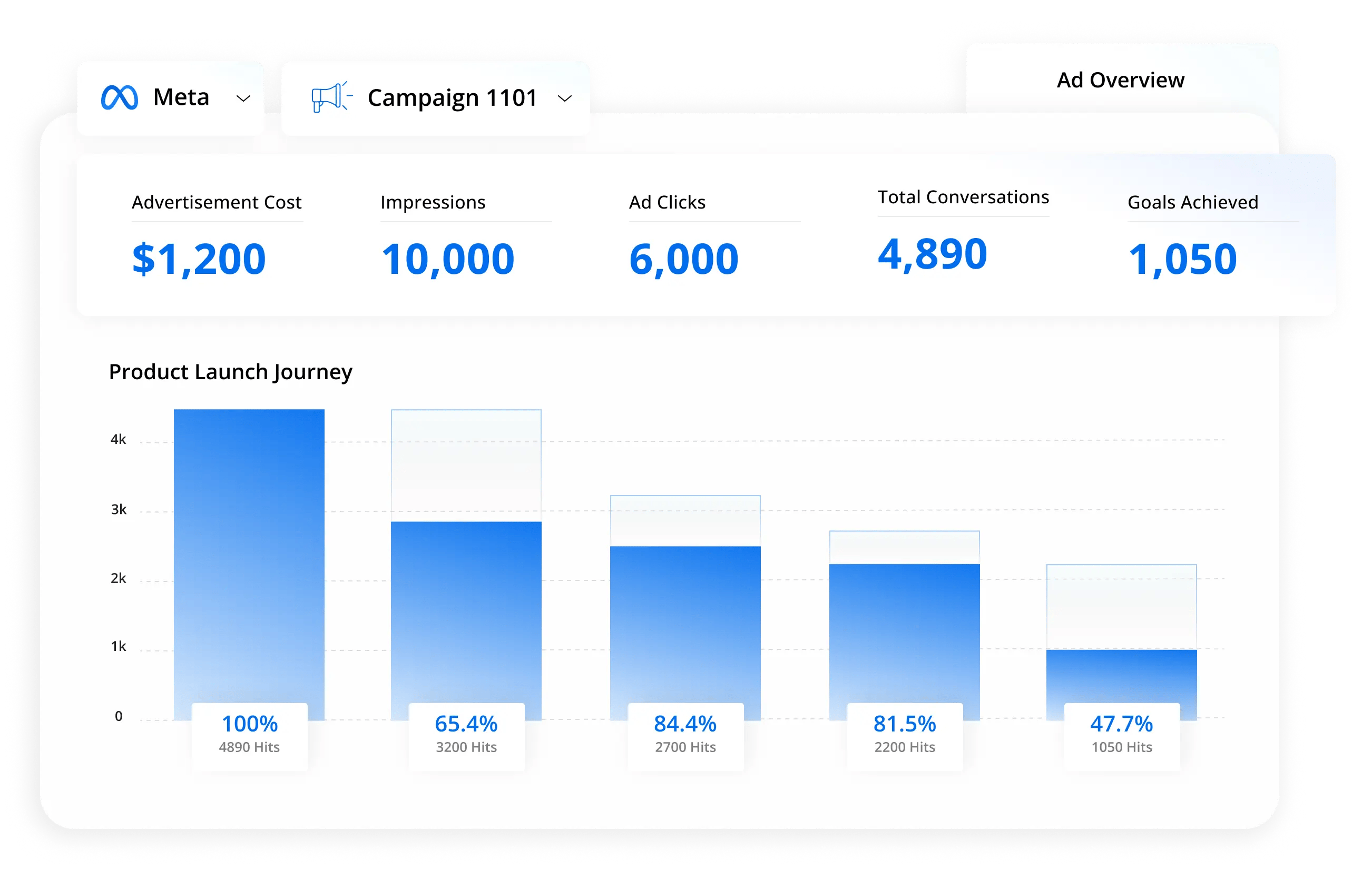 Reckon the Success of Click-to-WhatsApp Ads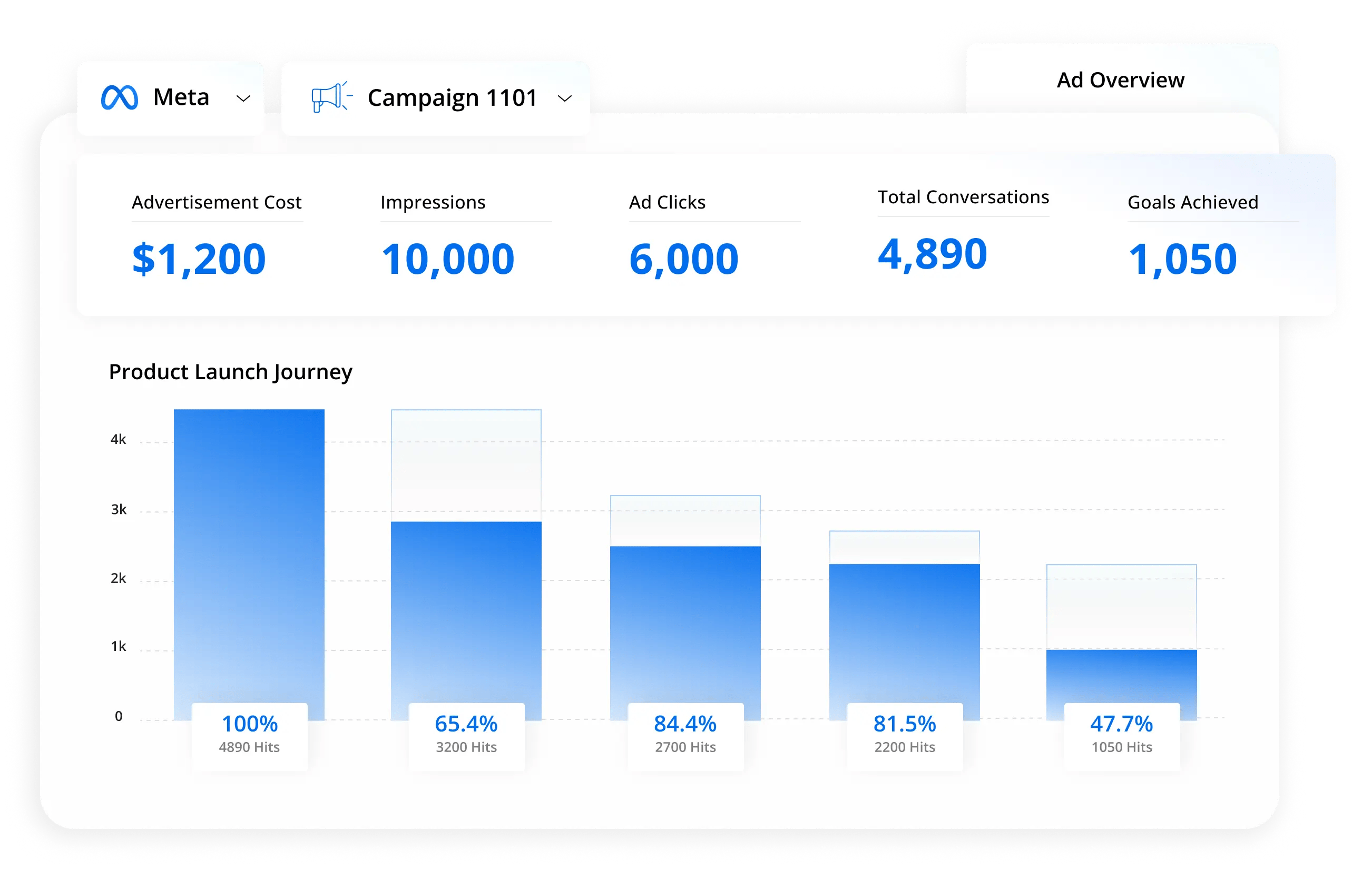 Track metrics such as conversion rate, retention rate, message open & response rate, customer acquisition rate, return on ad spend (ROAS), and more.

They should also analyze the conversations on WhatsApp after users click the ad to determine the campaign's effectiveness.

Leveraging Facebook Analytics or WhatsApp Business API can provide valuable insights into the campaign's performance.
Click-to-WhatsApp Ads redirect users to a business's WhatsApp chat medium upon clicking the ad, enabling direct conversation. The high volume of incoming chats necessitates the use of automation to efficiently respond to all queries. In this context, Haptik IVAs can prove to be useful. Click-to-WhatsApp ads serve as a means of acquiring new customers, making it crucial for businesses to leverage technology for effective customer engagement. Let's see how it works.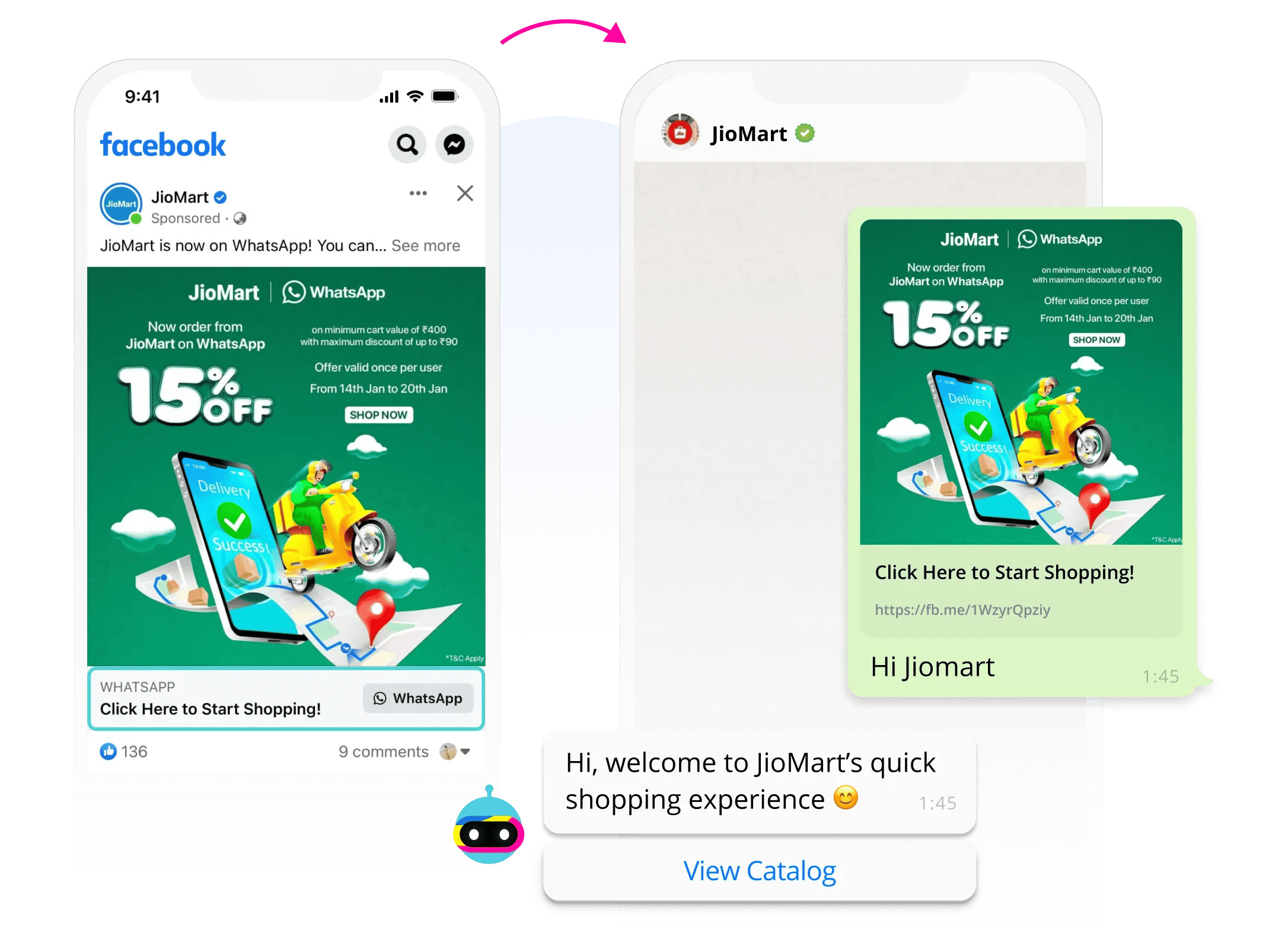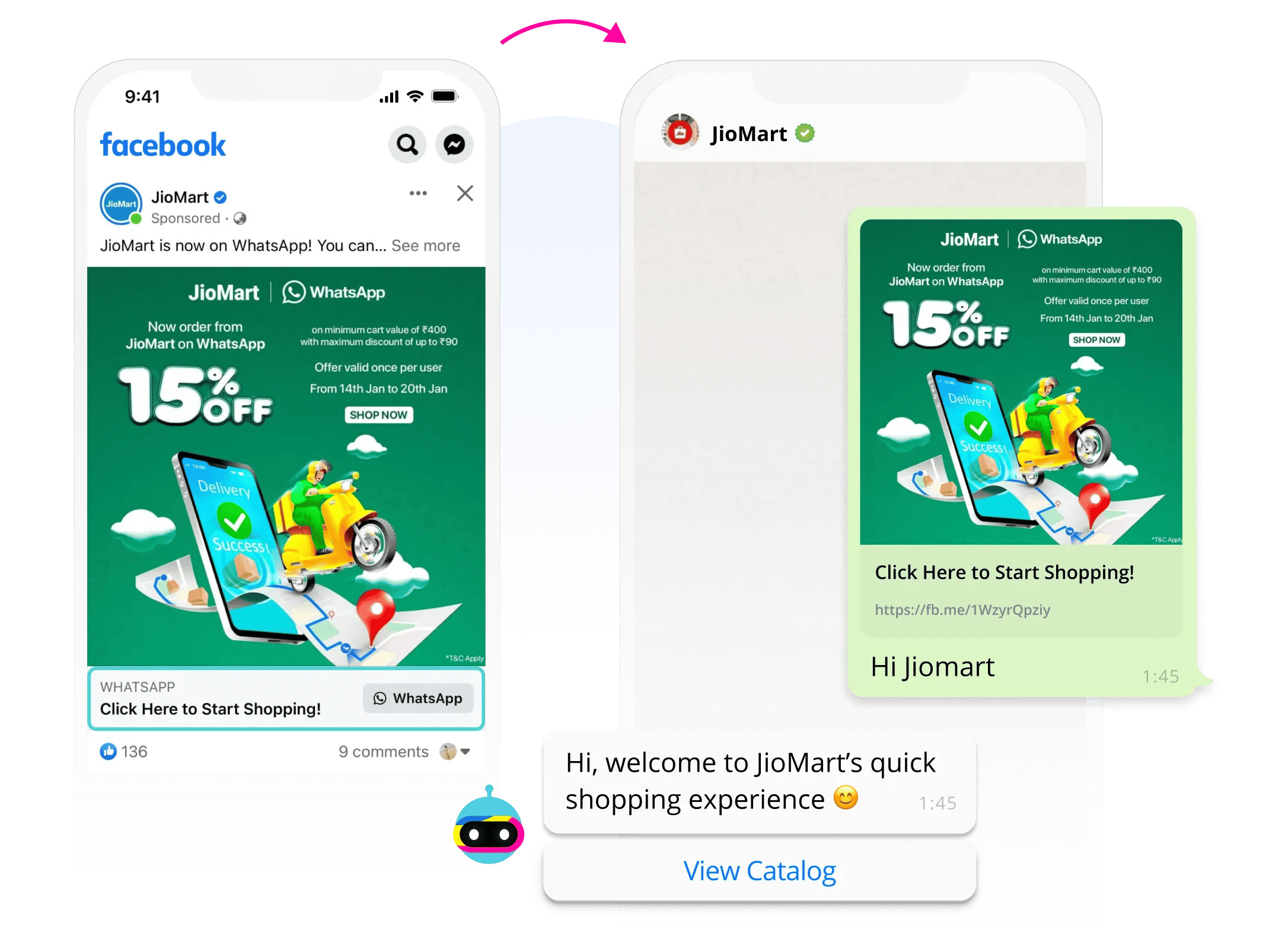 Firstly, businesses create Instagram or Facebook ads featuring a 'Click-to-WhatsApp' call-to-action button. These ads appear in the user's feed.

Secondly, clicking the CTA button redirects the users to WhatsApp, to initiate the conversation with the business.

Finally, users can shop, receive product information, make inquiries, and complete transactions- all within the messaging app.
Summary
Click-to-WhatsApp Ads provide businesses with a powerful means to connect with their target audience on a platform where they are already active, enabling a seamless and personalized user experience. By analyzing WhatsApp conversations initiated through the ads, businesses can provide tailored responses to potential customers right from the start of their conversational journey, thus improving ad conversions and addressing immediate user queries. Market data suggests that conversational advertising typically generates 2 to 10 times better ROAS than traditional advertising, making Click-to-WhatsApp Ads a valuable tool for businesses seeking to optimize their marketing strategies.