How a Leading Insurance Company Improved Efficiency & CX
Overview
Zurich Insurance Group is one of the largest and most experienced insurers in the world. It has been entrusted by its customers for 30 years to secure their futures and offer financial security to their families and businesses. Being a leading insurance brand with a large customer base, the company received enormous volumes of queries and service requests. Zurich partnered with Haptik to build a conversational solution to help boost efficiency.
70%
Queries Resolved End-to-End
10%
Website Visitors Engaged
Because customers often contact us with the same kind of requests, we have been able to achieve greater business efficiency by driving a number of these queries to Zuri.
Challenge at Hand
Catering to customers' insurance needs and do so effectively, is vital for insurance companies as people often reach out to insurance providers after an accident, illness or a natural calamity. Zurich sought to be able to serve its customers in their moment of need, in addition to addressing several other key business challenges.
To ensure 24/7 availability of customer care to attend to queries during and outside business hours.
To instantly resolve customer queries while providing relevant information and guidance.
Make support seamless and easily accessible to customers, which can boost customer satisfaction.
How Haptik Offered a Solution
Zuri the chatbot, an Intelligent Virtual Assistant, was built by Haptik to address Zurich's core challenges and improve its business efficiency.
Zurich allow its customers to instantly manage existing policies.
Enable faster query resolution by guiding customers step-by-step.
Seamlessly route queries to human experts.
Swiftly handle routine tasks such as modifying personal details, making claims & withdrawal requests, callback requests, etc.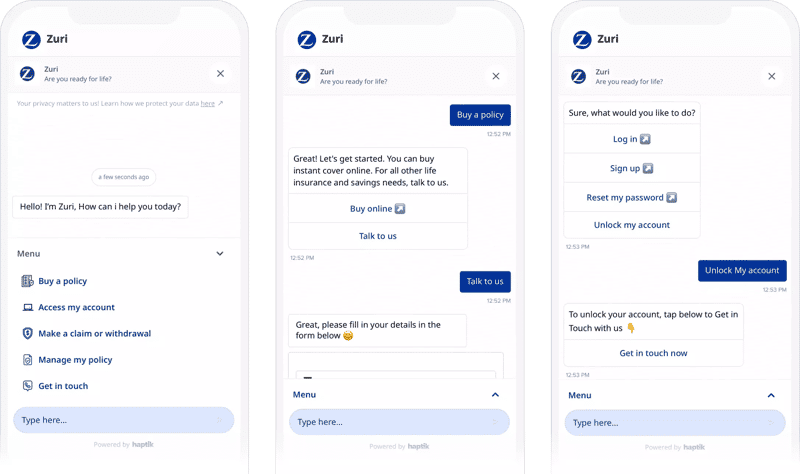 USE-CASE
Lead Generation, Customer Care
Zuri has helped us to offer 24×7 support to complement our HelpPoint timings and ensure we are there when our customers need us the most. Zuri will become an even more important member of our team as we extend the channels and use cases that she is able to handle.
Results
The conversational solution built by Haptik, Zuri, helped Zurich drive several of its key business use cases and achieve quantifiable business impact. It allowed Zurich to achieve 84% automation, improve its query resolution by upto 70% and improve its engagement with website visitors by 10%.