TRANSACT: Driving Sales Through eCommerce Chatbots
As we've discussed, E-Commerce chatbots bring the experience of interacting with a helpful and knowledgeable sales clerk to the digital world. The E-Commerce chatbot can interact with customers, understand their requirements based on the conversation, and offer relevant product recommendations.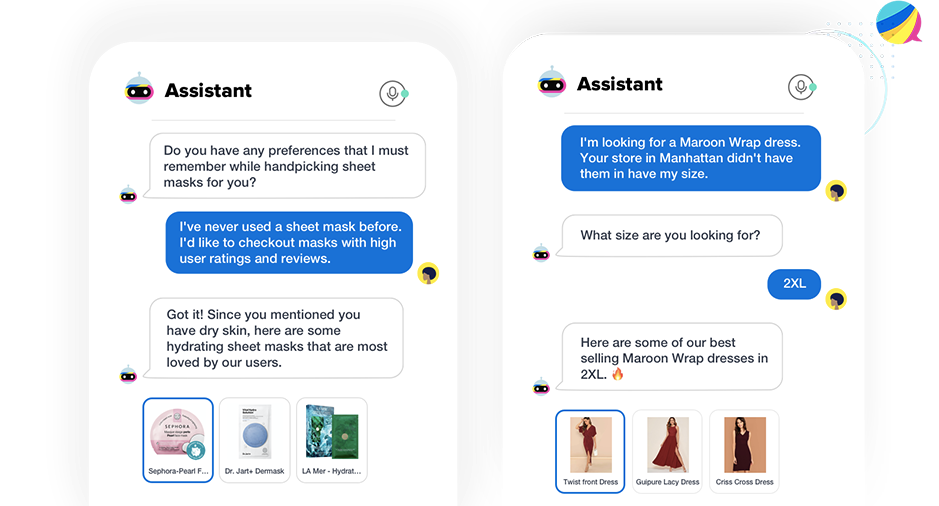 Much like a tenacious human sales assistant, the chatbot answers the customer's queries regarding a purchase they are considering. It answers FAQs and follow-up questions, pulls up user reviews, and does whatever it takes to nudge the customer towards making a purchase. E-Commerce chatbots can also upsell and cross-sell relevant
READ MORE: 3 Ways Facebook Messenger Helps E-Commerce Businesses
A major issue faced by most E-Commerce brands is cart abandonment. Cart abandonment rates are, on average, as high as 70%! By sending reminders, offering incentives, or simply engaging customers in conversation, E-Commerce chatbots can convince customers to return to their carts and complete their purchases, reducing cart abandonment by 20-30% – which translates to a significant boost in sales.
READ MORE: How Conversational AI Can Help E-Commerce Brands Prevent Cart Abandonment
Finally, the chatbot can complete the transaction by either directing the customer to a third-party payment gateway, or completing the transaction as part of the conversational flow itself.
The personalized service, coupled with the ease of navigation, selection and transaction, offered by E-Commerce chatbots significantly enhances customer experience, and in turn contributes to a positive perception of the online retailer as a digitally-savvy customer-first brand.
The effectiveness of E-Commerce chatbots as a sales enablement platform can scarcely be overstated, with Juniper estimating that by 2023, chatbots will drive $112 billion in online retail transactions!