What is an eCommerce Chatbot?
An eCommerce chatbot is an AI-powered technology that is implemented by online retailers to engage customers at every stage of their buying journey.
eCommerce Chatbots are the perfect tool to facilitate 'conversational commerce' i.e. the leveraging of conversational interfaces (online messaging, chatbots, voice assistants, etc.) to deliver an enhanced shopping experience to customers.
Conversational Commerce combines the ease and efficiency of eCommerce portals with the personalized assistance that customers would receive in a brick-and-mortar store.
Business leaders say that the use of chatbots helps increase sales by 67% on average. Not to mention, GPT-powered chatbots can help retailers offer a more human-like conversational experience for their customers, leading to higher customer satisfaction, brand loyalty and better business outcomes. (Source: Forbes)
Turn Browsers into Buyers with eCommerce Bots
eCommerce bots serve as a powerful lead generation tool for online retailers. Using intelligent prompts, passive visitors are engaged on a retailer's website, app, or other digital touchpoints, converting them into engaged prospects.
Most customers look for deals and bargains when they shop online. An eCommerce chatbot can immediately alert a prospective customer to any discounts or promotional offers, and either offer them the discount codes or coupons or redirect them to the relevant parts of the portal.
READ MORE: 3 Ways Conversational AI Can Drive eCommerce Sales
Leveraging the power of Natural Language Understanding (NLU), the eCommerce chatbot can engage prospects in conversations, understand their requirements, and guide them towards the products they want or make personalized product recommendations. This further boosts the eCommerce platform's customer acquisition efforts.
Transact: Driving Sales Through an eCommerce Bot
An eCommerce bot brings the experience of interacting with a helpful and knowledgeable sales assistant to the digital world. The eCommerce chatbot can interact with customers, understand their requirements based on the conversation, and offer relevant product recommendations.
Much like a tenacious human sales assistant, the chatbot answers the customer's queries regarding a purchase they are considering. It answers FAQs and follow-up questions, pulls up user reviews, and does whatever it takes to nudge the customer towards making a purchase. eCommerce chatbots can also upsell and cross-sell relevant products.
READ: All You Need to Know About Shopping Bot
A major issue faced by most eCommerce brands is cart abandonment. Cart abandonment rates are, on average, as high as 70%! By sending reminders, offering incentives, or simply engaging customers in conversation, eCommerce chatbots can convince customers to return to their carts and complete their purchases, reducing cart abandonment by 20-30% – which translates to a significant boost in sales.
Finally, the chatbot can complete the transaction by either directing the customer to a third-party payment gateway or completing the transaction as part of the conversational flow itself.

The personalized service, coupled with the ease of navigation, selection and transaction, offered by eCommerce chatbots significantly enhances customer experience, and in turn contributes to a positive perception of the online retailer as a digitally-savvy customer-first brand.

The effectiveness of eCommerce chatbots as a sales enablement platform can scarcely be overstated, with Juniper estimating that by 2023, chatbots will drive $112 billion in online retail transactions!
Serve: Offering Post-sales Support With eCommerce Chatbots
Timely and effective post-sales customer service is a key factor in building a long-term relationship with a customer and driving repeat purchases. And eCommerce chatbots are a great asset to online retailers in this regard.
A major source of customer frustration is how long it takes to get hold of a customer care representative, over traditional support channels such as phone and email. eCommerce chatbots solve this problem of long wait times. They are not bound by 'office hours' and are available 24/7 to resolve customer queries and issues.
80% or more of inbound queries that eCommerce brands receive are routine queries around order tracking, refunds & cancellations, payment issues etc. eCommerce chatbots can swiftly and seamlessly resolve these queries end-to-end.
READ MORE: How AI Chatbots Transform CX
With the bulk of their query resolution being automated, eCommerce brands can benefit from a massive reduction in their operational costs, as they do not need to maintain a large customer support staff (and incur the high recruitment, training and retention costs associated with that). AI automation also makes it easier to swiftly scale up customer care.

Through integration with a Live Chat system, eCommerce chatbots facilitate an AI + human hybrid approach to customer care – with the chatbot handling routine queries and FAQs, while complex customer issues are escalated to a human agent for detailed attention. This approach enhances the productivity and efficiency of human agents as well, allowing them to focus their attention on solving problems that require their dedicated attention.

Chat has increasingly become the customer's preferred medium for seeking support from brands, as it combines the real-time, synchronous nature of calls, the seamless trackability of emails, and the depth and breadth available on an FAQ page. This makes it all the more crucial for online retailers to leverage eCommerce chatbots to better serve their customers.
Haptik's Conversational Commerce Platform
Haptik's conversational commerce platform has transformed customer experience and delivered ROI for a number of eCommerce brands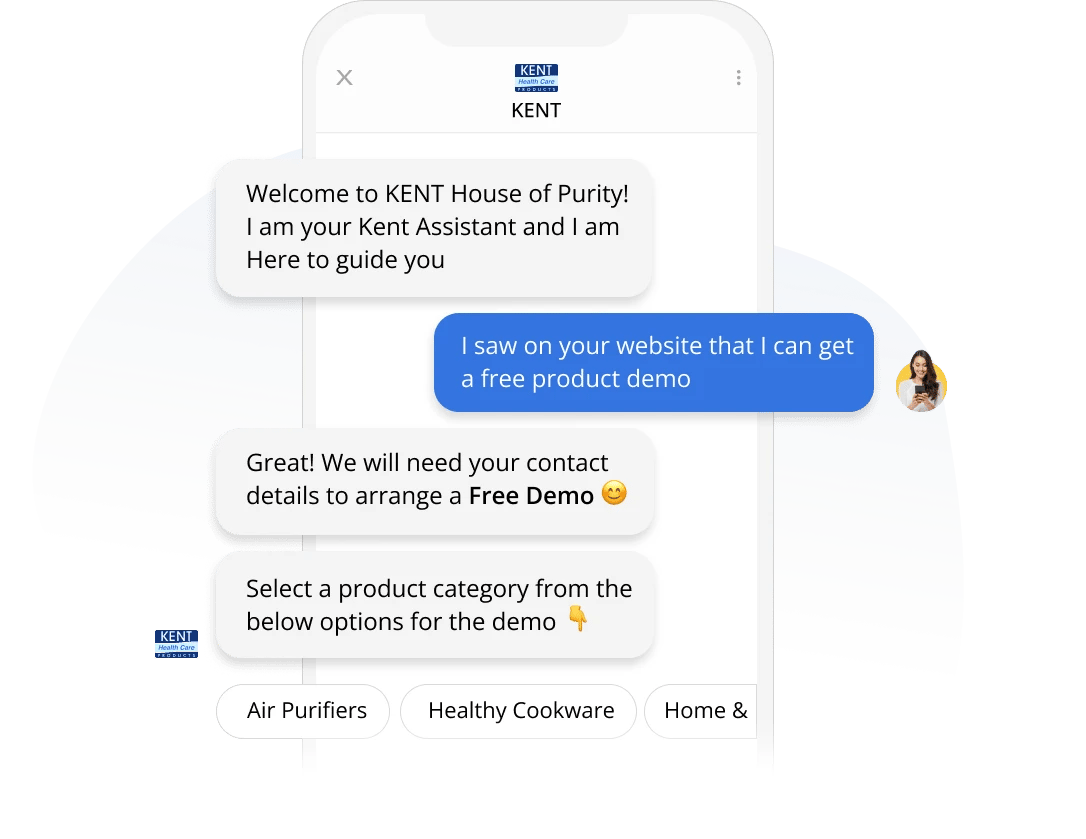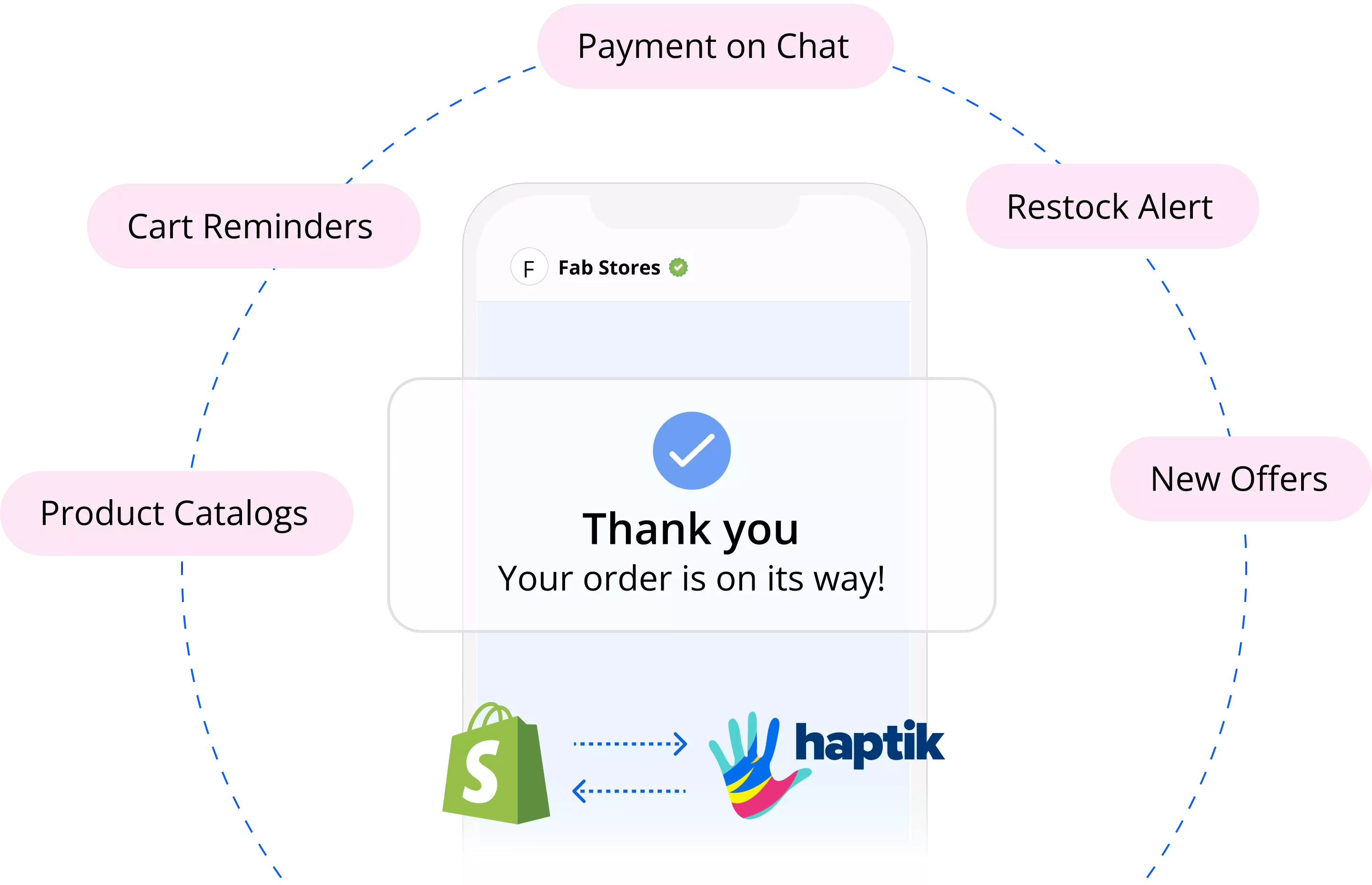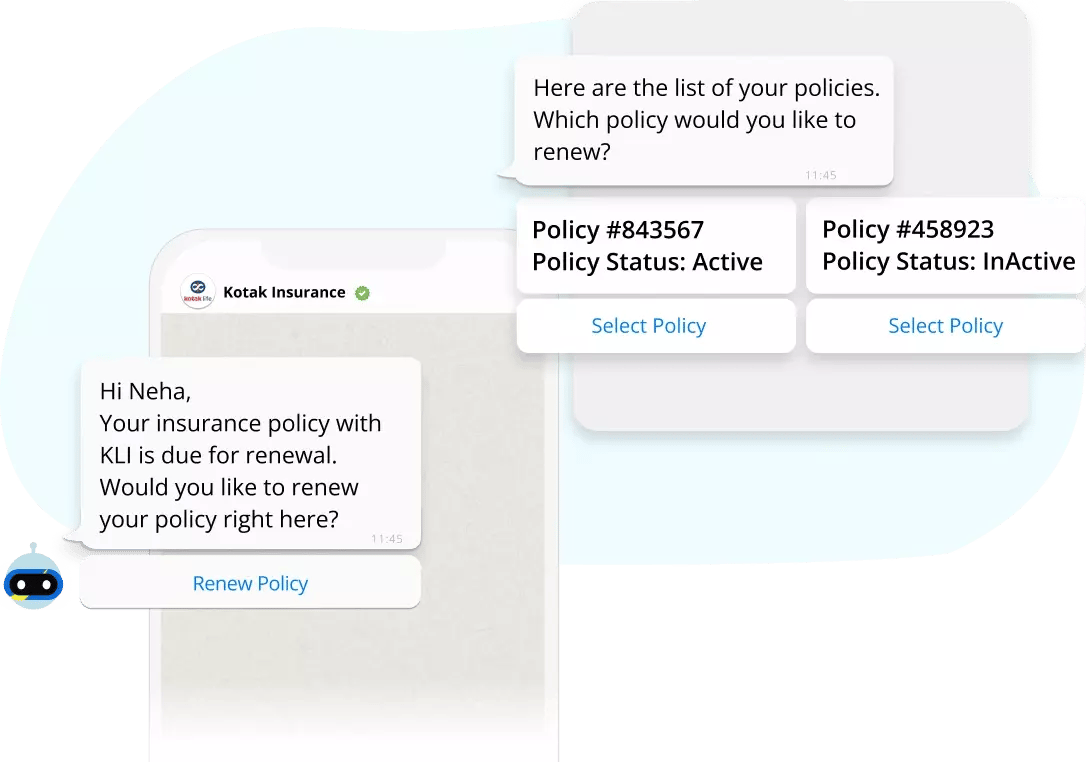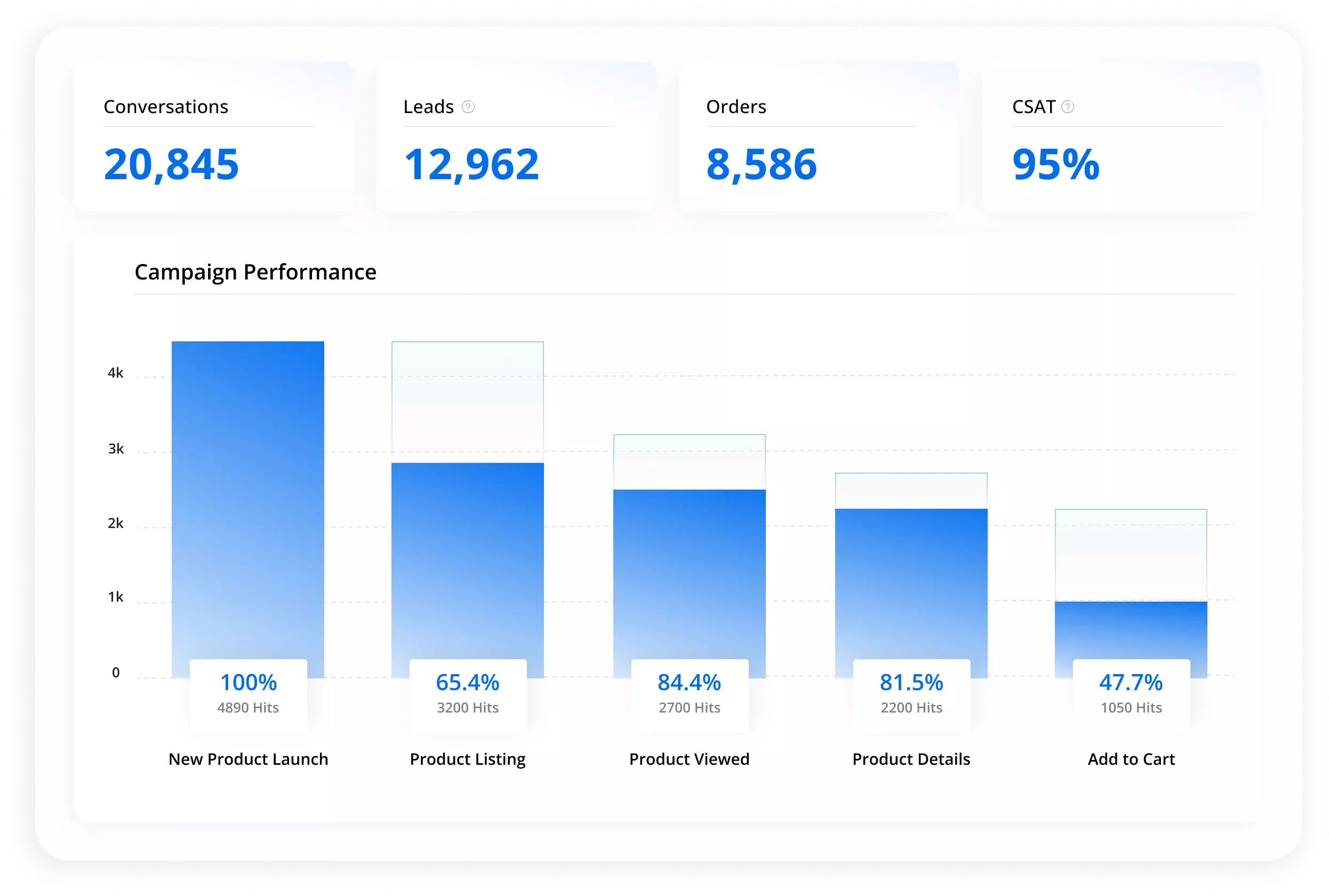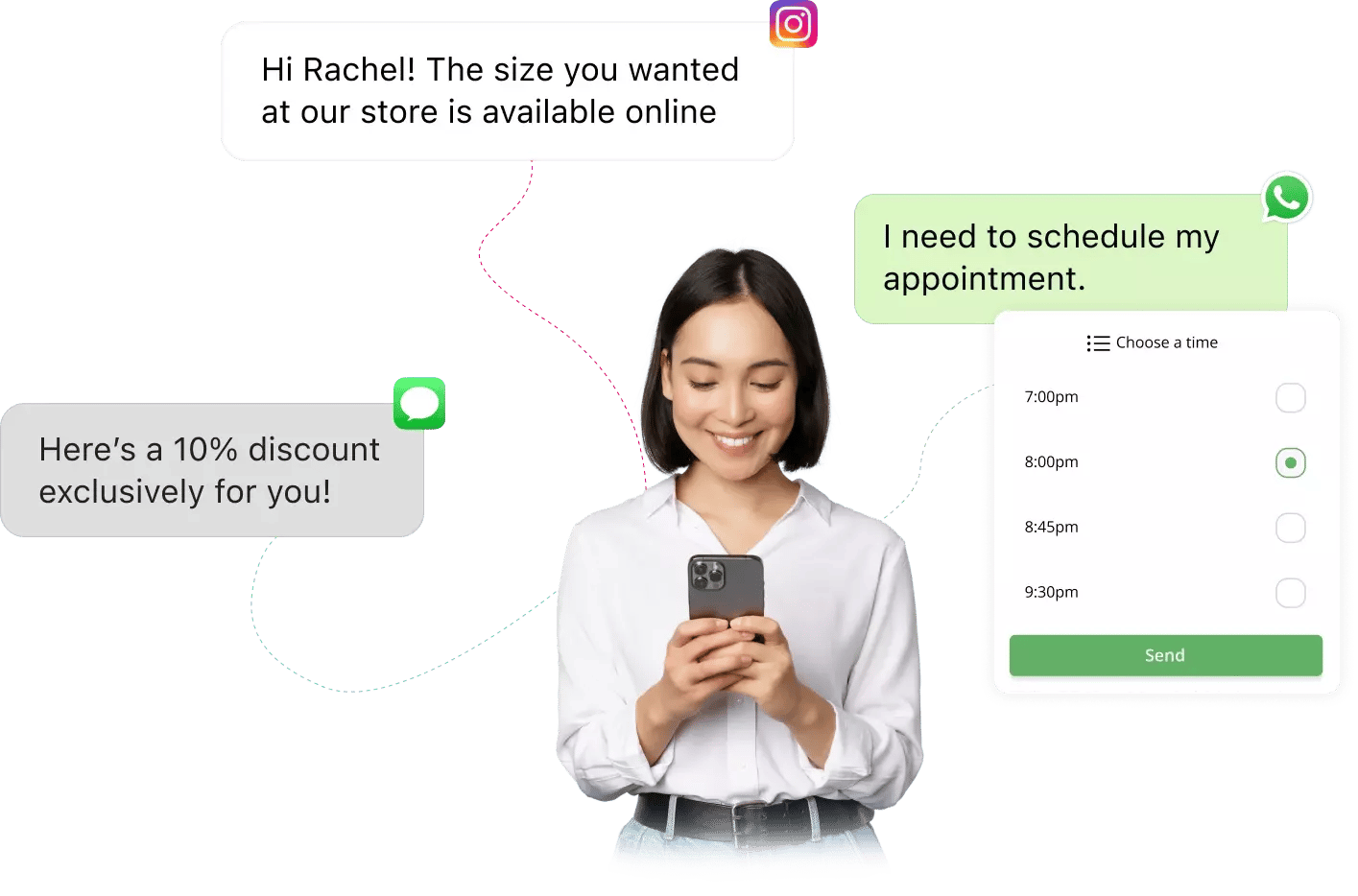 Omnichannel Commerce Chatbot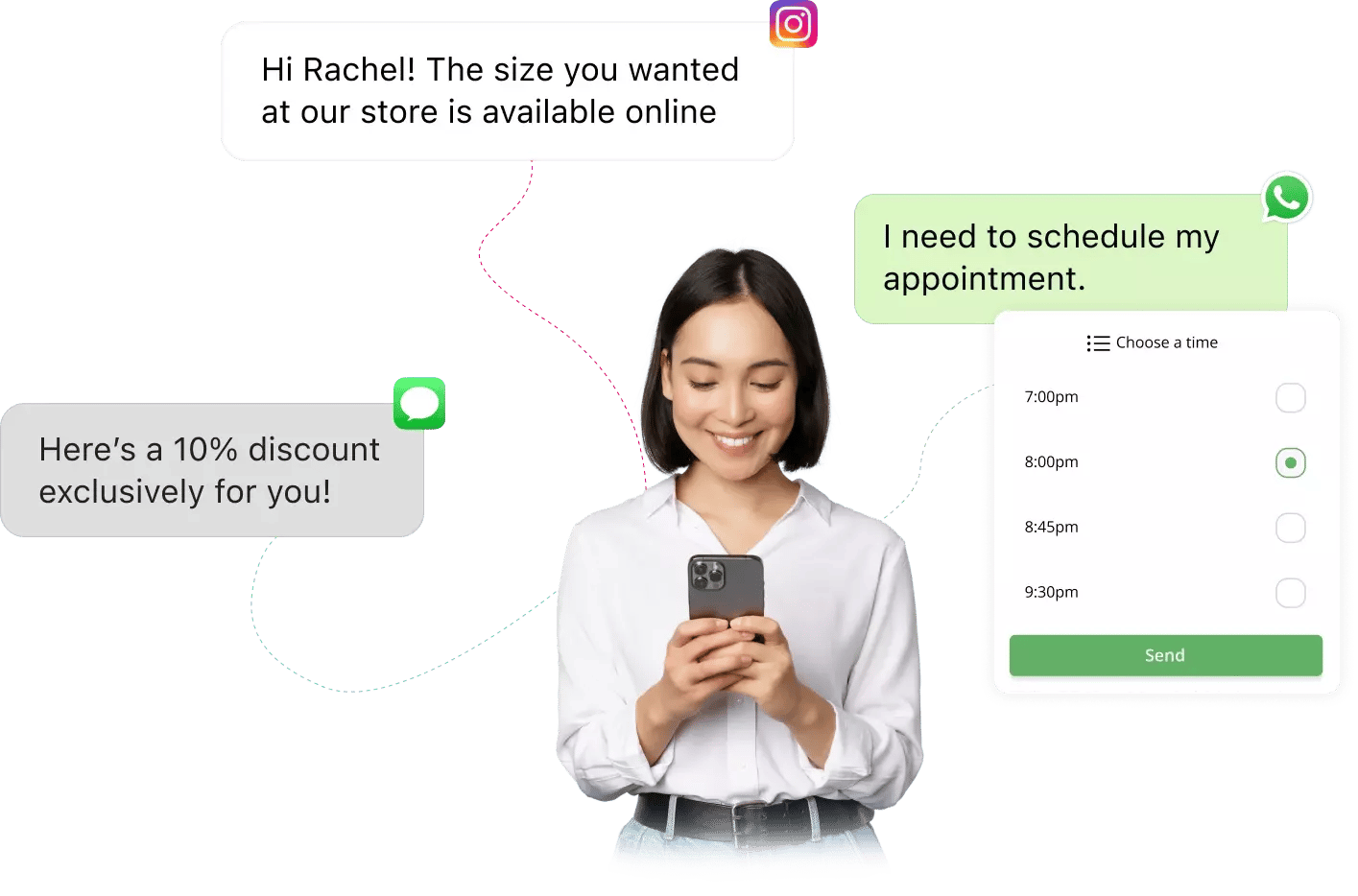 With customers being more connected on messaging apps now than ever before, they expect businesses to meet them where they are.

Omnichannel eCommerce chatbots help brands deliver a consistent and integrated experience to customers. That is, customers could start a conversation on one channel and continue the same conversation on a different channel.

Brands can also adopt this approach to offer convenience and flexibility to their customers, which drive brand loyalty and repeat business. It also allows brands to boost the average order value (AOV), which translates to higher revenue.
Read More About Omnichannel Messaging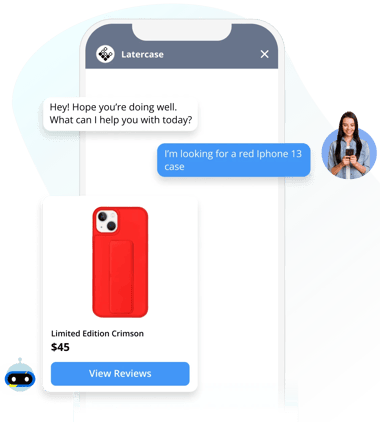 Latercase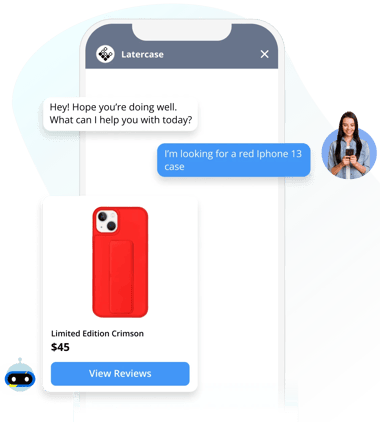 A leading provider of ultra-thin phone covers worldwide, Latercase sought to provide a first-rate commerce experience by leveraging the convenience of on-site conversational messaging. It partnered with Haptik and Zendesk Sunshine to build a truly self-service AI commerce assistant on its website.

Haptik designed a bot capable of offering an end-to-end eCommerce experience from product discovery to purchase and post-purchase support.

Latercase improved its add-to-cart rate by 20% while the cart-to-checkout conversion rose by 70%! Haptik provided the perfect one-stop solution that caters to Latercase's new and existing customers.
Read the Latercase Case Study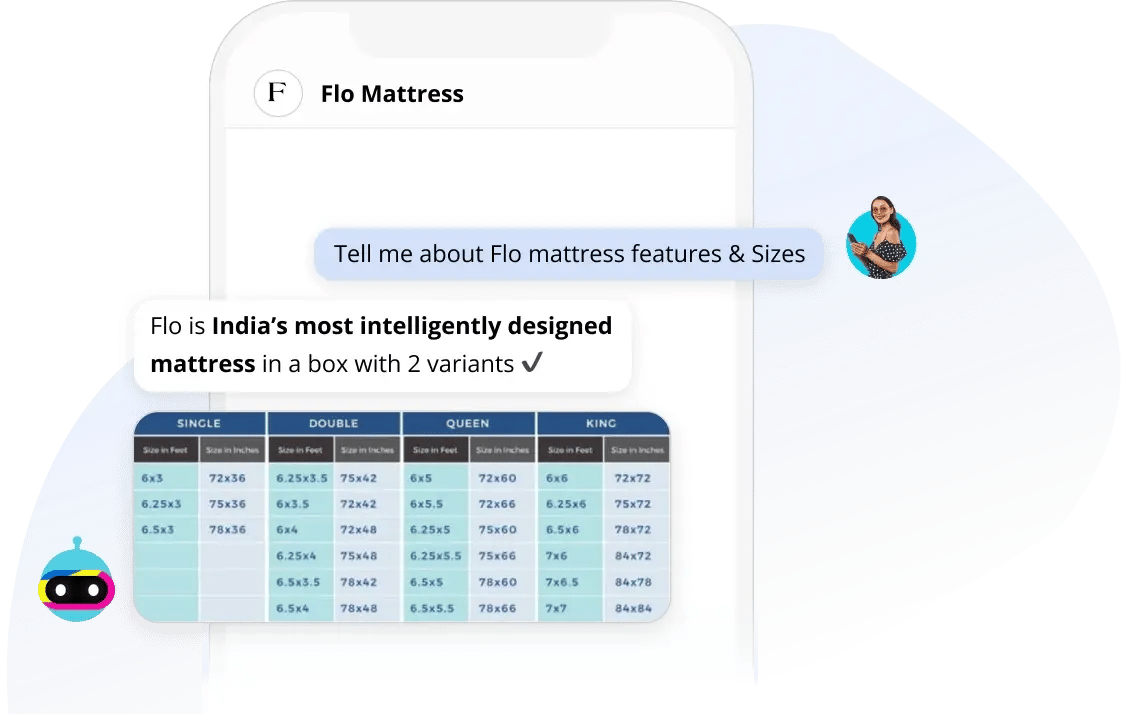 Flo Mattress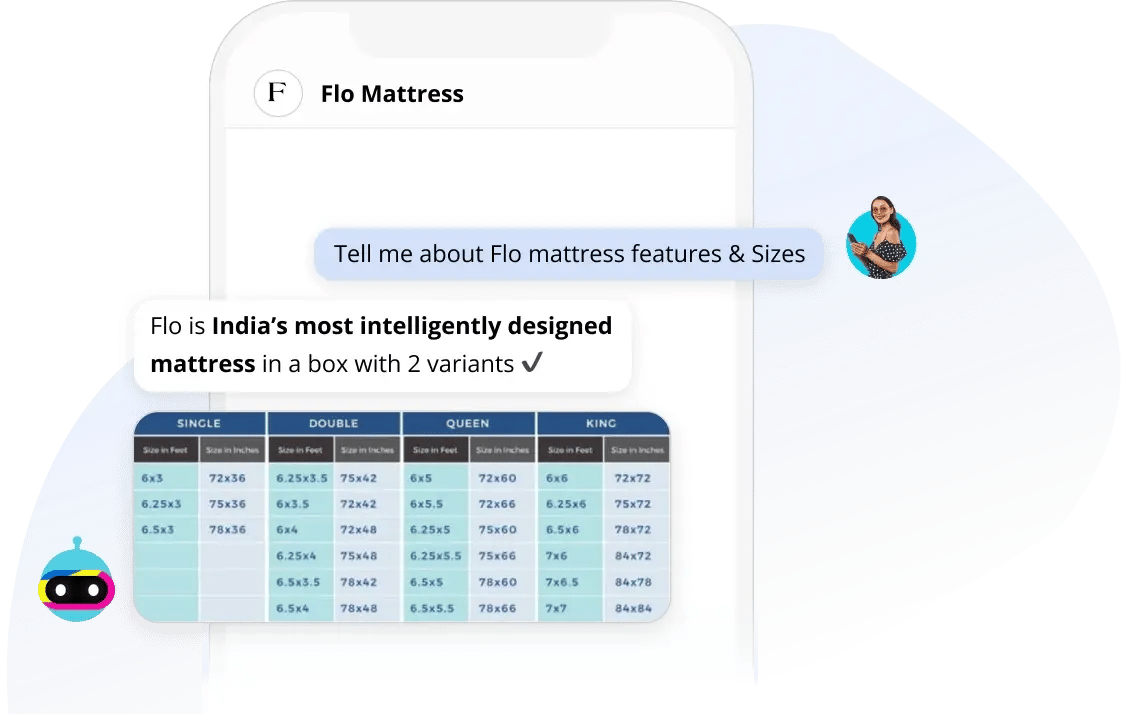 Flo Mattress experienced a massive jump in their online sales, leading to a 50X spike in customer queries. They needed a solution that would enable them to rapidly scale up their support capacity, ensure a consistent customer experience, and resolve queries 24/7.

Haptik built and implemented an AI-powered eCommerce chatbot solution called 'Flo Assist', that resolved 96% of customer queries end-to-end, and drove a 317% boost in their lead generation efforts.
Read the Flo Mattress Case Study