Redefining Personal Finance with Chatbots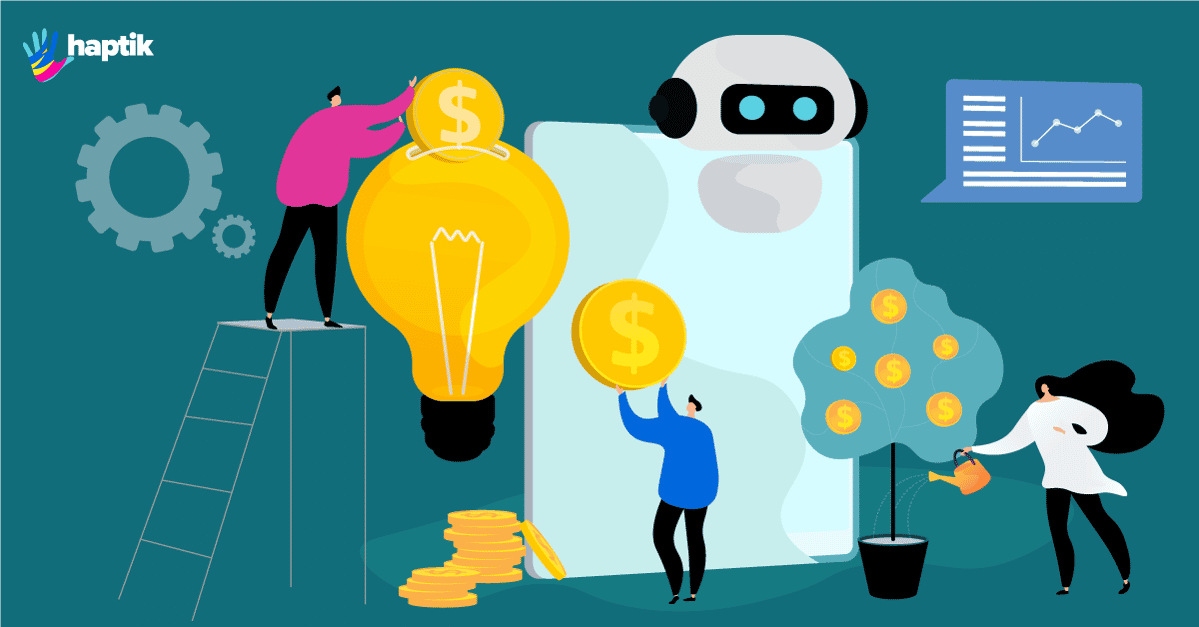 "Money is multiplied in practical value depending on the number of W's you control in your life: what you do, when you do it, where you do it, and with whom you do it."
~(Timothy Ferriss, famous American entrepreneur, investor, author, and podcaster)
How to manage money better is probably the greatest concern for most of us in our daily lives. The scope of personal finance is huge. From countless back of notebook budget charts to digital notes to writing big, imaginary numbers on our screensavers as the desired savings we would like to have in 10 years, money brings out a lot of quirks. However, what is often forgotten is that personal finance is a matter of discipline and involves making tough decisions. It is a complex process that, in recent years, hasbeen simplified by the number of personal finance chatbots available to users to make the money management journey simpler and much more rewarding.
Chatbots help businesses across industries engage with their customers better. And one of the most prominent sectors where chatbots have made their presence felt is in finance. Financial advisory, stockbroking, household funds, and individual expense management, expense sharing, investment portfolio management, are some areas where personal finance chatbots have become extremely popular among users all over the world.
Let's take the example of Trim. Trim is a personal finance chatbot that helps, as its name suggests, cut down extra spending from everyday life. Its premise is simple-in a world of automated spending, why can't we save automatically as well? It employs artificial intelligence to analyze your financial transactions and then notifies you of every opportunity to save money. It makes saving automatic and easy thereby making those far-fetched month-end bank balance goals achievable.
Trim's dashboard is simple-it lists all your subscriptions, spending information, analyzes shopping trends, uploads and notifies about bills to be paid, and keeps you abreast of any other financial alerts. Founded in 2015, Trim has so far enabled millions of dollars in savings for its customers. Additionally, Trim's two unique features, Negotiating new deals with subscription providers and a Debt Payoff program that offers a customizable payment plan and expert financial advice for users to get out of debt, have been of great help to users. Lastly, Trim also offers a chance to make your money grow by transferring your weekly savings to a Trim Simple Savings account with a bonus of 1.5%.
Here's how Haptik empowers Digital Transformation Across Banking, Insurance, and Investments
The need for personal finance chatbots in a post Covid-world
While chatbots such as Trim are relevant throughout our lives, the current scenario of financial uncertainty brought on by the pandemic has underlined the need for 24/7 personal finance chatbots. People all over the world are struggling with managing finances and payment breaks with reduced salaries, job losses, or no-business periods. Organizations, such as the Aryza Group in England, have been working to develop chatbot based solutions that are accessible anytime and from anywhere to help people manage their money better.
Apart from being easy to access, chatbots also fill an infrastructural void. Users do not generally feel comfortable discussing their finances as it is delicate information. Furthermore, the sheer volume of queries regarding loan restructuring, debt management, or expense reduction in the Covid world makes it infeasible for call centers to manage. As a result, personal finance chatbots emerge as the perfect user-friendly alternative, designed to guide users and always be by their side.
During the pandemic, chatbots have also successfully resolved millions of insurance queries across the globe. In emergency scenarios, insurance is one segment where minutes matter and chatbots play an integral role in reducing the amount of documentation and friction to ensure timely availability of funds.
India's largest bank, the State Bank of India, launched SIA, an AI-powered chatbot that addresses customer queries and helps them perform everyday banking tasks. It has been enabled to manage nearly 10,000 inquiries per second or 864 million in a day. To put things in perspective, that is about one-fourth of the queries processed by Google every day!
Close on the heels of SIA, HDFC Bank also developed its AI-based chatbot, Eva. Although it has recently run into certain problems due to backend issues, Eva, which stands for Electronic Virtual Assistant, has addressed over 2.7 million queries, conversed with 530,000+ unique users, and held 1.2 million conversations across 17 countries. Its assimilation and comparison speed? Data analysis from 1000+ sources to reach an answer in just 0.4 seconds!
The best part about personal finance chatbots, or any AI-powered chatbots per se, is that they get better over time. It is a self-improving mechanism that enriches the data set with each conversation and unique queries addressed. Essentially, it ensures that every conversation with a chatbot is,; theoretically, better than the previous one.
100 percent accuracy, reduction in response time by 60 percent, over 10X improvement in an organization's efficiency and productivity, are some of the effects of employing chatbots. Moreover, it also allows employees of financial institutions to focus more on value-added and customer-related functions.
The role of chatbots for financial organizations
Personal finance chatbots employed by banks and other financial institutions largely help in resolving simple questions or FAQs which have simple, structured answers. The bot responds quickly, sparing the user countless minutes wasted in otherwise waiting for an executive to resolve straightforward queries.
Chatbots also help users in completing financial transactions. For a large segment of the population yet to come to terms with digital transactions, chatbots serve as a guide by the side to help them learn the ropes of making fund transfers, pay the bills or recharge their mobile phone bills using queries.
Lastly, chatbots also help in informing customers about the latest features such as new credit cards, account features, or simple how-to tasks. It acts as a virtual executive for financial institutions, informing the customers about the latest additions to their financial products.
Cognitive automation and AI-driven processes that reduce repetitive manual labor is the way forward for the financial sector all across the globe. Simultaneously, individual users will become dependent on personal finance chatbots to optimize their everyday expenses, short term financial goals, and chart a course to achieve long term objectives. Just like a 'health wearable' that keeps a track of where you are in comparison to your health and lifestyle goals, personal finance chatbots will guide users to a structured way of expense management that enables saving and growth of capital.
According to Gartner, within the next decade, 85% of human interactions with brands will be via machines and chatbots. The world has opened up to a new domain of fast, omnipresent, comprehensive knowledge sharing friends in our pockets who we can ask for the best financial advice!
To Sum Up
An age-old banking maxim says that when it comes to money matters, the best service that can be given to clients is a one-on-one interaction. It is the most efficient, desired, yet the most expensive way of interacting with customers. Chatbots have made it possible to achieve this objective at a fraction of the cost and a much higher success rate, both in terms of customers reached, queries solved, and accuracy. The human brain might get clouded due to stress, emotions, or urgency, but a personal finance chatbot, equipped with the power of Artificial Intelligence, analyzing massive data sets, algorithms, and behavioral inputs, will always reach the most logical decision. When it comes to matters of money, clarity, speed, and transparency is of utmost importance, and chatbots tick all these boxes.
If you're wondering why to use a Fintech Chatbot for Your Business, this article will help you understand the benefits, use-cases and success stories - Fintech Chatbots for Business: Reshaping Customer Experiences
---
Want to develop an Intelligent Virtual Assistant solution for your brand?