Why Financial Brands Must Use Conversational AI for Customer Care

According to Autonomous Research, AI and machine learning can replace over $1 trillion of the current financial services cost structure, while a recent survey by Cognizant revealed that 74% of financial services executives believe that AI is extremely important to the future success of their companies. And when it comes to implementing AI solutions, a key focus area for many Conversational AI, in the form of chatbots and virtual assistants.
Financial services providers have been eagerly implementing Conversational AI not just for the gargantuan cost savings, but also for its ability to engage customers and address their needs in a faster and more efficient manner.
Let us take a deep-dive into some of the key reasons why Conversational AI is the perfect customer care platform for Financial Services brands.
Reducing operational costs
A major appeal of AI automation across verticals is the substantial reduction in operational costs that can be achieved, and the Financial Services sector is no exception. A Juniper study estimated that AI-powered chatbots saved $209 million in operations costs for banks in 2019, a figure that they predict will rise to $7.3 billion by 2023.
Financial service providers receive a massive influx of support queries from customers on a daily basis. 80% or more of these are routine queries and FAQs. An AI Assistant can swiftly and seamlessly resolve such queries end-to-end. Thus, the vast majority of support queries can be deflected from expensive support channels like phone. Moreover, with 80% or more of their customer support being automated, brands do not need to invest in the high recruitment, training, and retention costs required for maintaining a large customer care team.
READ MORE: Chatbots in Banking: Examples, Best Use Cases & the Future
Improving workforce efficiency
The estimated $7.3 billion cost savings for banks from AI Assistants that we discussed earlier translates to a time-savings of 862 million man-hours or roughly half a million working years!
Conversational AI significantly improves the efficiency of the human workforce. With routine queries and FAQs being handled solely by the AI Assistant, customer care agents can dedicate their time and attention to solving complex customer queries and intervening in situations where the human touch is essential.
The data gathered by AI Assistants during their initial contact with a customer can be very helpful to the human customer care agents, as it provides them with context on the customer's issue, thus giving them a headstart in their efforts to solve the problem if their intervention is required.
A good AI Assistant solution can be seamlessly integrated with the brand's Customer Relationship Management (CRM) system, instantly fetching data from the system, and making updates to the customer's information based on the conversation – another important task taken off the hands of human agents.
READ MORE: 4 Chatbot Solutions for the Financial Services Industry
Enhancing customer experience
One of the most common causes of poor customer experience is the amount of time it takes to get a customer service representative on the phone. Conversational AI solves this problem of long wait times, as AI Assistants are available 24/7 to instantly resolve customer issues.
Unlike more conventional self-serve options, such as websites or apps, which force customers to make their way through a series of static menus, an AI Assistant offers a conversational interface that is easily navigable by the customer. Owing to the assistant's Natural Language Understanding (NLU) capabilities, it can accurately pinpoint the customer's intent based on the conversation, irrespective of the words/phrases used in the query.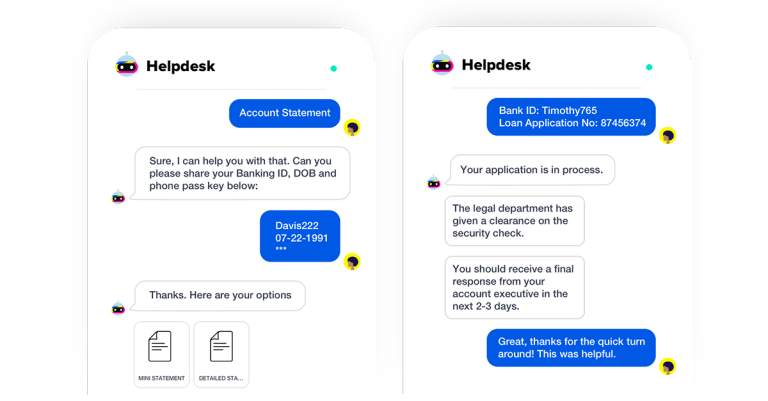 Conversational AI can tackle a range of customer care use cases for the financial services sector – checking account statements and balances, resolving registration/application queries, answering FAQs about plans and policies, providing access to account information and enabling modifications/updates to account details etc. Empowering customers with the ability to access these services anytime and anywhere significantly improves their overall experience with and perception of the financial services provider.
CASE STUDY: How Haptik Helped Tata Mutual Fund Achieve 58% Growth in Engagement
Ensuring omnichannel presence
Conversational AI enables financial services brands to be available to their customers across a wide range of digital touchpoints – including their website, Android or iOS apps, or messaging platforms like Facebook Messenger, Messages by Google, WhatsApp, Skype, Telegram etc.
This omnichannel presence is particularly important when it comes to engaging with digitally-savvy Millennial customers, who prefer the ease, convenience, and speed of interacting with a business on digital channels. A study by NICE inContact reveals that 60% of Millennials use private social messaging for customer service. Given that Millennials are estimated to comprise 75% of the global workforce by 2025, they are a key consumer segment for the financial services sector, which makes it crucial for brands to undergo the digital transformation necessary to better serve them.
To sum up
From massively reducing operational costs, to boosting the efficiency of human customer care representatives, to ensuring an omnichannel digital presence that is becoming more critical with each passing day, Conversational AI has truly become an indispensable customer service tool for the financial services sector. Conversational AI is not just an investment for the future, it is an investment for today!
---
Interested in developing a Conversational AI solution for your Financial Services brand?