How CEAT Generated Quality Leads by Offering a Differentiated WhatsApp Experience
Overview
CEAT, a leading tyre manufacturer, has always been at the top of its game when it comes to quality, innovation, and digital transformation. CEAT has taken great pride in delivering top-notch experiences to its customers and has developed various digital-first solutions to remove any hurdles in their journeys.

The customer experience and digital team at CEAT sought to have effective and engaging conversations with its customers on a large scale. The ultimate objective was to collect high-quality leads, amplify conversion rates, and extend its brand presence on the messaging platforms where their target customers were the most active.
542%
Increase in Leads through WhatsApp Chatbot
28%
Lead to Conversion Rate
70%
Lower Cost Per Lead than Social
Our chatbot conversations and leads have grown since we implemented the WhatsApp chatbot.
Challenge at Hand
To make interactions smoother for their target persona, CEAT realized that accessibility and an omnichannel approach were key.
CEAT aimed to offer prompt and immediate answers to potential customers inquiring about commonly asked questions regarding tyre purchase and maintenance.

The customer experience team at CEAT also wanted to offer existing customers a convenient way for logging and tracking complaints.

Lastly, CEAT wanted to ensure that both prospects and customers were aware about the latest offers and promotions.
How Haptik Offered a Solution
CEAT partnered with Haptik to build a WhatsApp chatbot that helps generate sales-qualified leads by interacting with customers, making product recommendations, and offering discounts - all at the right stages!
The design of the WhatsApp experience is aimed at resolving all incoming questions concerning tyres and transferring conversations to live sales representatives, as needed.

Using Haptik's Proactive Messaging solution, the CEAT team also nudges lost or dropped-off leads by sending them relevant updates through WhatsApp notifications.

Along with responding to inquiries from existing customers, the WhatsApp bot also provides a simple way for customers to log and track complaints.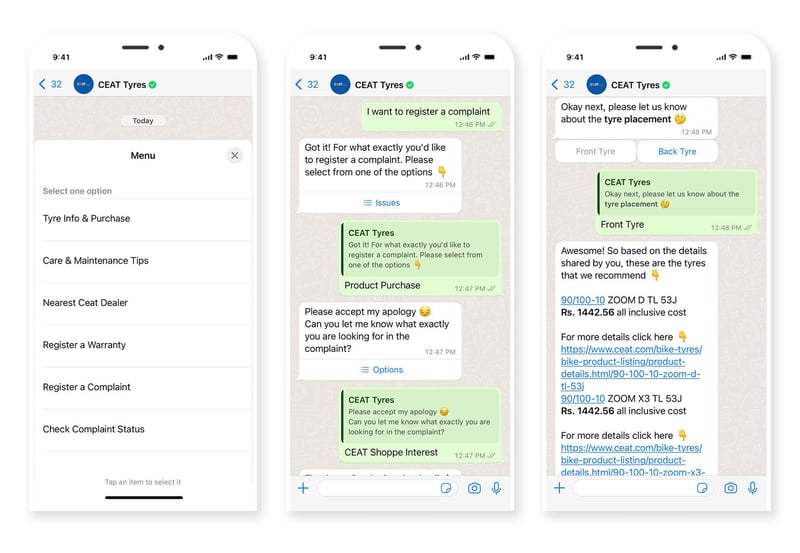 PRODUCT
Customer Acquisition
Automating the chatbot has reduced agent load thus reducing acquisition and manpower costs.
Results
Since implementing the WhatsApp chatbot, CEAT has observed a 542% increase in leads. In fact, lead generation via the WhatsApp chatbot has proven cost effective when compared to other social acquisition channels! One of the greatest advantages is that acquiring leads through WhatsApp costs a total of 70% less than other channels.

CEAT has introduced a chatbot that is not just available to our customers, but also its dealers and mechanics, enabling them to access essential information. CEAT & Haptik are now exploring additional use cases for integrating the chatbot, and planning to extend its reach to multiple touchpoints across various channels, such as Google Business Messages.