5 Signs Your Business Most Definitely Needs A Chatbot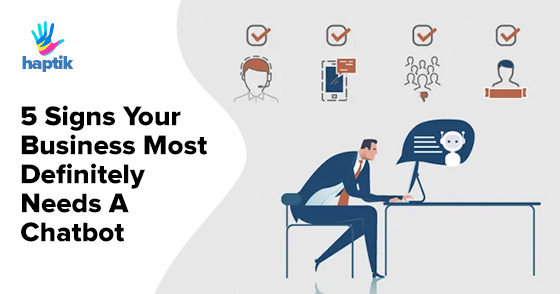 Computers are incredibly fast, accurate and stupid.
Humans are incredibly slow, inaccurate and brilliant.
Chatbots are here to give you the best of both worlds.
Gartner says that by the year 2020, 25% of the organizations across the globe would be deploying a Conversational AI Interface (a chatbot). Given that the number was as low as 2% in 2017, that is a fairly bullish estimate to make.
But wait!
Does your business need a chatbot?
You already know that they pose a dent to your pocket and involve a certain amount of plugging-in before they get started, but, how would you know whether you need a chatbot?
What characteristics/symptoms should your organization exhibit for you to arrive at: "Yes. It's time we got a chatbot for our business needs."
Here's a quick checklist of the signs which would qualify an organization to be in need of Conversational AI:
Sign 1: You have a customer support team of 20 people or more
Historical data shows that customer service centres across the globe spend 60% of their time replying to straightforward and redundant queries. Couple that with the time taken for human agents to reach a particular query and the drop in quality standards at the end of an 8-hour shift due to fatigue, and it doesn't seem worth it to maintain such a huge team.
Chatbots are available 24*7, can reply immediately to hundreds of thousands of users at the same time without showing any sign of fatigue whatsoever and save the human agent's time for solving more real and complicated queries. Gartner as an organization has particularly been gunning for this use case for chatbots.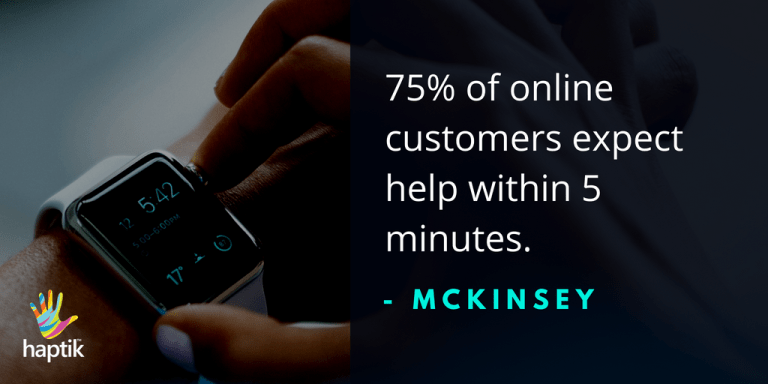 75% of online customers expect help within 5 minutes.
Sign 2: You are selling stuff online!
If your brand falls in the e-commerce bracket and is trying to sell stuff online, you are going to need a chatbot very soon. E-consultancy research conducted a survey with online shoppers where 83% of the respondents shared that they would be more likely to complete the sale if they had some sort of chat assistance provided to them. So it seems like the entire online audience is gung-ho for this particular business application.
But, the story doesn't end at the transaction. Even beyond the point of sale, customers will harangue you for various reasons. Discussions which you'd rather deal with later(a.k.a. view on the dashboard) instead of actually having that conversation in person. The analytics panel that comes along with chatbots, more often than not, provides this service! Here's an in-depth look at what our panel offers.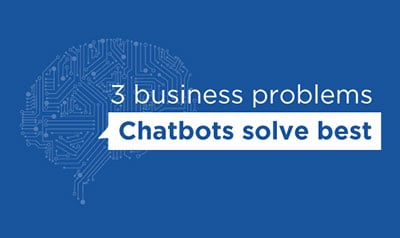 WATCH THIS WEBINAR on 3 Business Problems Chatbots Solve Best
Sign 3: You want to scale up your operations, without ramping up the costs.
India's first fantasy sports league game, Dream11 had about 400,000 users before the beginning of the much celebrated Indian Premier League 2018.
They had a customer success team of 30 people who would handle the volume of customer queries coming in from these 400,000 users. During the IPL they were expecting the number of queries to increase exponentially but it wasn't practically possible to ramp up the team to a proportional size and that too for only a couple of months.
Enter chatbots!
The anticipation of a dramatic increase in the number of queries turned into reality when the number of queries alone went up to a million!
But, the Dream11 team handled the volume of queries without adding even a single set of extra hands to the customer success team.
This was all thanks to the customer support chatbot. The bot comes at a fraction of the cost of actually hiring and training the required workforce. A small addition to the minuscule running cost of the bot handled a magnitude of 40x customer queries without even going 2X on the cost.
Check out the video testimonial by the CEO of Dream11:
Sign 4: Your target audience is the "Millennials"!
The emergence of chatting applications in the past decade has made the conversational interface well-known to every internet user. Now given that a majority of the users on the internet arguably belong to the "Millennial" generation, the conversational interface is the perfect platform to engage with such an audience.
Millennials like to inquire and compare products before they buy. So, introducing chatbots in your customer lifecycle will most definitely be a prudent investment to handle this new generation of digi-savvy customers.