What are the Benefits of WhatsApp Marketing for Your Business
Increased Market Penetration
With its massive global audience of over 2 billion monthly active users, WhatsApp presents a significant opportunity for businesses to expand their reach.
WhatsApp-led Business Automation
Brands can use automation tools to automate and streamline customer conversations by sending personalized responses and greeting messages.
Personalized & Targeted Campaigns
Brands can engage customers with personalized & timely push notifications, such as discounts, product recommendations, and subscription renewals.
Improved Retention & Realtime Engagement
Triggering WhatsApp notifications like restock alerts, special offers, and pending cart reminders boost customer engagement without needing website/app visits.
40 million WhatsApp users view the business catalogs
in the app monthly
How Can You Use WhatsApp for Marketing
We'll take you through the seven key steps in leveraging WhatsApp as a marketing channel to grow your brand.
Set up a WhatsApp Business account
To establish your presence on WhatsApp, set up a WhatsApp Business account, and choose the most suitable option between WhatsApp Business and WhatsApp Business API based on your marketing objectives. The WhatsApp Business API offers advanced features such as managing conversations with multiple users, and automating conversations and workflows with chatbots, rules, and more, while providing insights into customer satisfaction, response time, and resolution time.
Identify your target audience
To effectively reach and engage with your target audience on WhatsApp, it's important to clearly understand their needs and characteristics. This can be achieved by creating buyer personas or using the Jobs-to-be-done (JTBD) framework to gather data through surveys, CRM insights, Google Analytics, and social media, instead of making assumptions.
Establish a unique brand persona
Creating a brand persona is an important step for businesses that want to connect with their customers on a personal level and establish a consistent tone of voice in their communication. A detailed brand persona includes traits, attitudes, and values that align with the brand and help to create a personal connection with customers.
Proactively engage with customers
Proactive engagement on WhatsApp through personalized offers, product recommendations, and timely notifications such as abandonment reminders and back-in-stock alerts can drive consumer interest and influence buying decisions, ultimately improving customer lifetime value.
Experiment with multimedia elements
WhatsApp Business allows businesses to use a variety of content and multimedia formats like videos, images, documents, and catalogs to create engaging and interactive marketing campaigns that are more likely to capture the attention of customers and encourage them to take action. By utilizing this channel, businesses can spread awareness and educate customers about their products, creating a deeper connection with them and increasing the chances of conversion.
Offer superior customer experience
WhatsApp's real-time messaging feature allows businesses to quickly and efficiently handle customer service inquiries, improving customer satisfaction. It also allows for personalized communication, building trust and loyalty. Additionally, businesses can automate repetitive tasks and provide instant replies with the help of chatbot integration.
Track KPIs & assess marketing performance
To effectively evaluate the success of your WhatsApp marketing campaigns, establish clear marketing objectives and track relevant key performance indicators (KPIs). Metrics such as the number of chats, average response and resolution time, chat-to-conversion rate, the first response time of the chat agent, traffic sources, and top-searched products can provide valuable insights to make data-driven decisions.


4 Proven Success Stories of Brands Using
WhatsApp Marketing
Haptik's industry-specific bespoke WhatsApp marketing solutions help businesses engage, acquire, and retain customers with personalized AI-driven conversations. It enables global brands to achieve higher sales and superior customer satisfaction and fosters brand loyalty.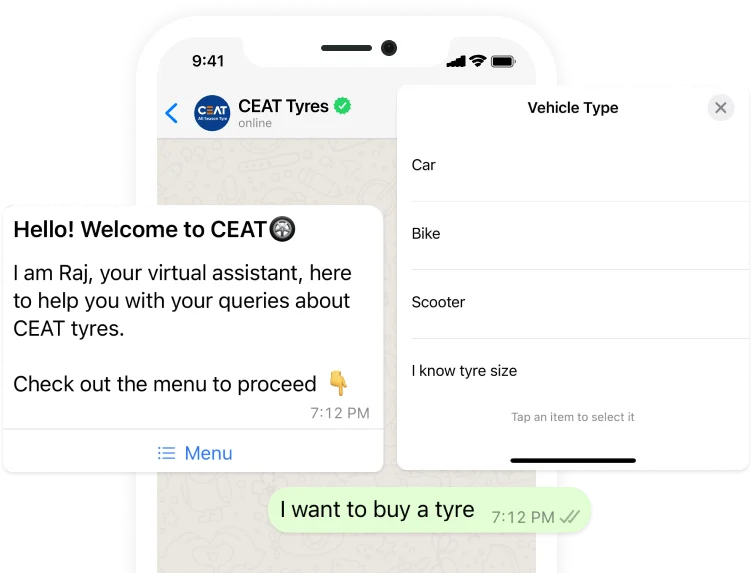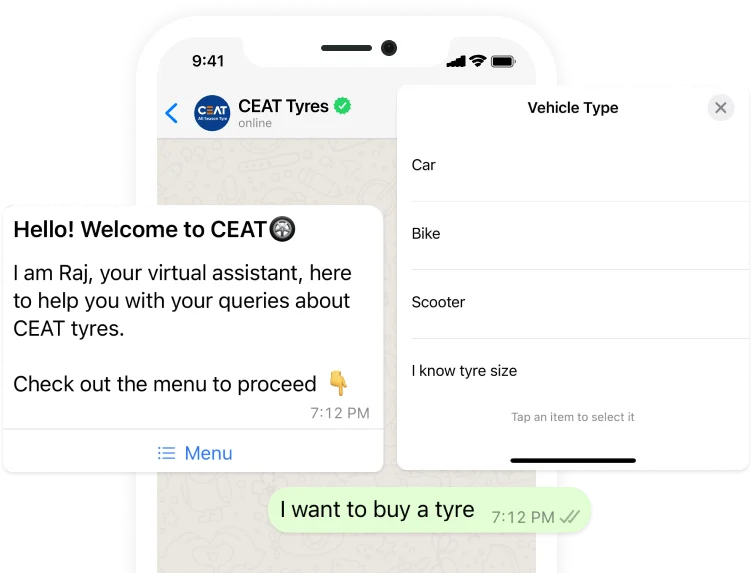 CEAT, a leading tyre manufacturer, sought to enhance customer experience with instant support. It also aimed to collect high-quality leads and leverage AI-powered conversations to improve conversions.
It partnered with Haptik to build an AI-powered chatbot. The solution helped generate additional revenue, enhance customer experience, promote special offers and discounts, and more. CEAT has observed a whopping 542% increase in leads!
Read the Full Case Study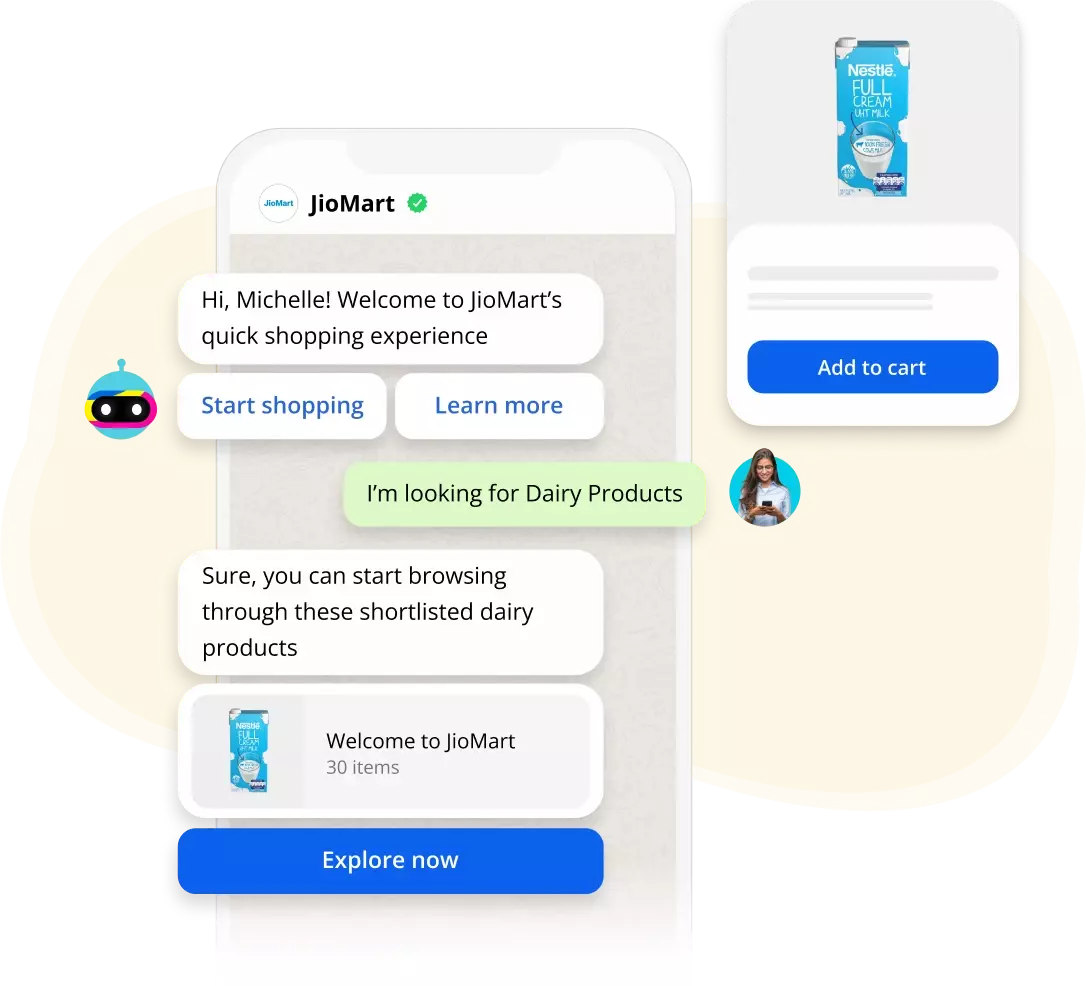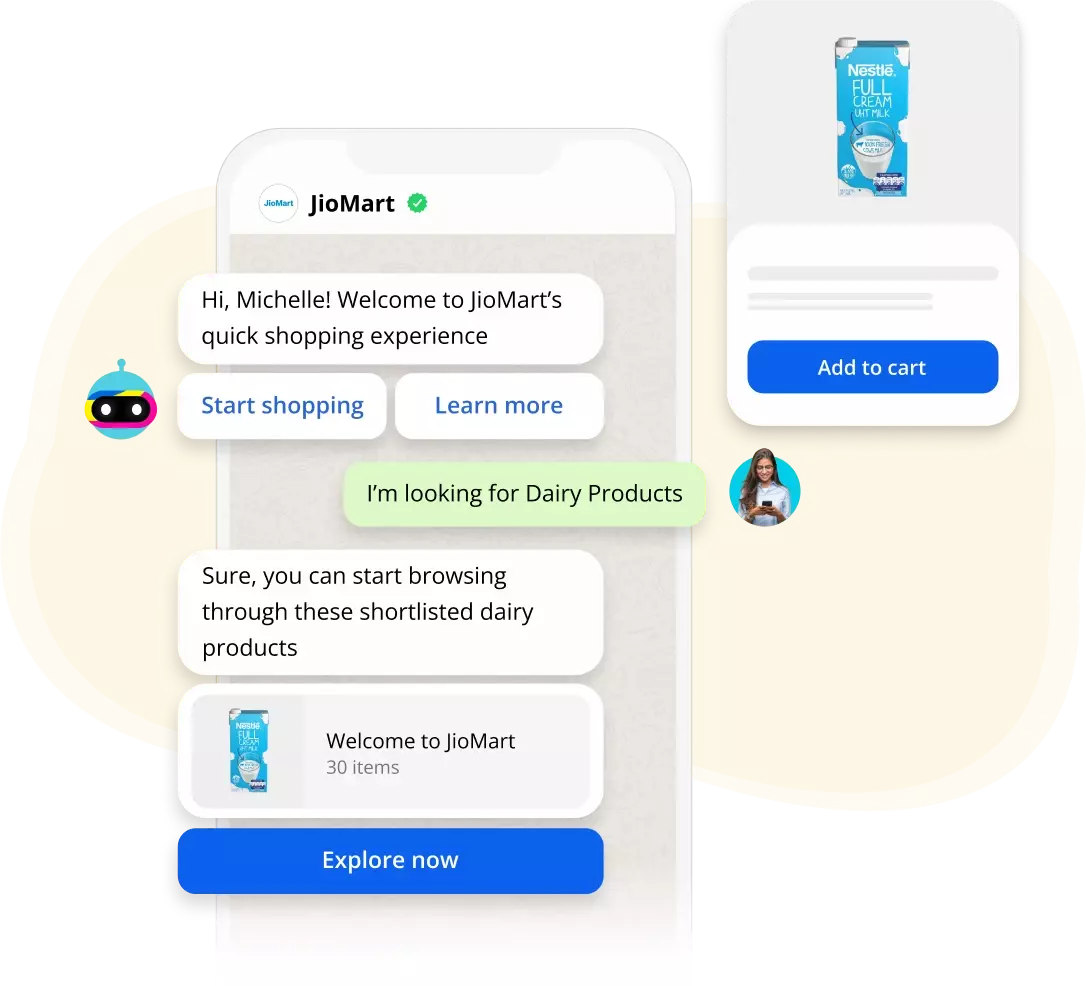 JioMart, India's largest retail giant, witnessed a 3x surge in traffic and orders. It wanted to augment customer support to meet the high demand for their services on newer communication channels to improve CX.
To meet these business expectations, JioMart partnered with Haptik for WhatsApp chatbot integration. This chatbot enabled users to easily complete their shopping journey with just a few clicks, resulting in an increase in organic traffic and repeat purchases by 68%.
Read the Full Case Study
Conclusion
With WhatsApp marketing, businesses can tap into the power of real-time, direct, and personalized communication to create deeper connections with their customers and prospects.
By integrating WhatsApp into your marketing plan, you can drive customer engagement, improve customer satisfaction, and increase conversions. With its capacity for targeted, data-driven campaigns and seamless customer experiences,
WhatsApp marketing solutions are crafted to be result-driven and help businesses achieve their desired outcomes. It's important too for businesses they follow the best practices of WhatsApp business messaging for the best user experience on the channel.
Read next: Convert More with Click-to-WhatsApp Ads